The year 2013 was a great one for new and interesting jewelry. There were a number of beautiful but expensive pieces that made headlines, as well as some interesting and unique pieces. While not all of these pieces of jewelry are affordable for all of us, there are some that might surprise you with how affordable they might be. For the rest, it is still fun to appreciate the most beautiful pieces and see what the newest trends in jewelry fashion are going.
Trends From 2013:
This year there was a resurgence of softer and gentler tones in jewelry. From the Academy Awards to the Golden Globe Awards, movie stars could be seen wearing an array of softer and matte finished jewelry, including a beautiful pair of frosted chalcedony earrings worn by Sarah Michelle Gellar at the Golden Globe Awards. It appears likely that the trend towards softer jewelry is here to stay, so look to 2014 award shows to feature increasing numbers of soft-toned jewelry.
Amber jewelry also saw increased prominence in 2013. There are a number of jewelry designers in the United States and Poland that are beginning to use amber in more of their new pieces. In addition, there are some luxury designers that are using or plan to use increasing amounts of amber in the near future. Italian jewelry designer Lucifer vir Honestus and Ray Griffiths are two of the more prominent designers embracing this trend. Expect more designers to follow their lead in 2014.
Diamonds are as popular as ever, and 2013 saw an increasing number of black and white color themes in the fashion and jewelry worlds. In addition to diamonds, which work very well with a black and white theme, there were numerous other stones that benefited from the black and white trend, including: black spinel, onyx, rock crystals, and white topaz.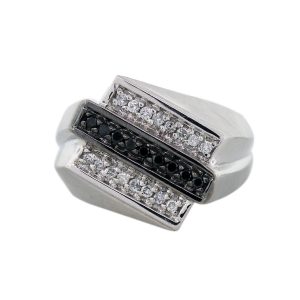 Perhaps the most popular color of 2013, ever more so than the black and white themed diamond, was emeralds. Emeralds have been in the public eye for quite some time. However, an increasing supply combined with extensive marketing initiatives by the transnational mining company Gemfields, is causing a dramatic increase in the demand for emeralds. The angle for those in the Emerald business is that the mining of their gemstone comes without the bloody history of their cousin, the diamond. In addition, the visual allure of emeralds is, according to them, on par or better than the diamond itself, and a lower price point. We will let you judge for yourself whether or not that statement is true, but regardless, the emerald is here to stay, and makes a great addition to any jewelry collection.
Best Jewelry of 2013
In addition to general trends in jewelry, the year 2013 was full of interesting and unique pieces that are sure to capture the attention of anyone that seems them being worn. The following are a few of the most noteworthy of the year:
The Marco Valente ring is a dazzling display of white gold covered in white diamonds. The flashy yet soft design of the ring exemplifies many of the trends seen in the jewelry industry this year. Although this ring is out of the price range of most people, it is still worth a look, simply for its sheer beauty.
This year was a great year for men's jewelry as well. The titanium ring by Zancan is a masterpiece of solid construction and masculinity. The ring contains 6 diamonds accented by gold in a titanium ring framework. While it is not the most affordable ring in the world, it is certainly worth a look, and might be perfect for a milestone anniversary gift.
A more feminine but no less impressive piece of jewelry is the 18 carat yellow gold ring by Garavelli. Part of the Dune collection, this diamond encrusted gold ring is as stunning as it is expensive. Look for rings in a more affordable price range to imitate this style in 2014.
One of the most unique jewelry pieces of the year is the Dalida ring by Stefan Hafner. This pink gold ring is covered in numerous diamonds ranging from white to soft pink and purple diamonds shaped in a floral arrangement. While this gorgeous piece of jewelry is out of the price range of all but the wealthiest individuals, it is still appreciating for its originality and sheer beauty and opulence. The year 2014 will likely still numerous imitators copying Stefan Hafner in the coming year.
Another stunningly unique piece comes from jewelry maker Utopia. Their 2013 piece made of 18 karat white gold has a combinatory of modernity and a retro look. The bracelet is made with diamonds, moonstones, and, most interestingly, exotic Tahitian pearls. These components are combined into a swirl of colors and textures that look like a combination of something from the 60s and something from the future. While there are probably some jewelry makers that would love to imitate this piece, it seems unlikely that anyone will be able to match the sheer uniqueness of this piece.
These are just a few of the most interesting and noteworthy trends and jewelry pieces of 2013. The overall industry appears to be going through a transition, in which some of the old markers of style will remain, while many others will fall by the wayside. In the end, the key components of a good piece of jewelry, including quality, craftsmanship, and materials, will always reign supreme.
If you are looking to buy some of the new trends in jewelry, or if you are looking to sell some of your old jewelry, it is important that you find a jeweler that will offer you the most bang for your buck. When you buy jewelry, getting the best price possible allows you to spend less money or get more for the same amount. In addition, when it comes to selling jewelry, getting the highest possible price should always be your objective.