Another incredible Swiss made brand of timepieces is Chopard. This jeweler and watchmaker have deep roots in the craft of Horlogerie dating back more than a century. The exclusive company produces fine jewelry pieces and watches in a range of designs and styles. Instilled with power and precision their timepieces are exemplary of the Swiss watchmaking tradition. Their collections are world renowned and iconic. Each luxurious collection is inspired by unique occasions, locations, and lifestyles. For men who love to compete, race and keep time on some of the world's greatest tracks a Chopard timepiece in not only inspired by but maintains the automotive theme while also being incredibly precise. It is the emblem of racing and timekeeping designed with the refined modern man in mind. Here we go deeper into the history and tradition of Chopard watches, how their unique watches are crafted and showcase some of their classic collections.
History and Tradition
The beginning of the Chopard tradition started with Swiss watchmaker Louis-Ulysse Chopard. He crafted unique timepieces and founded his company using his initials L.U.C. At the time he was only 24 years old but had begun what was to become one of the world's most renowned jewelry and timepiece brands. Later, in 1937 he relocated within Switzerland to Geneva. Along with him, he took 150 employees and a deep desire for growth. In Geneva, they began an extensive production of fine watches. However, in 1963 Chopard was sold to a German watchmaker Karl Scheufele. The Scheufele family continues to own Chopard to this day. While the company grew and the brand innovated the headquarters remain in Geneva.
Powerful Functionality
An iconic luxury watch cannot do without Swiss power. Each watch with the Geneva seal, like the Chopard timepieces, are of course powerfully precise. The movements and functionality of these watches are unparalleled. From calculating race times to catching the next flight out the precision aspect of these timepieces is integral to their standing. Manufactured to the utmost precision with additional functionality than most other timepieces the Chopard watches featured here are icons of powerful functionality.
Timeless Design
From the beginning, each timepiece has been crafted to perfection. Every item and movement is checked and ensured for quality. The design, however, has always been a classic. With the traditional oval shape and leather bracelet, Chopard watches were iconic but standard. Until that is in 1976 when Chopard truly set themselves apart. They began crafting a unique watch, one with free floating diamonds inside. The free floating diamonds within each Happy Sport watch emblemized the Chopard design and also signaled their strong move towards the production of jewelry for women. Nowadays the iconic watch is still worn by celebrities and stylish men and women. The true note of a Chopard timepiece is elegant design enmeshed with powerful functionality and tradition.
Mille Miglia
First, is Chopard's classic racing collection, Mille Miglia. Directly translated from the Italian this is the Thousand Mile collection. Sportive and powerfully precise the watches in this collection are masculine and infused with the automotive world's spirit. Each and every single feature of the watches in this collection are geared towards classic sport car features. This iconic collection from Chopard was a personal dedication of Co-President Karl-Freidrich Scheufele who was driven by his passion for automotive racing.
From the speedometers finely designed in each vehicle to the leather stitching of the seats, each luxurious detail has been translated into a strong men's accessory. The bracelets of each Chopard Mille Miglia watch that are leather bring back the classic vintage racing presence. The newer rubber straps are reminiscent of the race car tires bringing unique and emblematic themes to the timepieces. Since 1989 Chopard has also been the official sponsor and time keeper of the Mille Miglia race. The most famous race car in the world and an icon of Swiss watchmaking bring you the Mille Miglia collection.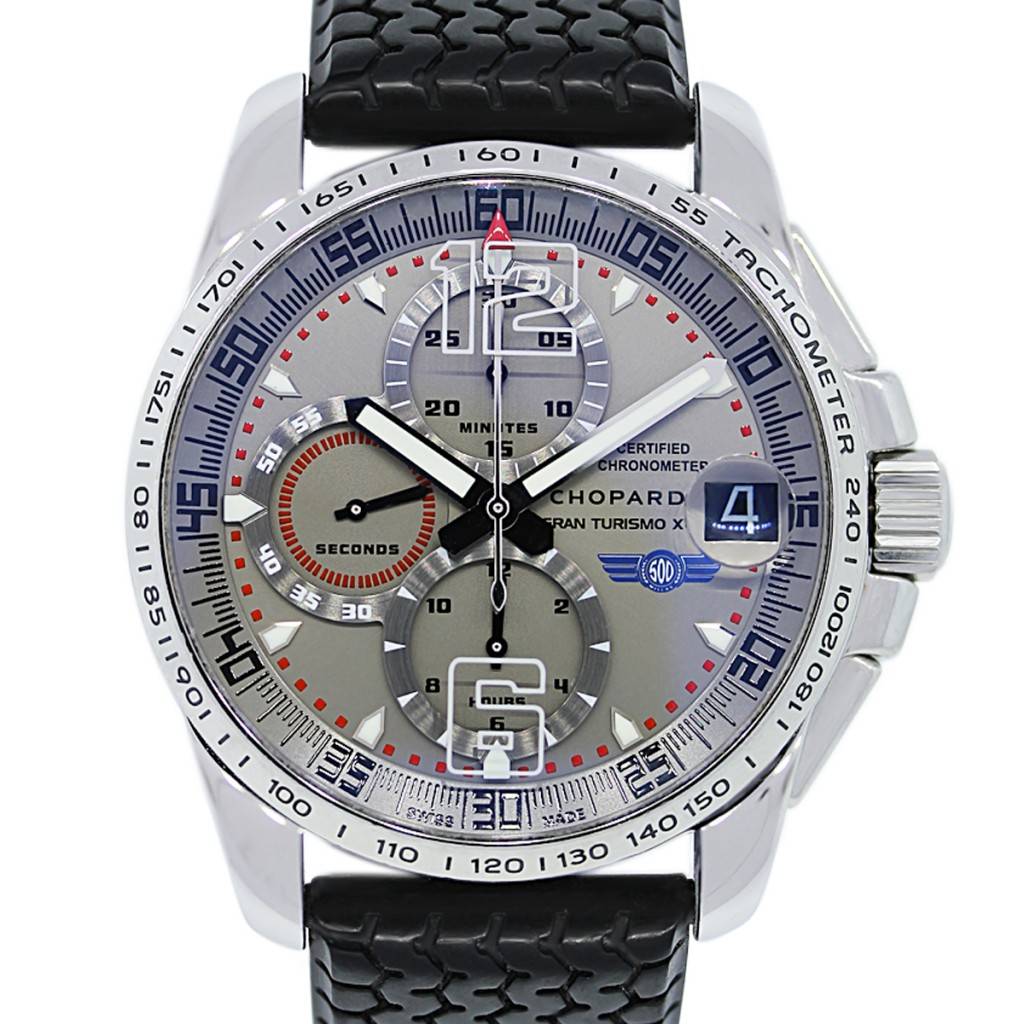 First, a Mille Miglia chronograph men's watch. This Mille Miglia GT XL timepiece is a bold and complex piece. It has the classic black tire design rubber strap and a titanium casing. The gray chronograph dial features three sub dials, a date window at 3 o'clock and luminescent hands.  The stainless steel bezel has a fixed setting.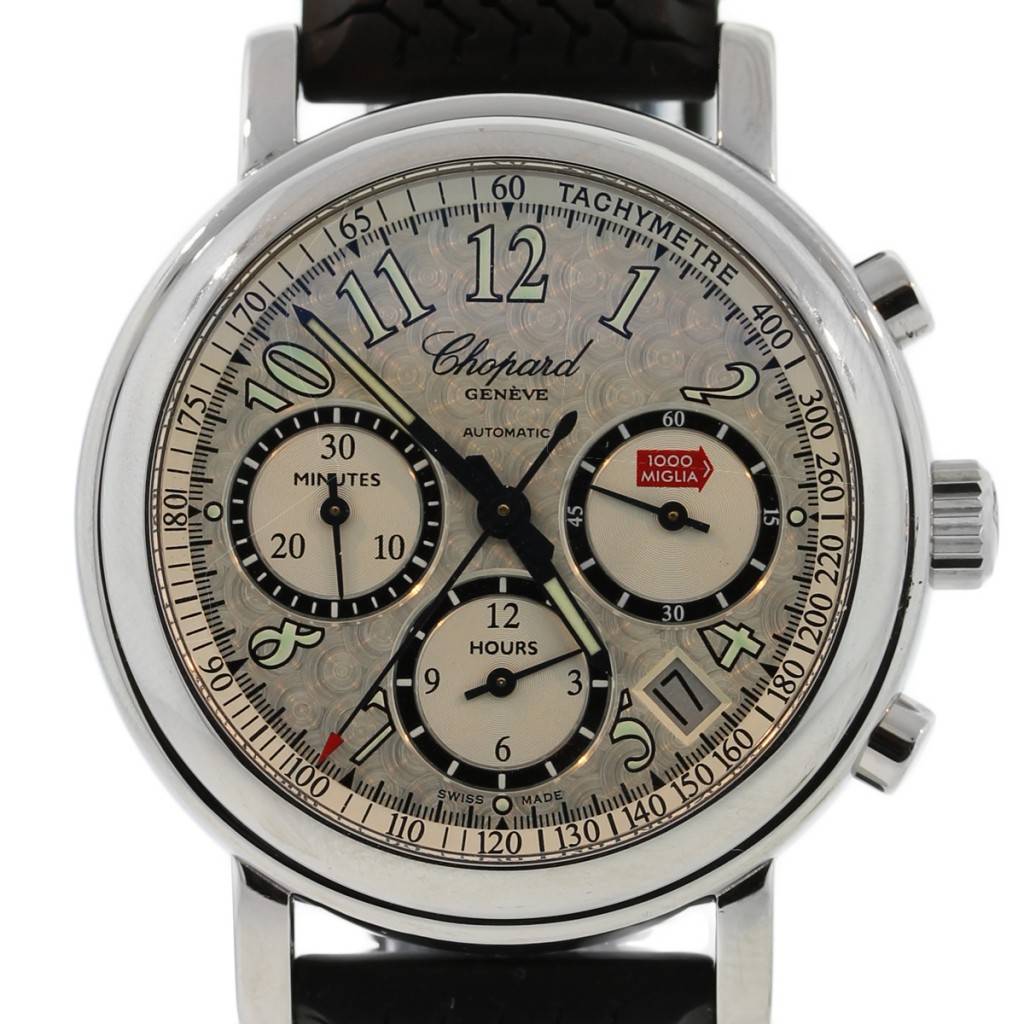 Second, featuring the emblematic rubber strap with grooves like that of the tires on powerful racing automotives, another Mille Miglia. This one has a dunlop tire style design and a stainless steel skeleton back so you can see each and every movement. Furthermore, the gray dial has three sub dials and a date window between 4 and 5 o'clock. Each time marker has a vintage inspired style and luminescent feature.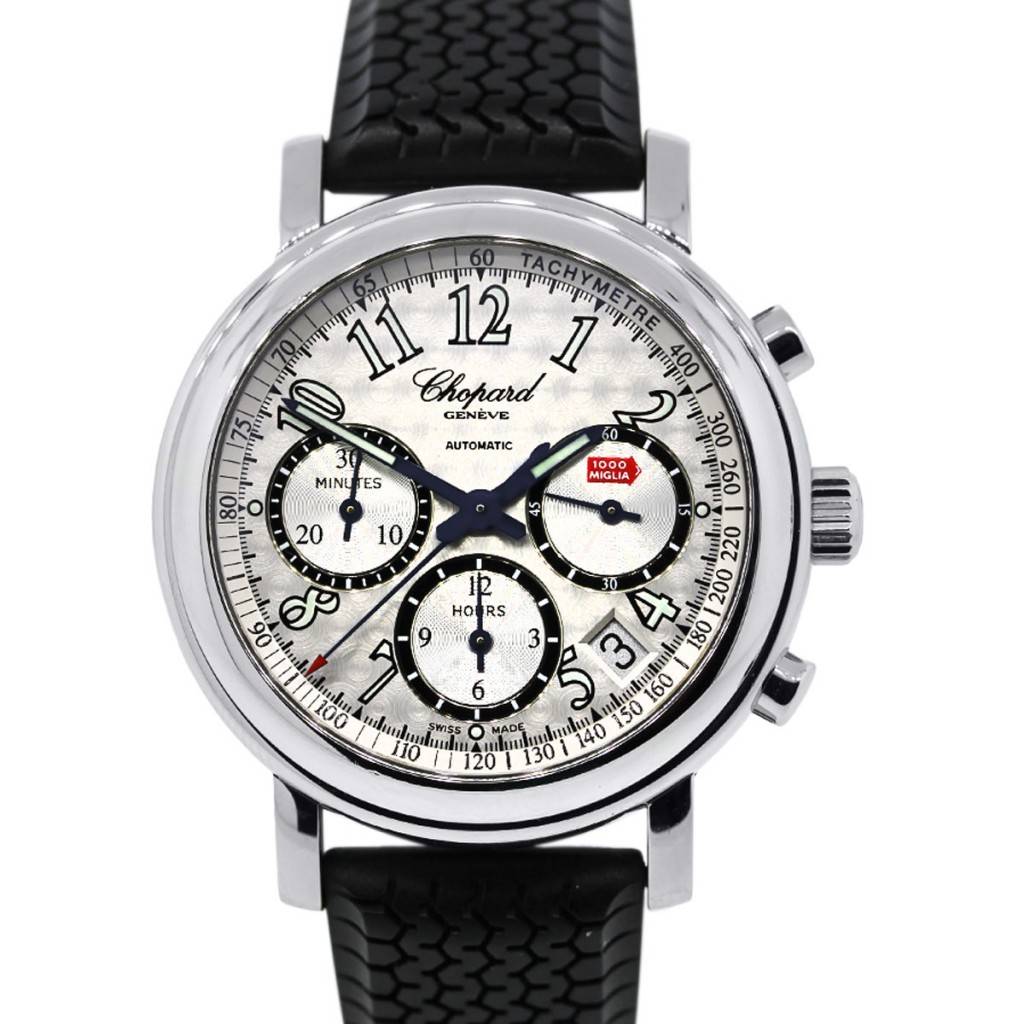 Third, this one features a silver dial with the classic three sub dials. Similarly to the one above this one also has a date window between 4 and 5 o'clock. Another unique feature of this Mille Miglia is the Tachymeter settings for the chronograph. In bright white reflecting against the silver dial it stands out.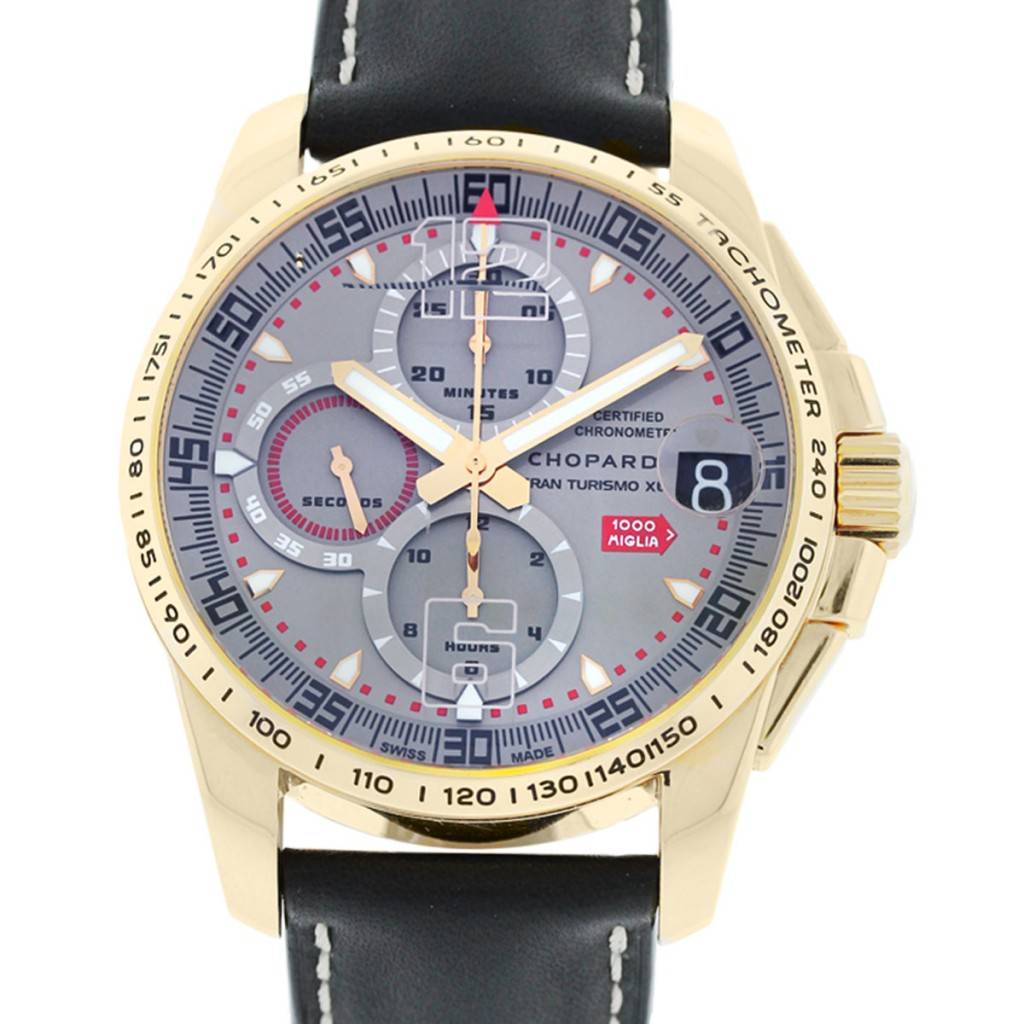 Fourth, a rose gold chronograph limited edition watch. This Mille Miglia has an 18k rose gold fixed bezel. Furthermore, it also has a gray dial with 3 counters chronometer certified (COSC) power reserve. The bright colors of the time markers and chronograph against the gray dial and rose gold bezel catch attention and all the intricate functionalities keep it. This timepiece is for the man who commands attention and does not mind being the center of the conversation.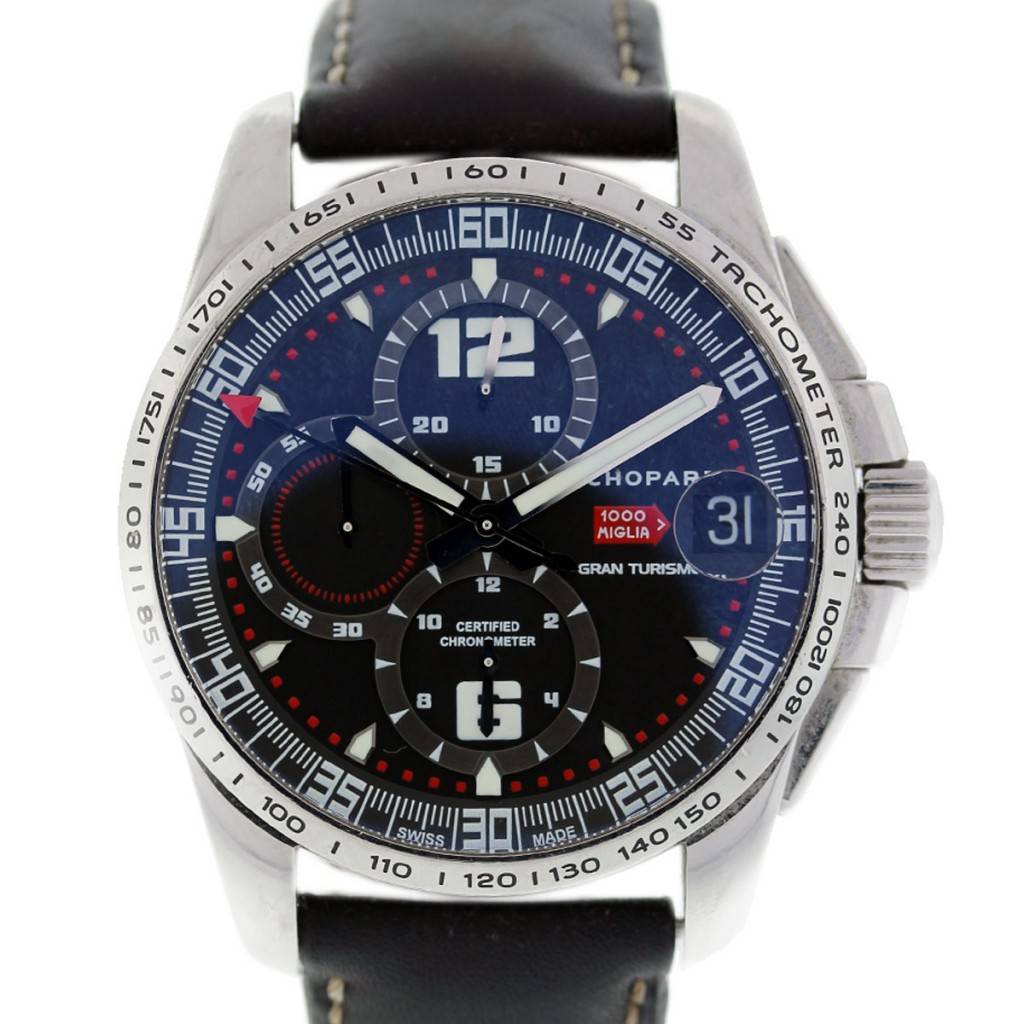 Fifth, another Mille Miglia GT XL. This one has a black and dark blue dial with a red chronograph. Additionally, it has 3 subdials and a date window at 3 o'clock. This Gran Turismo classic, of course, has a certified chronometer and the Swiss made guarantee.
Sixth, an interesting Mille Miglia stainless steel version with a black dial. Another, with three subdials this one also has a scratch resistant sapphire crystal. The bracelet is the iconic tire design rubber bracelet with a tang style buckle.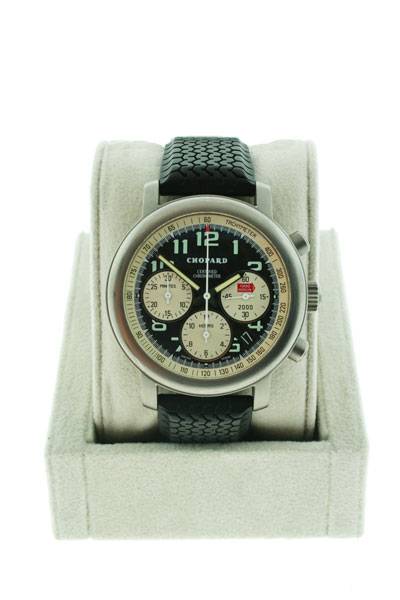 Seventh, is a quartz movement watch. This one has a charcoal dial with three white subdials and a chronograph feature. Also, this timepiece has the date window between 4 and 5 o'clock. The alternating black dial and white subdials have a strong contrast and with the white chronograph surrounding them this watch is stately and strong.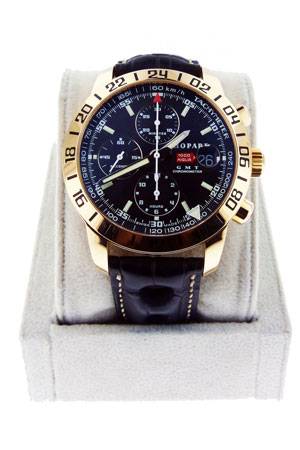 Eighth, a gorgeous and outstanding Mille Miglia GMT piece. This special edition of the collection is 18k rose gold with a black chronograph dial. The dial also has three black subdials and a date window at 3 o'clock. The bracelet is a luxurious leather with a deployment buckle. 
Last Mille Miglia of our collection this quartz movement watch with an impeccable brown leather bracelet. It has a lovely charcoal dial and stainless steel bezel. This one has scratch resistant sapphire as well to keep it in impeccable form from race to race. 
Gran Turismo
Another variation of the Mille Miglia inspired by historic automobiles is the Gran Turismo watch. A distinctive model part of the Mille Miglia collection, these watches are fabulously unique. Each one features oversized time marker numbers and includes some extra features. They have chronographs built in and power reserve functions. The elegant timepieces have a unique charm and bold display.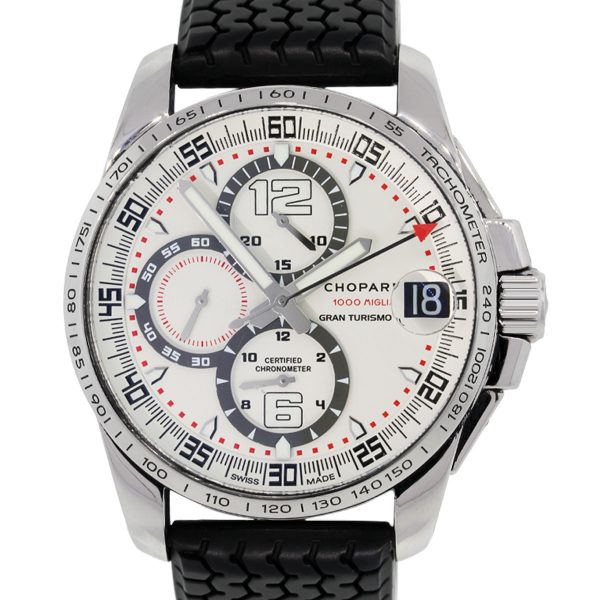 First is a variation of the Gran Turismo variation. Further refined from the Mille Miglia collection the Gran Turismo GT XL is even larger. An impressive 44mm case holds a white chornograph dial with three subdials each rimmed in gray. Combining the spirit of automotive racing and stylish sportive design this timepiece is as powerfully precise as it is gorgeous.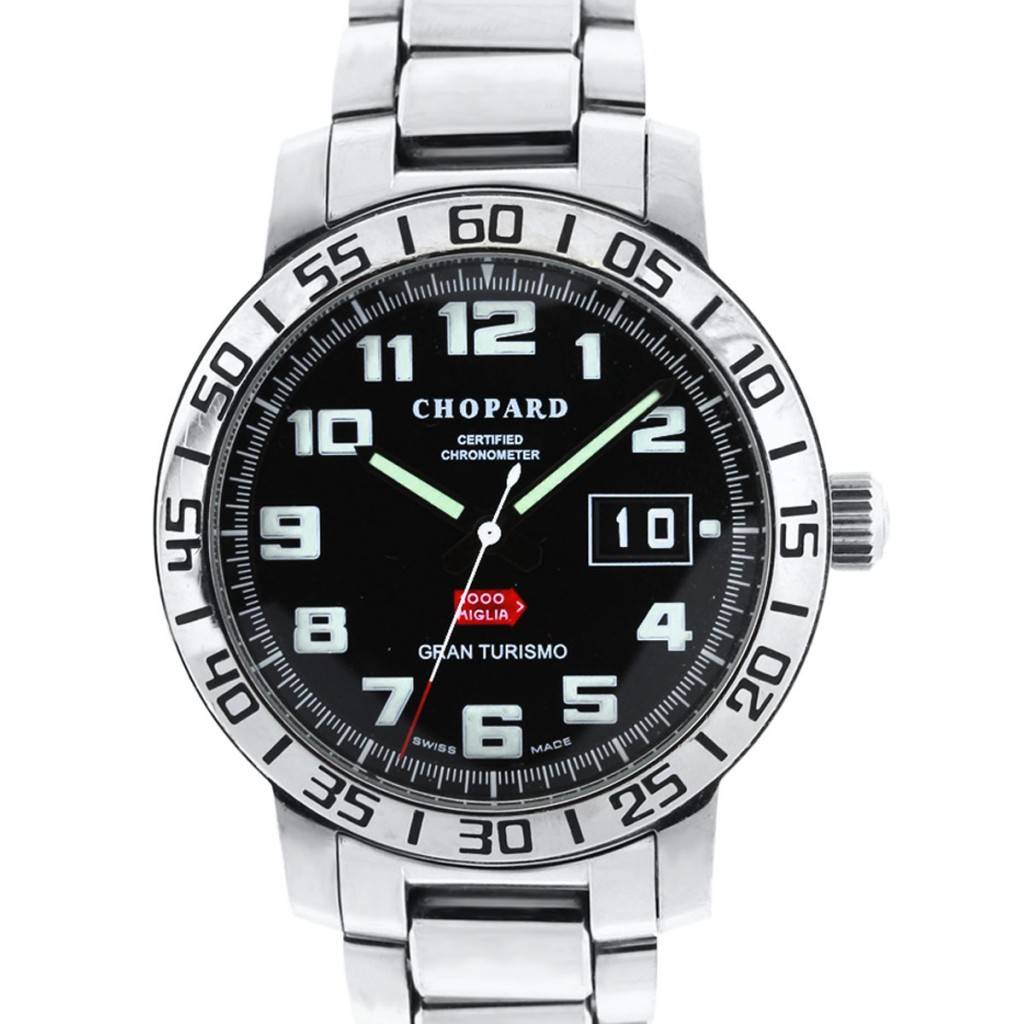 Another Gran Turismo variation this stainless steel watch features a large face and clear boxy illuminated hour markers and sticks. The stainless steel bracelet matches the stainless steel set bezel that is engraved. Also, it has automatic movements and a double fold over clasp.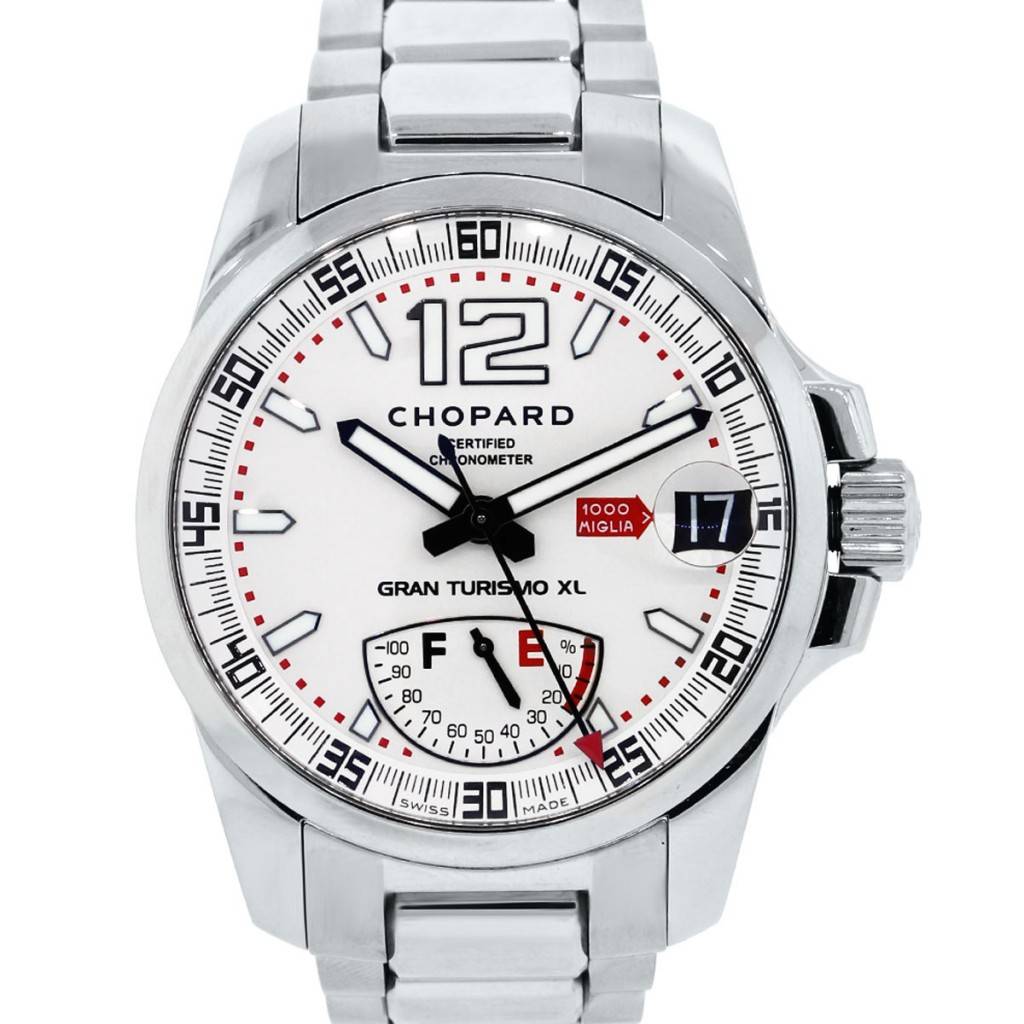 Finally, the Gran Turismo XL in stainless steel. An incredible 44mm case with a smooth stainless fixed bezel holds a bright white dial with a date window at 3 o'clock and a power reserve indicator. This indicator playfully emulates a racing automotive's fuel tank reserve further emphasizing the racing inspiration. The large seconds markers and bright red pointer help you time with the utmost precision. Whether you are at the race track supporting your team or driving yourself this timepiece is the perfect accessory for your wrist. 
Limited Edition Timepieces
Every design and creation that homes from the Chopard Swiss artisan workshop is iconic in its own right. However, a few of these jeweled timepieces exceed the already magnificent standard. These are the coveted and sparingly available watches that form part of Chopard's limited edition timepieces. Produced meticulously in small batch quantities it is not everyone who can find or access one of these watches. We at Raymond Lee Jewelers keep a keen eye on curating a selection that includes offerings as exclusive as these. Here are two limited edition Chopard timepieces we currently have available.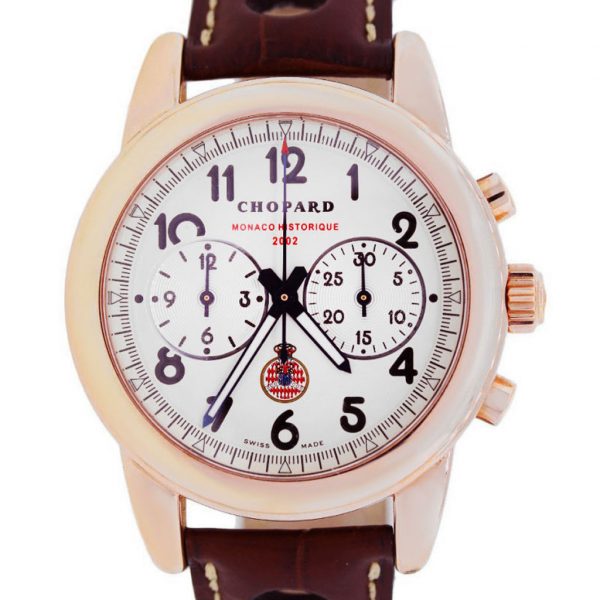 First is a historic emblem of the Monaco Grand Prix. This limited edition Historique watch is in 18k rose gold with a gorgeous brown leather bracelet. The watch features two subdials and stylized Arabic numerals for time markers. The vintagey look and rose tint make this watch one for a man with unique tastes and refined personal style. It makes a statement on its own but paired with the right outfit it states what the man is all about. 
Finally one of Chopard's watches with the most complications. This uniquely powerful limited edition LUC watch is in 18k yellow gold. The leather bracelet is classic and luxurious while the rounded design ensures a timeless modernity. Creative artisanship had to employed to create this iconic piece.
Final Thoughts
Overall the Chopard brand is an icon of Swiss Horlogerie bringing together design and functionality. The gorgeous intricate style of each traditional and more modern sportive looks are emblematic of power and precision. From the classics to their special collections and limited edition pieces Chopard crafts timepieces of excellence. Specifically, their Mille Miglia collection has their most inspired automotive design. From the bracelets to the additional features this collection keeps a racing spirit alive. No other luxury watch making brand can claim the tradition of not only sponsoring but timing a race as iconic as the Mille Miglia. Furthermore, the watches of their collection with the same name are iconic. The tire rubber design straps are met with bold sportive dials and intricate functionalities.
Any of the timepieces in any of their collections is worthy of praise. Each has its unique functionalities and inspiration. However, there are few other brands with quite so many accolades in their jeweled and powerful watches. Chopard is an iconic, Swiss made and timelessly classic brand. For the man who moves quickly and never misses a beat the company that keeps time in the world's most renowned race is almost too good to be true. Those who maintain a personal refined collection will see that the items we offer at Raymond Lee Jewelers are some of the finest. Including special and limited edition pieces means we always have unique offerings. Visit us at one of our conveniently located and sumptuously designed locations to personally view our selection. Beyond selling luxury timepieces we also offer repair services, purchase previously enjoyed items, including jewelry, and produce custom designed jewelry pieces.