This week we are going behind the scenes at our showrooms. A deep dive into our workshop where our master craftsmen repair fine luxury watches. They use the latest in technology and technique to get these masterpieces back to tick tock shape as quickly as possible. At Diamonds by Raymond Lee we offer expert services for our refined clientele. This includes watch repairs, regular maintenance to keep things running well and bespoke additions or modifications as well. Find out more below. 
When it comes to repairing and maintaining a luxury fine watch expertise is the most important thing. Watch repairs require a keen eye for detail, particular attention to that specific brand's mechanisms and of course experience working with them. Intricate and engineered down to the last minuscule detail these watches are the best of the best. So in order to repair them who do you need? Well yes absolutely the best of the best as well. Our watch experts and craftsmen are highly technical professionals with decades of experience. They bring their passion for fine watches and luxury jewelry to the work they do. Having worked with some of the very finest brands in the world, time and time again they are the go to experts. Our team knows the long line of historical changes when it comes to watch making and watch repair techniques. They're always up to date.
A continuous commitment to providing all of our clientele with superior service and the very best the industry has to offer is part of our ethos. It is why we continuously invest in improving our showrooms, both front of the house and behind the scenes. All of our equipment for watch repairs is the latest and greatest available. As well as our trained technicians. They are all continuously learning and improving. Taking their expertise on the inner working of fine watches up a notch. Whether the watches are Rolex, Patek Philippe, Cartier, or Omega our team is ready to help. With over three decades of experience and unparalleled passion we offer a wide range of watch repairs options. Our staff believes that you should never be in the dark. So we will always keep you up to date on what is going on with your time piece throughout the process.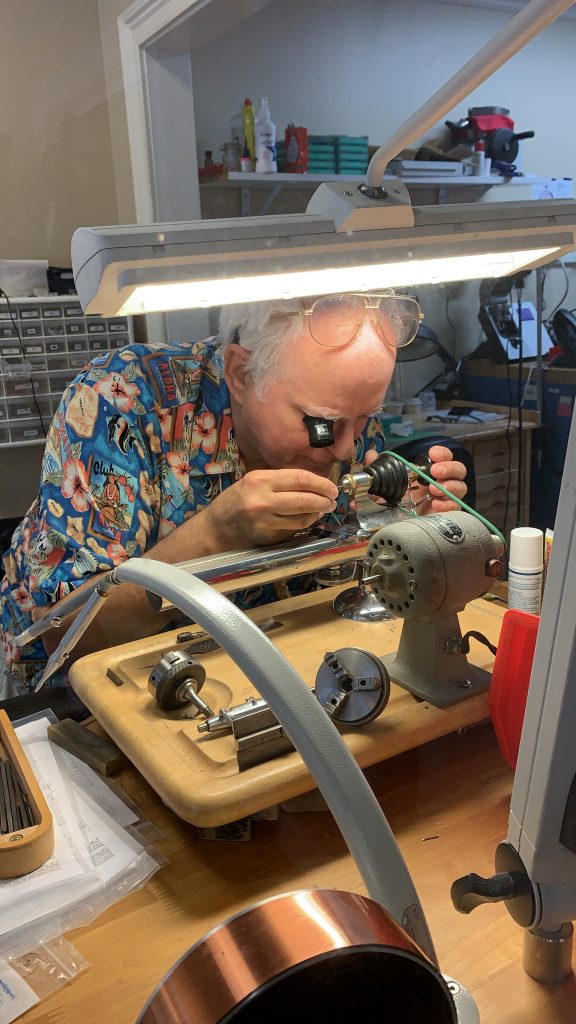 When it comes to watch repairs head for the best. With over three decades of experience and the top of the range equipment Diamonds by Raymond Lee is your go to best watch repair in Boca Raton. At our conveniently located and expertly designed showrooms. We have our luxury watch experts. They specialise in the maintenance and repairs of fine luxury watches. With the latest techniques and best in class equipment they can take almost any fine timepiece and bring them back to life. 
After all fine luxury watches are like a best friend. Closest in collectors eyes to luxury cars. Fine watches need care and maintenance regularly. To keep them ticking at the right pace. Much like luxury cars though there can also be issues with luxury watches. Common repairs are generally only once every few years. However to keep them running at their peak performance, as they are meant to be, a tune up is recommended.
The same way you take your car in for a detail you should also consider doing the same for your fine watches. Powerfully precise in order to keep moving in that way they require special attention. Also, sometimes what you need is a new battery, a link replaced, added or removed, or a polish to get scratches and dents out. It happens with wear. Even to the finest watches. As we travel and go about our days watches can take a hit.
However, our craftsmen breathe life back into gorgeous fine pieces that time pieces are. We believe that you should never be in the dark about repairs either. If something is up with your timepiece we'll let you know what is happening. At the estimate stage we will have somewhat of an idea. Particularly if it's a brand we regularly service.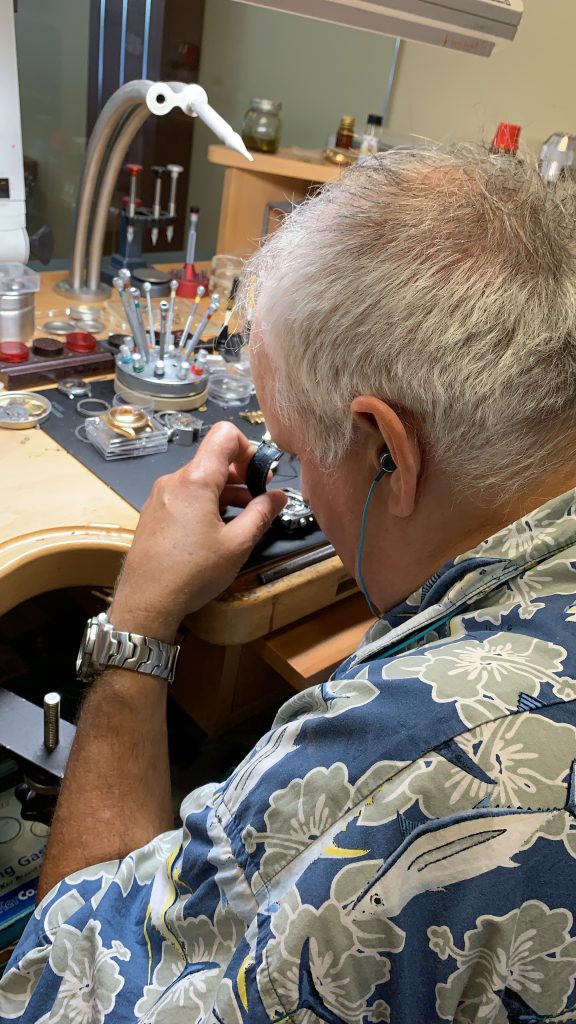 Luxury watch brands we regularly service:
Audemars Piguet
Rolex
Omega
Cartier
IWC
Movado
Patek Philippe
Rolex
Breguet
Breitling
Beyond these incredible names above we also service many others. To find out whether we can assist you with servicing or repairing your watch just get in touch with us. We offer free watch repair estimates. We will let you know what is possible and give you a cost estimate quick and easy. Our watch makers are unrivaled in their experience and techniques. They will take the time to share with you details about what is going on with your fine watch. From exactly what the issue is, why it happens to how to fix the situation. We take the time to do this because we believe in educating our refined clientele. The more you know the better equipped you are to care for your fine watches. Sometimes repairs can be avoided with a tune up or regular maintenance. Before the issue stops your watch in its tracks.
We are passionate about watchmaking and the luxury watch industry. It is a pleasure to be able to discuss with owners the ins and outs of their time pieces. Whether it is because you came in for a bespoke modification to yours or for a quick revamp or repair. Also we use only original brand parts to make sure your watch stays the fine piece it is meant to be. All original parts and expertise from our watch makers means you are in good hands. All of our experts have the highest possible qualifications when it comes to handling these fine time pieces. Prior to starting work we also make sure you are in the know regarding time frames and costs. With your approval we get started for a timely and affordable experience. It is our service commitment to you.
Our state of the art watch repair tools and equipment
the Witschi Proofmaster M: a water resistance testing machine
the Witschi Chronoscope M1: a timing machine
the Greiner Vibrograf ACS 900: a watch movement cleaning machine
the Bergeon No 6928-vr: a winding and testing machine
Our list of services we expertly handle on a day to day basis
Inspection of worn movement parts and replacement using only genuine parts
Cleaning of movement using the best cleaning solution and lubrication oils
Refinishing of cases and bands (gold and stainless steel)
Gasket repair or replacement
Pins and spring bars repair or replacement
Crystal repair or replacement
Watch dial and hands repair or replacement
Polishing
Water resistance testing
Rolex watch tune ups
When it comes to Rolex watches in specific we have a special deal for you. One of the premier luxury watch brands in the world we see a lot of Rolexes come through our workshop. For that reason we came up with our $159 Rolex tune up. This comprehensive overhaul for Diamonds by Raymond Lee Rolex customers is the perfect way to get your Rolex feeling like brand new. Our watch repair specialists get your watch tuned back into perfect gear. This is one of our most popular services and with standard maintenance makes sure your watch keeps ticking along with powerful precision.
Our professionals handle your watch from beginning to end taking care to inspect each and every part of your fine time piece. Whether you have noticed the hands moving a bit off pace or there is a slight chip in one of the links we can help with that. Taking special care of each one of the pieces within our experts guarantee an excellent result from our Rolex watch repair tune up.
If you have had your watch cared for at our showrooms you know what a great experience it is. Convenient and easy just dropping by our showroom or mailing in your time piece means peace of mind. Not only in that experts with over thirty years of experience are handling your watch. But also that there will not be any surprise costs! Let us know if you have had a watch repaired with us below…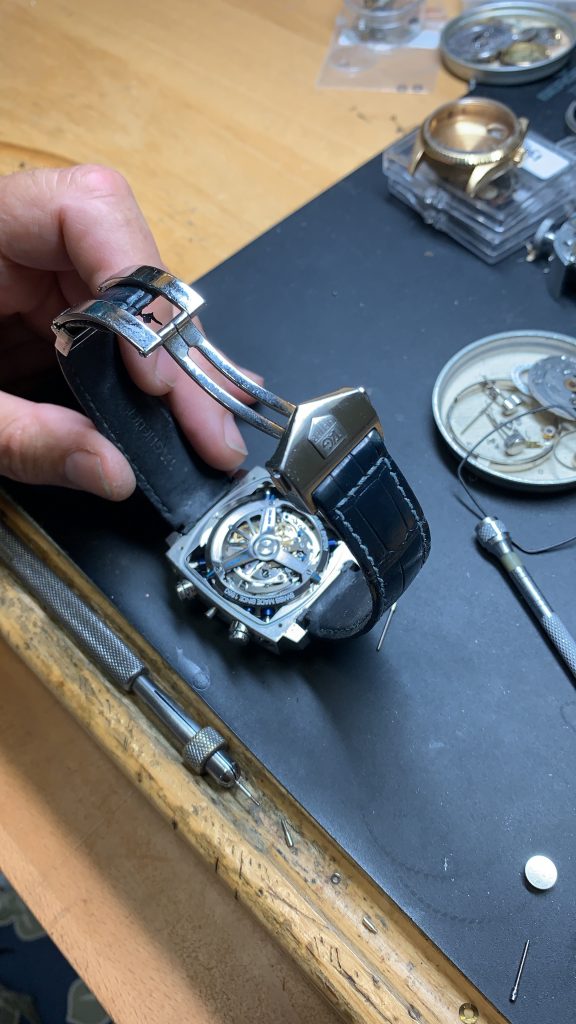 You can get free watch repairs estimates today
Our estimates are free and require no obligation. Once we have let you know what is going on with your fine watch we then discuss a plan of action. We thoroughly discuss any plans before moving forward because it is important to us that our clients never be 'in the dark'. We want you to feel knowledgeable, comfortable and confident of the clear picture of what steps we are taking. Particularly when it comes to repairs that are not your usual maintenance.
As one of the leading watch repair locations in the country we pride ourselves in education and top of the industry services. Beyond a free estimate on your watch repair, if you choose to go ahead with the plan, we can get started right away. Depending on the severity of the issue and our capacity our experts will get started right away. In the meantime you can enjoy a cold craft beer from our bar while we are busy assessing the situation.
Our local Boca Raton and South Florida clients enjoy the ease of dropping by with their fine time pieces. Having a chat with our staff they know behind our beautiful showrooms we have some powerful tools. As our experts work to assess, repair and maintain some of the world's greatest luxury time pieces of all time. We have invested in the latest and the greatest watch repair tools and equipment in the industry. This means that our experts can consistently deliver their highest quality work over and over again. It is no surprise that even non local clients come to us for watch repairs. With our convenient mail in services that come with 24/7 phone and email support clients from across the country trust our standard of excellence and expert experience with their fine watches.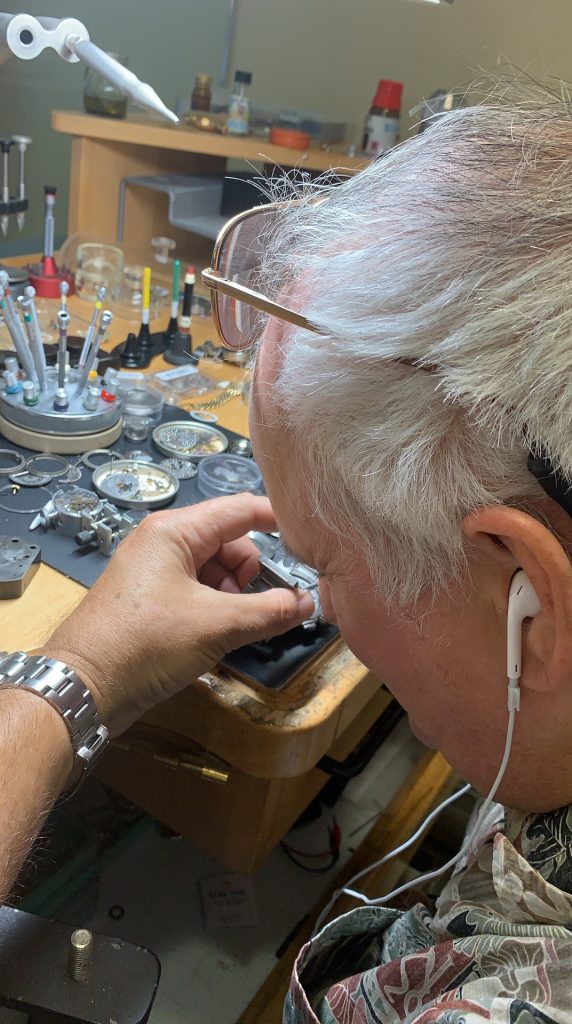 Diamond By Raymond Lee Showroom in Boca Raton, Florida:
If you have a watch that needs repairs or work done do not hesitate to reach out! You can find us six days a week, ready to help. Our craftsmen and watch makers are on call to help you get your time piece working again. As fast and cost effectively as is possible. Passionate about our work we have been serving the South Florida community for the last three decades. From here we hope to continue to serve our refined clientele for the next three decades as well. When it comes to luxury watches and fine time pieces we live and breathe this industry.
Our passion lies in the intricate machines and their movements. The powerful precision packed within each one of the cases. And of course the luxurious and refined beauty of each one of them too. It is without a doubt one of our driving ideals to continue with superior service. As we upskill and maintain a high level of knowledge. If you are looking for a place that you can trust with your watch collection look no further. We will let you know everything that we know about your time piece. And work hard to make sure we have it back in peak condition to you as fast as possible. Also for regular maintenance, battery replacements and tune ups we can do them quickly right in our workshops.
At the showroom out front you can enjoy checking out our wide curated collection of fine watches and jewelry. Or chat with some of our staff about your passion. We are all here because of our love of fine time pieces and the luxury jewelry industry. And if you do not already know many of us are also luxury and high speed car aficionados. So come visit for watch repairs.
Our address:
2801 N Federal Hwy, Boca Raton, FL 33431
Hours of Operation:
Monday – Friday 10AM – 7PM
Saturday 10AM – 5PM
Sunday 12PM – 5PM
Phone: 561-750-6744
Check out our Collection of luxury Watches FOR SALE.