Awesome Alert: Ulysse Nardin Game of Thrones "Night's Watch"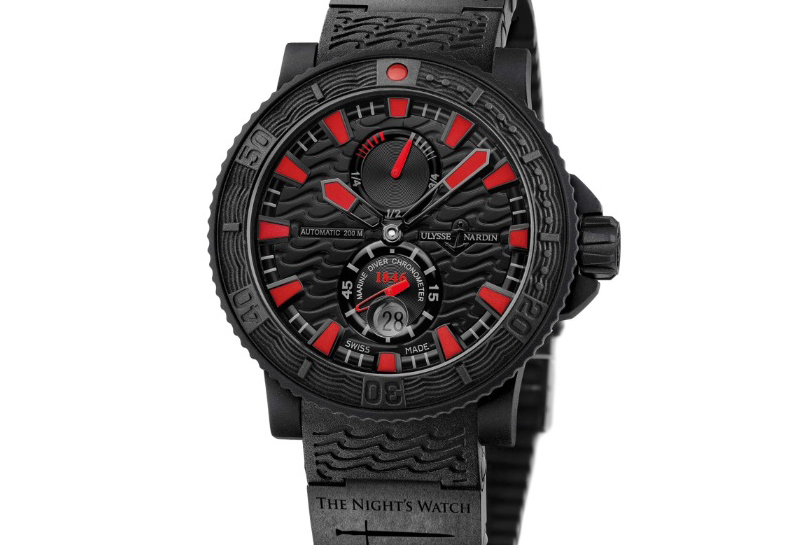 The Ulysse Nardin brand has announced that they have partnered with HBO and Global Licensing to create a signature men's timepiece to honor the popular drama Game of Thrones. The timepiece will debut directly before the third season finale of the critically acclaimed show.
Game of Thrones is an Emmy Award-winning series from HBO that depicts the different powerful families that are competing for control of the Iron Throne and and the Seven Kingdoms of Westeros. A military order dressed entirely in black, the Night's Watch, is the inspiration for the new timepiece. The military order is dedicated to holding an ice fortress, called The Wall which protects the Seven Kingdoms from the threat of the North.
The Night's Watch is a sporty monochromatic marine diver in lustrous black with traces of red. This color scheme is said to represent the seriousness of the sacred order. The stainless steel diameter case measures 45.8 mm and is coated with matte black rubber. It is finished with an exposed sapphire glass case back.. The glass case back is engraved with the Game of Thrones logo. The phrases "The Night's Watch" and "I am the Sword in the Darkness" is inscribed on the watch's straps.
The vice president of sales and marketing for Ulysse Nardin, Nelson Lucero stated,"We are thrilled to be teaming up with HBO to create a unique product inspired by one of their most popular dramas, and we are excited to unveil our collaboration." He went on to add that they believe the watch "captures the essence of precision and the fortitude of the Night's Watch."
There will only be 25 of the limited edition watches made. They will be launched together with the HBO Shop and Cellini boutiques in New York City. Sales will begin in May of 2013. They will retail for $10,500.
Related articles