DeWitt's Only Watch Contribution: The Twenty-Eight-8 High Jewellery Skeleton Tourbillon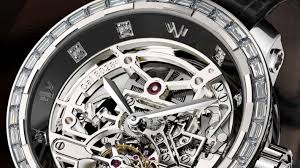 This year's Only Watch auction will be held in Monaco on September 28. Only Watch? It could be interpreted a couple of ways: the only items up for bid will be watches; or the watches auctioned will all be one of a kind creations. You could pick either one and you'd be correct. Every other year, luxury watch brands have been contributing a unique time piece to the biennial charity event now in its fifth running, with all proceeds going to the Duchenne Muscular Dystrophy.
This year, DeWitt will be donating its Twenty-Eight-8 High Jewellery Skeleton Tourbillon. Like all its watches, this one is entirely assembled, tested, and adjusted by one master watchmaker. The hand-made timepiece is a sight to behold with baguette-cut and brilliant-cut diamonds circling a white gold case holding a white skeleton movement with black gold surface treatment on the flange.
If you've been keeping up with the news coming out of Only Watch, you'll know that the DeWitt Twenty-Eight-8 High Jewellery Skeleton Tourbillon is not the only tourbillon up for bidding. And you may be wondering just what a tourbillon is. According to Classwatch.com, it is type of watch escapement (regulating mechanism) that compensates for the effects of gravity. It predates the wristwatch and was invented for pocket watches, but today is included mostly in luxury watches and is a mark of their exclusivity. That also answers why we see so many at Only Watch, doesn't it?
Are you by chance wondering about DeWitt? Maybe you haven't heard of the watchmaker. That could be because it's a fairly new brand, in existence only since 2002. The DeWitt from whom it draws its name is Jerome DeWitt, an investor turned watchmaker and descendent of Napoleon Bonaparte. The Geneva, Switzerland-based company, famous for innovative design and attention to detail, has done away with subcontractors, preferring to make its own watch parts. It looks like Jerome DeWitt shares a conquering gene with his famous ancestor. He's out to conquer the world, too – the world of luxury watches.