Perfect Thanksgiving Outfits for under $200
Don't look at the holidays as the same old song and dance—really impress your family this holiday season with fabulous Thanksgiving outfits!
Thanksgiving can be a lot of fun—or a big pain in the butt! Fashion needs to be comfortable in order to be functional for a holiday like Thanksgiving since it usually revolves around a big family meal.
Check out these great options for attire and accessories that will WOW for under $200—and in many cases, less than that.
Available at Bed Bath & Beyond for just $19.99, this adorable apron is the perfect accessory for the chef! Paired with some awesome pearl earrings, you'll be the biggest hit in the kitchen!
Tiffany & Co. has some great pieces that will woo your family members and can be paired with simple, fall fashion.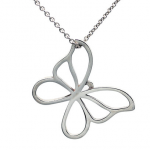 Check out this Sterling Silver Butterfly Pendant & Chain in the Raymond Lee Jewelers online store.
Paired with deep reds, browns, or purples for fall, you can have the necklace and a whole outfit together for less than $200!
Since you'll be losing the scarf indoors, your guests or family will be able to see the beautiful butterfly pendant with this fashionable fall outfit! This is an easy outfit to interchange with comfortable tights if jeans aren't your holiday forte, and I love the inclusion of flats for easier mingling and standing once you've inhaled enough turkey for the rest of the year!
This Ruby and Gold Pendant would look fantastic with a simple, comfortable maxidress–and it's only $95! Paired with a green, white, or blue floor length dress, it'll provide perfect holiday contrast. And this dress, below, from Crave is only about $30!
Gold Hoops are another holiday time favorite! They're easily paired with most fall fashion statements and always attract positive attention. Check out these practical and pretty gold hoops that fit in the holiday budget!
These can be perfectly paired with outfits like this that are practical, comfortable, and inexpensive to piece together:
Get creative this season and throughout the holidays! Wow your family, friends, and house guests with some spectacular holiday fashion!