Stefano Ricci diamond tie no joke, but is it jewelry?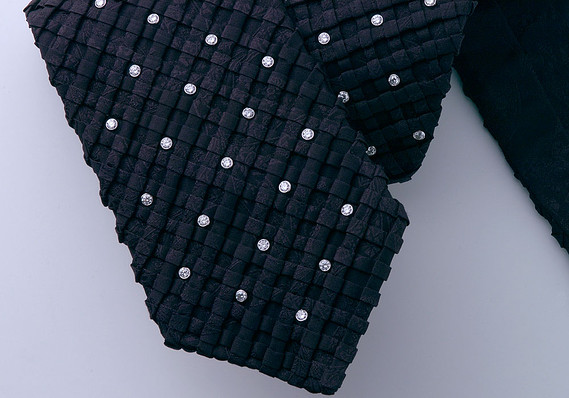 It's probably not a trend that's going to sweep the country in any stellar way anytime soon, as even its designer admits. It's also not, for men, what the "little black dress" is for women.
Indeed, it may be more like the "bling" overdose experienced when a woman wearing jeans and flip flops out in public is also "dripping in diamonds." Actually, if the flip flops were encrusted with diamonds, it might be exactly the same thing.
What has us pondering occasions to even consider its appropriateness is a diamond-studded tie — that's right, a TIE, that seemingly-silly and totally unnecessary article of male apparel that still is required in certain situations.
Really?
This tie, however, is designed by Stefano Ricco, and custom made by the Italian design house to sell for $30,000, or so. This tie might have to be kept in the vault when not tied around the wearer's neck.
It's a bit more than your average "wearing to the office" tie, both in style and in price. It's actually quite a bit more than the average "wearing to a wedding" tie, or even the every-four-years "wearing to the inaugural ball" tie, even if you're the one being inaugurated. But, Ricco reports that three of them have already been sold in the United States.
Is it equal parts jewelry and fashion? Well, perhaps, but individual preferences play a part in the tailoring. The bespoke diamond tie could, of course, cost less with fewer diamonds; or much more for additional bling. But, as you might surmise, there are no plans for mass merchandising of this particular design.
So, if you simply must have one, we at Raymond Lee Jewelers would be happy to assist you. Pardon us if we gasp at first when you call. Or if we suggest a diamond stud.
Related articles