Rose Gold: The Gold for a New Generation
Although gold is a standard in any jewelry wardrobe, many people find the run of the mill white gold, or yellow gold to grow a tad boring eventually, and many younger women are finding that white and yellow gold belong distinctly to their mother's or grandmother's age group rather than their own. This desire to redefine jewelry for a newer generation has sparked a surging of popularity in other metals during the last few decades such as platinum. Another greater alternative that is making a comeback is rose gold.
Rose gold was first popularized in the 1920s by Cartier when they introduced the Trinity Bracelet, an intertwining of white, yellow and rose gold. At the time many were not even aware that rose gold was an option, but the trend soon caught on, and was encouraged through the fact that in order to create rose gold, more copper is used as an alloy. Gold that is made up more predominately of copper is generally less expensive. So when the United States fell on hard times during the Great Depression, rose gold became a great, less expensive jewelry option.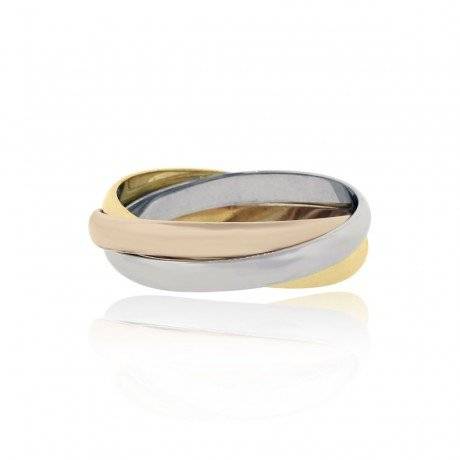 Today rose gold in making a comeback in a younger generation mostly due to the fact that there has, in the last decade, been a return to more feminine designs and colors in the fashion world. Whereas the 1990s were very black and white and minimalistic, today's young women are embracing color and frills and they are not afraid to let their girly girl out. Rose gold works perfectly with this new fashion trend.
Currently rose gold is a rising trend. Once jewelry trends rise and crest women begin to see a need to redefine again, to make things unique, especially when it comes to wedding and engagement jewelry. In no area are jewelry trends more significant than in the realm of wedding and engagement jewelry selection. One of the reasons that this type of jewelry is so very important, is that many women realize that their wedding and engagement jewelry has the potential to become important family heirlooms. These considerations are often a part of the jewelry selection process and one of the reasons that rose gold is becoming a popular choice for wedding and engagement jewelry.
Young brides are intrigued by the romantic and vintage lure of rose gold pieces, which has an heirloom quality. Whether or not the pieces actually wind up being passed down from generation to generation will depend on each individual family, but during the buying process at least, it is an attractive consideration that has many brides choosing rose gold pieces.
Celebrity brides to be have not ignored the pull of rose gold, either, as Hayden Panettiere proved sporting her unique rose gold engagement ring which she helped design herself.
In fact the rose gold intrigue has even reached hair salons, where a lovely, very pink, strawberry blonde color has taken off. "Rose Gold" highlights and coloring has been tried and loved by celebrities such as Katy Perry and Ellie Goulding with dazzling effects.