Mix and Match Wedding Bands
Choosing the perfect engagement ring is easy. Finding the right wedding band to pair it with? That's a different story. Many of our prestige designer lines like Verragio and Simon G. include matching sets. So when you or your fiancé pick out your engagement ring, you can take note of whether or not that particular designer setting has a matching wedding ring.
These rings may fit snugly together with the engagement ring, so there is no air between the two. Or they may coordinate beautifully, scrolling in and out towards each other in an infinity style setting. Or, you may find that your simple, delicate solitaire is begging for a bold statement. You also might find yourself drawn to a different designer entirely than your engagement ring's – and that's all ok!
More than ok, in fact. Mix and match engagement ring and wedding ring sets are all the rage, with brides stacking, mixing and playing with different metal combinations to their hearts' content. A bezel set beauty with a micropave band? Just fine. A platinum and rose gold duet? Beautiful. There are no rules when it comes to choosing your wedding band, beyond the fact that you must be absolutely in love!
This beautiful pear shape on a thin, delicate diamond band pairs beautifully with this gently curved shared prong diamond band.
This beautiful stack combines this rose gold and diamond solitaire by A. Jaffe with French beading with a white gold mixed shape band by Gabriel & Co. The center band uses round brilliant diamonds set in both round and marquise shapes to create interest. It also continues the French beading to tie the two styles together. The bottom band in the stack picks back up with the rose gold, and uses a shared prong setting to maximize the diamond sparkle and add yet another layer of interest.
This beauty from Ever & Ever pairs a dramatic split shank halo with a straight eternity band. The combo works by keeping the same metal (white gold) the same size accent diamonds, and the same setting technique.
This Gabriel stack keeps things cohesive by using the same metal (white gold) and French beading on all three rings in the mix. The smaller diamonds on the bottom band are set in the same manner as the engagement ring's, and the center stone switches things up with different shaped frames for each individual diamond.
This perfectly matched Simon G. set works for a few reasons. This design is very specific – pairing it with another look may seem cluttered and disjointed. It's also very intricate. So even though we doubled down and added even more of that beautiful vine pattern, it works because it's the twin of the engagement ring.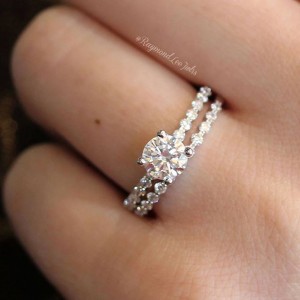 This Simon G. set, also perfectly matched, works because of its simplicity. The gorgeous string of diamonds on the engagement ring is mirrored on the wedding ring.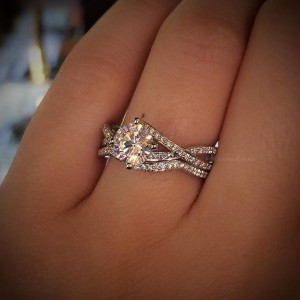 Finally, this Simon G. set combines an intricate, diamond-studded infinity shank with a curved wedding band that fits together with it like a puzzle piece. The result is a cohesive set that looks like one ring!