Antique engagement rings are where it all began. Not only for the actual concept of engagement rings (given that they're all 100 years or older) but for Raymond Lee Jewelers. Before the designer engagement rings, before our own specialty creations, we began as an estate jeweler. And just because we've turned into Boca Raton's best estate jeweler doesn't mean we're ready to say goodbye to our roots. No, it just means that our collection of antique engagement rings is more impressive than ever before. For couples searching for something different, something beautiful, meaningful and imbued with history, there's just nothing that compares to an antique engagement ring. And because these rings span decades of different jewelry designs, diamond cutting techniques, and hand setting methods, there's a different style for every bride. Even within the individual style categories, the rings are so beautiful and different from one another – antique engagement rings are truly for the bride who wants something entirely different. Something timeless, something as sentimental as she is.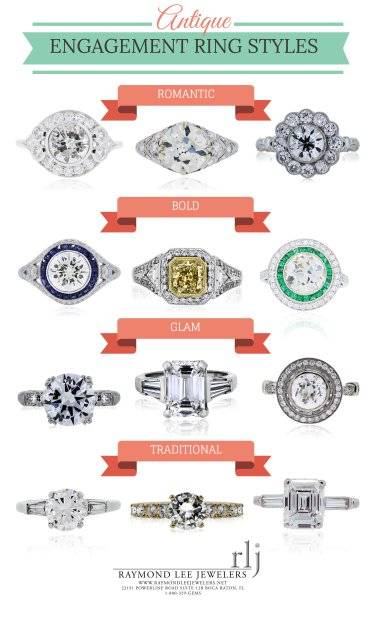 Romantic Antique Engagement Rings
Platinum 1.42 Ct. Vintage engagement ring
Center stone is G/H in color SI3 in clarity, with Approximately 0.63ctw of Round Accent Diamonds in a platinum bezel setting. EGL certified
Platinum Antique Old European 2.02ct Diamond Engagement Ring
2.02ct center Diamond, Diamond is K in color and VS in clarity
Platinum 1.15ct Old European Cut Diamond Flower Engagement Ring
Center stone is H color, VS1 clarity with Approximately 0.97ctw of Old European Cut Diamonds
Bold Antique Engagement Rings
Plat. 2.50ct Round Brilliant Diamond Sapphire Halo Engagement Ring
2.50ct Round Brilliant center Diamond, Diamond is K/L in color and SI3 in clarity, Approximately 0.38ctw of Round Brilliant Diamonds, diamonds are G in color and VS2 in clarity. Approximately 0.56ctw of Sapphires.
18k Two Tone Square Brilliant Fancy Yellow EGL Certified Engagement Ring
Center stone is a 0.96ct Modern Brilliant Square Cut Diamond, Fancy Yellow in color and VS2 in clarity. 0.62ctw of Round Brilliant, Trillion Cut Diamonds, G/H in color and VS1-SI1 in clarity.
3.01ct Old European Cut Round Diamond
Center round diamond is M in Color, VS clarity, with .39 ctw emeralds, and Micro Pave Diamonds weighing 0.36ctw
Glam Antique Engagement Rings
14 karat white gold emerald cut engagement ring
3.02ct Emerald Cut Diamond I color SI clarity with Approximately 0.60ctw of tapered baguette diamonds
Platinum 1.43ct Old European Cut Diamond Engagement Ring
Center stone is G color, VS1 clarity. Approximately 0.24ctw of Round Cut Diamonds accent stones
Traditional Antique Engagement Rings
Platinum 1.90ctw Round Brilliant GIA Cert. Diamond Engagement Ring
1.90ct Round Brilliant Diamond J in color and VS2 in clarity. Approximately .30ctw of Baguette diamonds on either side
18k Yellow Gold 1.19ct Round Brilliant Diamond Engagement Ring
Center round brilliant diamond is I color, SI3 clarity with (8) Round Brilliant Accent Stones weighing Approx. 0.38ctw
Platinum GIA Certified 1.78ct Emerald Cut Diamond Engagement Ring
1.78ct Emerald Cut Diamond, Diamond is E in color and VS2 in clarity, with Approximately 0.20ctw of Baguette Diamonds
Related articles