Christie's Geneva To Auction Massive Ultra-Rare Type IIA Diamond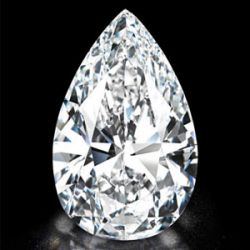 Christie's Geneva is gearing up to place a huge D-flawless pear-shaped diamond on auction on the 15th of May. This perfect colorless diamond has a weight of a whopping 101.73 carats. Although not the largest D-flawless in existence, it is the largest one ever to go up for auction.
The D-flawless from Christie's is however in the top ranks for the world's largest. It is out-weighed only by two others: the De Beers Centenary, weighing in at 273.5 carats and Steinmetz's pear-shaped Millennium Star at 203.4 carats.
The international head of jewelry for the auction house, Francois Curiel, is expecting the stone to fetch at least $20 million. He stated, "This is the largest D-flaw ever to appear for sale at auction, and also the most perfect drop to come up on the auction block."
The D-flawless was found at a De Beers-owned mine in Botswana. Cut from a 236 carat rough, the diamond took 21 days to polish.
Christie's will not identify the stone's seller. De Beers verified that the huge diamond came from one of its sight holders. However, they will not identify the company.
Currently the Archduke Joseph diamond holds the auction record for highest bid. It sold for $21 million at Christie's Geneva last November, 2012.
Christie's Geneva D-flawless is likely to become one of the world's most famous diamonds.