Fashion legend and Chanel founder Coco Chanel once said, "Fashion passes, style remains." While this statement holds true for the entirety of Chanel's impressive design legacy, it is a particularly accurate portrayal of Chanel's iconic J12 watch, which continues to make an elegant impression nearly 15 years after its innovative introduction. Launched in 2000, the J12 made horological history as Chanel's first unisex watch, and forever changed the face of the watchmaking industry through its clean lines and innovative hybrid mix of masculine and feminine design elements.
Since the J12's debut, it has spawned an entire line of J12 watches, each more revolutionary than the next. Initially available only in high-tech, non-scratch black ceramic, it later appeared in a lustrous snow-white finish. Over the years, larger models have been introduced in response to the demand for oversized timepieces, as well as a smaller "nano format" model, released to mark the J12's 10th anniversary. Upgraded versions–featuring diamond designs, precious metal trims, and titanium ceramic coating–appeal to the glam set, while the Chromatic; the Haute Joaillerie; and the Haute Joaillerie Tourbillon, which incorporates the most exclusive element of watchmaking technology: the tourbillon, or the "whirlwind," have all made elegant entry into timepiece history.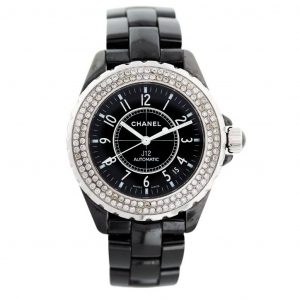 J12's are popular arm candy among the celebrity set, and have been spotted adoring the graceful wrists of everyone from Emma Watson to Keira Knightley. Scarlett Johansson, Anna Kournikova and Blake Lively are also fans of the chic, timeless piece. Many more celebs and ladies who lunch have been spotted out and about town in the J12, and its appeal across generations speaks to its timeless appeal.
The J12 would have pleased even Coco Chanel herself, who referred to the dainty watches popular during her day as "microbes." The J12 is anything but insignificant. In fact, in the world of watchmaking, it's more of a behemoth.