Baume et Mercier Timeless Geometrical Designs for Ladies
Founded in 1830, Baume et Mercier is considered a luxury Swiss watchmaker, rivaling industry giants and sister companies Piaget and Cartier. Operated and managed by Richemont, Baume et Mercier is represented in over 75 countries. The company produces over 200,000 sporty chronograph time pieces annually.
While Baume et Mercier made it's name through their offering of sporty chronographs, their typical watches are timelessly geometric. Square, rectangular and circular watch faces compliment a feminine look and lay gorgeously on the wrist.
According to sources, "From the beginning, the objective of the "Frères Baume" company was to make high-quality traditional watches enriched by various technological breakthroughs of the era. The Baume family were equally innovative commercially, when one of the two brothers, Joseph-Célestin, set up a branch in London named "Baume Brothers". Baume Brothers rapidly expanded throughout the British Empire, from India through Singapore and Burma to Africa, and even became a pioneer in selling watches in emerging markets such as Australia and New Zealand."
During the second generation of ownership, Baume et Mercier became the worldwide phenomenon that it is today. Sales are driven primarily through the production of the Chronographs and the Marquise watches, which are jewelry watches set in a 'bangle' bracelet. The Marquise watches were the most popular post-WWII ladies watches until the 1960s and with the influences of vintage fashion, the style is making a tremendous come back.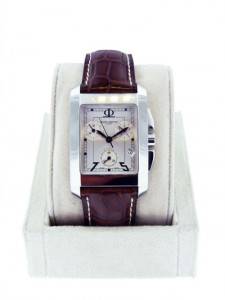 New Baume et Mercier models include the Hampton (And over 6 renditions of this classic ladies watch, the Hampton Chronograph XL is featured above), the Capeland and Capeland Chronograph, the Classima line, and 7 other styles.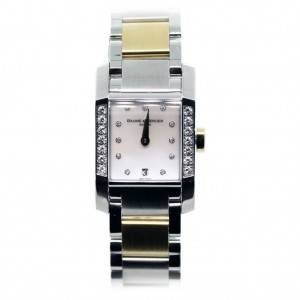 This Baume et Mercier Diamant 8599 features a Stainless Steel and 18 karat gold bracelet with a diamond and mother of pearl dial. The bezel contains .532tcw of diamonds!
The unique, clean design and modest, but feminine look of Baume et Mercier watches is only part of the appeal. The perfectly crafted timepieces are extremely accurate and luxurious. Typically, Baume et Mercier ladies watches have a clean look and square watch face, truly tying together their geometrical design schemes. Baume et Mercier also produces a plethora of men's wrist watches.
Related articles