Are Brown Diamonds Real Mined Diamonds?
Scientists have researched the origin of brown colored diamonds. Brown diamonds, recently but successfully marketed as "Chocolate Diamonds" by LeVian, have a brown color because of irradiation, nickel impurities and lattice defects. Lattice defects caused by pressure that exceeds tolerance of the crystals' "yield strength," causing strain hardening. This excessive pressure fractures the stone within the crystal. Geo engineers refer to this as "Plastic deformation." Strain hardening makes the material stronger. A high-pressure high-temperature technological solution developed to heal lattice defects in pure diamonds converts brown diamonds into yellow or colorless stones.
History Behind Brown Diamonds
The history of brown diamonds traced back to 1600 A.D. , when industry first used these diamonds for cutting machinery tools and lasers, etc. In 1985, a rough brown diamond of 755.5 (151g), found in the "Premier Mine" in South Africa, owned by De Beers. This diamond was the largest in the world, cut to 545.67 carats (109.13g), the largest cut and faceted diamond in the world. The stone was a beautiful brown-golden color with a bright reddish hue in the center that emitted a mysterious shine. It took two years in a customized underground room to cut and polish the "Unnamed Diamond". Gabi Tolkowski described the cut as a "Fire-Rose Cushion shape". King Bhumibol Adulyadej, ruler of Thailand, named the diamond "The Golden Jubilee Diamond" in honor of the 50th Anniversary of his Royal Coronation.
Value of Brown Diamond
To estimate the Value of the Kings' brown diamond, let's take a look at a "smaller" diamond weighing 248.9 carats (49.78g) in the rough and cut to 111.59 carats (22.318g). This stone cut to a pear-shaped gem, strong brown in color with an extraordinary brilliance. De Beers sold this one for $900,000. The two diamonds have many differences besides size but knowing the price of the "Earth Star" diamond, weighing 111.59 carats, the value of the Kings' "Golden Jubilee" diamond at 545.67 carats, valued somewhere between 4-12 million USD.
Colors of Diamonds
Of course these glorious finds, as well as others have changed public opinion of colored diamonds. Diamonds are known to occur in many hues of colors, yellow, green, brown, pink, orange, red, black and grey. In a very remote area of north-west Australia, "The Argyle Diamond Mine" not the richest mine, but the largest diamond producer in the world by volume has the only known site for rare "Blue Diamonds". They are also the only known significant source of "Pink Diamonds". This mine produces 90 percent of the world supply. Since development of this Australian mine in 1986, the market for high-end colored diamonds has grown confidently.
Historic Diamond Ownership
Aristotle Onassis purchased "The Lesotho III" , a pale brown diamond, for his wife, the former United States First Lady, Jackie Kennedy-Onassis. The size, 40.42 carats cut in a marquise-shaped gem, was the largest stone cut from crystal. In April 1996, "The Lesotho III", sold at an estate auction for $2,587,500. USD. The marquise, superbly mounted in a Harry Winston designed platinum ring.
Incomparable Diamond
"The Incomparable Diamond" has an incredible history as well. In 1984 an African girl was in her backyard sorting through piles of discarded mine rubble thought too bulky to contain diamonds. Essentially, one of the largest brown diamond ever found in the world, 890 carats (178g), was found in an old deserted mine dump by a peasant girl scavenging in the muck, in the Democratic Republic of Congo. Initially the rock was so massive, when first cut was still the world's largest cut gem, but was later reduced, to enhance the quality, into the largest brown diamond at 407.5 carats (81.5 g) then rated the fourth largest cut diamond in the world. Fourth in line, this diamond, cut by a team led by Marvin Samuels, co-owner with Donald Zale, of Zales Jewelers and Louis Glick. There were fifteen finished gems in all, the stones cut from "The Incomparable Diamond" varied in color, near colorless to rich yellow-brown. They were on display in November 1984. The prized single golden diamond, weighing 407.48 carats (81.496g) cut in a "Trolette shape" still bears the name "The Incomparable Diamond", graded by the GIA as internally flawless in 1988. What would you say the moral to this story is? Good things can happen while playing in the mud?
Have Chocolate Diamonds Become Popular Now?
Eddie Le Vian designed the "Chocolate Diamond Collection" in the early 2000's which began a revival of popularity of the brown colored diamonds. One way to insure that you are getting true diamonds and not colored gemstones is to make sure the jeweler provides Certification of Authenticity that matches your diamond. With all this talk about the history of chocolate diamonds, it would be appropriate to check out some of the hot new designs the diamond industry is providing for the current diamond "choco-holic" public.
There's nothing more delicious than a chocolate covered strawberry, so when you see the LeVian Bridal Chocolate diamonds with 14K Strawberry Gold band you cannot resist trying it on! The diamonds are more "chocolatety looking" when contrasting against the pink gold and "vanilla white diamonds framing the round cut chocolate feature diamond. Smaller chocolate diamonds are "trickling" down the sides of the strawberry band and the profile of this Bridal engagement ring is an "Ocean Wave" design. Total diamond weight ranges from 1.115 to 1.4 carats. Temptingly delicious!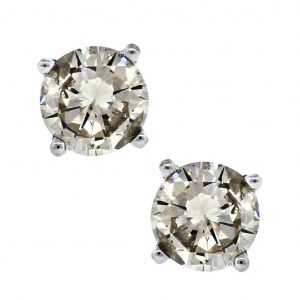 14k White Gold Top Light Brown Diamond Stud Earrings
Brown Diamond vs. White Diamond
While you may think that upscale colored diamonds are more expensive than shiny white diamonds (or would you?) the truth is that colored diamonds, such as the brown diamonds, with a hue may be less valuable in comparison to even a smaller but shinier white diamond. Due to brown diamonds allegedly being one of the more common types of diamonds, its price isn't as high when compared to the white diamonds. The value of brown diamonds increased due to the popularity and positive reaction to the re-branding of its name "Chocolate Diamond," as declared by Levian. While white diamonds are also more common, colored diamonds are beginning to be sought after more and more. When comparing brown diamonds with white diamonds, it all comes down to the preference of the individual. Are you looking for a more rare type of diamond? Or is the diamond's rarity not much of a deciding factor for you as the actual color is? When it comes to the type and color of diamond you prefer, it's about what you think. and who says you can't have both a brown diamond and a white diamond?
How Brown Diamonds Have Impacted Jewelry Fashion
Brown diamonds have played a critical role in the fashion world, especially because the type of diamond became more desirable after a simple re-marketing strategy. Regardless, brown diamonds have a special look that can leave people feeling elegant, sophisticated, and mature. Who would have thought that a color could do so much? There are several different shades of brown diamonds. The more pure and vibrant the color, the more valuable the stone. However, each shade has its own fashion statement. Whether the idea of the type of brown diamond is to highlight a subtle, warm feel or a rich, champagne sparkle, brown diamond jewelry can give off all different types of moods. While there are colored brown diamonds, only the true, real brown diamonds are considered the most valuable.