Ultimate Guide to Solitaire Engagement Rings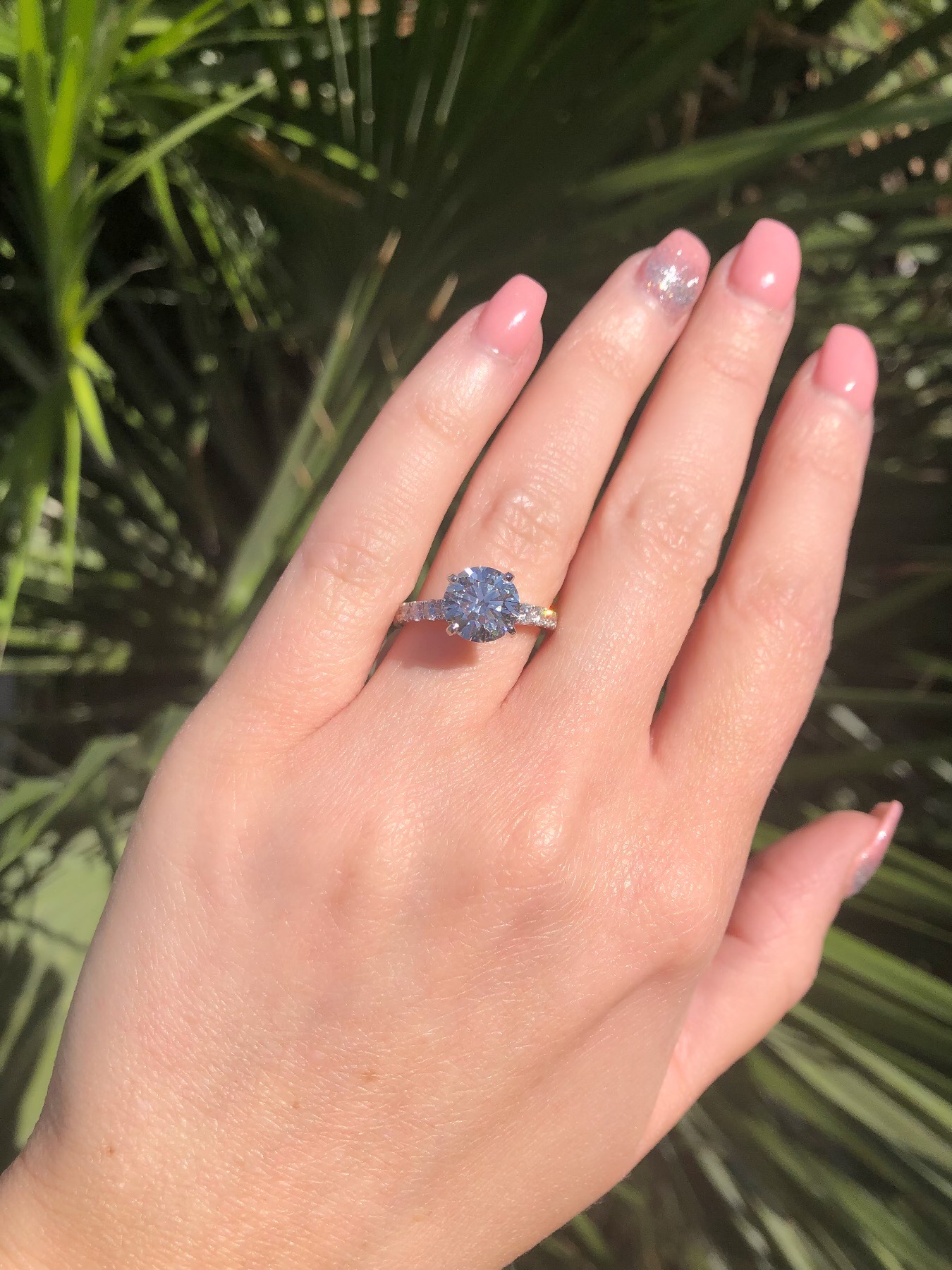 The solitaire diamond engagement ring is far and wide the most coveted engagement ring style. It is also the most classic, and arguably the most elegant and sophisticated! If you have your mind set on a solitaire setting or you are still considering your options, let this article guide you through everything you need to know about the iconic prong setting known as the Solitaire. Moreover, let it debunk any question about solitaire engagement rings being boring!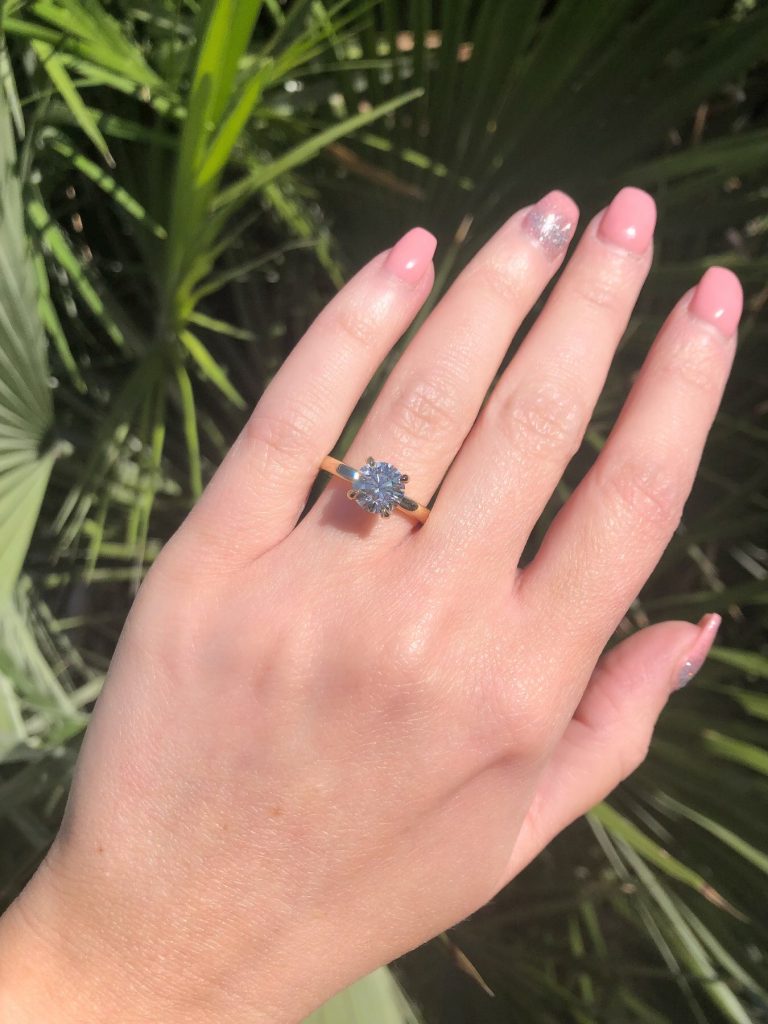 In this article, we will cover the following:
What are solitaire engagement rings?
History of the solitaire engagement ring
What does a solitaire engagement ring symbolize?
Are solitaire engagement rings boring?
Diamond shapes for solitaire engagement rings (and the best options)
The types of prong settings for a solitaire engagement rings (including a comparison of 4 prong vs 6 prong setting)
Types of styling & detailing options for solitaire engagement rings
How many carats should a solitaire engagement ring be?
Solitaire engagement ring prices
Why should you choose a solitaire engagement ring?
Where to buy solitaire engagement rings in South Florida or online?
We hope our 'Ultimate Guide to the Solitaire Engagement Ring' will help you choose your perfect engagement ring.
What are solitaire engagement rings?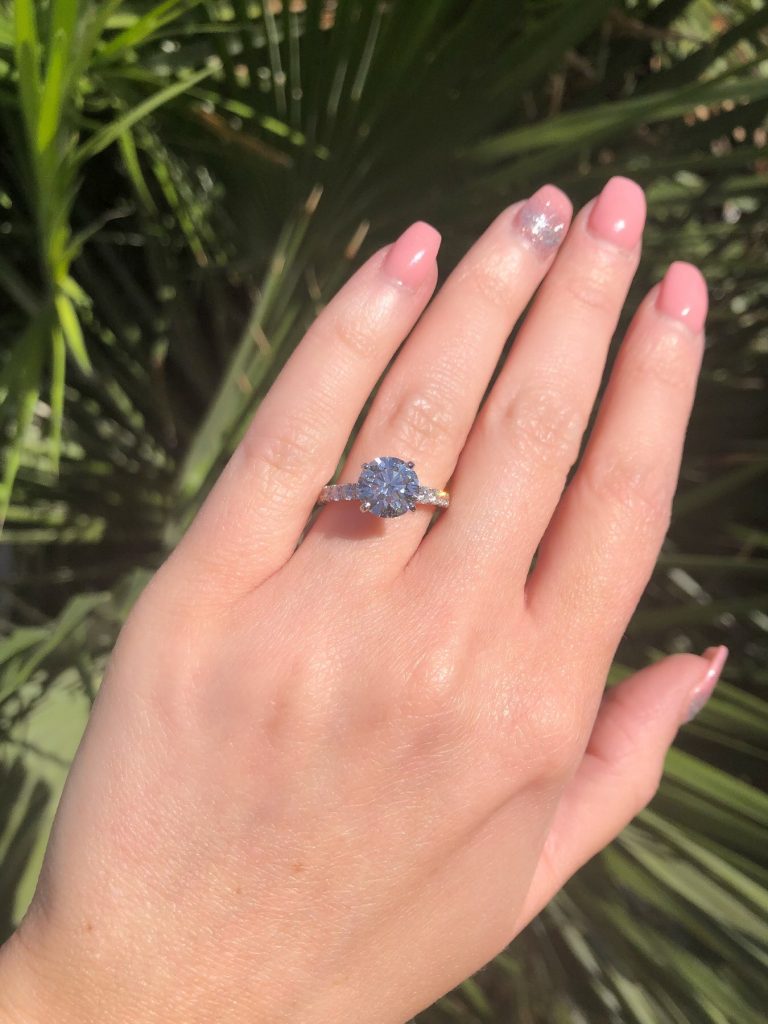 A solitaire engagement ring refers to any engagement ring with a single diamond. In the jewelry market, they are known as "prong settings" as well, as a number of metal prongs (typically 4 or 6) are used to mount the center stone in place. 
Solitaire engagement rings are very diverse in style. They vary in terms of diamond shapes, prongs, precious metals, and detailing. They can be low profile or high profile, minimalist or ornate. The options are truly endless. But, one thing that will always remain consistent with a solitaire engagement ring is there will only be a single diamond centerpiece.
History of the solitaire engagement ring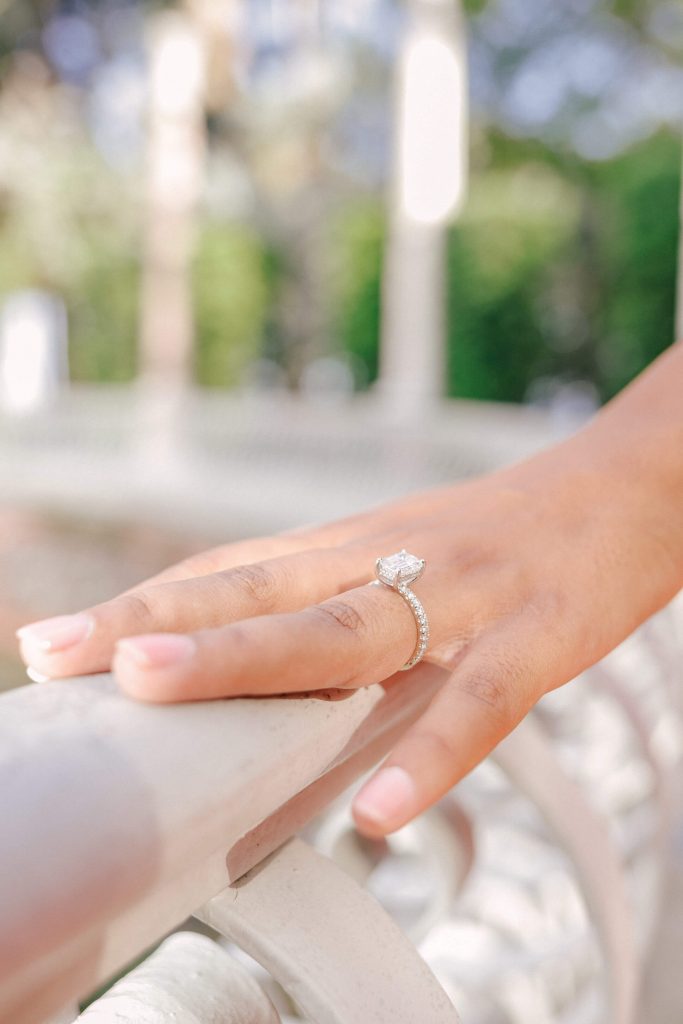 The solitaire engagement ring has a rich history. Prong settings are thought to have been around for as long as rings have existed.
However, it was first popularized by Tiffany & Co. when they introduced the "Tiffany Setting", which was a solitaire setting. It was further iconicized by the famous mining and diamond trading company De Beers, who, in collaboration with the advertising agency N.W. Ayer, created the slogan "a diamond is forever" in 1938. This campaign featured a solitaire setting, of course. It was at this time when not only solitaire engagement rings became popular, but also when diamond engagement rings, in general, were first written into our traditions of marriage. 
Ever since then, the solitaire engagement ring has remained the most popular engagement ring setting each and every year for generations upon generations, without fail.
This makes the solitaire engagement ring the most classic engagement ring setting of them all. It is a timeless choice that will forever be cherished, stylish, and ubiquitous.
What does a solitaire engagement ring symbolize?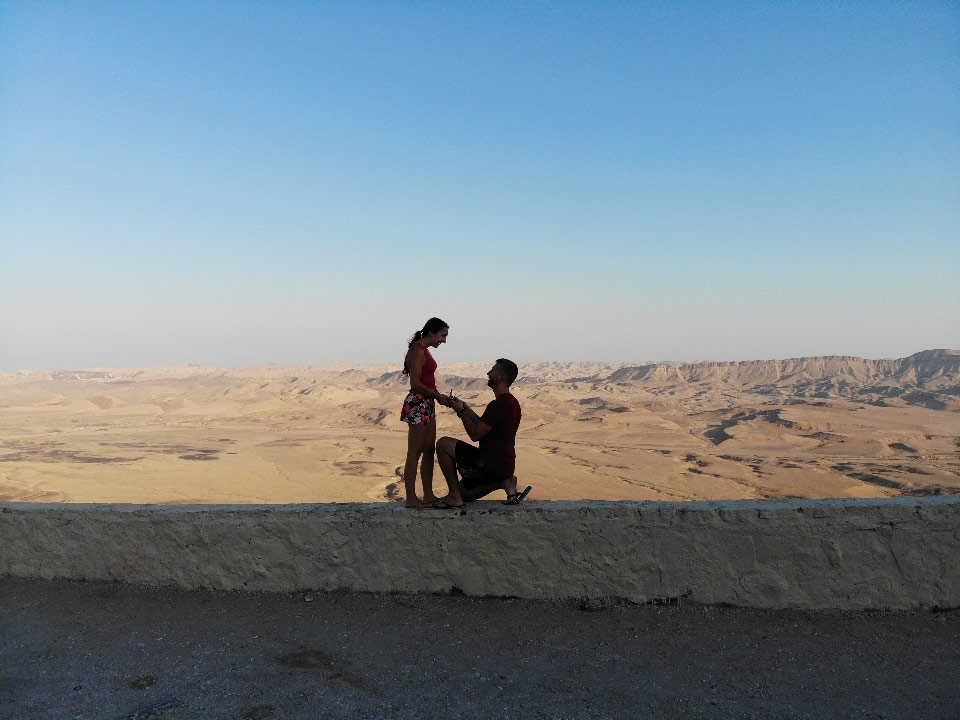 A solitaire diamond engagement ring is the ultimate symbol of love between a bride and groom. It expresses that their love is pure and boundless, which is why it was coined alongside the saying "diamonds are forever".
By presenting your loved one with a solitaire engagement ring, you will be expressing eternal and unbreakable partnership and trust. That person is at the center of your world and the only thing that shines in your eyes, just like the single diamond that rests alone at the top of the ring.
Are solitaire engagement rings boring?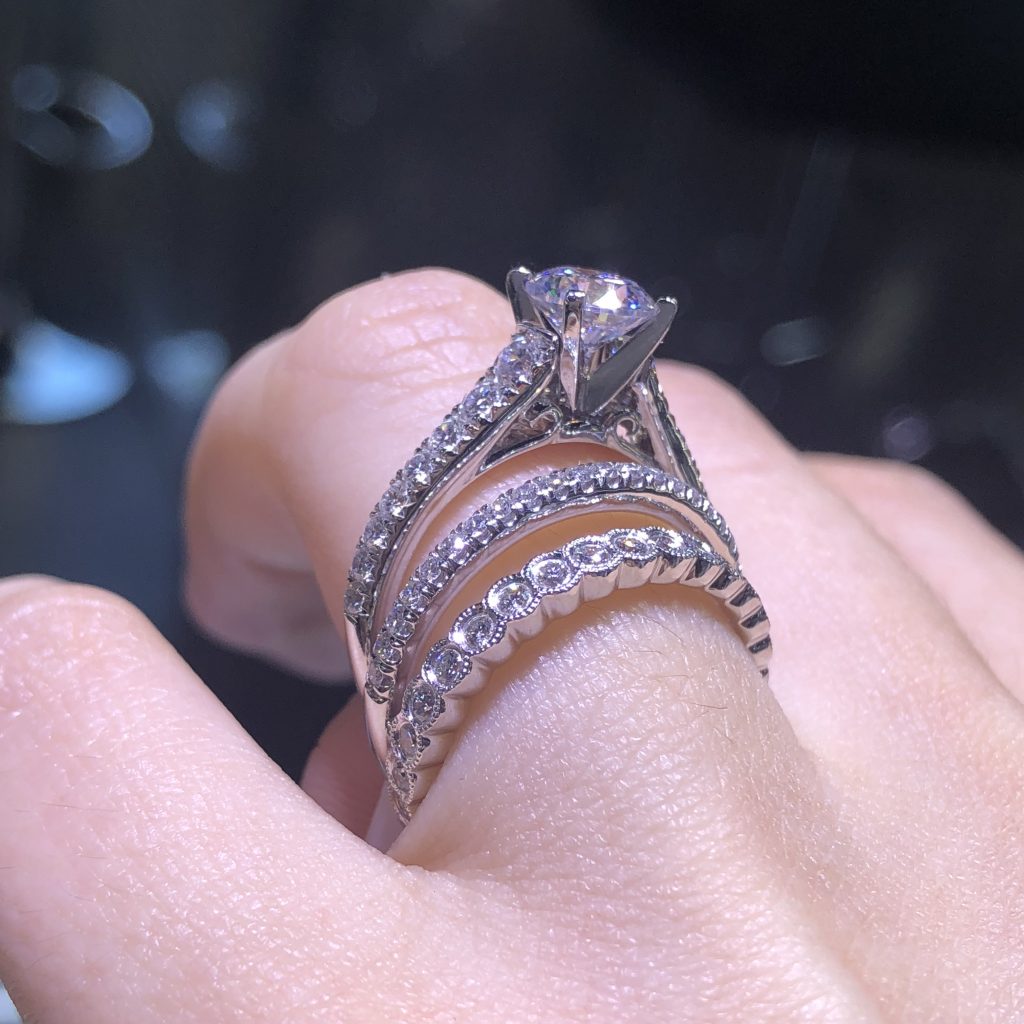 Solitaire engagement rings should never be considered boring. It is the most classic style of engagement ring. They are unbelievably stunning and immensely captivating, as they put all the attention on the diamond, and no one can ever say a diamond is boring.
Simple doesn't mean boring in the world of solitaire engagement rings.
When you see a plain shiny platinum band with a 3-carat diamond on a 4 prong solitaire engagement ring, you would never think "boring", you would think "OMG, GORGEOUS". That's a fact.
Now, while some solitaire engagement rings are simple and plain, the fact of the matter is, solitaire engagement rings range from minimalist to incredibly ornate. So, they can't be categorized as such. Moreover, it is a style that you simply can't go wrong with, which is the only thing simple about it in our eyes.
We will be showing you various styles of solitaire engagement rings below, so you can see for yourself just how versatile this timeless setting can be.
Diamond Shapes for Solitaire Engagement Rings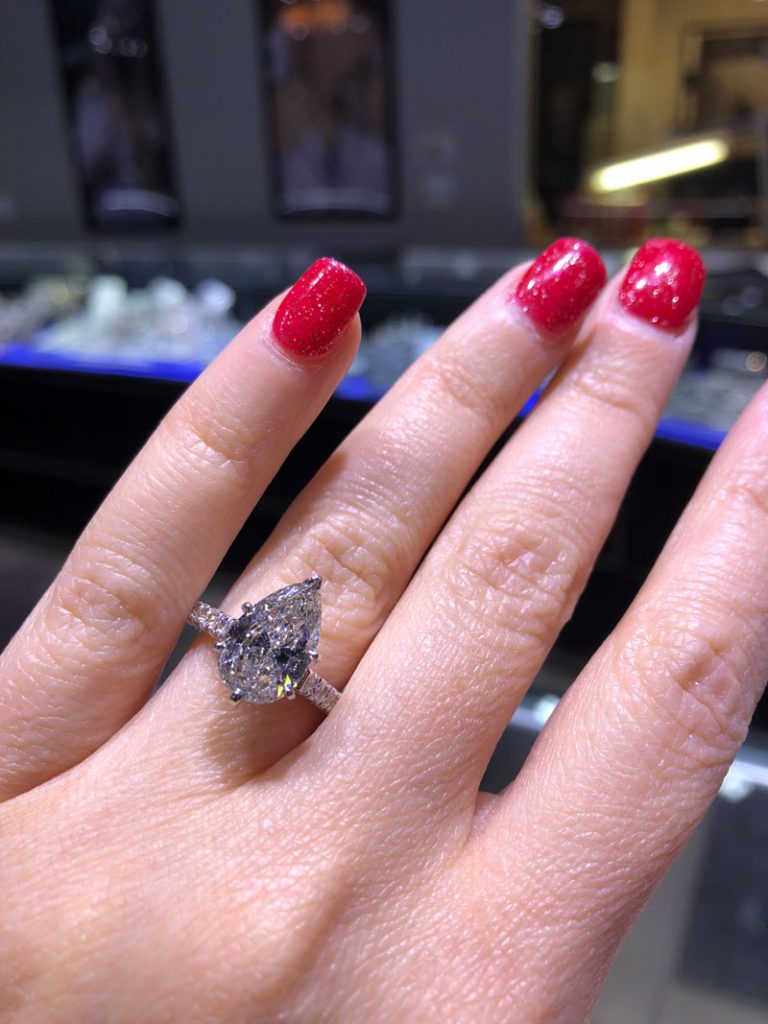 Solitaire settings can employ any diamond shape. Here are the diamond shapes used in the engagement ring market. 
Modified Brilliant Cut Diamonds:
The following diamond shapes are all modified brilliant cut diamonds, which means they were modified from the round brilliant cut.
A modified brilliant diamond features many small facets, giving the diamonds incredible sparkle – scintillation, fire and brilliance.
Round Brilliant Diamond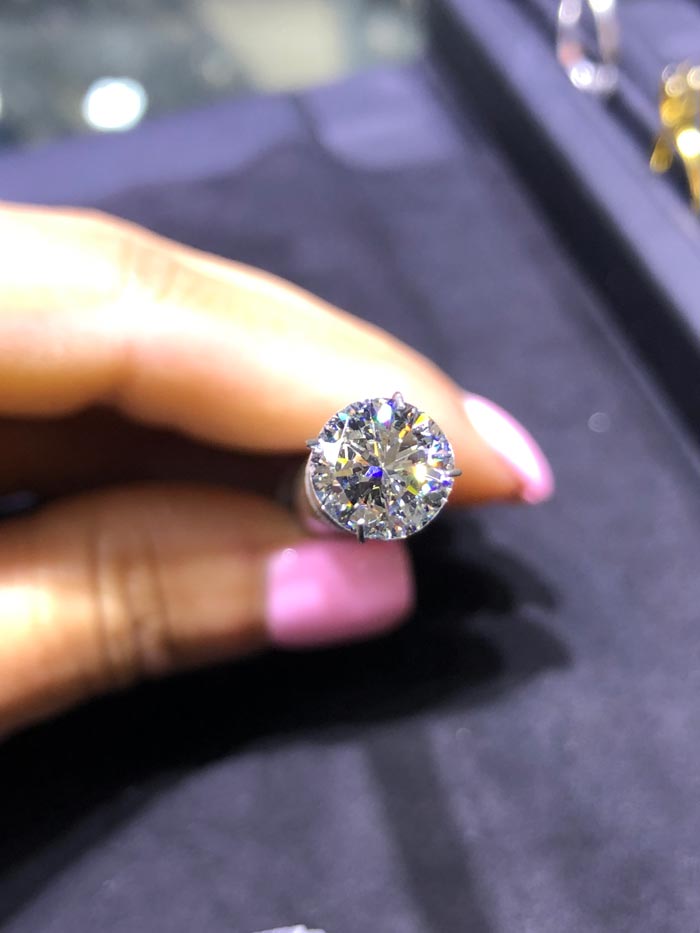 The round brilliant cut diamond is the most popular diamond shape for engagement rings. It is a timeless shape that is overpowering with its captivating brilliance and sparkle.
Princess Cut Diamond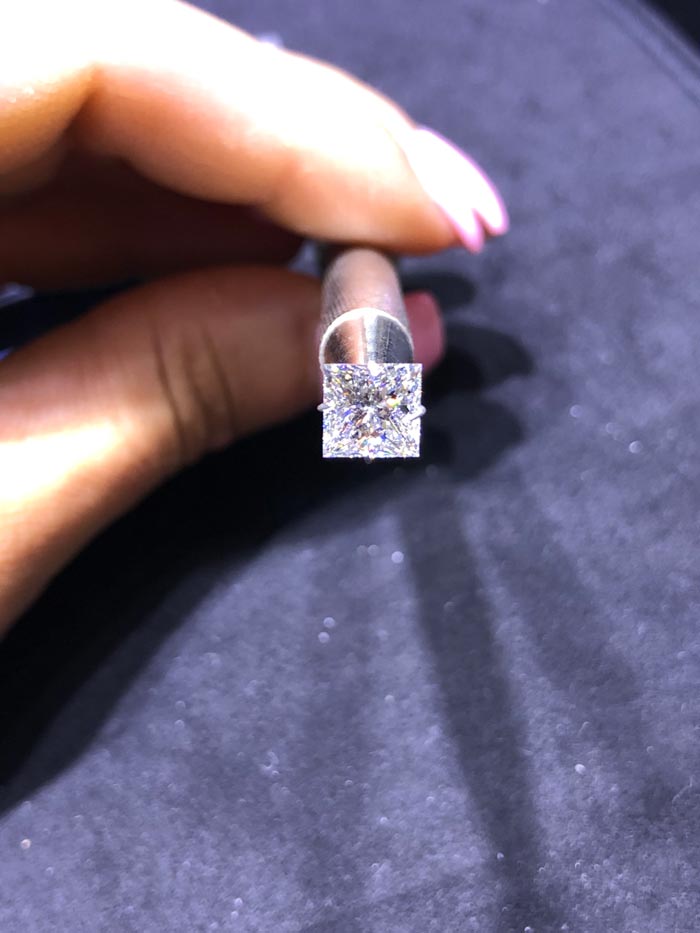 The princess cut diamond is the second most popular style for engagement rings thanks to its sophisticated and elegant cut. If you are "edgy" and like sharp corners, this is a great choice.
Cushion Cut Diamond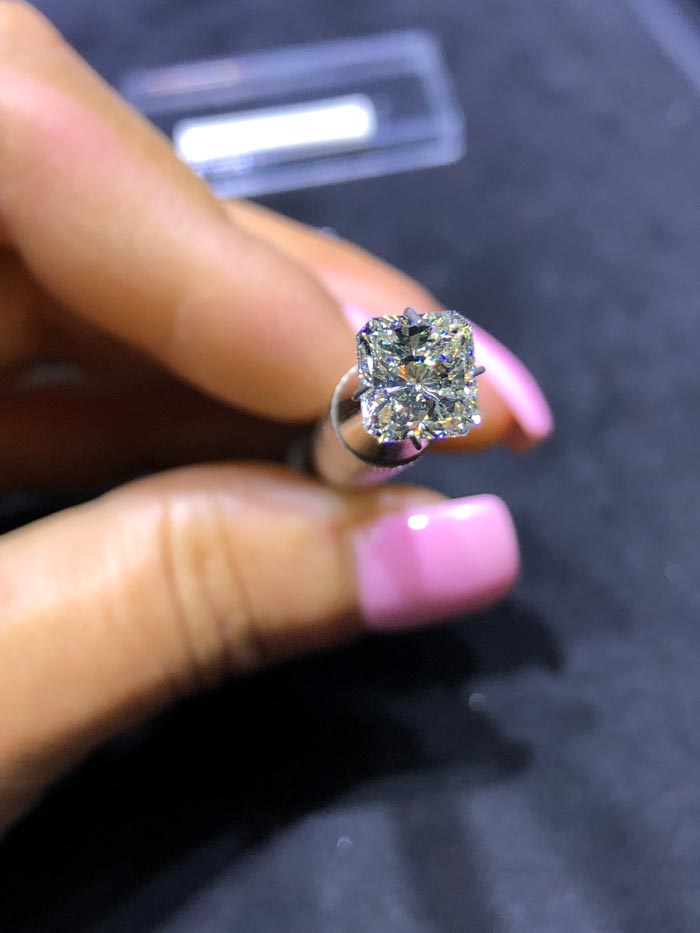 The cushion cut diamond is one of the most popular shapes after the round brilliant and princess cut diamond. They are like a fusion of the round brilliant and princess cut diamond, taking a rounded square, cushion-like shape, hence the name. 
Oval Diamond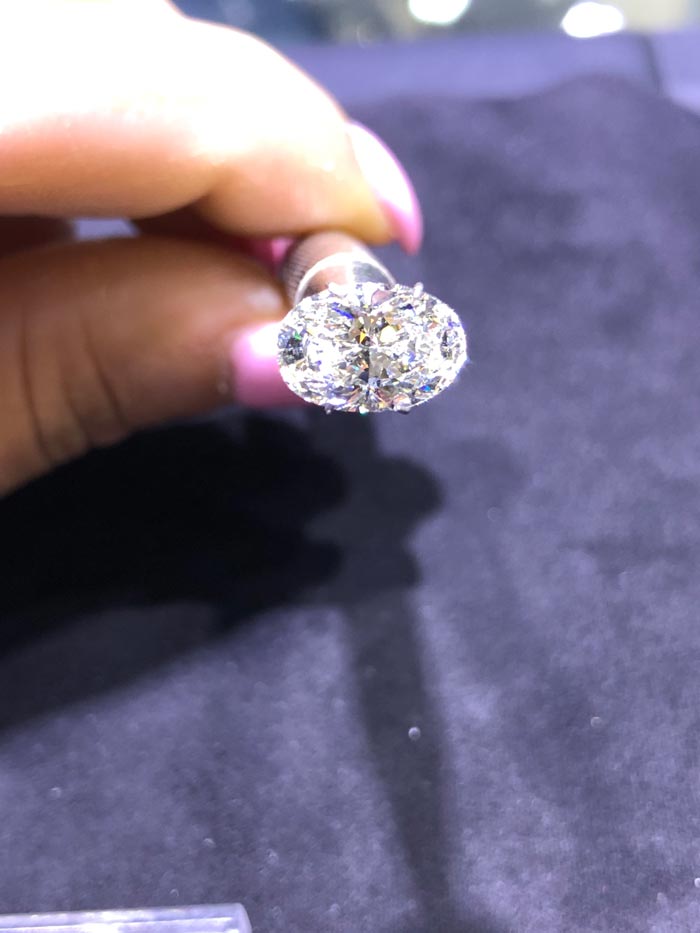 The oval diamond is like an elongated version of the round brilliant diamond. It is immensely brilliant and romantic, and it offers wonderful vintage appeal. In recent years, the oval cut diamond has exploded in popularity.
Marquise Diamond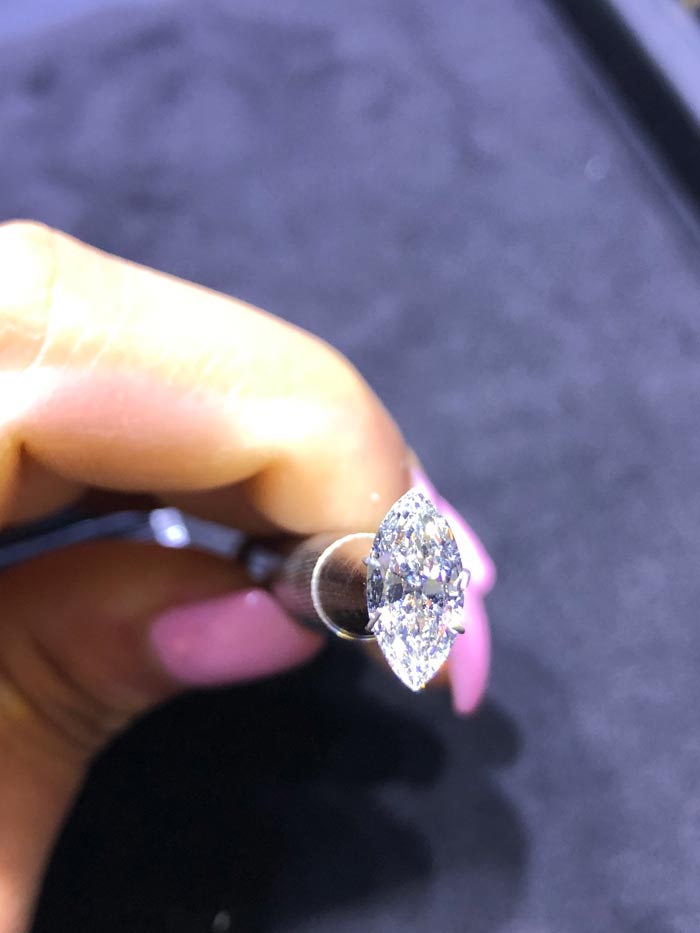 The marquise diamond is a historical shape, first being created by King Louis XV back in the 1700s. It has a curvy elongated shape with pointed ends, which resembles that of a boat.
Pear Diamond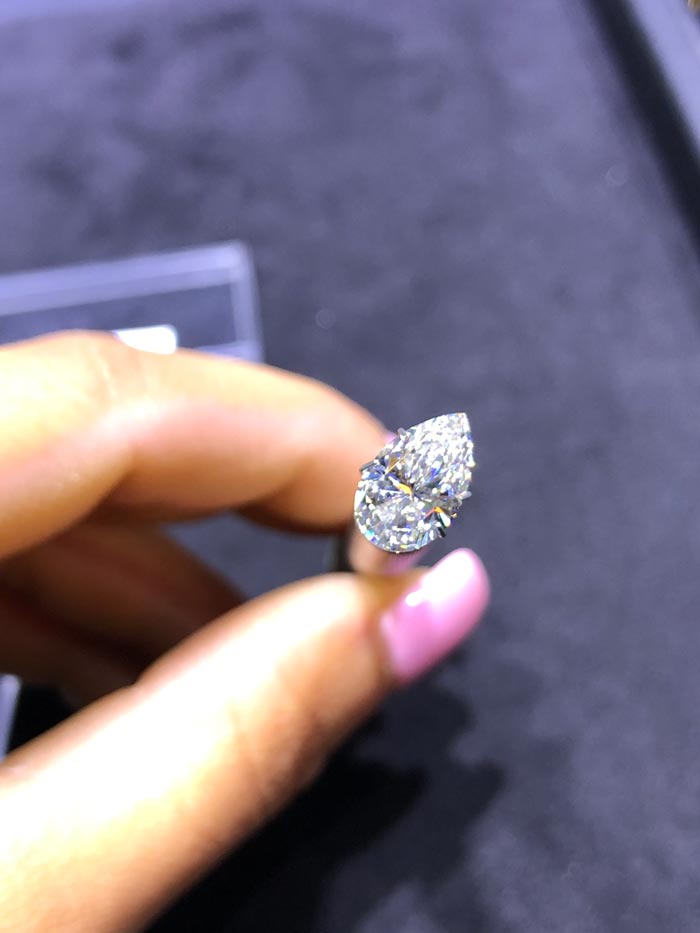 The Pear diamond is another classic diamond shape that has been around for centuries. It is like a combination of the round brilliant diamond and the marquise diamond, although the pear diamond predates the marquise diamond. In recent years, the pear diamond has become incredibly sought after, and it is a shape you will see on many celebrities. Not only is the shape unique, but the modern pear cut diamond is impressively brilliant. 
Step Cut Diamonds

:
The following diamond shapes are step cut diamonds. So they are square or rectangular and they have straight, and larger, facets which are arranged parallel to the edges (girdle) of the diamond. This creates an appearance of steps.
Emerald Cut Diamond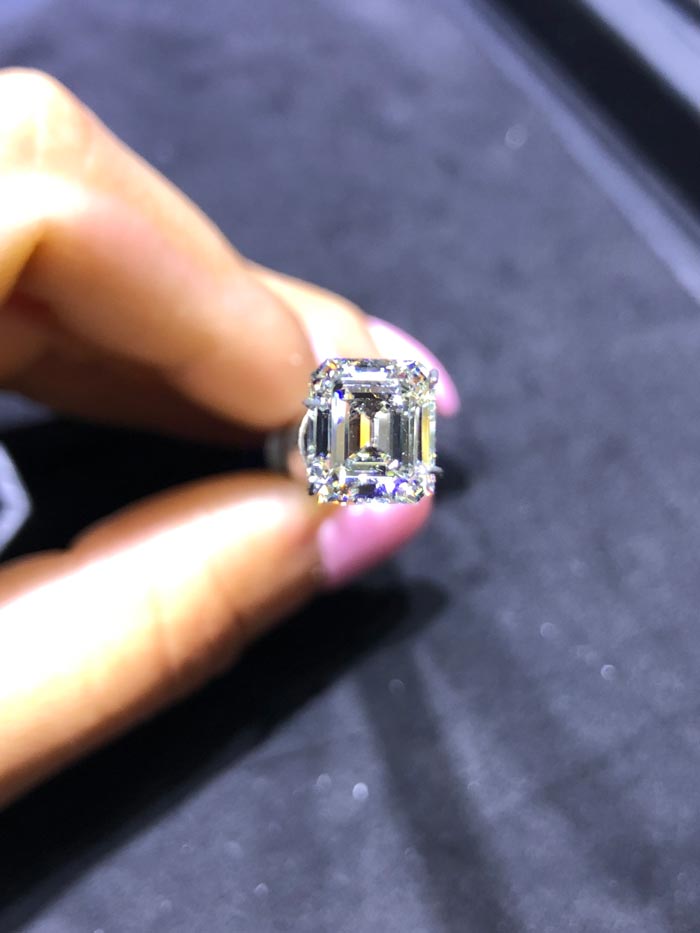 The Emerald Cut diamond offers a classy, elegant, vintage look. The top of the diamond looks like a table. This is where the emerald diamond shows off its tremendous clarity.
Asscher Cut Diamond
The Asscher Cut diamond is like a square emerald cut diamond. However, it has a higher crown, and, of course, a smaller table, which gives the Asscher cut more brilliance than an Emerald cut diamond. The Asscher cut features a beautiful mix of clarity and brilliance.
Best Diamond Shape for Solitaire Engagement Rings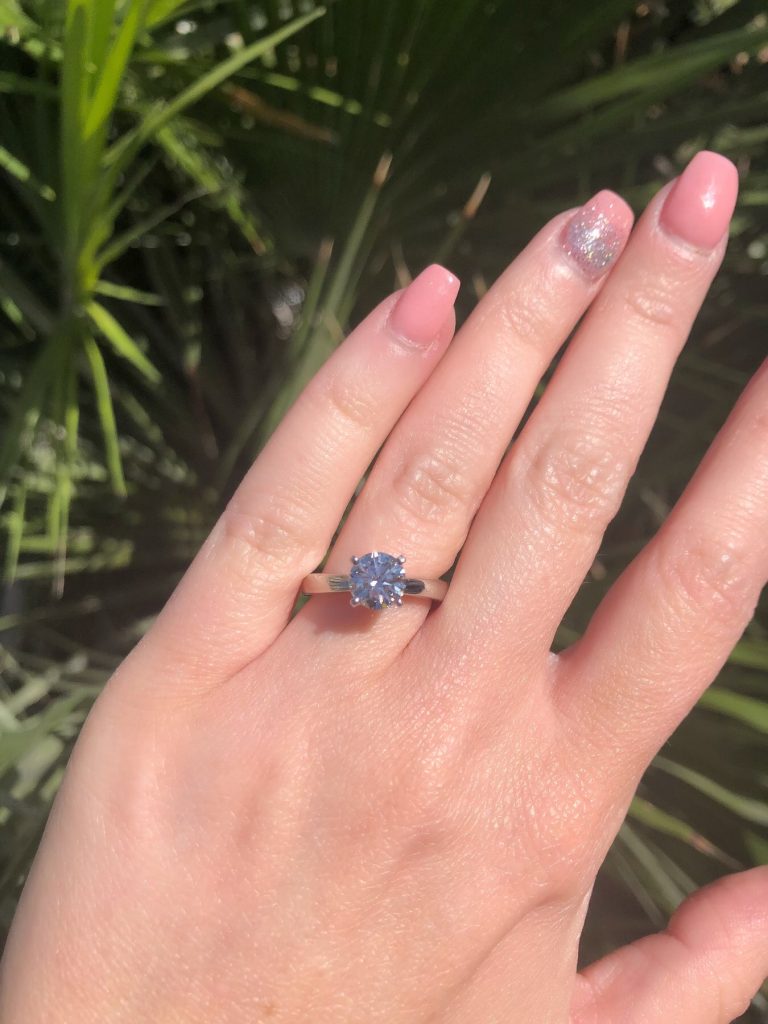 The word "Best" is subjective. Solitaire engagement rings truly look beautiful with any of the diamond shapes above. However, in terms of "most classic", "can't go wrong", will always be popular", round brilliant cut, princess cut, oval cut, and cushion cut diamonds are the best.

Nevertheless, what really matters is your opinion. So you should go for the diamond shape that speaks to you and that you love. 
The Types of Prong Settings for Solitaire Engagement Rings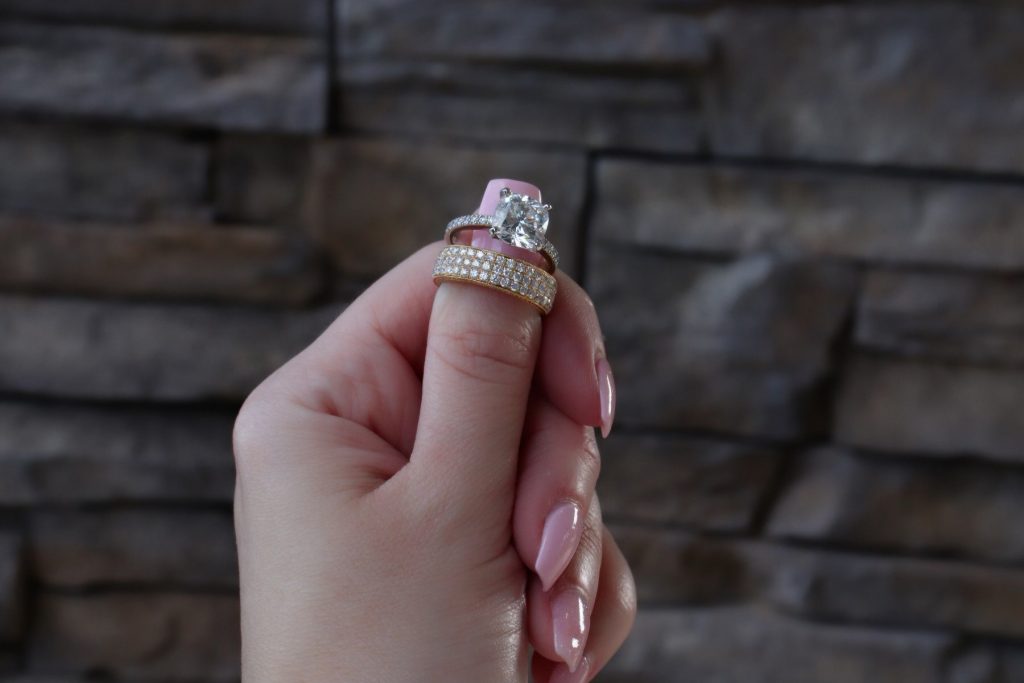 There are various prong, also known as claw, settings. It really depends on what diamonds shape you choose and your preference.
The most common prong setting for a solitaire engagement ring are 4 prongs and 6 prongs…
4 prong vs 6 prong setting
4 prong settings grasp the outer edge of the diamond and are spaced apart equally, regardless of the diamond shape. They are most common for round and princess cut diamonds. 4 prong settings use prongs that are typically thicker and heavier than 6 prong settings, as each prong needs to do more work to secure the diamond. Overall, diamonds that are set in 4 prong settings will appear larger and brighter as the setting allows for more "pop".
6 prong settings use prongs that are slightly thinner than 4 prong settings. They also cover up more of the diamond. Now, while 6 prongs offer a little less in terms of visibility, they offer more security. With a 6 prong setting your diamond will be more protected and secure. 
So, to answer this, we usually recommend 6 prong setting for those who lead a more active lifestyle and 4 prong for those who are lighter on their hands, so to speak. 
From there, you can choose different kinds of prongs. You have flat, pointed, square, clawed, double clawed, and V-shaped (for diamonds shapes with points/edges). Each has its advantages and disadvantages, which relate to allowing for more visibility, offering more protection, and aesthetics.
There is no right or wrong answer here and the choice should be obvious when considering what you prefer – more security or aesthetics/visibility. So, you can apply the same point we made above about 4 vs 6 prongs to the type of prong you choose. If you have any specific questions, you can always ask your jeweler. 
Note: Some diamond shapes use more prongs, such as 5 prong pear engagement rings. So, 4 and 6 aren't the only options.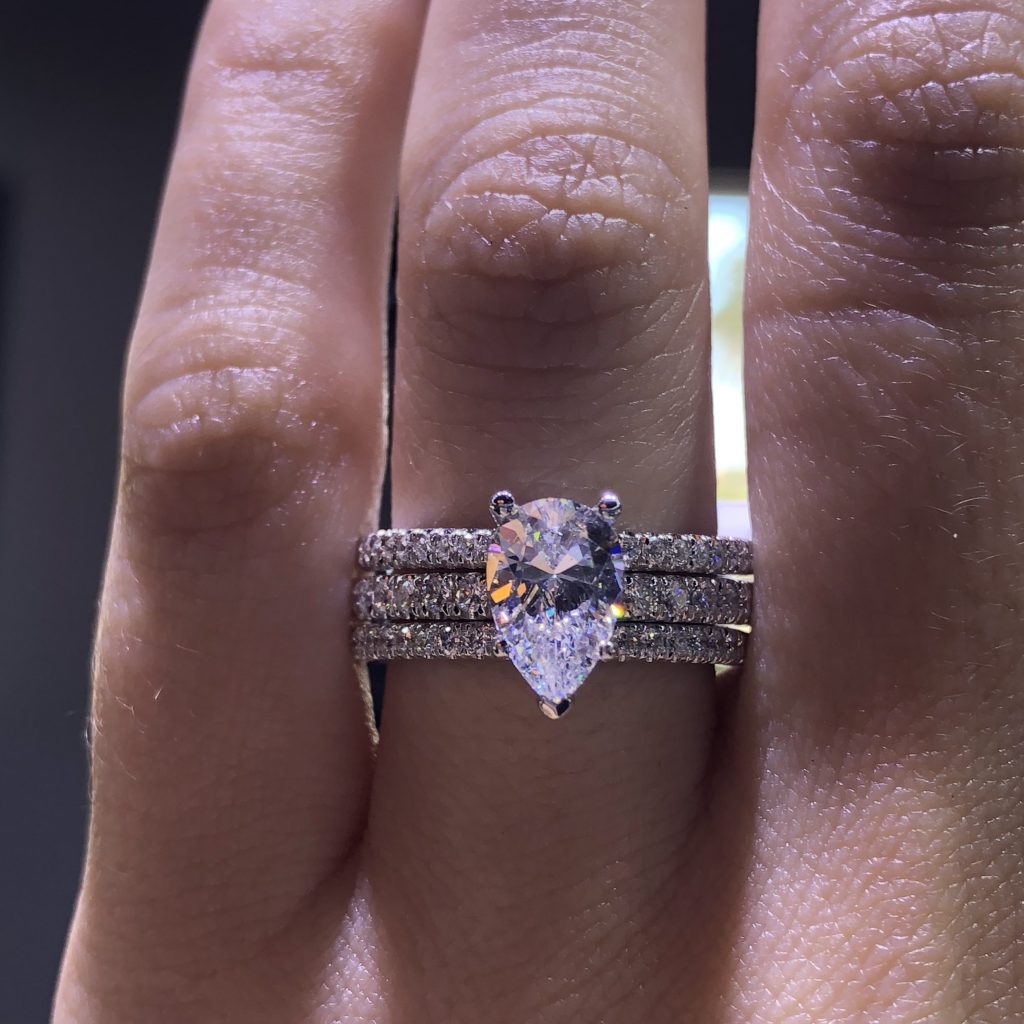 Other settings for solitaire engagement rings
There are different settings available beyond the ones mentioned above.
If you want an even more unique look, you can go for an…
East to West setting (this is a setting that puts your elongated or rectangular diamond shapes in a horizontal position, as the name suggests, from east to west).
Moreover, you have other options to consider, such as high profile or low profile settings. High profile settings are gorgeous and they make the engagement ring stand out, however, they can easily get snagged on clothing. 
The main point when choosing a setting is to consider your lifestyle and then consider what you prefer in regards to aesthetics. Both are equally important, but as this is an expensive purchase, we take security of the diamond most important.
Remember, although diamonds are extremely hard and durable, they are not unbreakable. Diamonds with edges and tips can break under the right circumstances. This is something you need to take into consideration as well when choosing a diamond shape and prong setting.
Types of Styling & Detailing Options for Solitaire Engagement Rings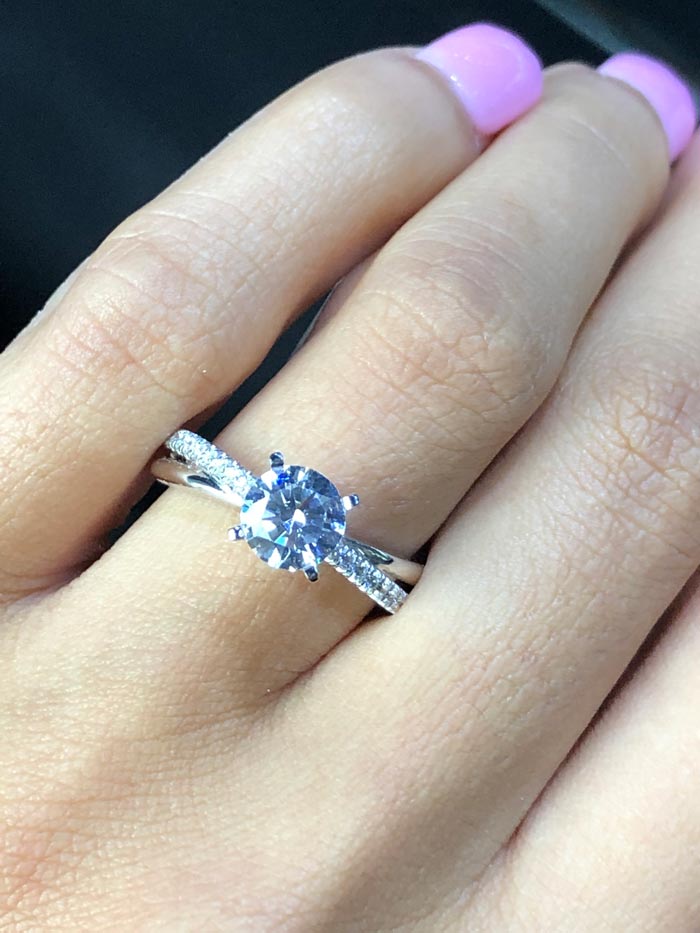 Now we are going to briefly cover the most popular styling and detailing features for a solitaire engagement ring. They range from minimalist (plain and simple) to ornate (wonderfully embellished).
All of the below touch on the style of your band, as the prong settings will never be styled (although underneath the centerpiece can be styled, which you will see often on solitaire engagement rings).
Metal Type
Of course, all engagement rings use precious metal, whether that's white gold, yellow gold, rose gold or platinum. So, the first choice is the type of metal. The type of metal you choose will make a huge difference. White metals like white gold and platinum allow the diamond to shine bright and white. With yellow or rose gold bands, your diamond will reflect some of that color. Although white metals are the most common, yellow gold is a classic and rose gold has become very sought after in recent years for it's vintage look. The choice is yours and there is no wrong, right, best or worse here. 
Plain Bands
Plain bands are the most traditional choice. You can't go wrong with a plain band on a solitaire ring, and again, no it is definitely not boring… It's vintage yet modern and simple yet classy and elegant…
If your goal is to allow the diamond to be the center of attention. And you have a minimalist style (which doesn't mean boring or less stunning), a plain band is going to be your best bet.
Diamond Bands
You can also have solitaire engagement rings with diamond bands. Yes, it is called a solitaire engagement ring. Meaning one diamond, but the diamonds on your band are "accent" diamonds so a solitaire ring with a diamond band is still considered a solitaire. Diamond bands allow for more shine and are great if you love diamonds and more diamonds and a slightly more embellished, contemporary look.
As for types of diamond bands, you can choose a pave diamond band, channel set diamond band, and shared prong diamond band. Those are generally what you will find, but there are others.
One band, Two band, Three bands
In modern times, we are seeing so many variations of bands. You have split shank bands, triple bands, twisted bands, and more…
One of the hottest styles nowadays is a bypass engagement ring – this is where the ends of the bands never meet, they bypass each other.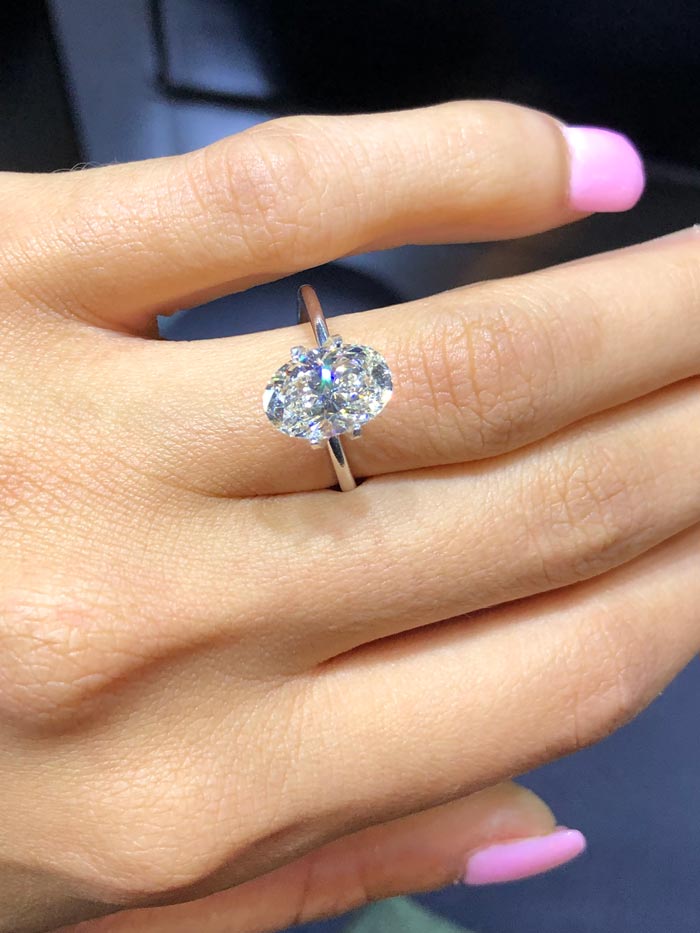 Again, there is no wrong or right. All you have to do to decide is choose what you love!
Detailing
Then you have several detailing options to choose from, typically in the area where the band meets the centerpiece, such as scrollwork under the band, milgrain detailing, filigree detailing, and whatever else creative ring makers and jewelers think up.
All in all, there are so many options to choose from, and clearly solitaire engagement rings are anything but boring. But, don't let the plethora of options overwhelm you. See what catches your eye, think about your personal style, and the best choice for you will come naturally. 
How many carats should a solitaire engagement ring be?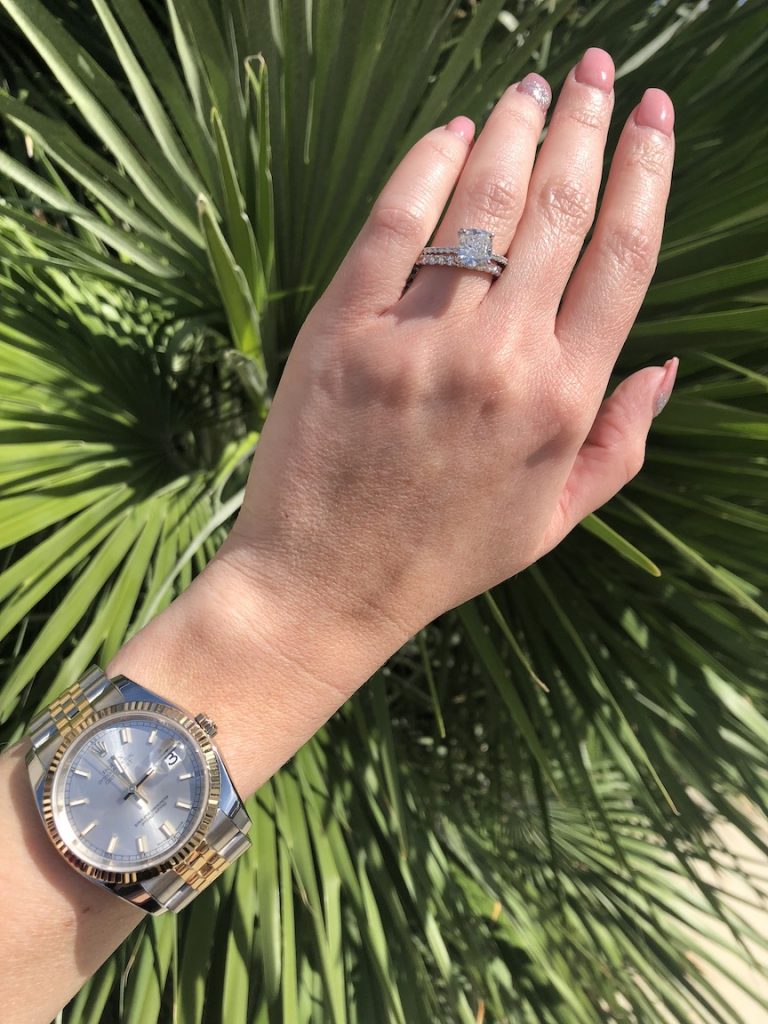 When choosing carat weight, it depends on the diamond shape you choose. Some diamond shapes and cuts look bigger than others (even if they have the same carat weight).
Typically speaking, for solitaire engagement rings, around .9 carats and up will look great. When you get into the 2 to 3-carat range, you are talking about a solitaire engagement ring that will drop jaws.

That said, even smaller, dainty solitaire engagement rings can look great on some women. You also have to consider your hand size and fingers. For thin, slender fingers, a 1-carat diamond can look BIG. 
Solitaire Engagement Ring Prices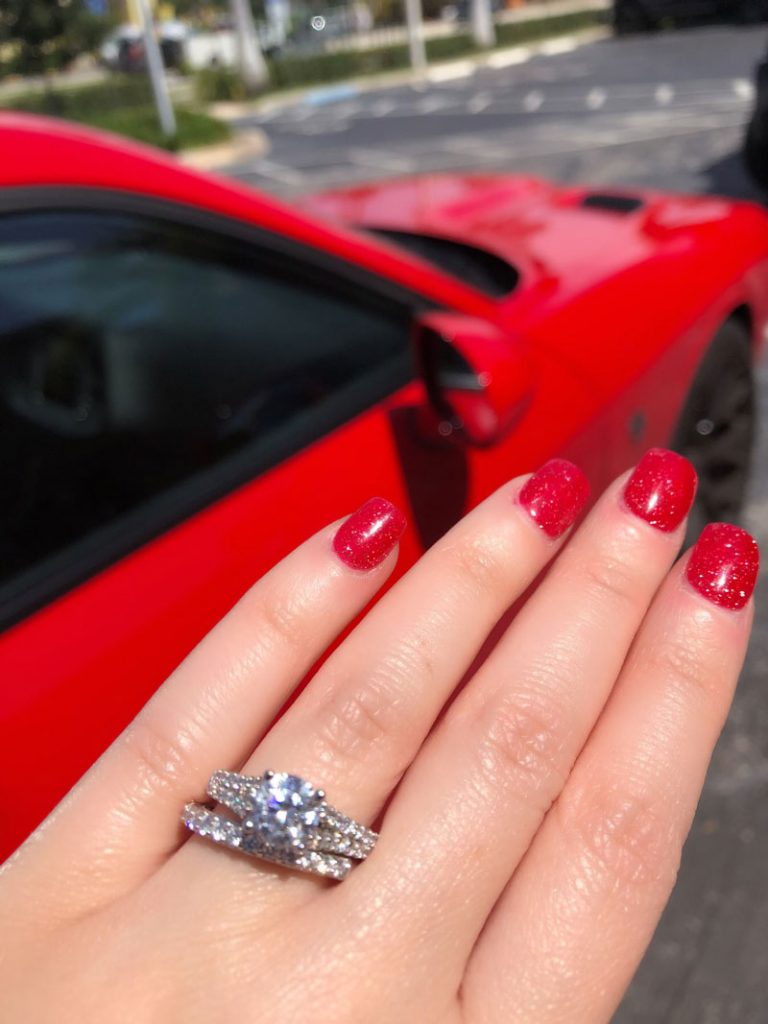 It will be impossible to tell you even general pricing, as it all depends on the many different choices that we mentioned above. What we can do, though, is lead you to our collection of solitaire diamond engagement rings at Diamonds By Raymond Lee so you can see and compare pricing.
View Solitaire Engagement Rings
You can also check out individual diamond prices here to see what carat weight fits your budget.
Note: You can buy the engagement ring setting and the diamond separately. If you want to choose a diamond or you already have one, go for an unmounted solitaire setting. Then the jeweler can set the diamond for you.
At Diamonds By Raymond Lee, you can find an extensive collection of both mounted and unmounted solitaire engagement rings.
Why should you choose a solitaire engagement ring?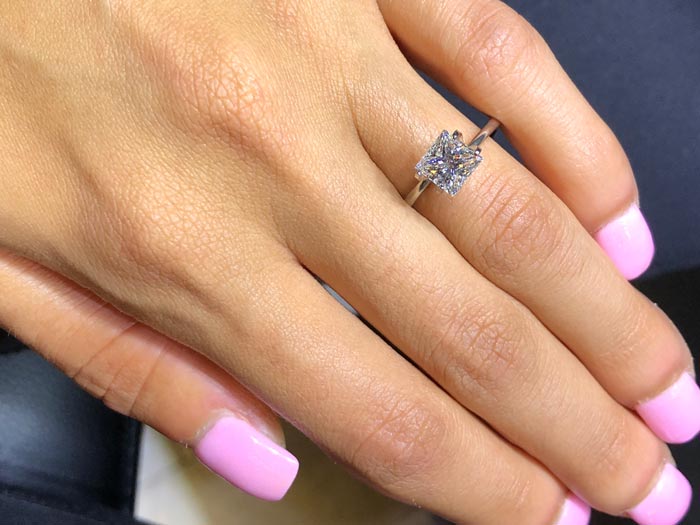 Solitaire engagement rings are a sophisticated and elegant, classic and timeless style! Beyond being the quintessential choice for a diamond engagement ring, they are also versatile, and a safe bet for an heirloom (they will never go out of style). If you want a ring that you will be proud of 5, 10, 20, 50 years from now, and a ring you can pass on to your grandkid, a solitaire engagement ring is the one (PS. they also retain value the best!). 
Considering a Halo setting? Read Solitaire vs Halo
Where to buy Solitaire Engagement Rings in South Florida or Online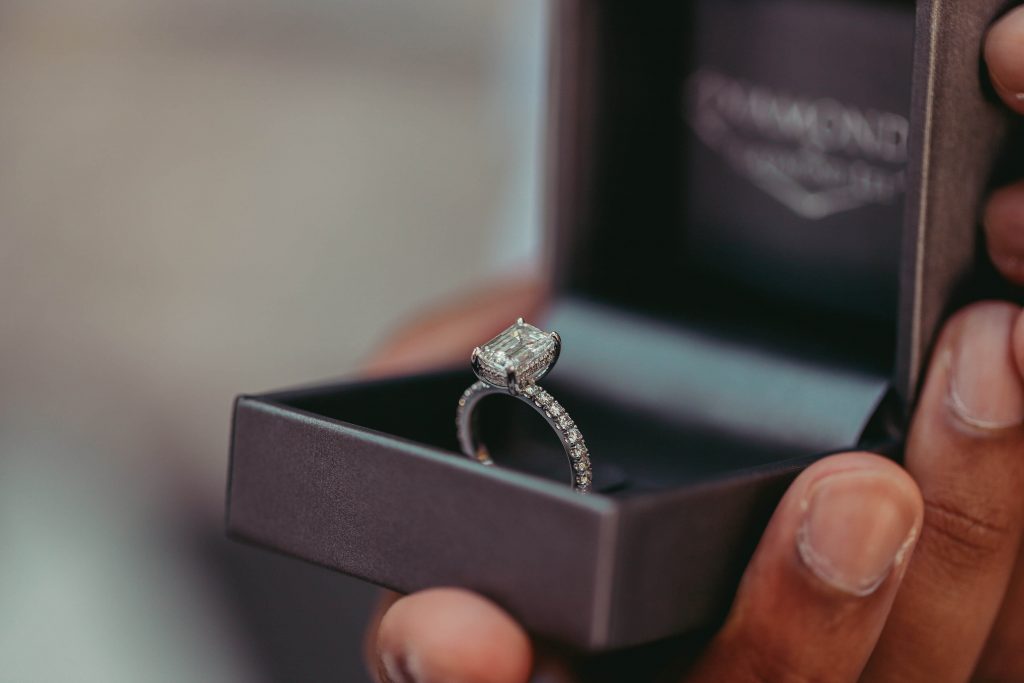 Diamonds By Raymond Lee in Boca Raton (you can also purchase from us, 100% securely, directly online)! We have been in the engagement ring business for over 30 years and have built an unrivaled reputation here in South Florida. We have been South Florida's number one engagement ring retailer since 2016, satisfying South Florida's otherwise insatiable need for diamonds year after year. 
Shop Solitaire Engagement Ring
Check us out on Instagram and see gorgeous photos of our diamond engagement rings daily!