The Rolex Masterpiece Watch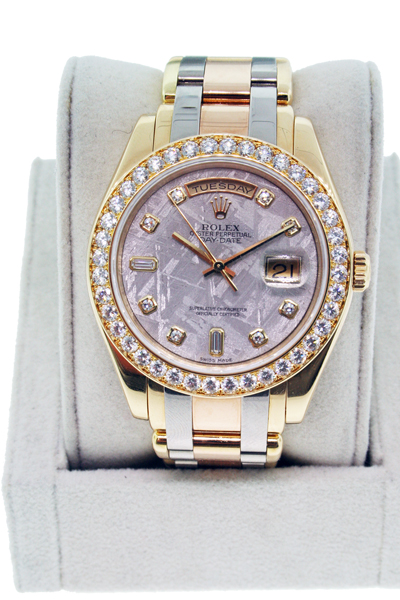 Preparing for a day in the office or a night out on the town with that special someone means you want a put-together look. Most want an air of effortless elegance and simplicity with style. A signature piece of jewelry or a stunning timepiece is a great way to take that look to the next level. Not only is it convenient to be able to check the date and time with ease, but a nice timepiece is also a style element that looks wonderful on both men and women. 
Little details are what take a look from nothing special to a style icon.
Our appearance should look like we've given it thought and consideration. However, you don't want to look too fussy. We want something versatile that will look good with most of our wardrobe. It's hard to have a signature piece of jewelry if it doesn't match with most of your clothing. 
Simple elegance is the way to go to create a truly unique, sophisticated look that doesn't look like you're trying too hard. You want something that is unlike what everyone else has and that matches your style and personality. Finding the perfect signature timepiece is worth the time and effort. 
The Classic Elegance of a Luxury Timepiece
A high-end timepiece is one of those accessories that perfectly combines form and function. Of course, it is useful to know the date and time with a glance at your wrist, but timepieces are more than just a way to know the time of day. It is a way to show your style, to show your fashion sense, and to exude timeless elegance. 
The materials and design used will determine the look and feel of the timepiece. Quality watches range in style and luxury and can be simply designed from the finest materials or decked out with diamonds and other precious gemstones for an eye-catching, sparkly timepiece. 
Your style and your preferences will determine whether you want understated elegance or something that will quickly be the talk of the town for its out-of-this-world style and creativity. We all have our own preferences and there are so many options to choose from. You can easily find the perfect timepiece for your lifestyle and fashion sense. 
Whatever way you go, an elegant, luxury timepiece should be able to effortlessly move from the office to the club with ease. You want a timepiece that matches your overall style so it can become part of your signature look and style. 
One of the best luxury timepiece brands that combine form and function is Rolex. These watches are often imitated but never surpassed. They are well made, precise, and elegant. The company has a long history of innovation and using profits for good. The watches themselves stand the test of time. They are precise. They are easy to care for and maintain. And, they have a look and feel that is unmatched by any other watchmaker. 
The History of Rolex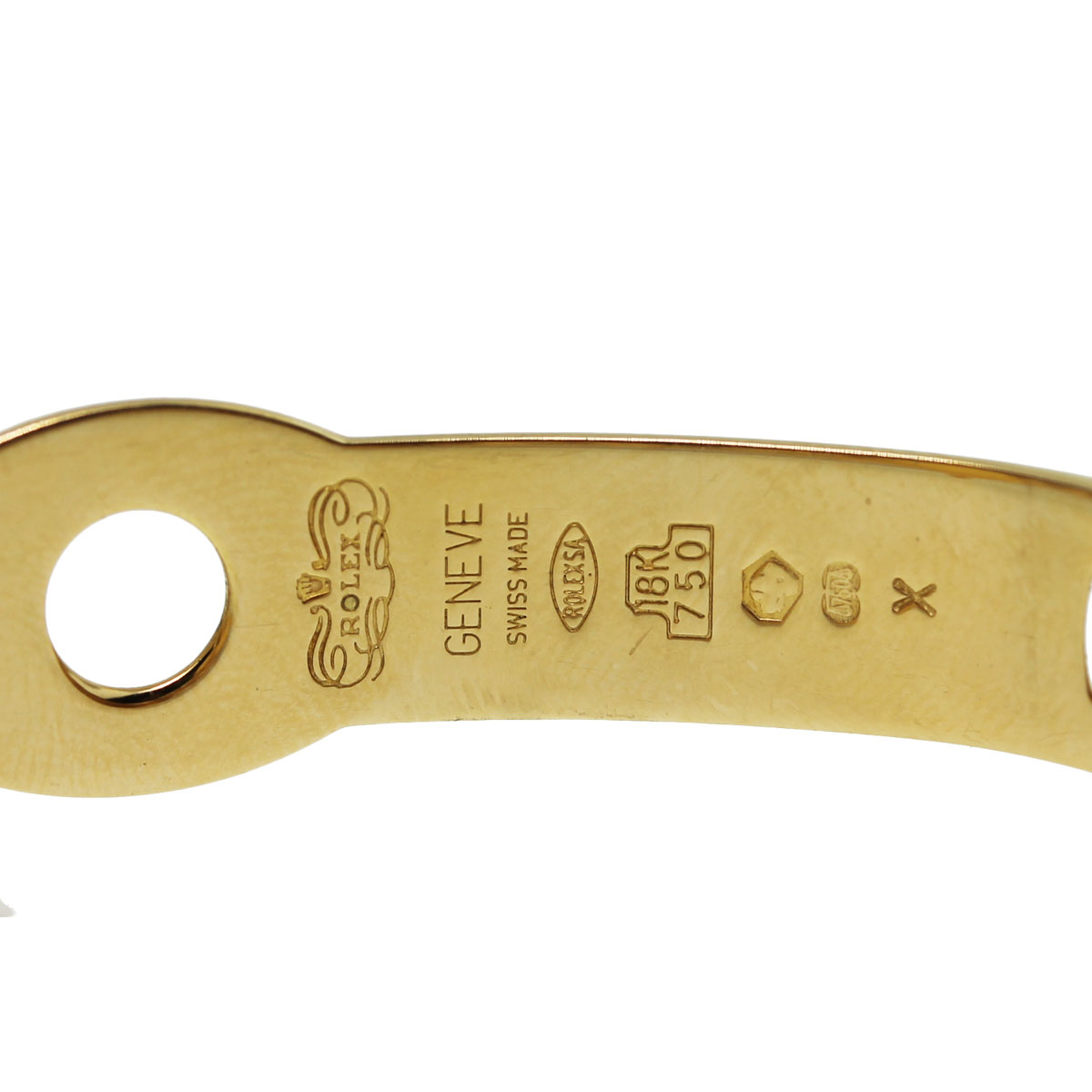 When we think of luxury timepieces that are of the highest quality and utilizing the most cutting-edge technology, many of us think of Rolex. Rolex is a time-honored and trusted brand that has been at the forefront of watchmaking innovation since the company's inception. 
The company's founder, Hans Wilsdorf, was a visionary and philanthropist. He has had a long-lasting history in the world of watchmaking and beyond. Wilsdorf had always had a love for watches and timepieces and at the start of his career, he worked with a Swiss timepiece maker to create exceptionally tiny watch movements.
Wilsdorf took this technology and had it fitted into unique cases to create one of the first watches to be worn on wrists and with this little idea, his company was born.
 Unusually, he didn't name the company after himself, rather, in a spark of inspiration, he came up with the name "Rolex" as a brand name that was not only memorable but was easy to say in a variety of European languages.
Whether the story of divine inspiration is true or not, the company was born. Over his career, he patented a wide range of mechanisms and timepiece innovations that revolutionized the way timepieces were made and that is still used to this day. His mechanisms won a range of awards and the quality and precision of the timepieces helped create the image of the highest quality and most cutting-edge design.
Innovative Design
His mechanisms quickly became renowned worldwide. Their precision was unmatched and changed the world of watchmaking. Wilsdorf did all of this before he was even 30 years old. 
The company quickly developed a reputation for quality and precision. The well-known, iconic crown was introduced in 1931. This five-pointed crown has become synonymous with Rolex and graces all Rolex watches until this day. The simplicity of this icon, along with its memorable look epitomizes Rolex very well. 
Wilsdorf continued to innovate and created the first waterproof wristwatch in 1926. He pioneered automatic wristwatches that are self-winding and accurate. 
After the untimely death of his wife, Wilsdorf continued to innovate watchmaking but moved into philanthropy. He didn't have any heirs and wanted to find a way to cement his legacy. Wilsdorf worked with scientists and non-profit organizations until his death in 1960. Then, he quietly funded and assisted a wide range of philanthropic efforts. This helped seal the name Rolex with not only quality and luxury, but also doing good. 
The Rolex Difference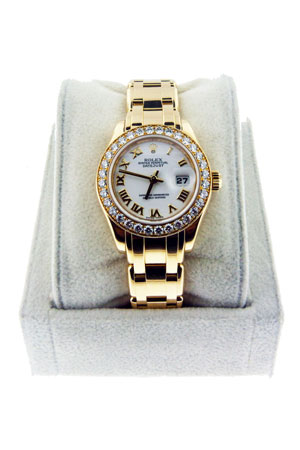 Rolex is more than just a name that is associated with quality and luxury. It is a truly well-made timepiece that can last generations. The look and feel of a Rolex are unmatched and the tell-tale crown on the watch face makes it immediately recognizable for what it is. 
While they are innovative, they stick to timeless design and materials. This creates a watch that can stand the test of time. Other luxury watchmakers choose to use trendier styles and materials that may go out of fashion in just a few year's time. At Rolex, they innovate in the precision and utility of their watches, while keeping a simple streamlined look that looks great today and will still look great in a decade's time. 
Many people have handed their Rolex watches down generations. The watches are known for their exceptional craftsmanship and high-quality construction and design. Many Rolex watches are passed down from generation to generation and the watches retain their value. If you have a well-cared-for old Rolex, it can actually be worth a ton of money to the right collector. 
A Rolex might be an expensive investment, but the price tag is for a reason. These watches are not only incredibly well-made and durable, but they are also some of the most precise timepieces available on the market. The inner workings and mechanisms of Rolex watches are unparalleled. 
The company makes a wide range of specialty watches that have additional features that are useful to scientific or extreme sports pursuits. These added features make for a watch that can truly go anywhere. 
Retain High Value
Additionally, Rolex watches not only stand the test of time when it comes to quality, but their value also stands as well. Rolex watches retain their value better than pretty much any other brand of a timepiece. This means that it doesn't lose as much value over time. For some models of Rolex, the value will actually significantly increase. This is especially true for limited-time models or ones that are now discontinued. 
Rolex Masterpiece Watch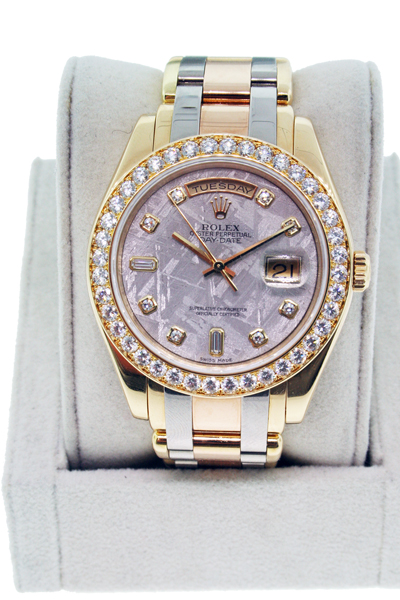 The Rolex Day-Date Masterpiece is one of those limited-time pieces. It is a special edition watch that combines features of a couple of Rolex's most popular models. The company first introduced a watch model called the Pearlmaster in 1992.
The Pearlmaster featured diamonds embedded in precious metals and became a signature trait of some of their watches. The Pearlmaster features a five-piece link bracelet closed with a concealed crown clasp closure.
Unlike other Rolex bracelet styles, it is curvier but flatter than other styles. This bracelet style became a signature of the Lady Datejust watch until the early 2000s. At this time, the company decided to create a special edition of their Day-Date watches with the Pearlmaster bracelet. This was the birth of the Rolex Masterpiece. 
This special edition of the Day-Date watch combined with the Pearlmaster bracelet creates a truly stunning timepiece that is unique among Rolex watches. The Day-Date watches are also called Rolex President watches feature the day of the week at the top of the watch and the date on the 3:00 mark.
The Masterpiece combines many of the features of the Day-Date Presidential watch along with the luxurious Pearlmaster style. The case of the Masterpiece is larger than other Rolex Presidential models. This gives it a sportier, chunkier look and it is easier to read the date and time. 
The biggest difference between the Masterpiece and the Presidential is the Pearlmaster bracelet as well as the larger case. 
This is an exclusive and luxury watch that intends to air its sophistication and luxury. You only find Masterpiece watches made from platinum or gold. There are a few specialty versions of the watch, such as the Tridor, which features three different shades of gold in a single timepiece. 
Tridor Rolex Day-Date Masterpiece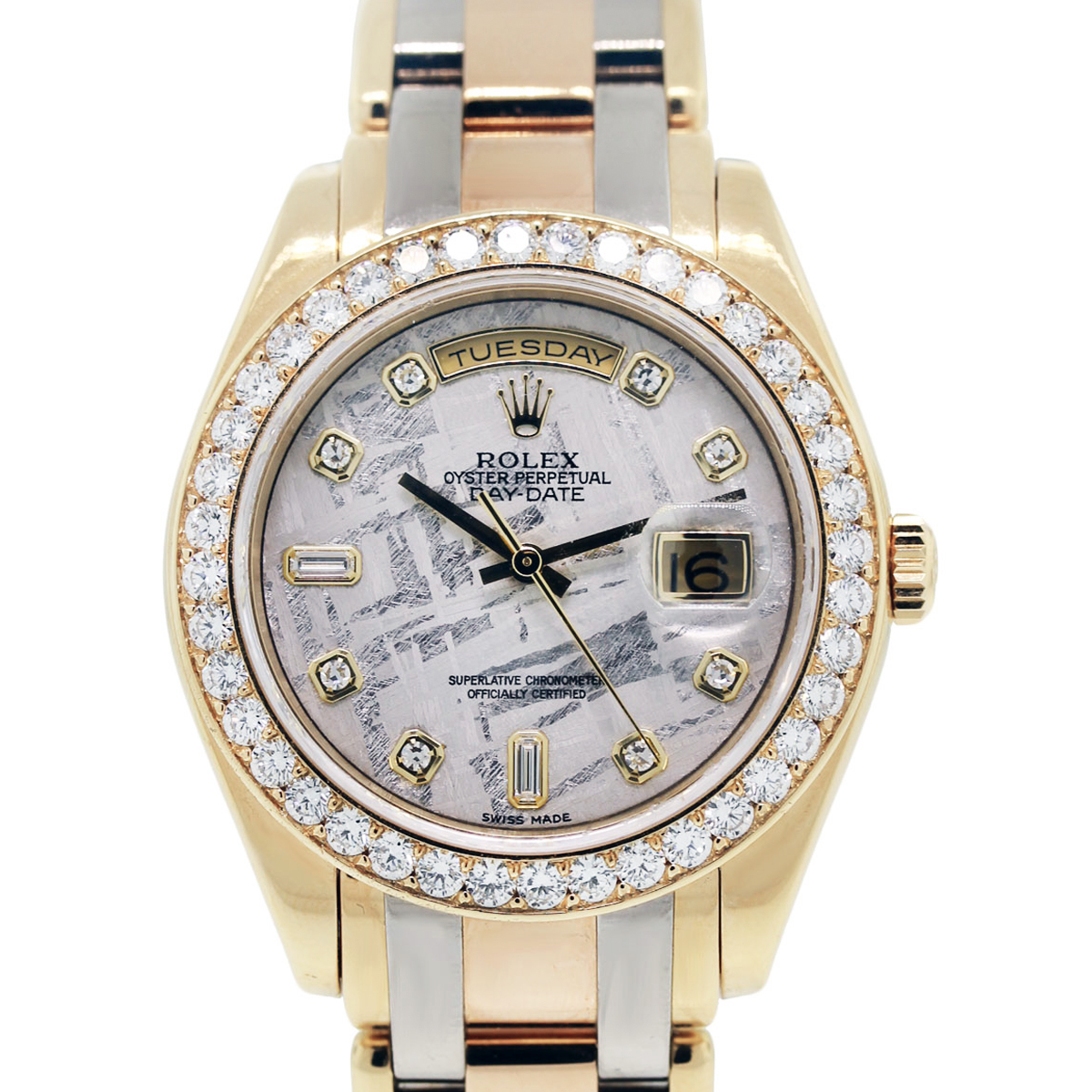 This model of the Masterpiece is one of the most stunning ever made. The watch features an 18k yellow gold case in the Oyster style. The top of the case features a diamond-set bezel with the clearest, highest-quality round stones. The bezel features 40 of these stunning stones. The stones create a glint and shine without being overdone. 
The dial has a Widmanstatten pattern and color that is incredibly unique and made from Gibeon meteorite. Found in Namibia, the meteorites fell to earth in prehistoric times. Just this alone goes to show how rare and unique this watch truly is.
The dial features diamond hour markers with two baguette diamonds. The bracelet of the watch is the Pearlmaster, but the Tridor is even more special. The bracelet uses 18k yellow gold, white gold, and rose gold. This makes for a truly stunning, unique, and one-of-a-kind timepiece.
The watch was produced in very small quantities and is no longer made. This is why the style is so coveted and rare.
In Closing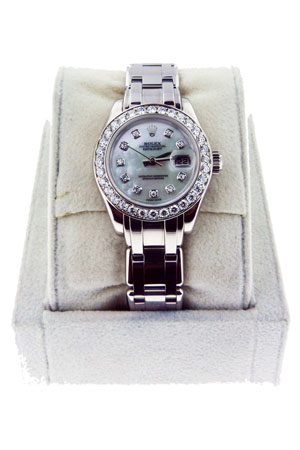 A signature piece of jewelry is a great way to solidify your look and style. Whether man or woman, a timepiece is a great option for a signature piece that will elevate your look. A timepiece will not only allow you to always know the date and time, but it also shows your style and grace as well. High-end timepieces give people the polished elegance and luxury they seek for their style.
Rolex epitomizes luxury timepieces. The company is known for using cutting-edge and technologically advanced mechanisms. They use these innovations to create the most beautiful and stunning watches on the market. Rolex revolutionized precision timepieces that can be worn on the wrist and their technology is an industry-standard to this day.
Rolex watches are a great investment along with being stunning watches. The watches are durable and stand the test of time. You can hand this watch down to the next generation and it will still work flawlessly. The watches feature timeless style so they are always in fashion. The watches retain their value better than any other watch brand, making it a great investment as well.
The Rolex Masterpiece watch is a limited-edition watch. Rolex only made a small number of these watches. The combination of the Pearlmaster bracelet and the Presidential case style creates a truly stunning timepiece. The craftsmanship of these watches is unsurpassed. Precious metals and the clearest, highest-quality diamonds are used in all Masterpiece watches. The craftsmanship is unmatched. The design is stunning. Many covet this watch.