It's September! Which means it's time to celebrate a birthstone that many people – not just Virgos – adore: the sapphire. The beautiful sapphire, most commonly revered in its deep blue hue, is a perennial jewelry favorite. It's a precious gemstone, right up there with diamonds, rubies and emeralds. It's an impressive 9 on the Mohs scale of hardness, making it excellent for daily wear. And this little corundum variety is stunning enough for the most exquisite pieces of haute joallerie. Sapphire is a multi tasker. From sweet line bracelets, to massive cocktail rings, and of course the Duchess of Cambridge's famed engagement ring, sapphires aim to please. And today, we're sharing a few of our favorite sapphire pieces. We've included the usual blue suspects, but also a trio of Bvlgari confections that show off sapphires in their many candy colored hues.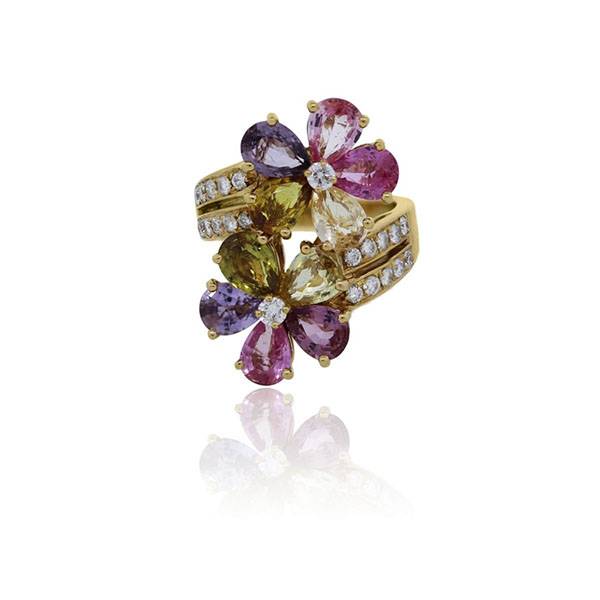 First, we have this beautiful Spring inspired Bvlgari Contraire Ring. The multi-colored sapphires pair beautifully with 18kt yellow gold and F/G colored diamonds with VS clarity.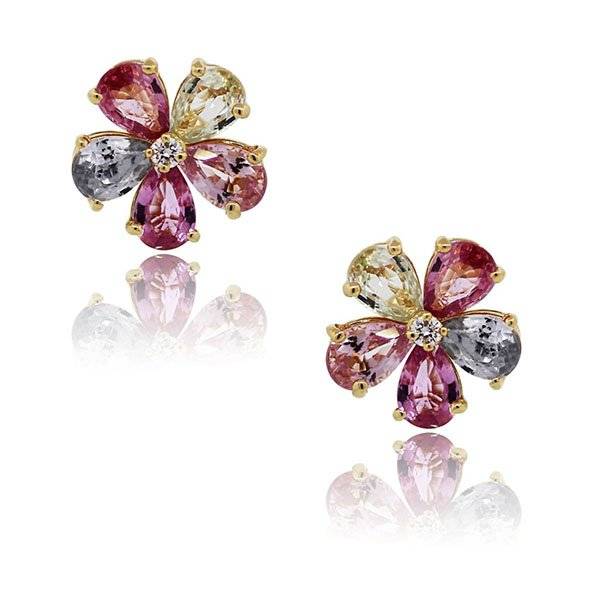 The coordinating Bvlgari earrings are equally as delightful, with pear shaped sapphires in various shades of pink, purple, yellow and grey surround perfect little .10ctw studs – F/G and VS, again.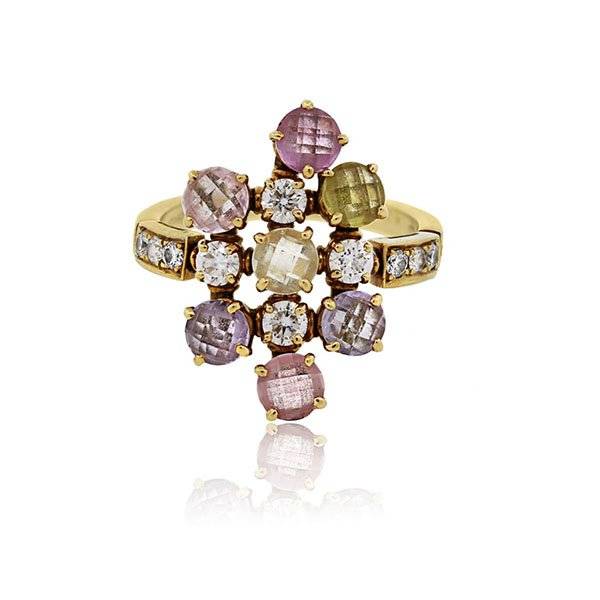 But not all of Bvlgari's sapphire creations are floral. This abstract collection of checkerboard cut round sapphires, ranging from green to purple and lilac, looks almost like an Ippolita piece. But it's only a lollipop in looks, and again combines 18kt yellow gold with Blvgari's superior diamonds to make a delicate but statement making piece.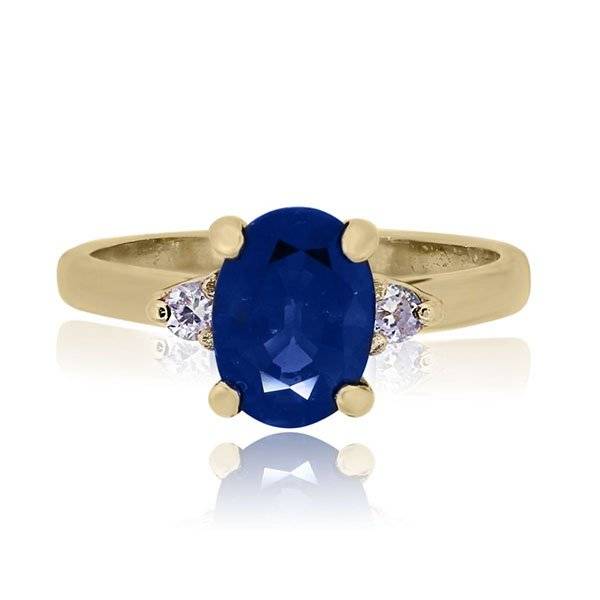 No discussion of sapphires is complete without the deep blue beauties, and this delicate diamond and sapphire oval ring starts our blue period. The ring is a sweet and lovely token, that works equally as well as a promise ring, engagement ring, or just a treasure to combine with your other favorite pieces.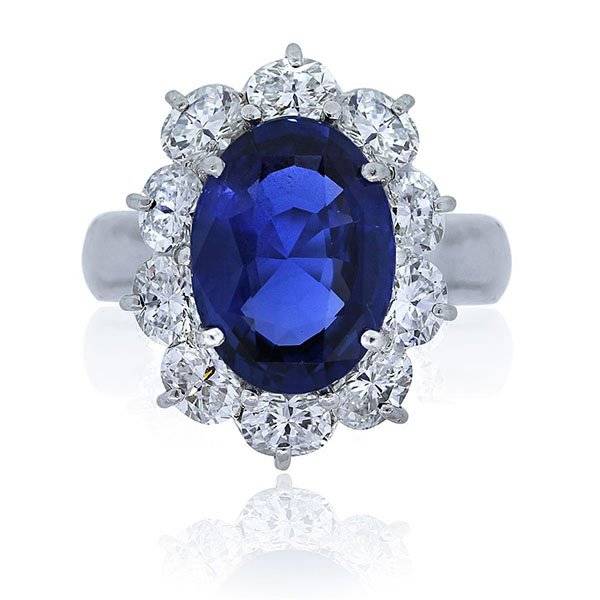 True story: one of our Facebook fans was so impressed by this beauty they assumed it and to be heat treated. Nope! It's au naturale, a stunning untreated Burma sapphire. It's surrounded by a halo of oval cut diamonds, Approximately 3ctw, E/F in color and VS in clarity.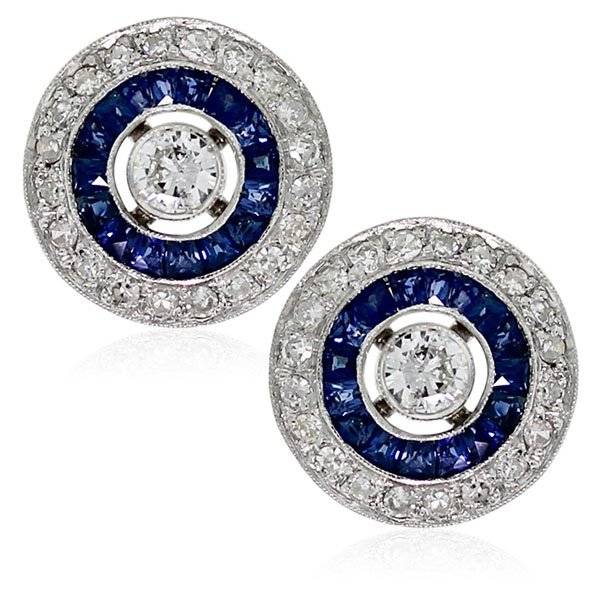 These antique beauties hail from the Art Deco period, and feature 1.08ctw of full cut diamonds, G/H in color and SI2-I1 in clarity. The inner ring is made up of gorgeous, trapezoid cut sapphires weighing approximately .64ctw all set in 18kt white gold.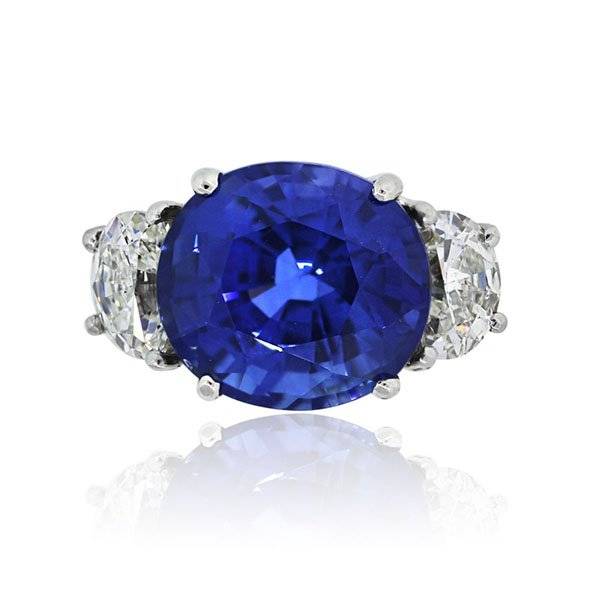 Last but not least, we have a massive natural heated Madagascar Sapphire with incredible clarity and a whopping 10.48 carat weight. It's set in 18kt yellow gold, with white gold prongs, and approximately 1.80ctw of half moon shape diamonds, G/H in color and VS in clarity.
Related articles