Island Boyz Conch Shack Food Truck Night at Diamonds By Raymond Lee
On May 25th, 2019, Island Boyz Conch Shack hosted their Food Truck Night at Diamonds By Raymond Lee in Boca Raton. Here is a recap of the event and a run through of some of the best food trucks in all of South Florida.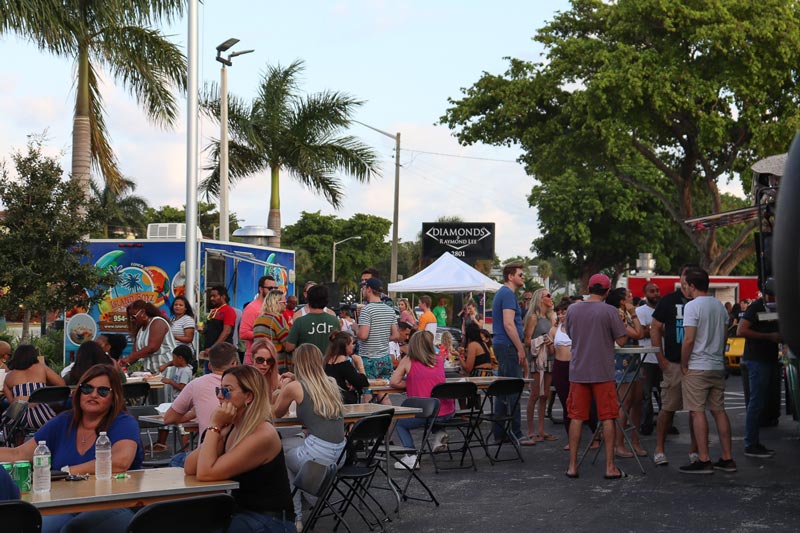 First, we should say, what a success this Food Truck Event was! This is an event we will never forget.
People from all walks of life gathered with their family and friends and filled their empty stomachs with delicious cuisines. There was everything you could ask for, such as Jamaican style BBQ, Bahamian style conch dishes, heavenly wings, vegan bowls, southern food, classic American dishes like mac and cheese, and ice cold chiller desserts.
The event ran from 5 pm to 9 pm at Diamonds by Raymond Lee in Boca Raton. Over 500 people showed up to enjoy delicious foods, luxury cars and jewelry, a live DJ, good conversations, and more.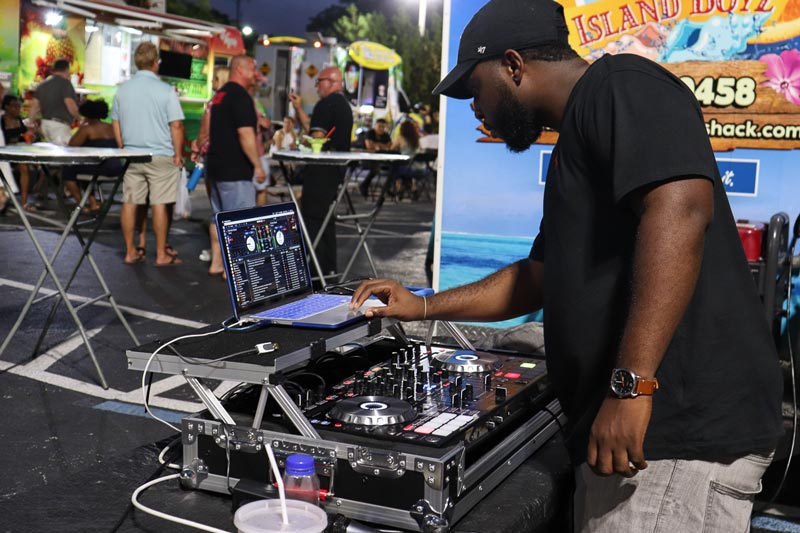 Food Trucks
Let's have a look at the food trucks that made this all possible.
Moreover, these are some of the Best Food Trucks in South Florida!
Island Boyz Conch Shack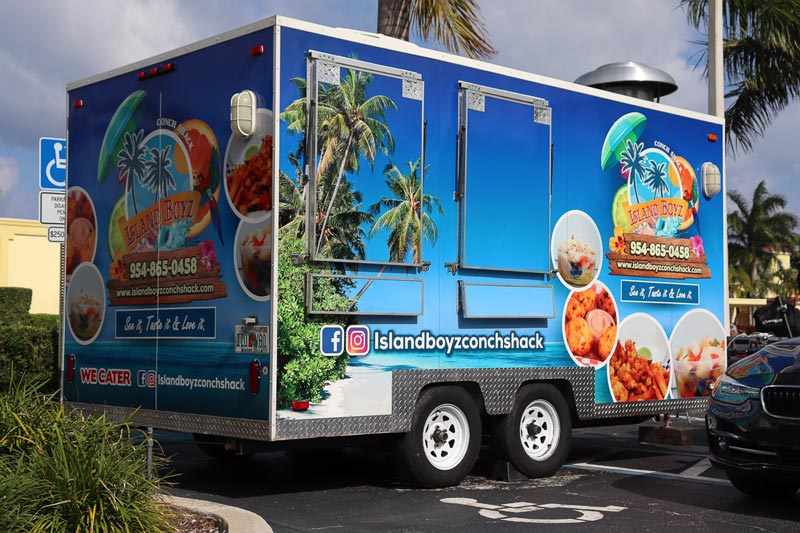 A huge thanks to Island Boyz Conch Shack for putting all of this together and coming out in full force with their delectable authentic Bahamian food.
Here is a little about who they are and what they do:
Island Boyz Conch Shack was established by three innovative business minded guys from The Bahamas. Island Boyz Conch Shack is a food truck that is located in South Florida. Their focus is on creating incredible conch dishes. They offer freshly prepared Bahamian style conch salad, conch Fritters, cracked conch, fried fish, and scorched conch. Their motto is "see it, taste it, and love it."
Let's have a look at a few of the dishes that we got to enjoy at the Food Truck Event.
Here we have Conch Fritters – off the charts.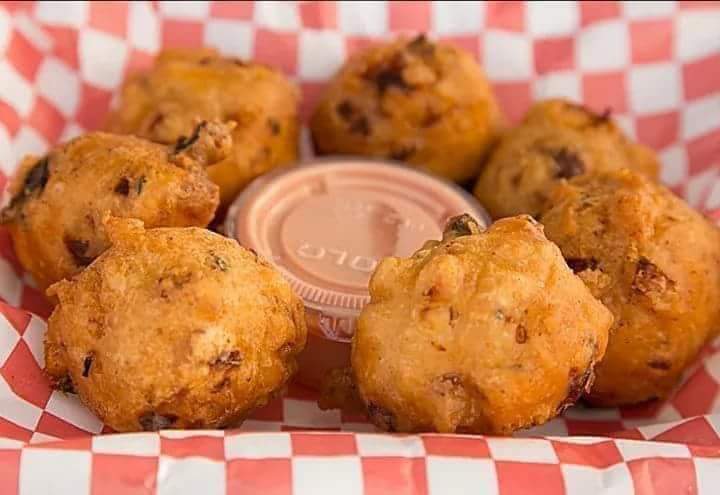 This is a drink they created call Sky Juice – absolutely fantastic.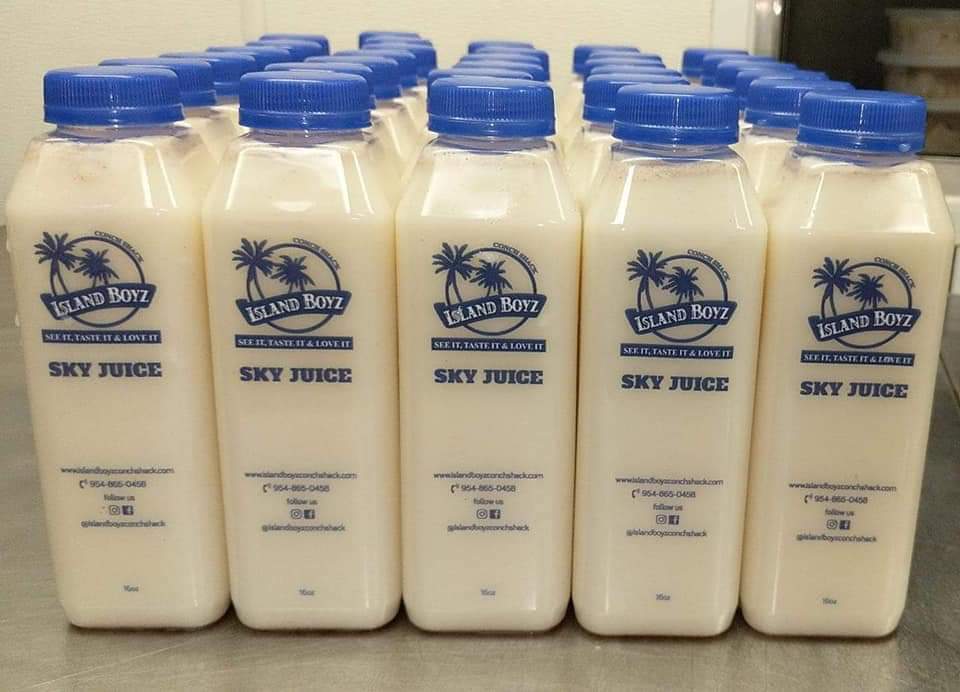 And one of our favorites cracked conch with french fries.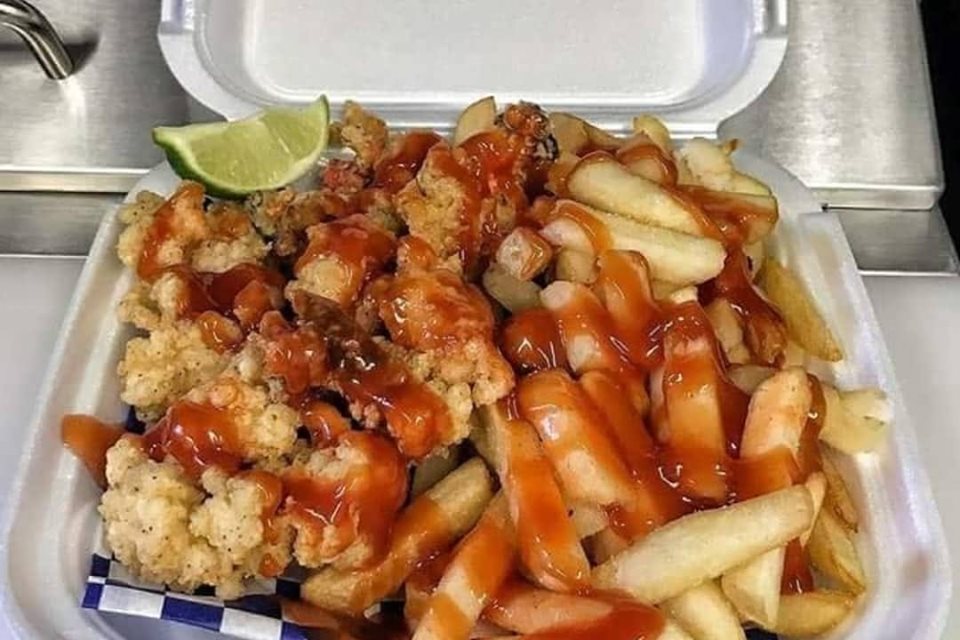 Island Boyz Conch Shack is the best Bahamian food truck in South Florida. Moreover, they have super affordable prices. So make sure that you get to their food truck to crush some food…if you haven't already.
Let's see what the people of South Florida have to say:
"Definitely worth the drive. The conch salad was fire and the conch fritters were amazing. The best I have had outside of the Bahamas. So proud to be Bahamian and support my fellow countrymen🇧🇸"
"Everything was superb! Tasted like I was back in the Bahamas. Cracked Conch was very tender! Conch Fritters loaded with conch and the conch salad, I had mine spicy, it was just right! OMGoodness, it was so so good! Well with the trip from Kissimmee. Belly full good!!!"
Follow Island Boyz Conch Shack on Facebook to find out what event they are throwing next.
681 Seafood & Southern Bites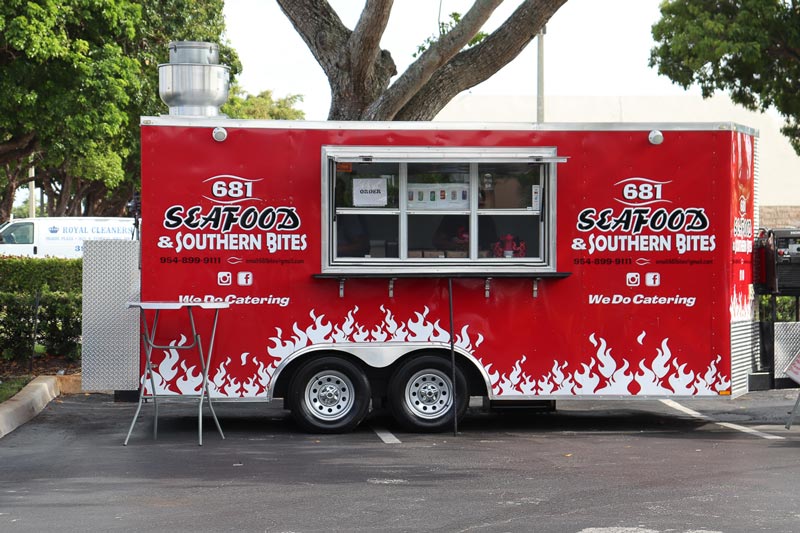 681 Seafood & Southern Bites Food Truck set up shop and what a pleasure it was. Just reading their business's name is enough to you know you are in for a special treat.
681 Seafood & Southern Bites is a food truck that serves Broward, Miami Dade, and Palm Beach County. They plate up some mouthwatering Alaskan Snow Crab, Jumbo Shrimp, Conch Fritters. Conch Salad, Fried Conch, Seafood Mac & Cheese, and specialty wings all seasoned and cooked to the definition of perfection.
Here are some of the dishes that they blessed the event with…
Their deliciously seasoned jumbo shrimp.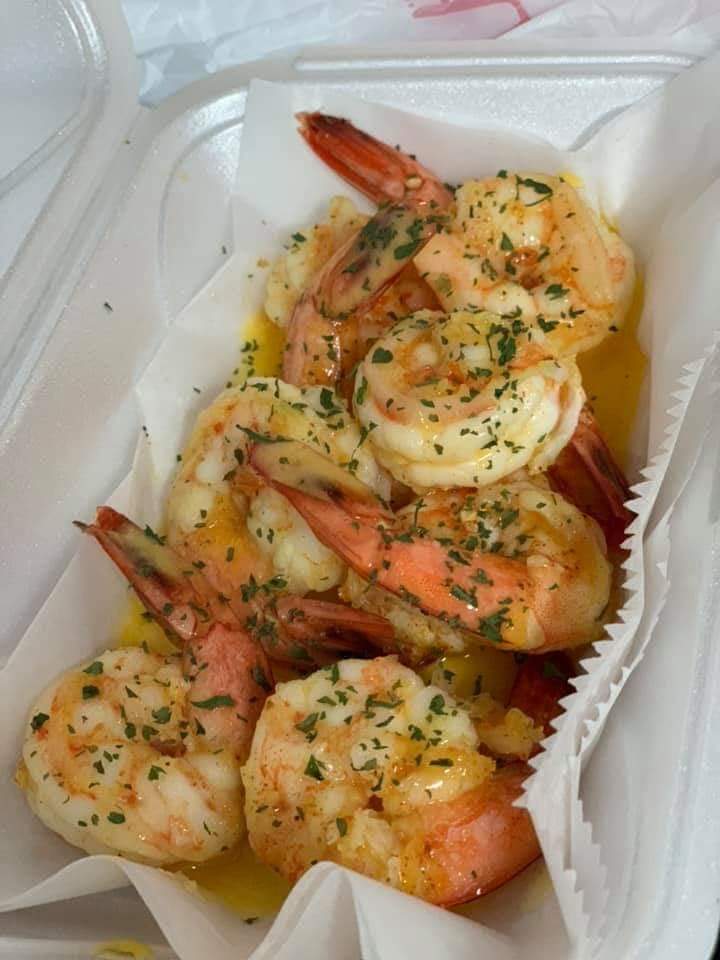 Fried Crab Platter with butter garlic – so irresistible.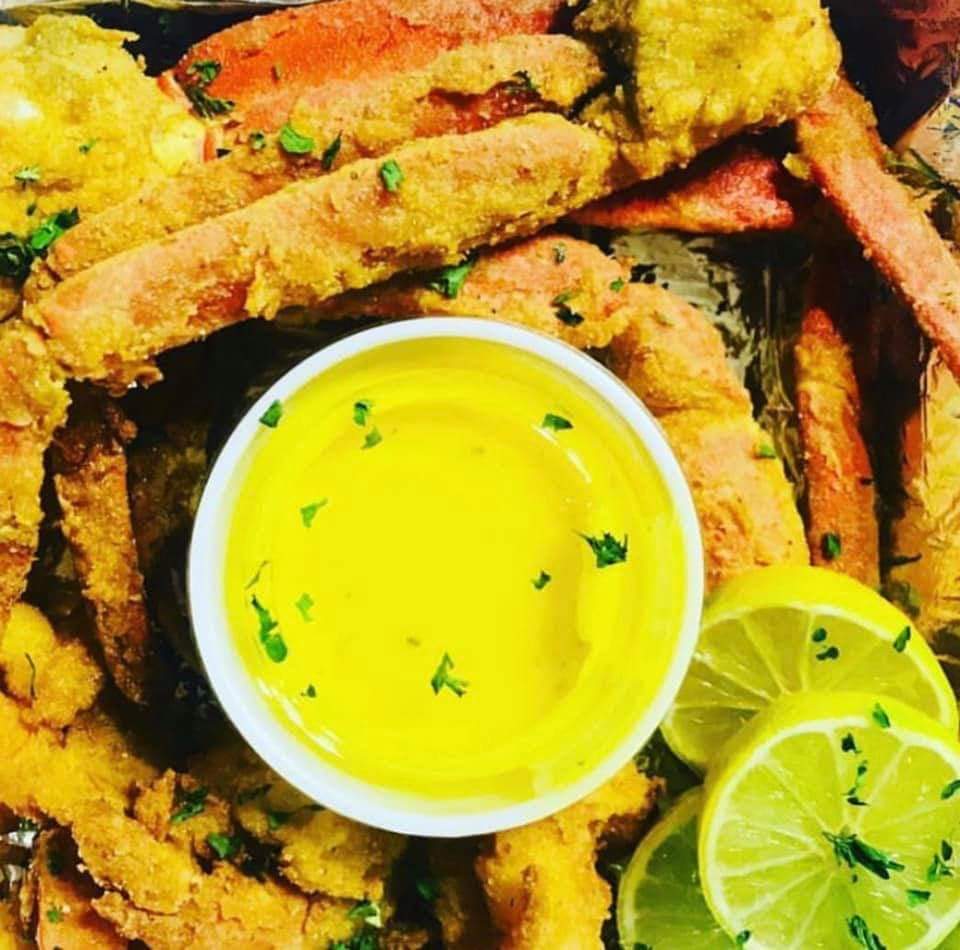 And, their crab and shrimp boil which comes with crab legs, shrimp, garlic boiled egg, potatoes, sausage & corn and can be seasoned with your choice of butter garlic, lemon pepper or juicy cajun.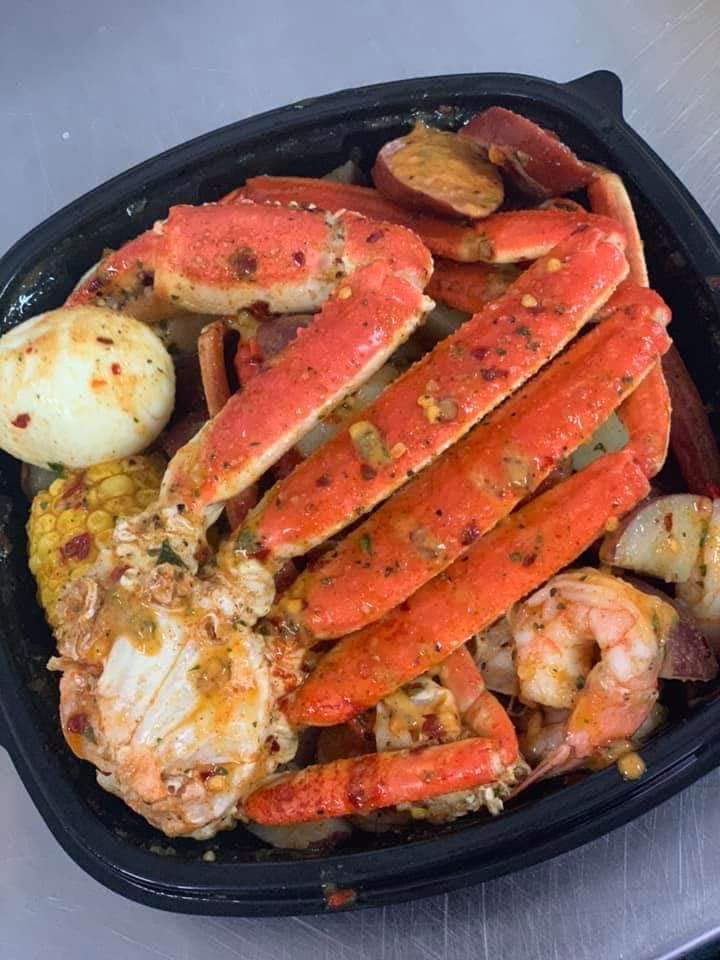 Reviews from the community:
"I am so pleased with food and the awesome service. I had catering for my Athletic Awards night and the food was amazing. The sliders, wings, and Mac and cheese was pure bliss."
"Absolutely THE Best steamed shrimp and coleslaw EVER Thank you"
"I would eat from them everyday. That's just how good the food is."
If you have a craving for seafood or southern food, go find 681 Seafood & Southern Bites. Follow them on Facebook to find out where they'll be next.
Brother Mac and Cheese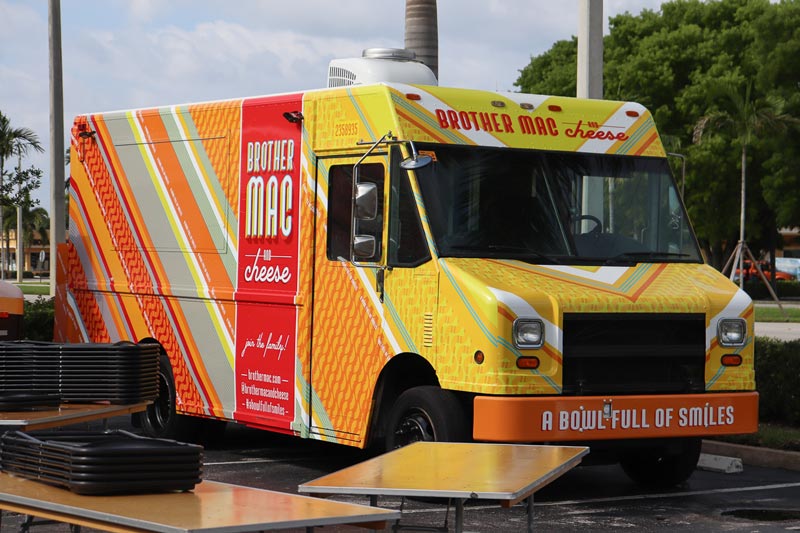 Good ol' mac and cheese, the hearty American dish that has a special place in all our hearts.
I mean, who can resist it? Especially when it's done in a unique way!
Brother Mac and Cheese is macaroni and cheese taken to the next level.
Have a look at a few of Brother Mac's dishes to see what we mean.
Mac and cheese with Parma ham and cream cheese on top – OMG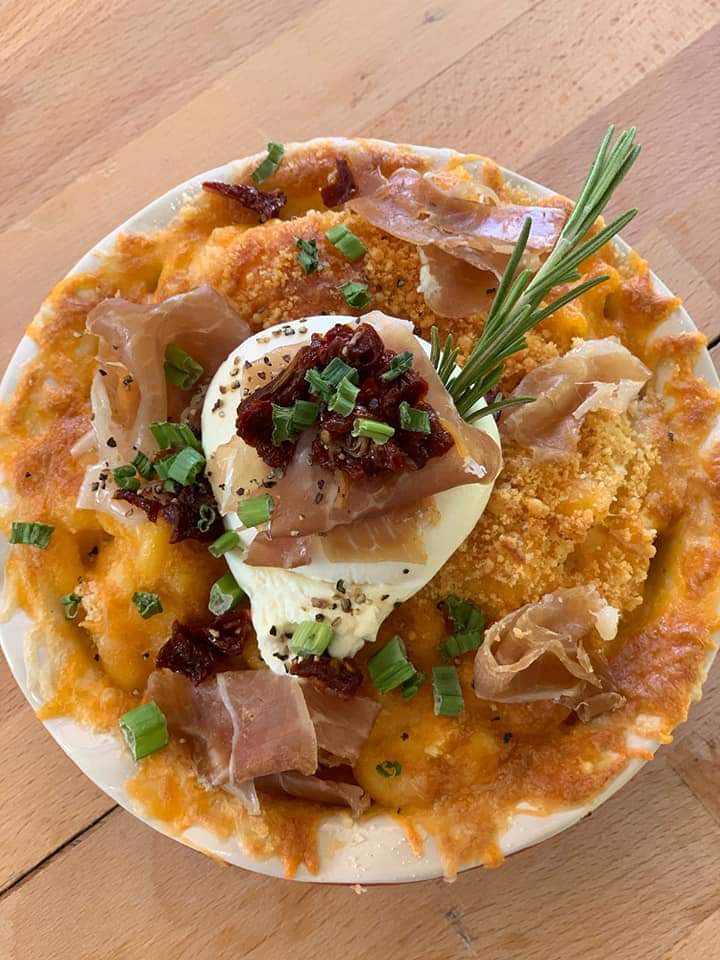 Oven baked mac and cheese with cherry tomatoes on top.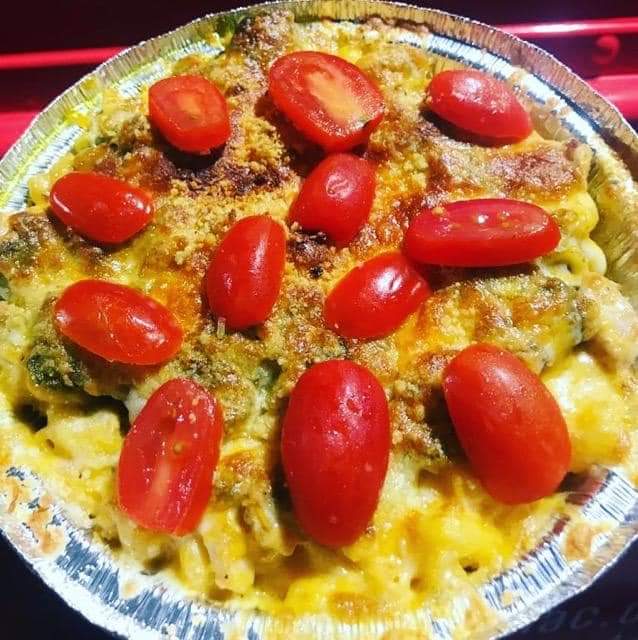 And another oven baked mac and cheese with pepperoni on top.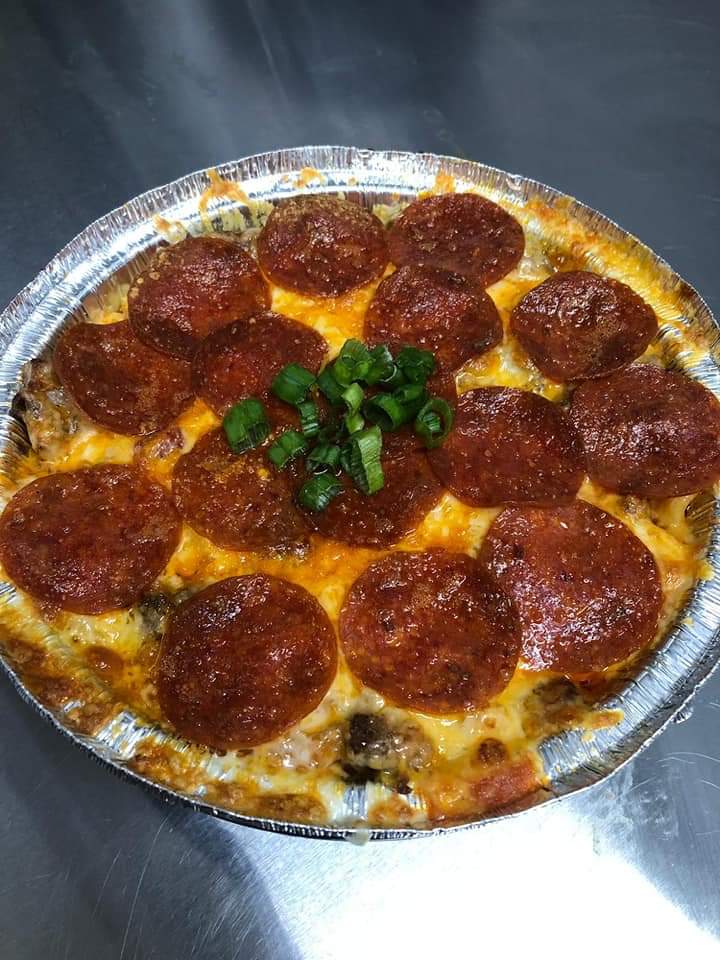 I'm almost regretting writing this as I'm getting hungry and wishing I could be back at Brother Mac and Cheese right now.
Natuurlik Food Truck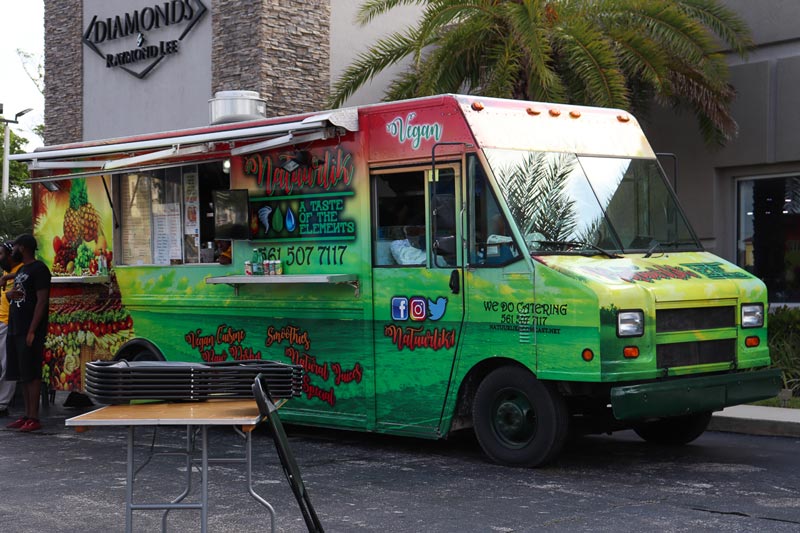 Did someone say vegan cuisine with an island flair? Yes, please!
Natuurlik is a vegan food truck focusing on plant-based vegan cuisine with an island touch.
Their motto is "Food is Life – Food is Medicine". We couldn't agree more.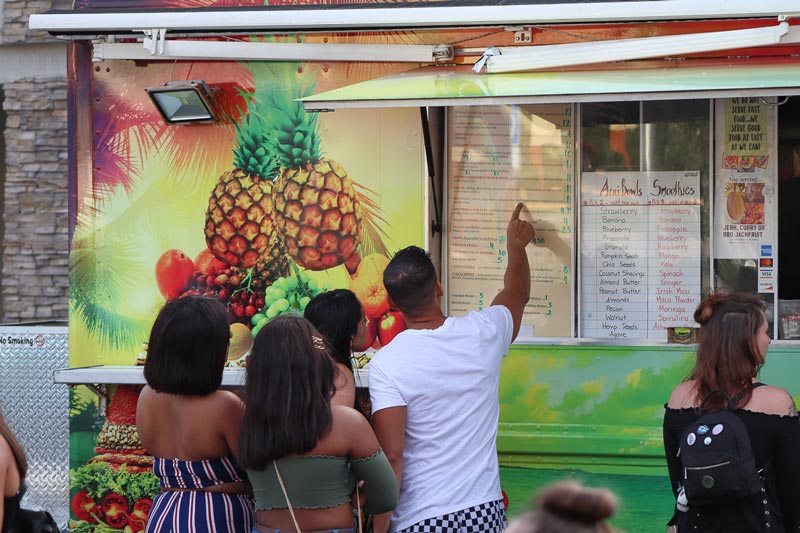 Here are a few reviews take from their Facebook page:
"PHENOMENAL VEGAN OPTIONS TO CHOOSE FROM! QUALITY AND DELICIOUS! TRUST YOU WILL NOT BE DISAPPOINTED!"
"Always incredibly nice, patient with the kids, amazing offering (CURRY TACOS NEW FAVE)!  Not only do they make amazing, fresh and healthy foods, THEY TASTE GREAT! My kids love the Jackfruit tacos!! Who knew?!   Keep doing what you are doing… people will catch on! We need Natuurlik to be a NATIONAL venture.  You guys set the bar."
"Absolutely delicious food!
One must try the Natuurlik Stew or the vegan patty washed down with a thirst quenching lemonade…😁 And then there are the chocolate chip cookies for those of us with a sweet tooth 🍪"
When the people speak, we should listen. It was an honor to have this innovative food truck at the event.
So, let's have a look at some dishes.
Here we have their island style breakfast. Steamed veggies, boiled banana, avocado – mmm mmm mmm.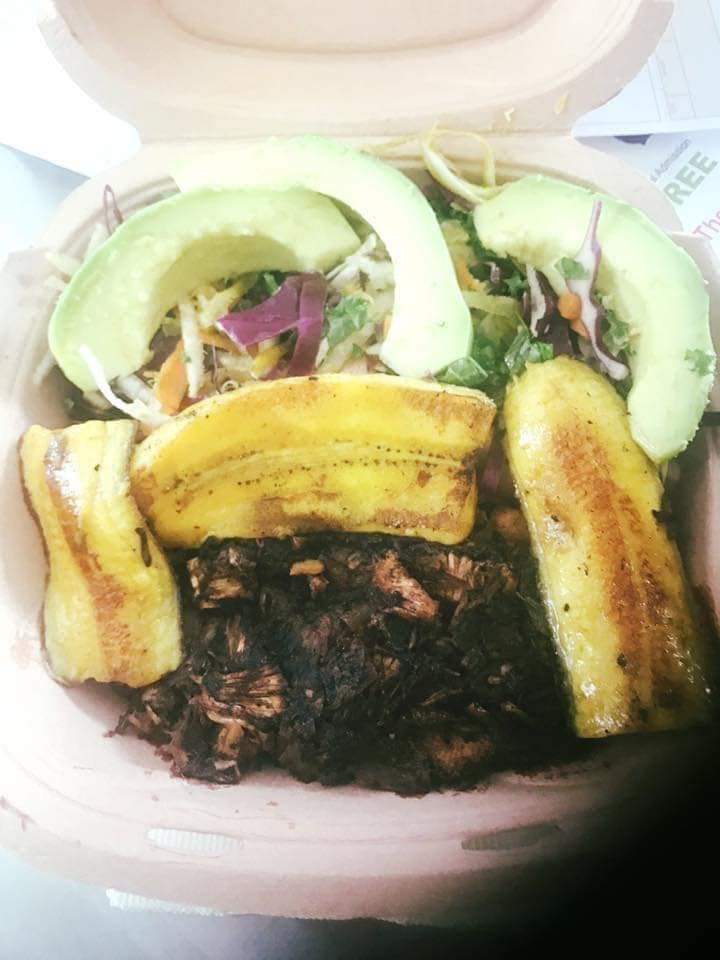 Pineapple dinner juice – Healthy, fruity and delicious.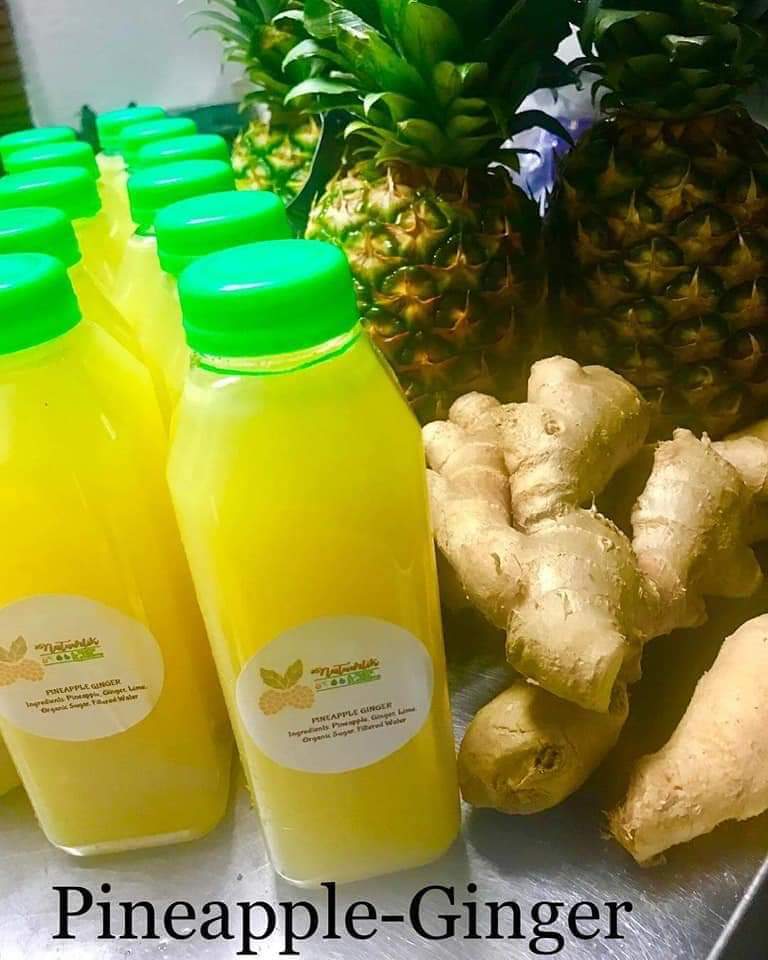 And, this is a raw salad for those who want healthy and yummy at the same time.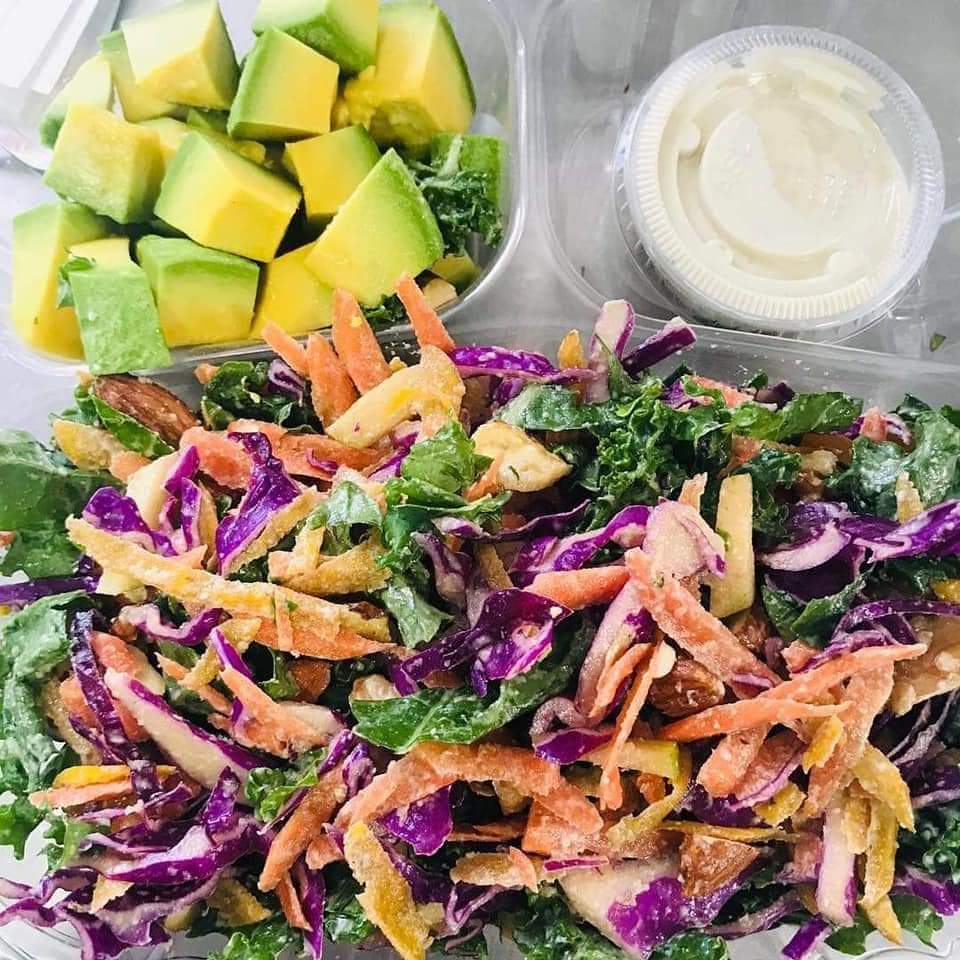 These are just a few of their dishes, be sure to check them out for more.
Bea's Heavenly Wings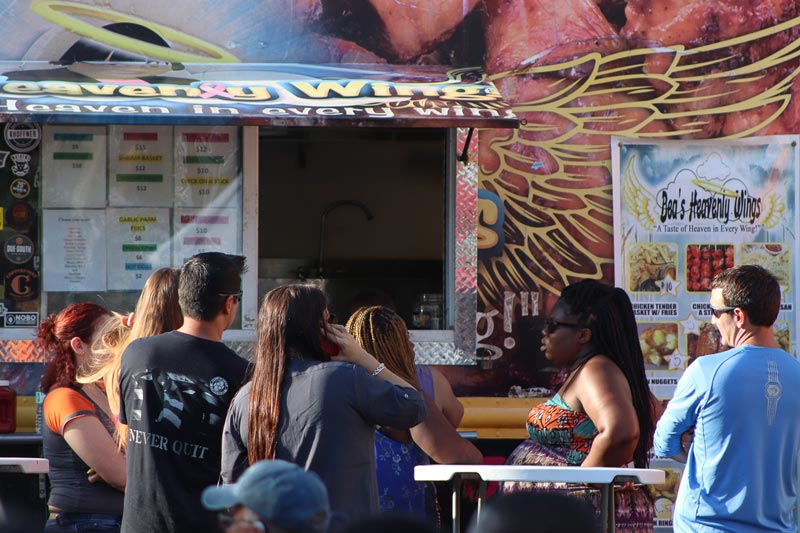 Wings, Wings, Wings. Heavenly Wings.
Bea's Heavenly Wings is a mobile food vendor that provides classic southern dishes and simple, hearty cuisines. Bea's Heavenly Wings caters all occasions. This was one for the books.
If you are looking for a chicken joint that does things original yet traditionally, you need to try Bea's Heavenly Wings. They offer superb finger foods with delicious homemade flavors that will "leave you wondering if you died and went to Heaven."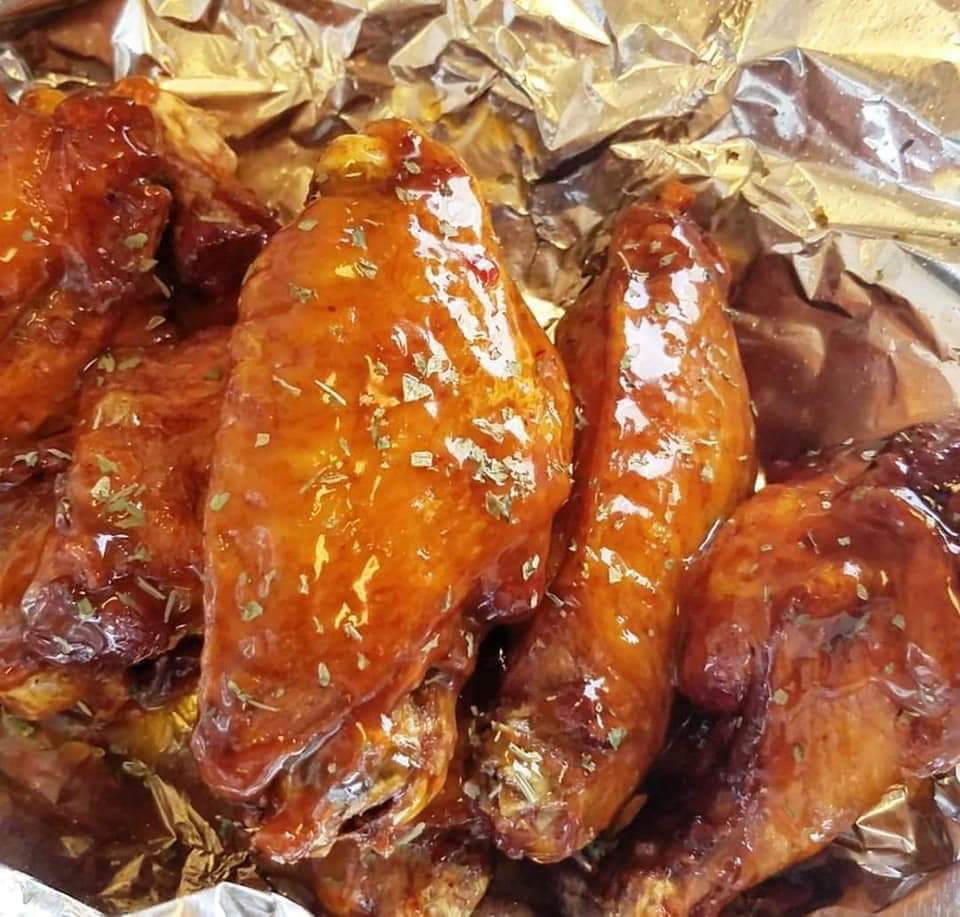 Here are some reviews from the community:
"Awesome wings! Barbeque sauce is delicious as are the other sauces we tried. My sons loved the shrimp & fries too. Thanks Troy Jr for the great food!"
"We had seafood platters instead of wings. I love that they have seafood options (both calamari and shrimp) and the service was incredible! Troy and his staff really go above and beyond. Thank you!"
"Wings were extra crispy & juicy! Had them tossed in med buffalo & garlic parm, tasty! Conch fritters cake was huge & filled with tons of conch, yum"
So, now let's look at a couple heavenly plates.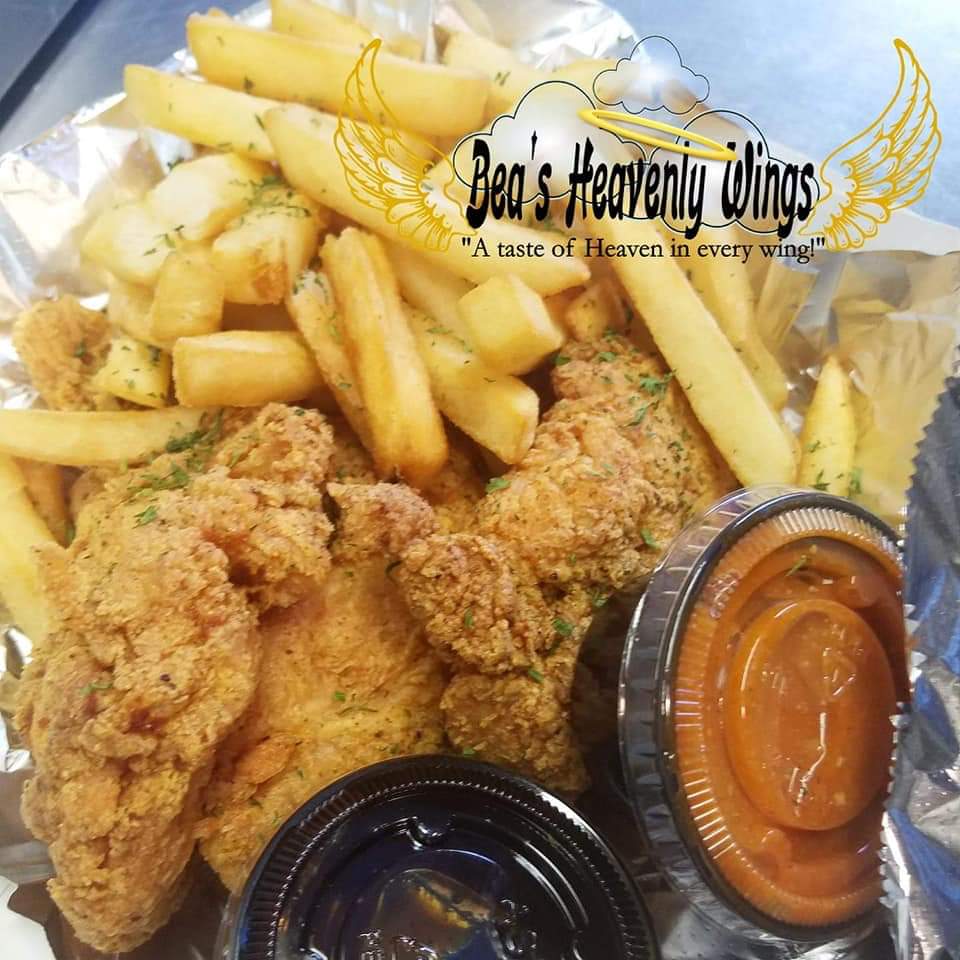 Wings with Bea's Heavenly Wing House Sauce (which is now available for purchase). It's a sweet and savory sauce that goes with all types of food, like chicken, seafood, burgers, veggie burger, sandwiches, and even salads.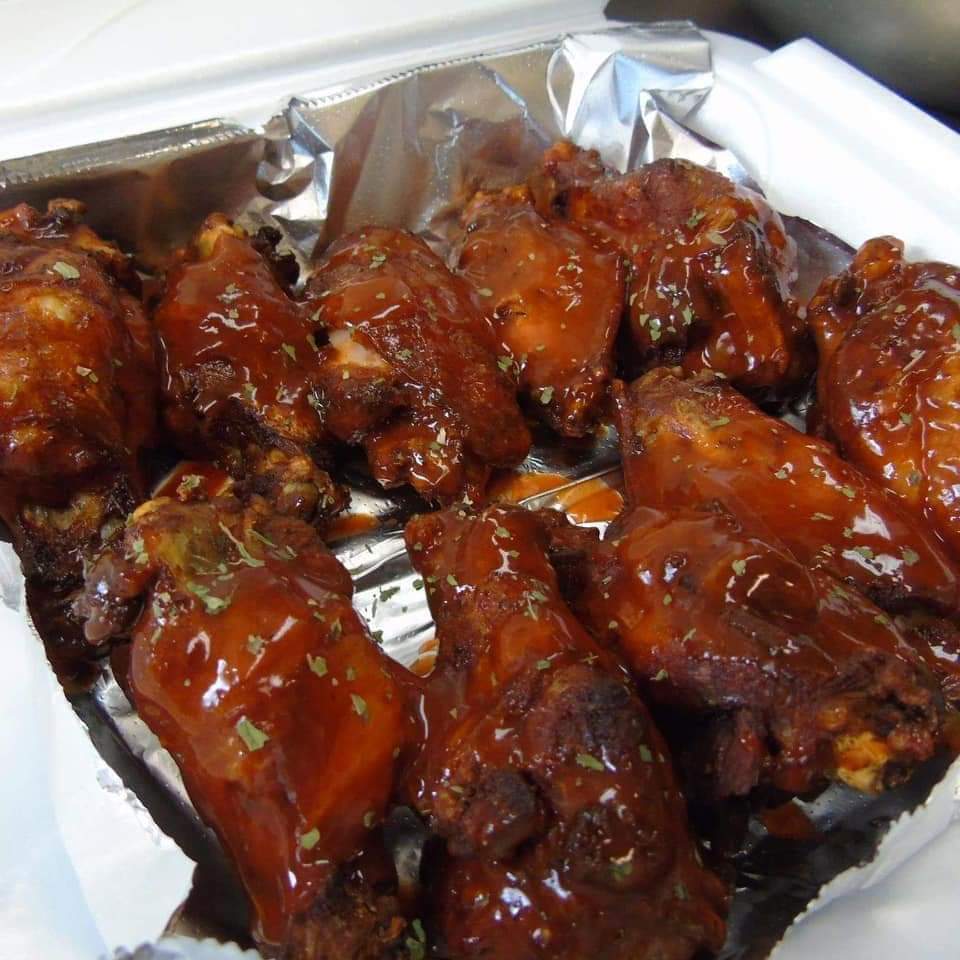 Pon Di River Jamaican Style BBQ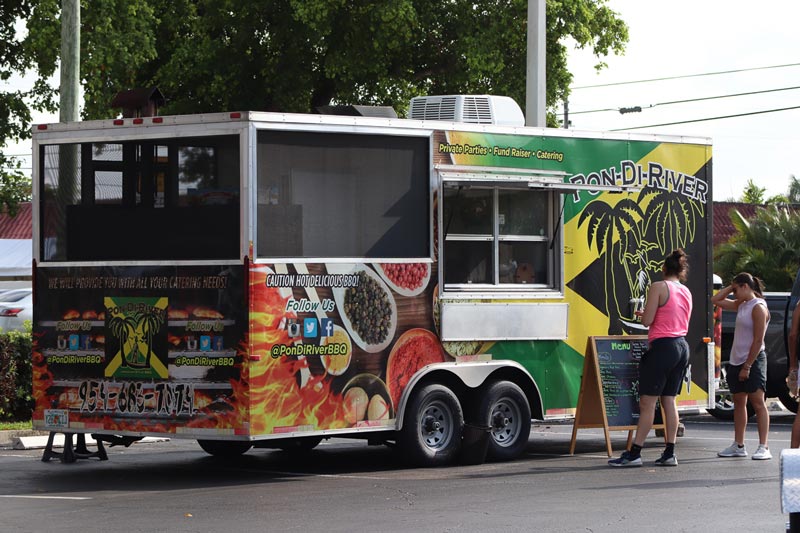 Pon Di River is an incredible mobile food truck. They deliver BBQ with a taste of Jamaica. We are talking jerk chicken, jerk pork, racks of ribs, rice and beans, cornbread, and more.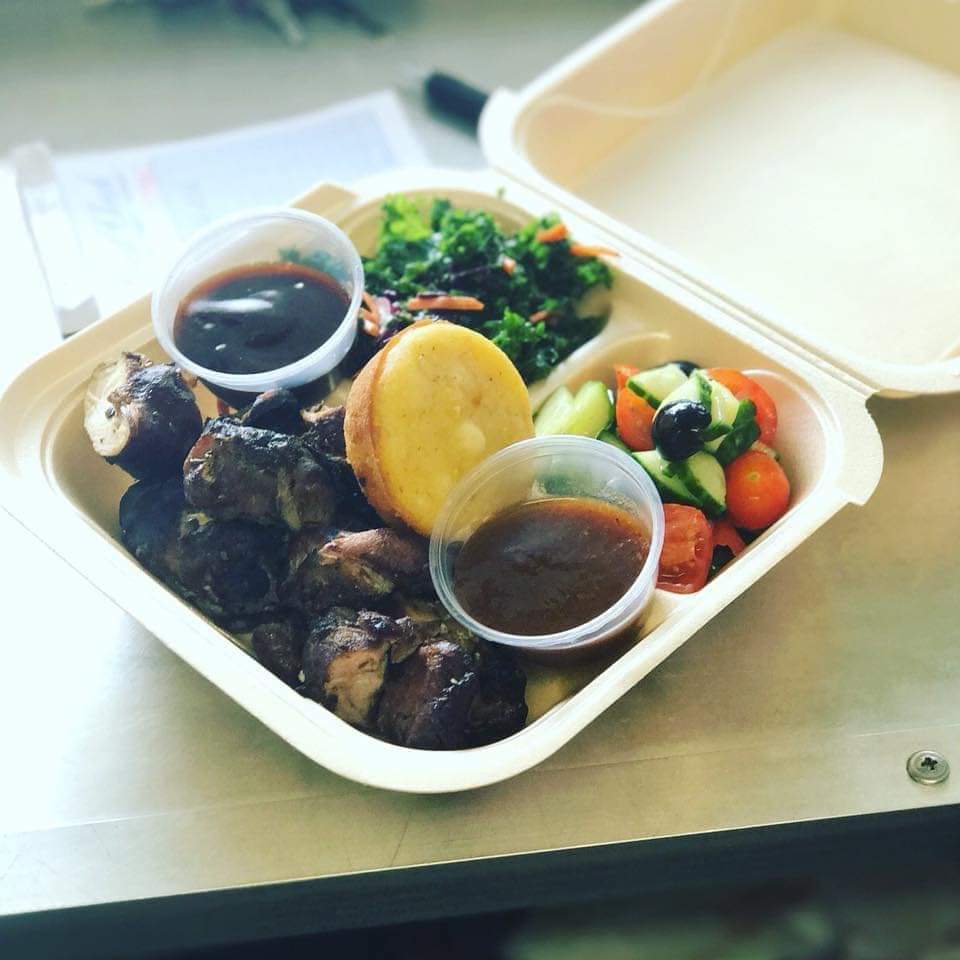 We often hear that they are the best food truck in South Florida. And, although there are many great food trucks, it's hard to argue with that statement.
They have this Jerk Pork Philly Sandwich that is unheard of and too damn good.
Check out what the people have to say:
"Food was great. Jerk pork was the best I've had in town. The service was also great. In and out with a smile."
"I've had Jamaican jerk all over the world, and this jerk is the best I've ever had! The jerk sauce and the bbq sauce I wish was bottled…I'd buy a gallon a week, it's good on ribs, pork, chicken, shrimps, etc. I wasn't a kale fan but I tried the kale side salad and it's revolutionized the kale community, the dried cranberries, and the citrus vinaigrette make me feel like I'm on a beach in Yard.
The chicken is moist and woodsy and the hotness is not too intense so children can eat it too, you can add your own amount of jerk sauce to your liking. The ribs and pork are awesome too and their sandwiches come on a Pretzel roll, which is a nice change where everybody else only offers plain white bread like other BBQ joints in the area. I give them 5 stars, wish I can give more, try some Pon Di River in your near future."
So, enough said. The reviews go on and on like this.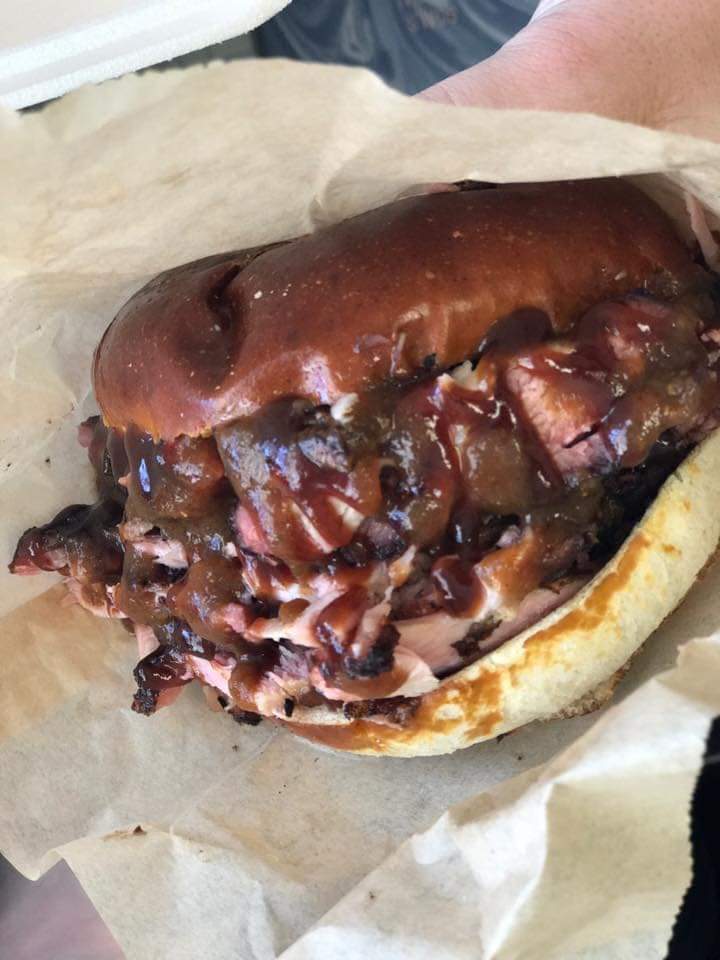 As Pon Di River says " Bringing to you food made with style, flavor, and love ❤️" and "Putting the Q back in BBQ‼️"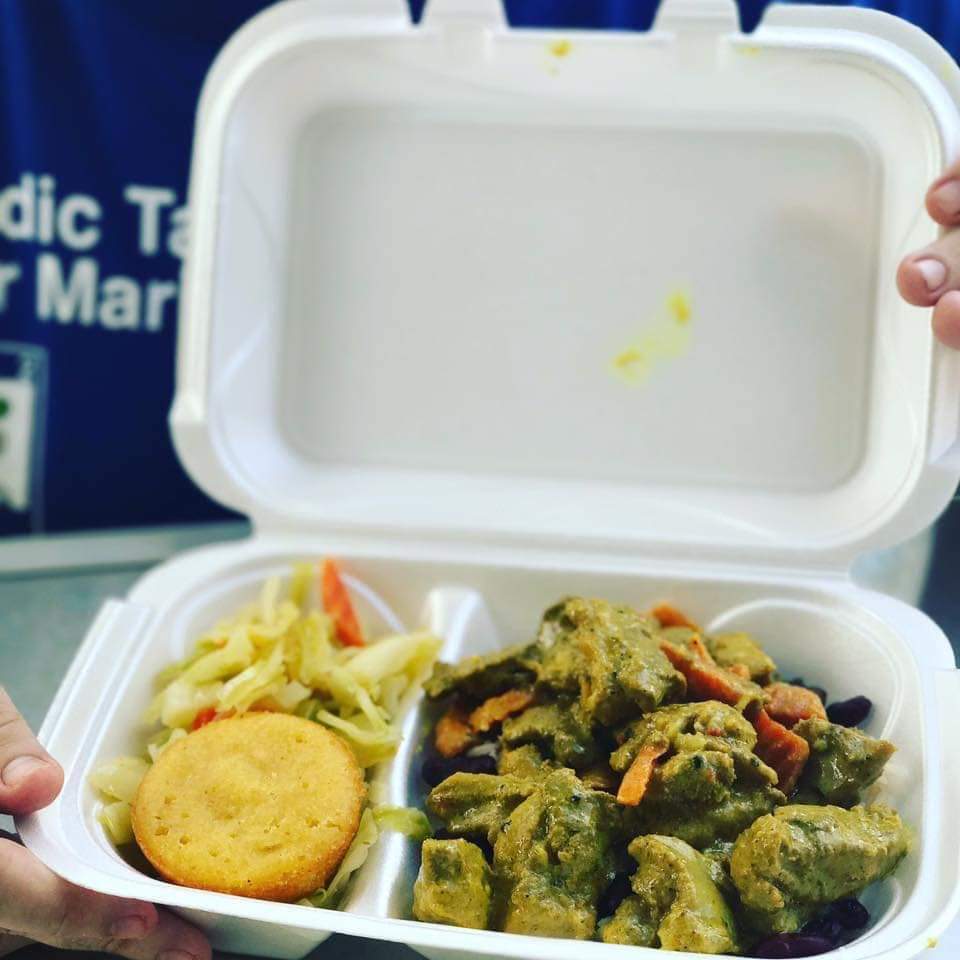 Keep tuned to their social so you can catch them around South Florida. You don't want to miss this one.
Nikki's Jazzy Sweets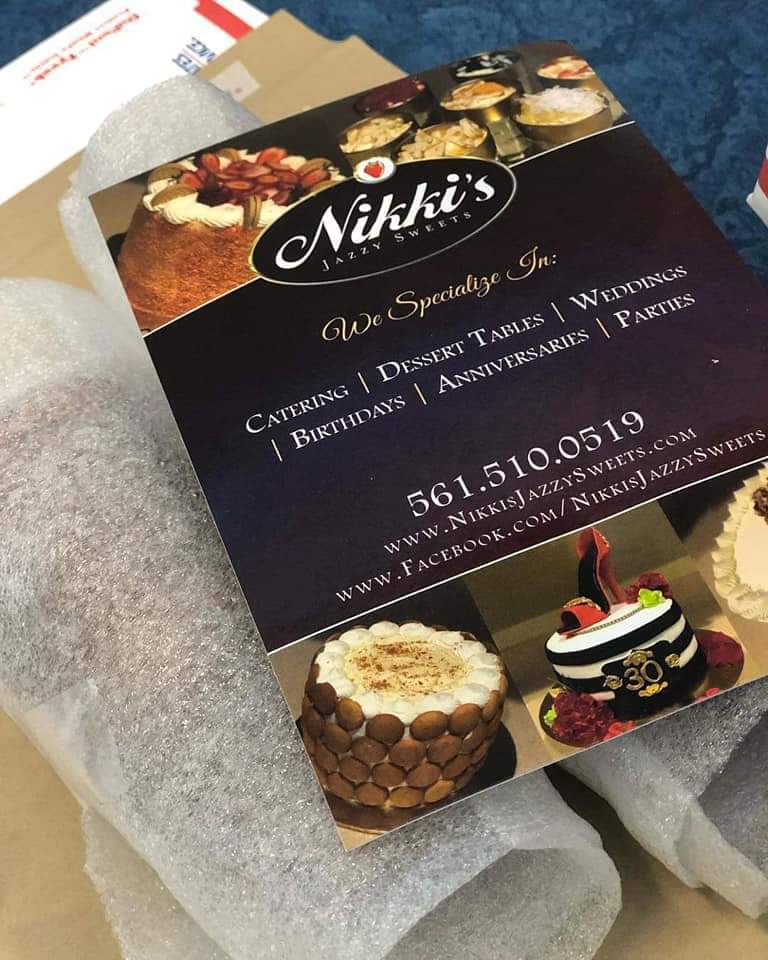 After all the delicious food, you know we all needed some dessert! One of our favorite dessert companies in South Florida came through with the goodies – Nikki's Jazzy Sweets.
We are all about that Jazz.
Nikki's Jazzy Sweets is an emerging company that allows customers to jazz up classic recipes like banana pudding, cakes, pies and more.
Have a look at this banana pudding with Oreos on top. It's off the charts, trust.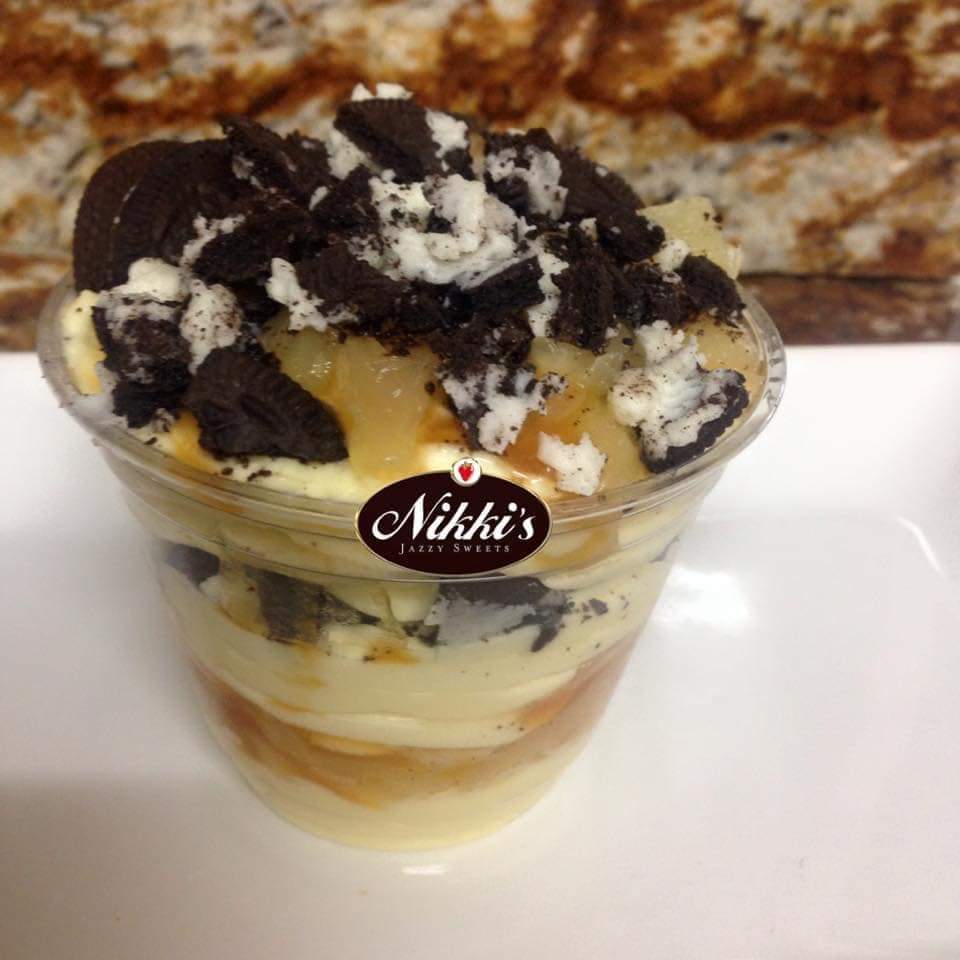 Their stacked red velvet cake is to die for.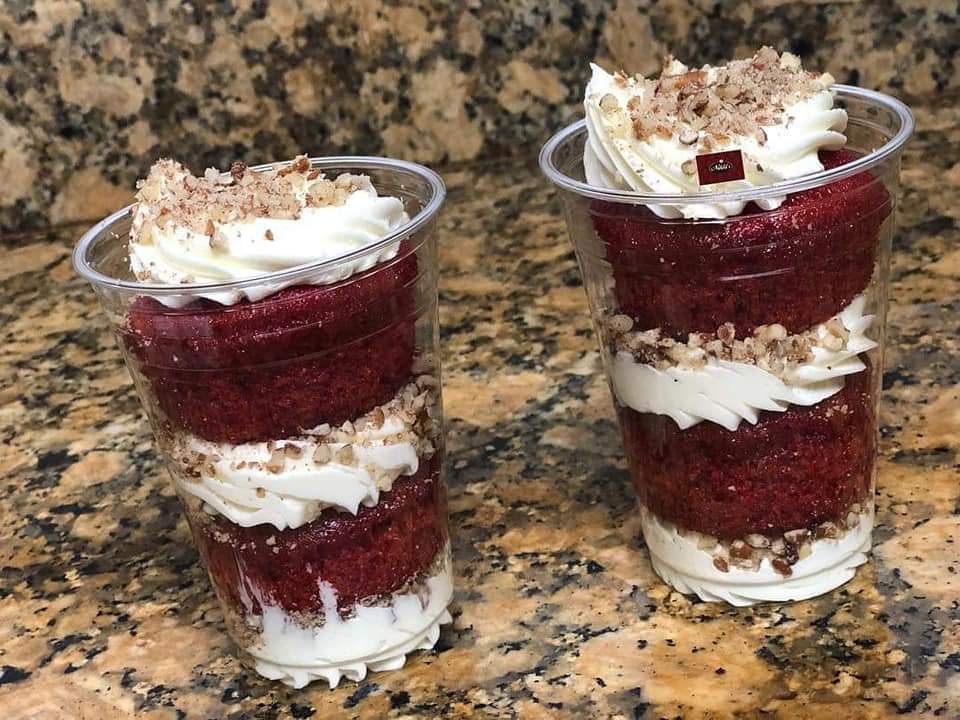 Reviews from the community:
"Let me say…this stuff is delicious. I'm licking my fingers. My apples have never tasted so good. Great job."
"I cannot find the words to describe how good the cupcakes are!! Best red velvet I've ever had!! The presentation and customer service is amazing!!"
"Everything is amazing!!! The rum caramel is a delicacy mmmmmm mmm Good!"
"Not once, have I ever been disappointed. Nikki has a way to make those flavors CONSISTENT, you can always expect a burst of goodness from the first bite, down past the sadness into having the last bite of that cake, cupcake, or last scoop of my ABSOLUTE fav red velvet nana' puddin'. Nikki is a very creative professional!! Thanks Nikki!! I'll never lose weight"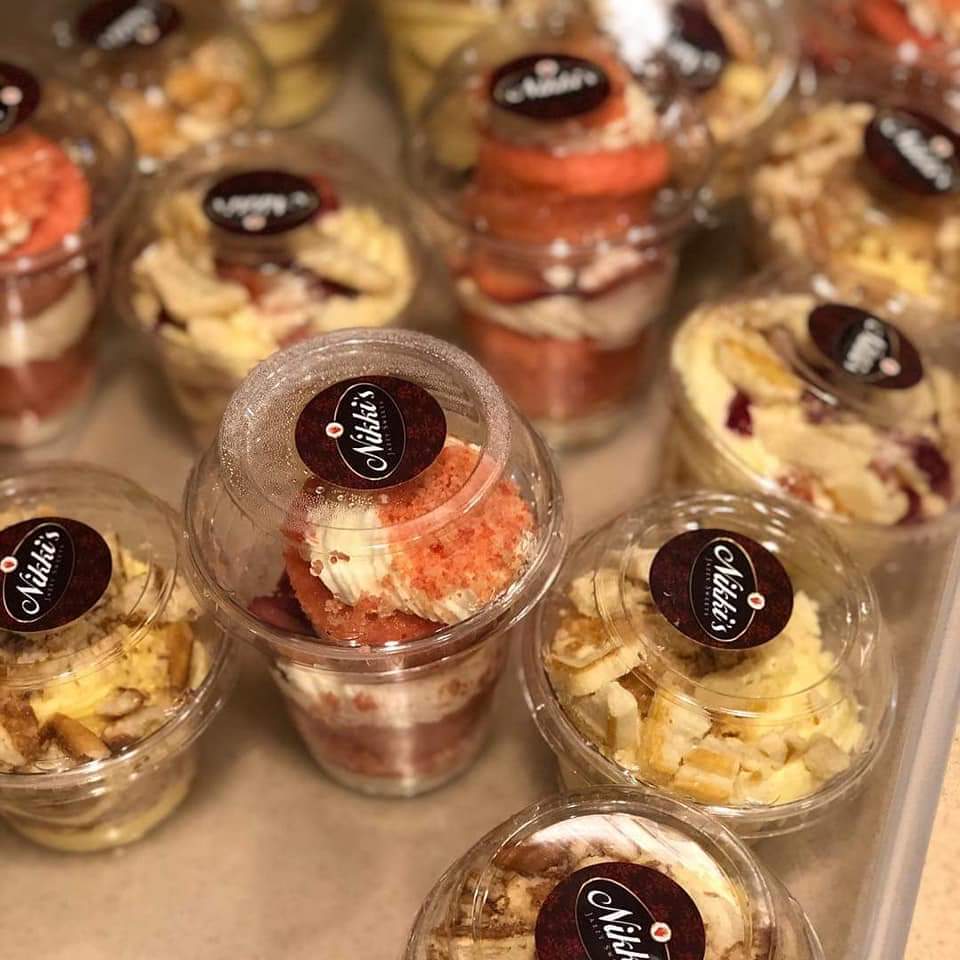 Nikki's Jazzy Sweets definitely won the hearts of South Florida during this event.
Tikiz Shaved Ice & Ice Cream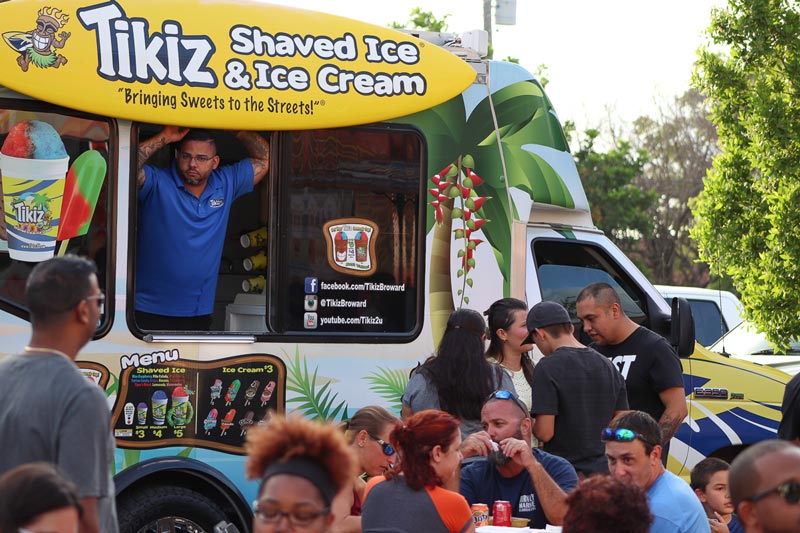 Of course, with so many varieties of food, we needed some dessert variety too.
Tikiz Shaved Ice & Ice Cream is a franchise food truck with a mission to provide enjoyable, refreshing treats to people of all ages using our state-of-the-art vehicle and professional team.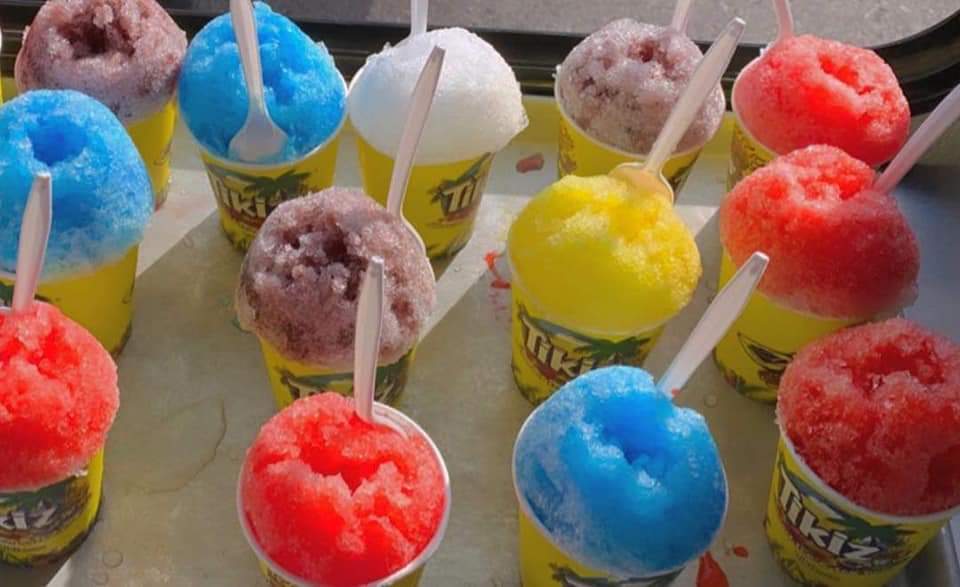 Taken from Tikiz Facebook page:
"Just about every man, women and child in America can recall the sight and sounds of an ice cream truck at a park or event on a warm sunny day. The familiar jingle sent children grabbing for spare change and running outside to acquire their favorite frozen treat. The Ice cream man was a local hero that served ice cream and happiness to everyone on his route.
These were the golden days of the ice cream truck industry when parents could trust the integrity of this mobile business and the ice cream man was a well-groomed and established member of the community. Now picture the last few ice cream trucks you have seen, how likely would you be to run out to them, or trust the ice cream man in the presence of children… the odds are, most likely not. The ice cream truck industries' glory has eroded to unkept individuals in worn-out, unsanitary vehicles trying to make a few quick dollars.
Once this void in the mobile ice cream truck industry was realized, the creation of the "Tikiz Shaved Ice and Ice Cream" concept was born. The "Tikiz" product line combines two of the most popular mainstream frozen treat products that everyone loves, Ice Cream and refreshing Hawaiian Shaved Ice. These delicious and refreshing products are distributed from the 21st century eye-catching Tikiz Refreshment Vehicle (T.R.V.)."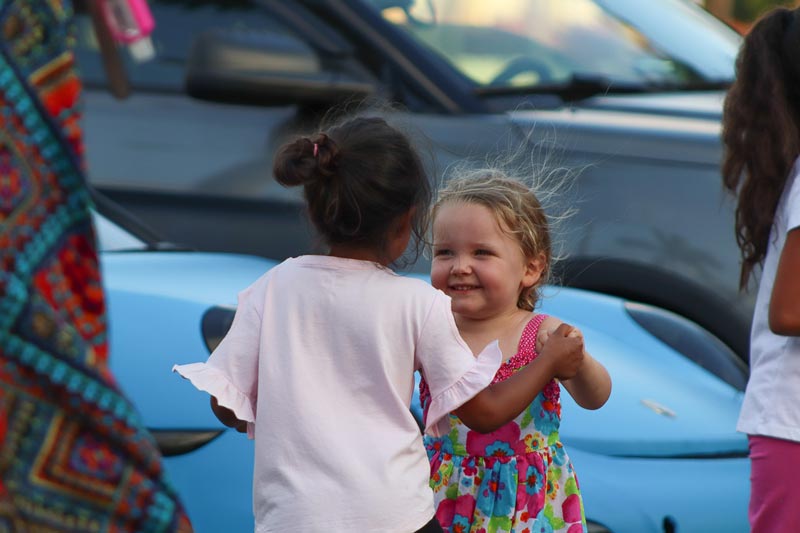 It's truly not surprising that they have such a successful franchise as they are doing things right and they're shaved ice and ice cream is everything you could ask for. Moreover, they bring good childhood memories back to life.
VIP PARKING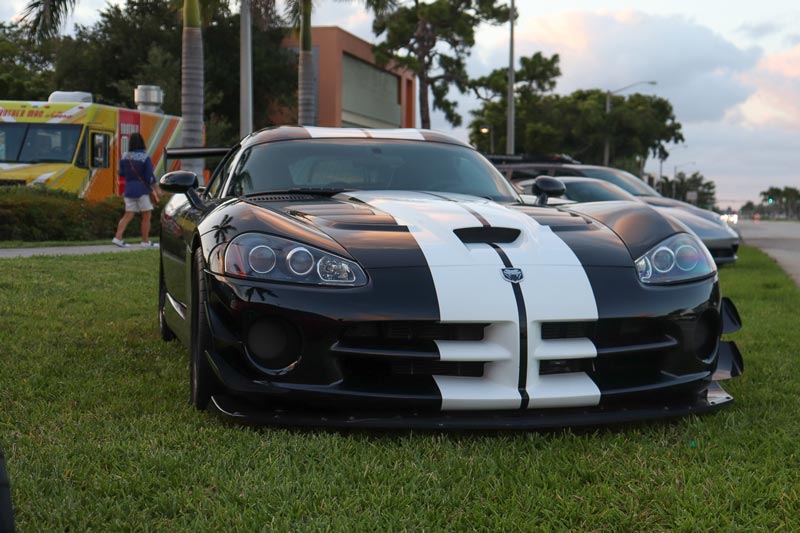 You know Diamonds by Raymond Lee and our love for cars (Diamonds and Donuts Monthly Car Show)…
So, of course, we had a pack of sports cars show up for everyone to ogle over.
Benzes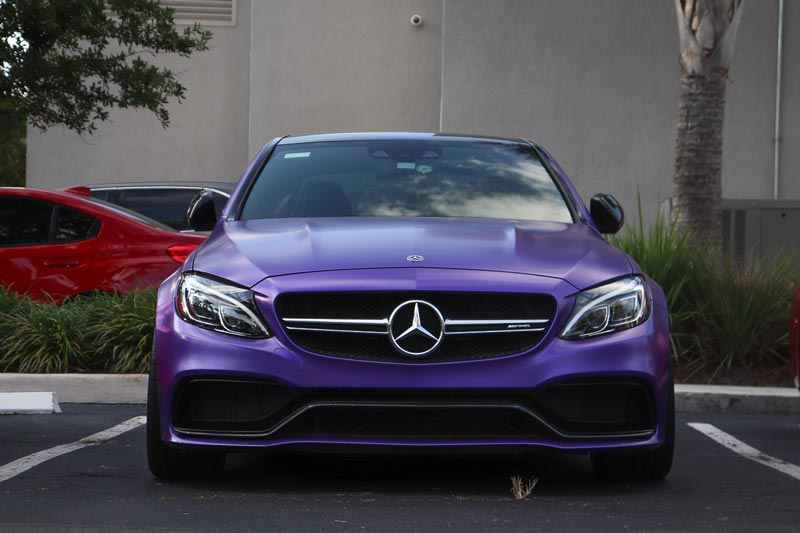 Dodges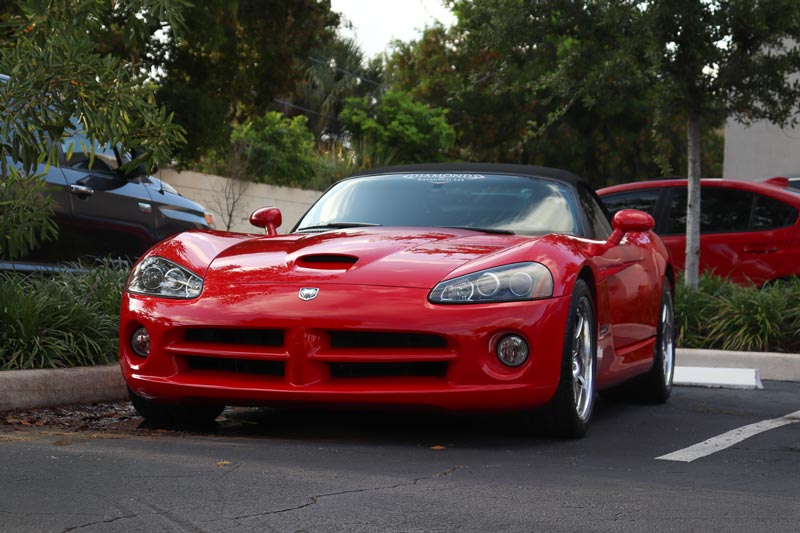 Corvettes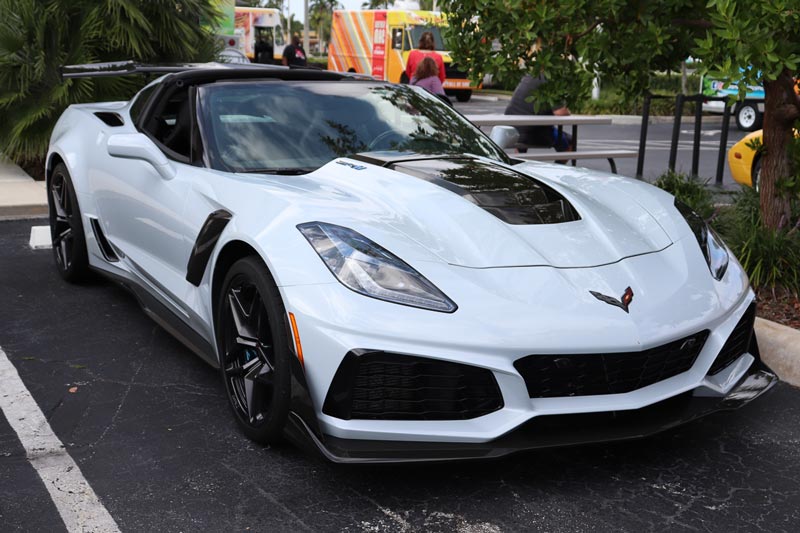 GTs, and more…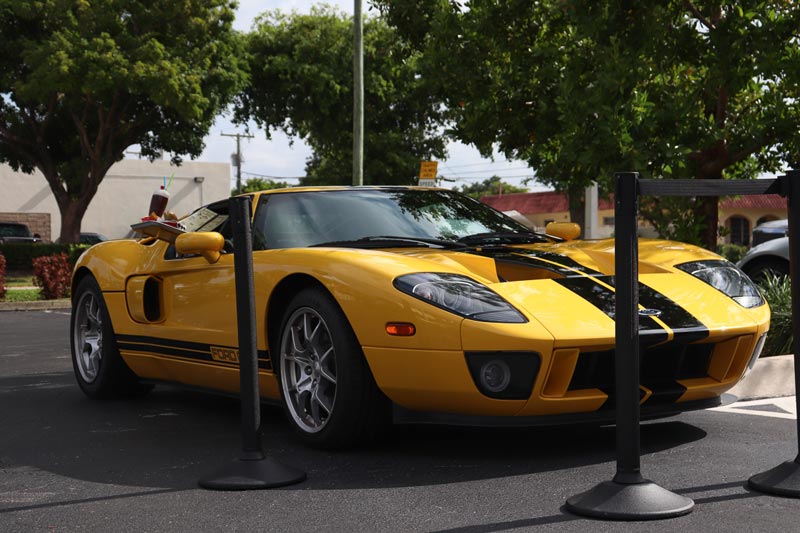 South Florida is a special place when it comes to cars. We have some of the world's best classics, imports, muscle cars, sports cars and supercars on the streets every day. It's good to know people of South Florida are getting it!
Tri-County Humane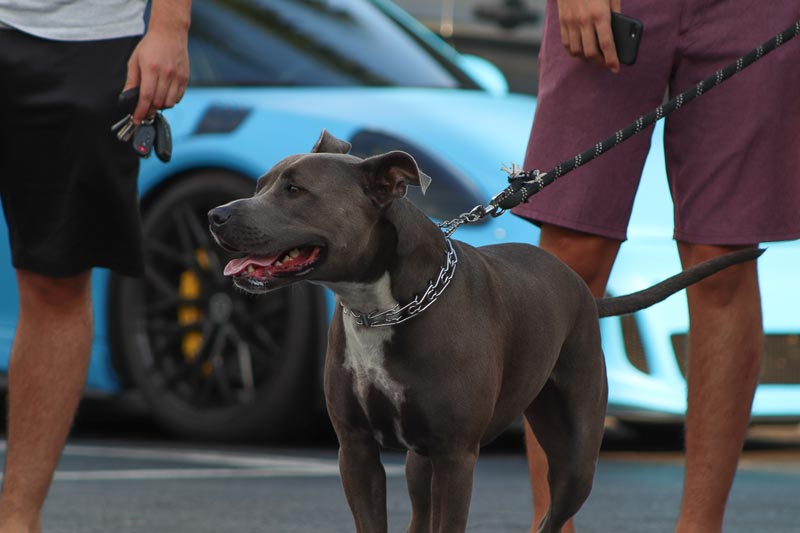 Tri-County Humane brought out some pups to raise awareness for adoption.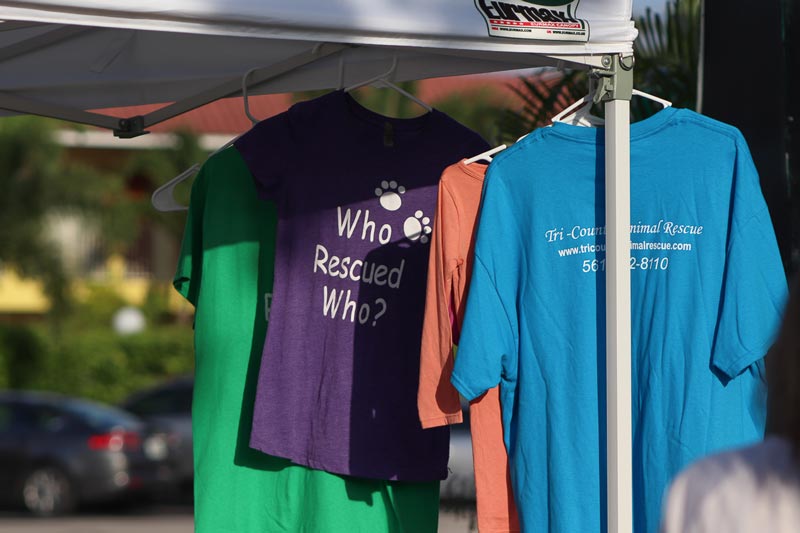 #adoptdontshop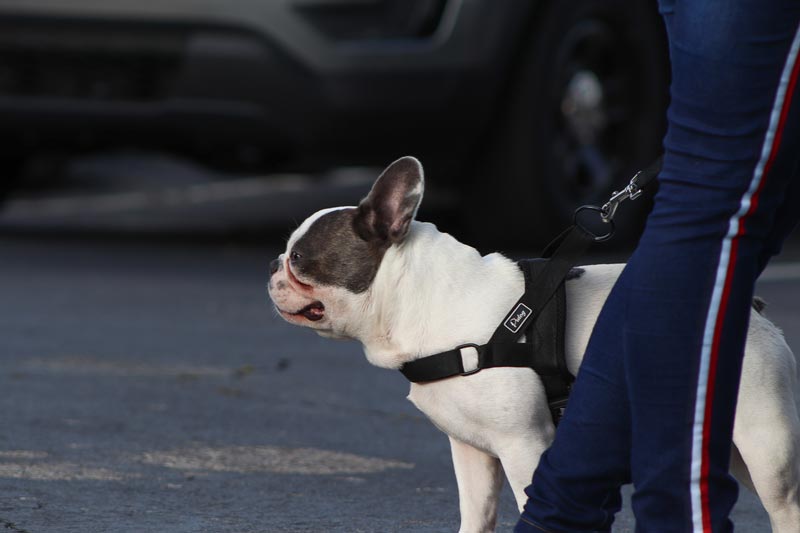 There were so many cute pups. Adopting is the way to go, and thanks to Tri-County, this becomes very clear.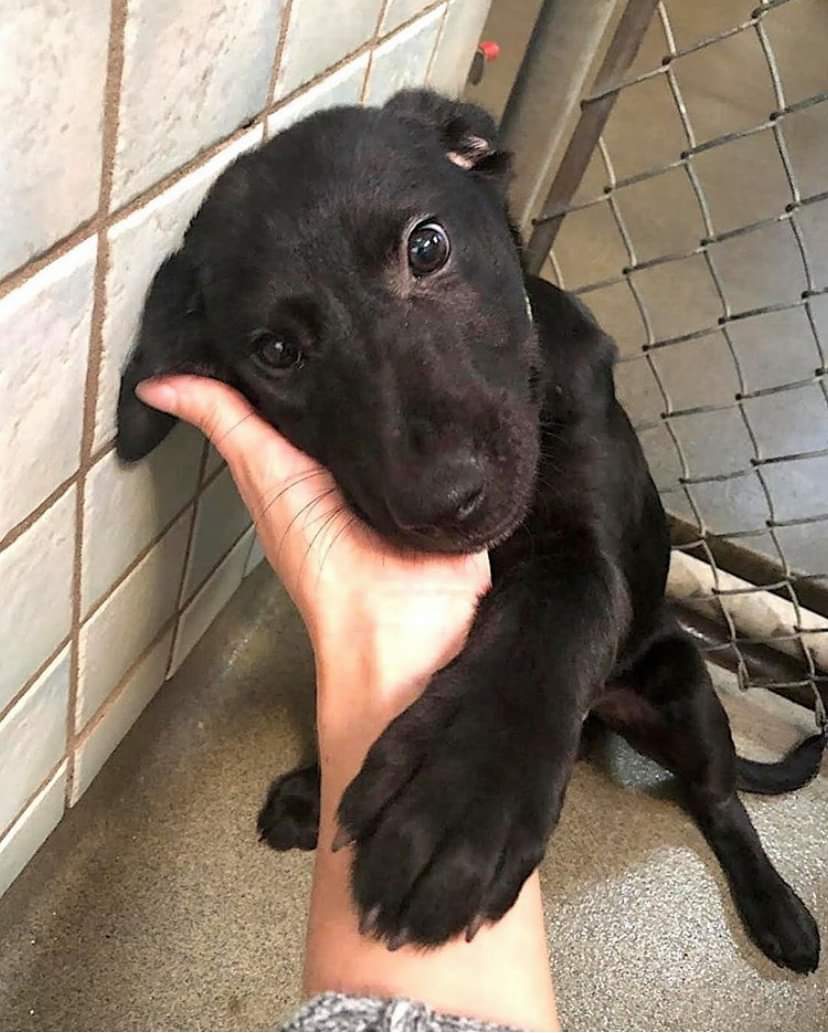 Stay Tuned For Our Next Event
Diamonds by Raymond Lee throws big events on a regular basis. Keep an eye out for the next one so you don't miss it.
RSVP NOW:
June 22, 2019 (1pm-5pm) – 2019 Summer Kick-Off Brew Fest. Sign up here.
Details: Diamonds by Raymond Lee wants to start your summer off right! Come out and enjoy the day with music, games, food and great beer! Sample tons of local brewers and breweries best beer and vote for your favorite! Benefiting the Boca Raton Police Foundation!!
**We strongly encourage Ubering to the event.
** 21yr +
July 20, 2019 (5pm-9pm) – Vegan Food Truck Night. Sign up here.
Details: Come to our Vegan Food Truck Night! We will have multiple vendors of delicious vegan food, an adoption tent with adorable puppies (for charity), and multiple reputable people such as gym owners and personal trainers at the event! 
August 3, 2019 (5pm-9pm) – Food Truck Night at Diamonds by Raymond Lee (Hosted by Island Boyz Conch Shack!). Sign up here.
Details: Food Truck night is back in Boca Raton again with Diamonds by Raymond Lee. Come out and enjoy the day with music and Food Truck with variety of delicious Caribbean food truck.
You can also follow us on Facebook and you can visit our Events Page to see what's coming next.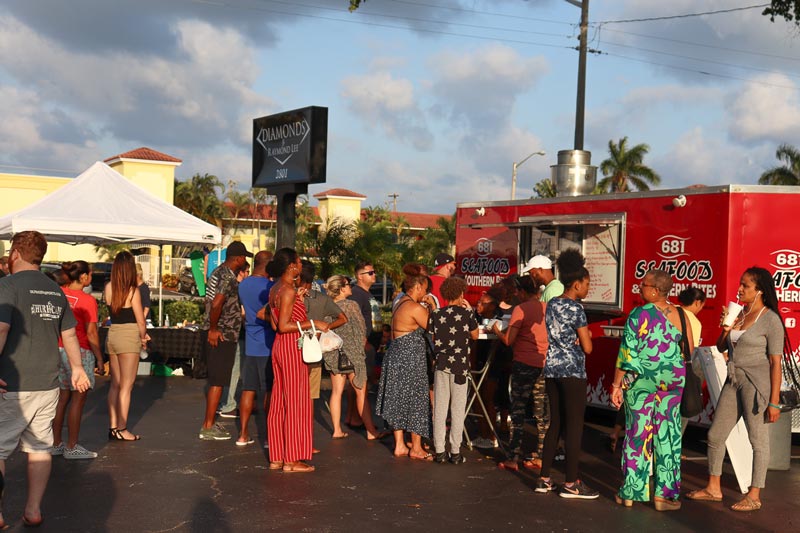 About Diamonds by Raymond Lee
Diamonds by Raymond Lee has been serving Boca Raton and South Florida's insatiable need for diamonds and luxury jewelry for over 30 years. Our team of expert advisers are dedicated to assisting you in selecting the perfect jewelry.
Our vision has always been to forge a unique, professional, and intimate vibe. We offer a shopping experience that works for all generations. We especially know what the modern jewelry buyer wants; and we keep traditions that never fade intact, such as sensibility, artistry, and craftsmanship. Furthermore, our prices are super competitive and the quality we provide is unparalleled for the price you pay.
Feel free to contact us if you have any questions.