If you know (or are) a bride, woman, or boyfriend on the hunt for the perfect engagement ring, there is one setting you. must. know about. If you research one and only one engagement ring style, let it be the halo setting. Halo engagement rings have emerged as one of the most widely desired engagement rings, and everyone here at Raymond Lee Jewelers is thoroughly on board with this movement. Here's why:
The Bling
The first thing that attracts brides to The One (and we're talking rings here) is the "bling." When a ring stops her in her tracks, she's found her dream engagement ring, and when brides visit our showroom, no rings inspire that magic moment like our halo engagement rings do! The gorgeous fire and sparkle in the center stone is matched by the sparkling halo surrounding the diamond, and often by pave or micropave on the band. The smaller diamonds on a halo setting enhance the center stone by creating more of an engagement ring's signature sparkle, and that added "bling" often takes her breath away!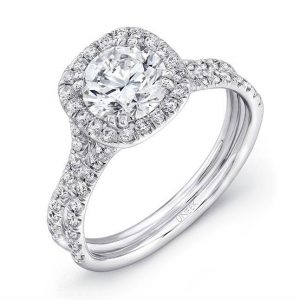 The Budget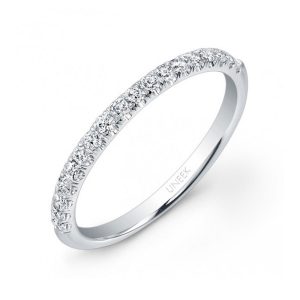 That same boost that the halo gives the diamond's beauty also gives your budget a nice boost. Because a halo engagement ring's surround is comprised of smaller diamonds, they add major sparkle impact for a fraction of the cost of a single larger diamond equal in diameter. Remember, as carat weight increases, so does price, so even if a halo engagement ring's total carat weight adds up to 1 or even 1.5 carats of diamond pave, you're paying a fraction of the cost of a 1 or 1.5 carat solitaire. Once you add your center stone, your halo engagement ring can easily boast double the carat weight of a solitaire or three stone ring, all for a much more economical price.
The "It" Factor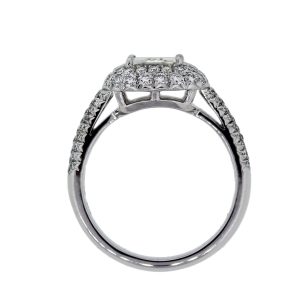 The combination of value and beauty that halo engagement rings offer has made them one of the hottest designs in bridal jewelry. Celebrities like Natalie Portman, Carrie Underwood and Jessica Alba all adore their halo engagement rings, and soon-to-be-brides everywhere love them too. The halo style engagement ring is so popular that every jeweler has made them a staple in their bridal cases, from local jewelers like us to international chains like Tiffany & Co. One thing is for certain, halo engagement rings are here to stay, are in high demand, and are one of the most stylish settings today.
The Endless Options
Halo engagement rings are at the top of plenty of wish-lists, but fret not if you think your ring or your beloved's will be a carbon copy of every other bride's. The term halo engagement ring often conjures the image of a fabulous round brilliant surrounded by an immensely sparkly outer ring of diamonds, non? Well, that's certainly one interpretation of the halo setting, but really this micropave technique can be applied to nearly any bridal design, allowing for endlessly customizable options. Have your heart set on a totally unique halo ring? Done. What about a halo that rests under the center stone? Check. Pear shape, oval, emerald cut, radiant cut, bezel set, 4 prong, 6 prong, split shank, colored stones– your options are only limited to your creativity with this versatile style.
The Beauty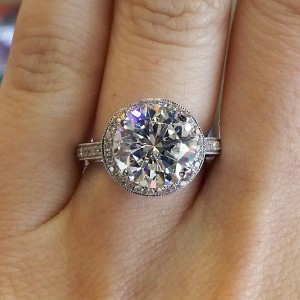 We touched on this factor before with the aforementioned "bling", but the beauty of a halo engagement ring is what makes it a favorite. The delicate micropave adds a glamorous, vintage touch to a thoroughly modern design. The ability of a halo engagement ring to catch & reflect light like no other draws eyes to the diamond she can't wait to show off. The halo engagement ring style is the ideal engagement ring setting for the modern day princess and will have any bride falling madly in love with her Prince Charming all over again whenever she glances down at her finger.