White Gold Flower Necklace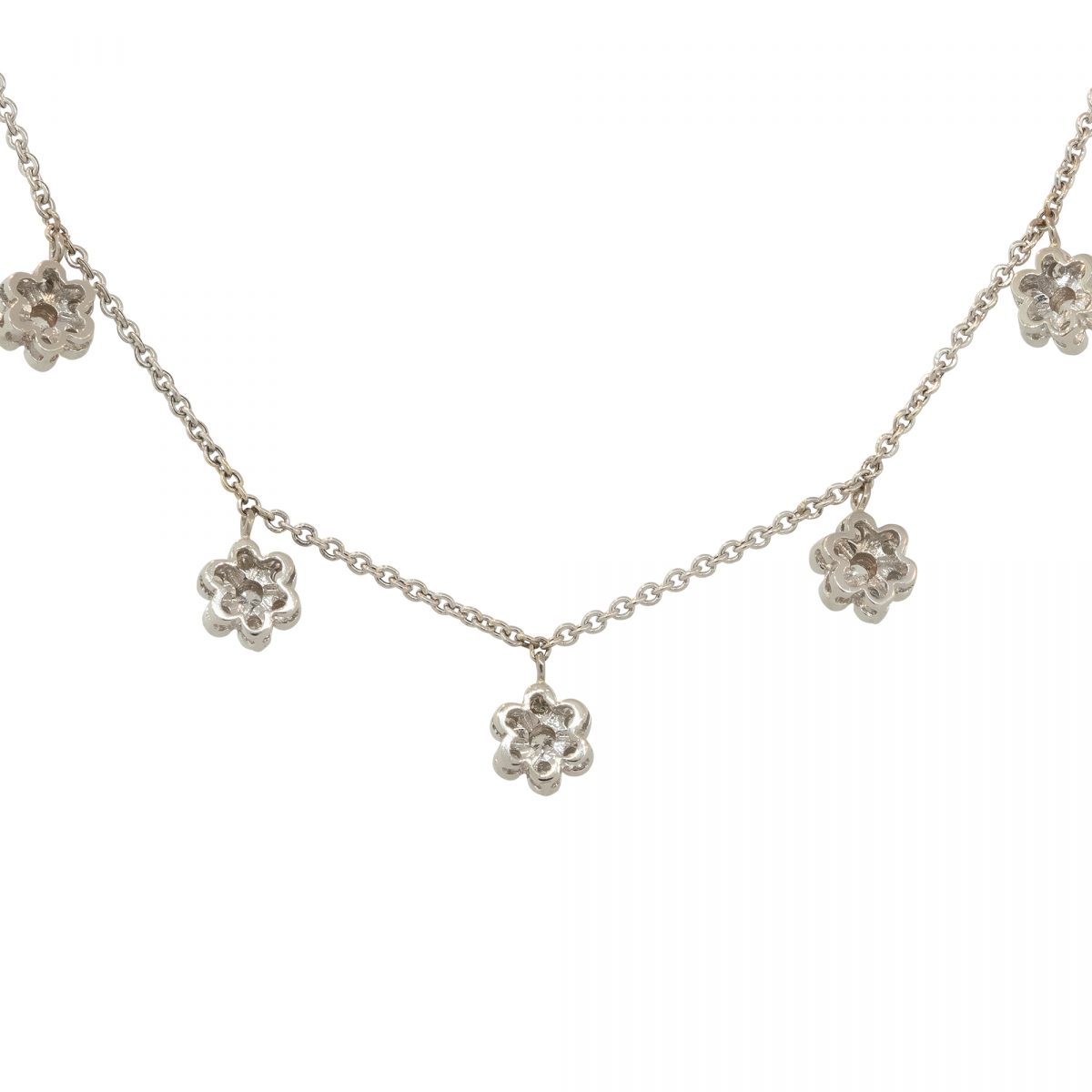 Fine accessories such as a white gold diamond flower necklace are a great way to show off your style and your personality. High-end jewelry comes in all shapes and sizes. Necklaces are a fun way to add a bit of style and personality to your look. Another great thing about necklaces is that they draw attention to your neck and can add a slimming effect as well. Pieces like this are well-made and feature only the finest materials in their construction. One of our promises to you is that any piece of jewelry we sell will be of the utmost quality.
Accessories such as this necklace are a great way to add style and whimsy to your look. It pairs well with a wide range of different fashions. You can also pair this necklace with other accessories as well. It can easily become part of your signature look and give you that unique personal style that so many of us desire. And, since it is made from such fine materials and to high standards of design, you have the peace of mind that it is going to stand the test of time.
First Impressions
We all want to give the best impression we can to those who we meet in our daily lives. And the thing about first impressions is that we often form these just by looking at someone. Once this impression is formed, it is hard to change it. So it makes a lot of sense why people want to put their best proverbial foot forward and make the best possible impression they can. We can do this through the clothing we wear, how we carry ourselves, and the accessories we choose. It is a fact that we tell others a lot about ourselves through these things. The white gold diamond flower necklace we feature here is no exception.
It will show others that you care about fine design and quality materials. It also shows others that you care about nature, enjoy fun design, and you don't take yourself too seriously. It is a fun necklace that blends high-end materials with a fun and personal design. The stylistic nature of the design makes it a cute and fun accessory that has the added perk of high-grade diamonds to elevate the style even further.
The Power of the Necklace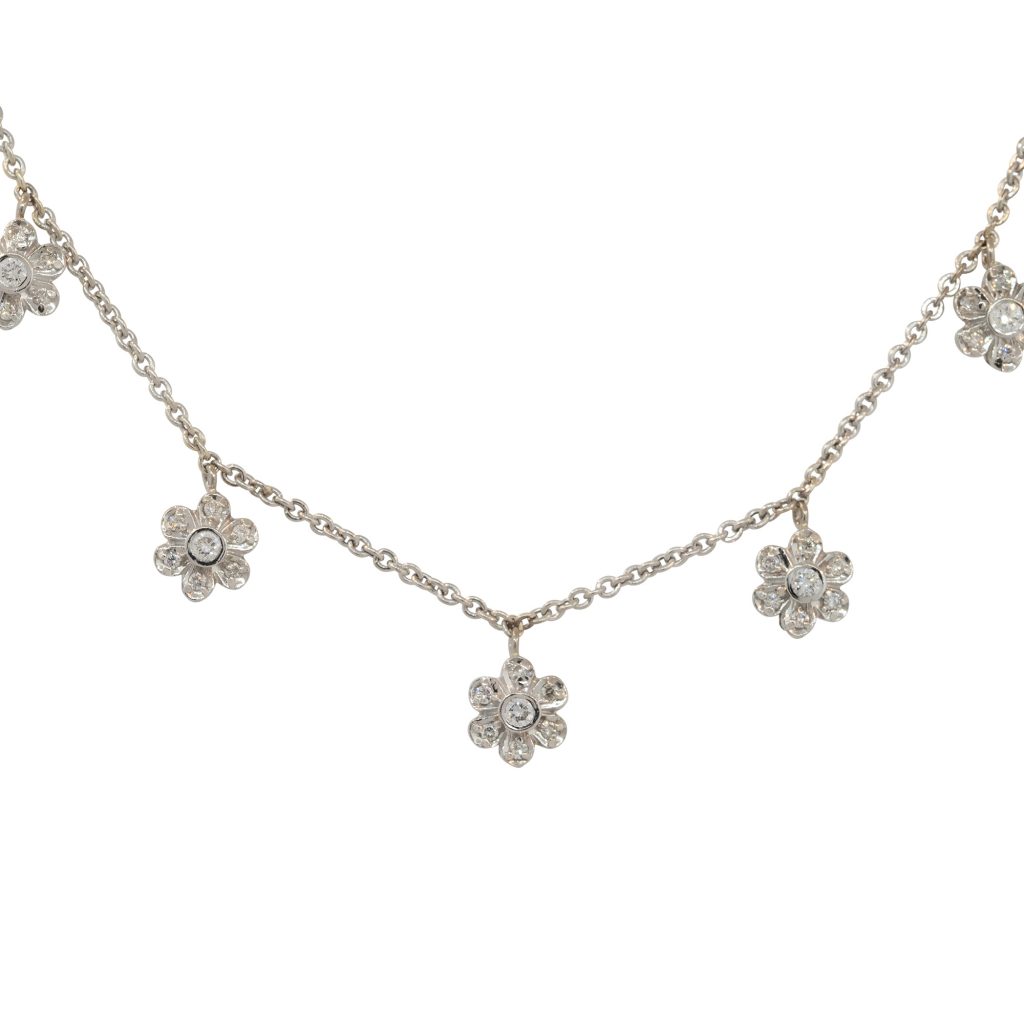 When we think about accessories, necklaces aren't usually the first thing we think about. We think about rings, earrings, bracelets, and the like. But necklaces offer a unique opportunity to add a bit more style to our look. And, they can also draw attention to our better assets. The white gold diamond flower necklace we feature here is a great example of the breadth of the necklace. There are so many different kinds of necklaces, from those that feature small pendants such as this, to dramatic drop necklaces.
Each style has its perks and what works best for you will depend on what you are getting the necklace for and your personal style. The white gold diamond flower necklace we feature here boasts classic design features with a unique nature-inspired motif. It uses a more stylistic natural motif, as opposed to something that is trying to directly imitate reality. Whether you choose this necklace or something completely different, we stand by the power of the necklace to add style to your look and draw attention to our best features. And who doesn't want to make the most of their best assets?
Fine Accessories and More
At Raymond Lee Jewelers, we care about style, quality, and uniqueness above all. That is why we employ only the best buyers we can find. Our buyers have a ton of experience and connections in the world of jewelry. This allows us to source the rarest and finest pieces from around the world in our store. We take our reputation for having a great selection of unique high-end pieces very seriously. And, we strive to continue to maintain this reputation. However, we also do a lot more than just offer a great selection of unique, rare jewelry.
While our selection is great, we know we don't have everything. If, for example, you have something specific in mind that you cannot find, we offer custom jewelry services. We use the latest in computer technology and our skilled jewelers work tirelessly to turn your dream into a reality. Working closely with our clients every step of the way lets us make sure that you get exactly what you are looking for. Additionally, we also offer comprehensive repair services as well. Whether you have something simple like needing to resize a ring or something more complex like a broken wristwatch, we are here to help.

Nature-Inspired Glamor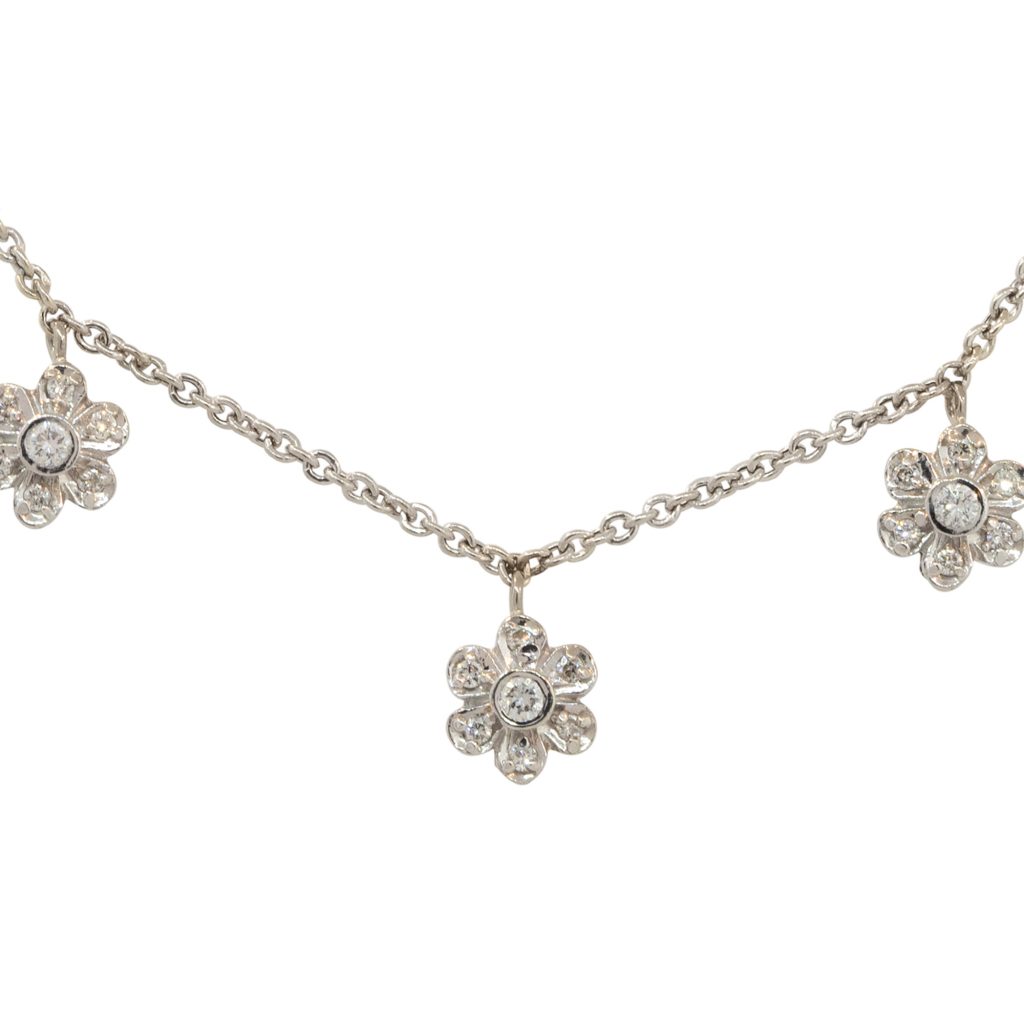 There is, of course, a lot to be said for simple, classic jewelry. It has the ability to transcend trends and styles. But you can have these things and still have a piece of jewelry that has a lot of personality and fun style. The white gold diamond flower necklace we feature here is a great example of this. It features a classic pendant design and is made from the finest white gold and high-grade diamonds. But the design is also fun and whimsical in its style. The flowers show a love for beauty and nature. This makes the necklace a great choice for the nature lover in your life.
It shows their love of the outdoors, but in a way that still offers sophistication and style. The blending of fine materials with the fun design gives you a unique piece of jewelry. But it is still classic enough that it will look great with a wide range of different looks. And, you can easily pair it with other pieces of jewelry to create your own signature look. Who doesn't want to have their own unique sense of style that they are known for?
White Gold
White gold is a great option for those who like the properties of gold, but prefer the cooler more silvery hue. Many people are turned off by the rich yellow coloring of yellow gold and for those who prefer the cooler look, white gold is a great choice. The metal was originally an alternative to platinum. Since it is less expensive than platinum, it made a nice alternative for those who wanted the lovely silver hue. The thing about gold is that, in its pure form, it is too soft for use in jewelry. If you were to try to use pure gold to make a piece of jewelry, it would not retain its shape for long.
All gold, whether yellow or white – is a blending of pure gold and other metals. Yellow gold will have fewer additives than white gold. However, it should be said that white gold is stronger and more durable than traditional yellow gold. 18-karat white gold is a blending of 75% gold and 25% nickel and zinc. The use of these silvery materials is what gives the metal its cool hue. Additionally, white gold also has rhodium plating. This coating helps the metal keep its cool color. It may, with wear and tear, need to be recoated.
Fine Diamonds
This necklace is one of those fun blendings of whimsical design and classic style. The use of white gold and fine diamonds give the necklace that high-end look and feel. But the design gives it some fun personality that a lot of high-end jewelry just doesn't have. The chain of the necklace is white gold as are the outlines of the flowers on the necklace. Small round brilliant-cut diamonds provide the shape of the flowers. The stones also give the necklace a ton of fun sparkle and shine.
These are high-grade diamonds that are cut into a shape that is meant to maximize the amount of sparkle. The round brilliant-cut has a ton of facets cut into the surface of the stone. These facets will catch and throw light. It is this that causes the stunning sparkle that we all love so much. This is a great cut if you want a ton of extra sparkle. And the great thing about it is that the diamonds only enhance the beauty of this piece. It takes what is a cute and whimsical piece and elevates it to a much higher level of style and elegance.
Classic and Timeless Design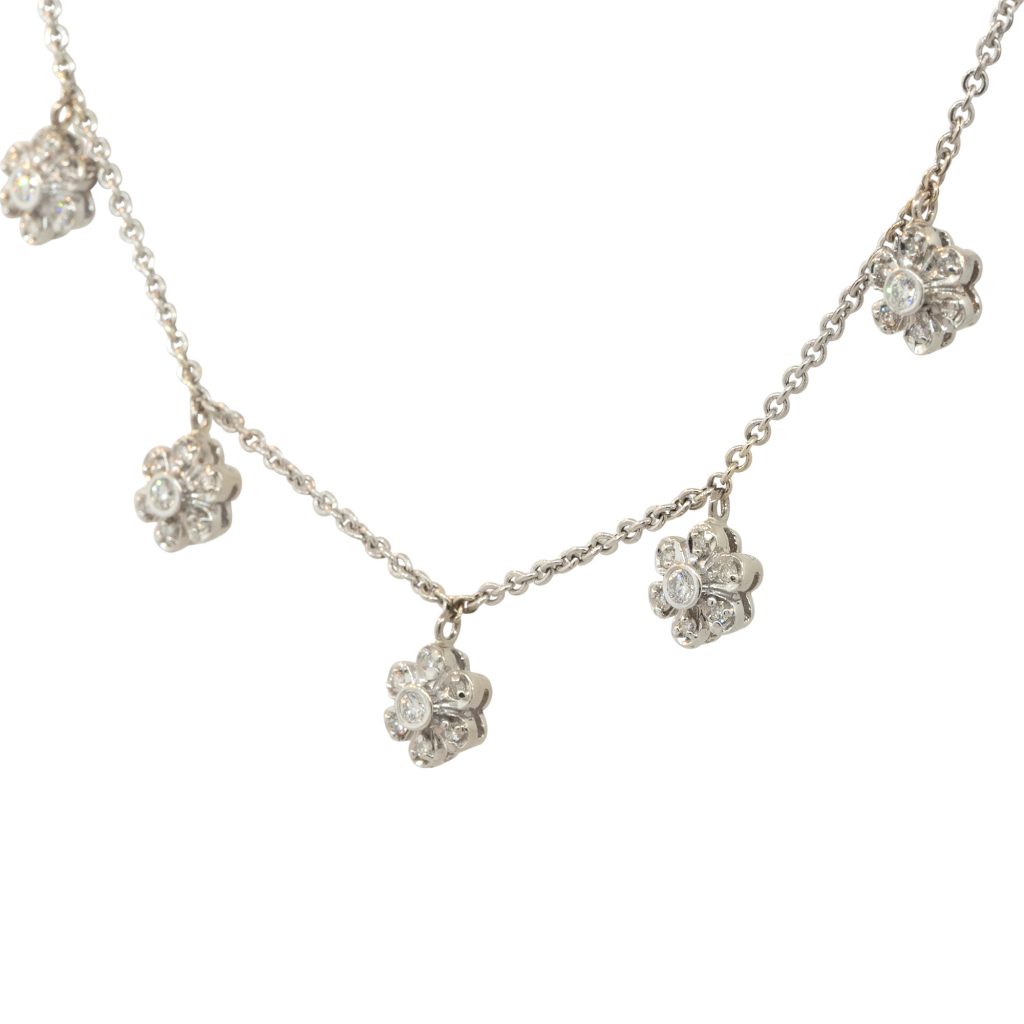 The thing about the classics is that they are, well, classic. Think about how trends work. They come and go swiftly. Something is in one day and out the next. Of course, there is nothing wrong with owning trendy pieces of jewelry, but there is something nice about those styles that are always in fashion. The little black dress is a great example of something that never goes out of style – no matter what the current rage is. There are accessories that have these qualities as well. The simple, classic necklace that features pendants is one of these styles. Here, we feature a white gold diamond flower necklace that boasts five small flower pendants that hang from a white gold chain.
This makes for a really elegant necklace that is understated but still has sparkle and shine. It has a quiet glamor. This is a simple, yet fun, necklace that is a really wonderful option for the nature lover. The stylistic flowers are whimsical in their design. These pendants have a playfulness that pairs well with the classic design of the necklace. The use of white gold and diamonds also gives it a high-end look that makes it work just as well with formal attire as it does with more casual pieces.
Versatile and Elegant
This white gold diamond flower necklace is one of those rare pieces of high-end jewelry that is actually incredibly versatile. Versatility is probably not something you equate with high-end accessories very often. Most high-end accessories are really only suitable for certain occasions. For example, you might look a little bit out of place in jeans and a t-shirt at the grocery store wearing a huge cocktail ring. While these pieces are great to have, it is also nice to have high-end pieces that are versatile as well. This necklace fits that bill. It is one of those pieces that looks just as great with casual attire as it does with more formal looks. It adds playfulness to your look without taking away from high style.
Another great thing about this piece is that it pairs well with other accessories as well. You can easily pair this necklace with earrings, rings, bracelets, watches, and more. The only bit of advice we can give for pairing accessories is to try to stick to the same metal across the pieces. Since this necklace is white gold, that means you want to pair it with other pieces of white gold jewlery.
In Closing
Necklaces are one of those accessories that we feel don't get the love they deserve. There are many things to love about this accessory. First and foremost, it gives us yet another opportunity to add more style and elegance to our look. Many necklaces will elongate and add a slimming effect to the neck and will draw attention to this asset. There are so many different kinds of necklaces that we are sure that you can easily find one that fits your taste and style. Here, we feature a white gold diamond flower necklace. This piece is a fun blending of elegant design and whimsical style.
The flowers in this piece are stylistic in nature, which means they are not attempting to be a true representation of flowers, but a funner and more playful version. That makes this necklace a great choice for the nature lover who wants to add some style and glamor to their look. The use of white gold and high-grade diamonds take this fun necklace to a new level of style and class. It is a surprisingly versatile piece that will work well with casual and formal attire. It also pairs well with other jewelry, making it a great option for daily wear.