Victoria Albert Museum Pearls Exhibit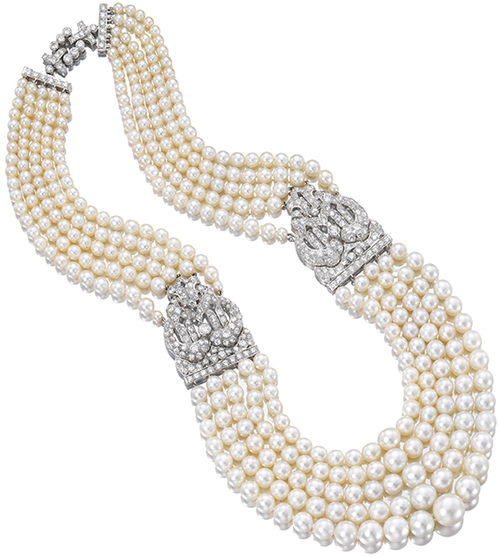 Beginning September 21st, The Victorian and Albert Museum, London's premier museum of art and design, will be opening their Pearl Exhibit. This exhibit will showcase the history and beauty of one of the world's most beautiful and mysterious of jewels; the pearl.
Pearls are one of the most enchanting jewels on earth, because they are surrounded in mystery. Created deep below the surface of the sea, in a process that is only short of magical. The rarity and difficulty of locating and obtaining pearls have made it one of the most sought after of valuable objects.
In ancient Rome and later in medieval times pearls were a symbol wealth and status. Medieval artist began to incorporate the pearl into paintings of the Virgin Mary, giving the pearl attributes of purity and holiness. Pearls often played an important role in the royal courts during the 18th and 19 centuries. And just like today, anything the royal family took a fancy to immediately became a social phenomenon.
As styles and status symbols have changed over the centuries, pearls have maintained its position as a symbol of beauty, elegance and mystery.
Cultured Pearls
The exhibit will not only explore the beauty and mystery of natural pearls but also that of the cultured pearl. As with many aspects of nature, man has attempted to replicate or in some way improve upon this lovely natural creation. Even in ancient China jewelers attempted to replicate pearls by inserting objects into the oysters in an attempt to jumpstart the pearl making process. This ancient attempt at creating cultured pearls resulted in what was called the "blister pearls."
Cultured pearls really took on the retail potential when Kokichi Mikimoto was granted a patent allowing him to experiment with creating cultured, round pearls in Japan. Mikimoto's dream was "to adorn the necks of all the women of the world with pearls." By the 1950's his dream had been realized and cultured pearls dominated the market. The company that Mikimoto left behind is still a renowned creator of cultured pearls and known for their quality jewels.
Exquisite Pearl Creations
On display at the Victoria Albert Museum will be some of the world's most breath taking pearl creations. The 1930s and 40s were a time of extravagance and luxury in Europe resulting in some very lavish pearl pieces. Five strand, graduated natural pearl strand necklaces accented with diamonds will be among pieces on display. Rare pieces such as "The Lover's Eye Brooch" of the 1800s are an example of pieces of jewelry that went out of fashion rather quickly, thus adding to their rarity and value. In Paris during the 18th century jewelers were astonished at the beautiful shapes that some pearls had, inspiring pearl creations that attempted to imitate other natural objects such as flowers. Because pearls were often a symbol of power or status, they were also often used in crowns for royalty such as the Rosebery Pearl and Diamond Tiara which will also be on display at the museum exhibit.