Top 10 Celebrity Engagement Rings of 2018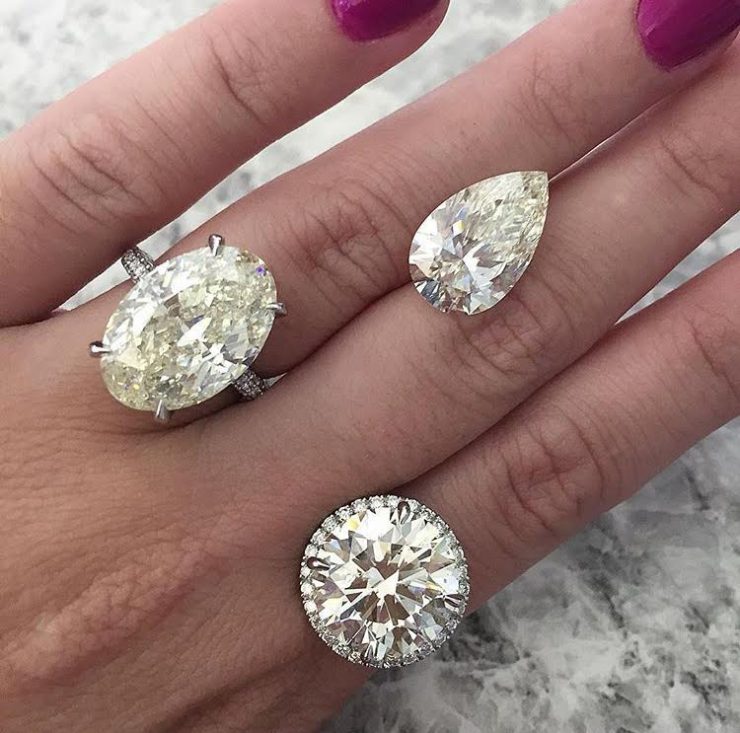 Top 10 Celebrity Engagement Rings of 2018
An engagement ring is a very special item. Symbolic of the love between a man and a woman, the ring just has to be perfect. However, the idea of perfection can vary from person to person and ring to ring. This can make for a variety of styles, metals, colors of diamonds and gemstones use.
When choosing an engagement ring, many women look at celebrity choices. When deciding on the ring they want, they might look for one that is similar to that which is worn by their favorite star or fashion icon. It is possible to shop these looks at jewelry stores like Boca Raton's Diamonds by Raymond Lee. If you would like to find out about the engagement rings your favorite celebs are sporting, here are the top 10 engagement rings of 2018.
Paris Hilton: As if the very sight of this ring wasn't enough to spark headlines! The sensation that arose when the young heiress lost her rings was one that was featured in newspapers everywhere.
The ring was given to Ms. Hilton by fiancé Chris Zilka when the two were vacationing in Aspen earlier this year. Since then, you can't see Paris anywhere without having the ring prominently featured.
The diamond is a little over 20 carats and is set on a split shank halos platinum band. This adds an additional 2 carats of weight to the diamonds. It was designed by celebrity jewelry designer Michael Greene and valued at close to $2 million.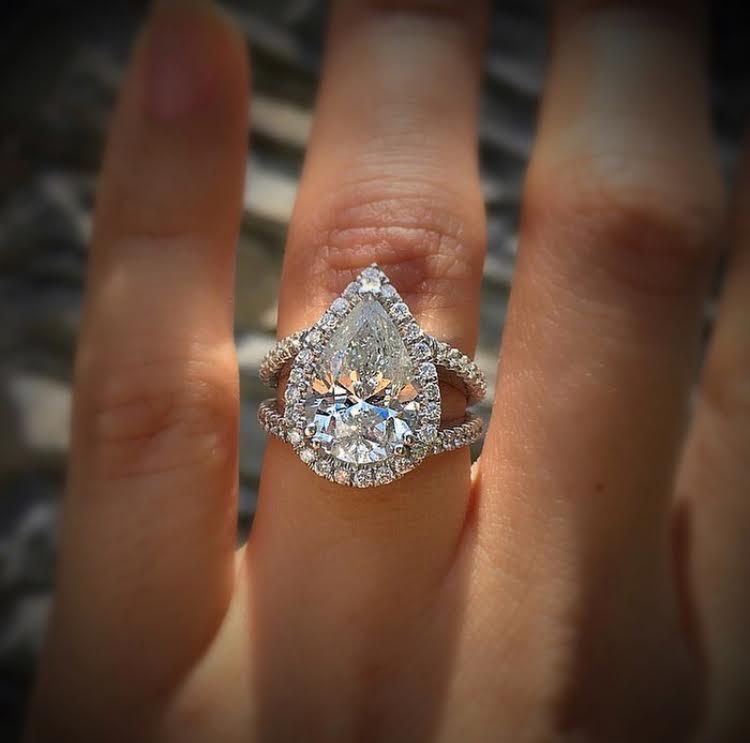 The ring was inspired completely by Zilka who is extremely attuned to Hilton's tastes. Reportedly he chose the ring after hearing Paris go on about how much she loved her mother's pear shaped diamond. Apparently, he done good as Hilton reports shaking when she saw the ring saying it is "the most beautiful she's ever seen".
Since receiving it, Hilton has been wearing fingerless gloves, even in the coldest temperatures. This allows the ring to be seen no matter what the weather may be.
Cardi B: The recently engaged singer, Cardi B, follows in Hilton's footsteps with a ring that is almost identical in appearance. Also, pear shaped, her ring comes in at a whopping 8 carats, yielding a $500,000 price tag. The massive stone is surrounded by nearly three more carats of pink and white diamonds.
The ring was given to Ms. B by rapper fiancé Offset. The singer was seen proudly sporting it at the Grammy Awards at Madison Square Garden earlier this year. The singer jokes, "I'm like, does he really love me? He got me a half million dollar ring, yeah he does."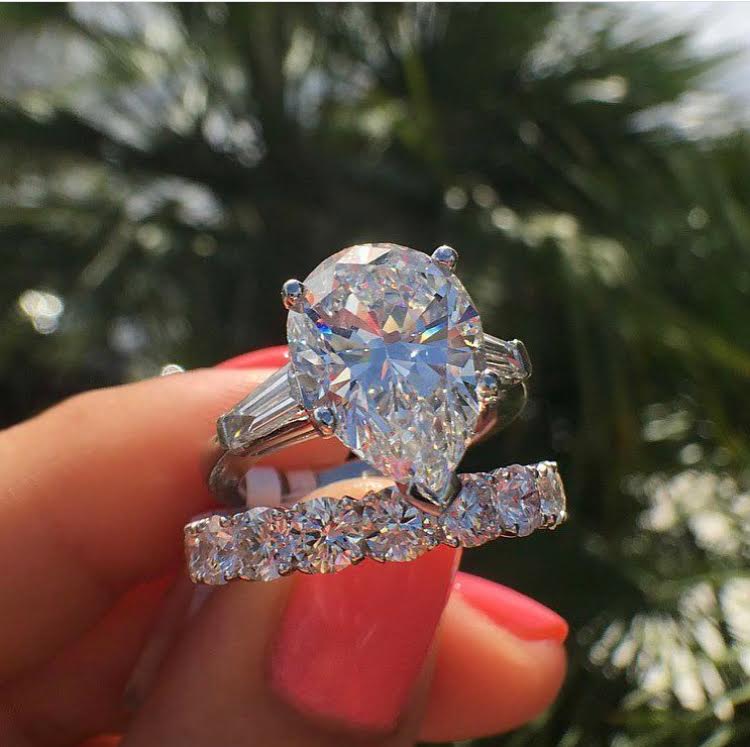 Beyonce: Beyonce is known for having one of the most expensive celebrity rings. Apparently worth close to $5 million, the 18 carat flawless emerald cut diamond with a split shank can be seen on Beyonce's finger on a regular basis. The ring was designed by Queen B's crown jeweler, Lorraine Schwartz.
The ring was given to her by her husband Jay-Z. The couple has been married 9 years and have gained recognition as the king and queen of R&B and pop.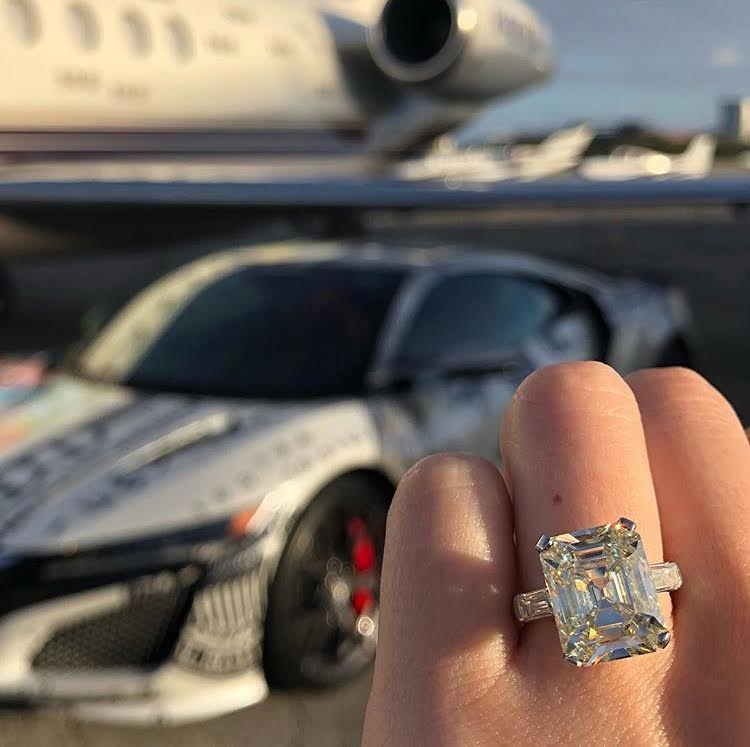 Blake Lively: The beautiful Ms. Lively sports a gorgeous engagement ring that features a 12 carat oval cut diamond. Like Beyonce, the ring was also designed by Lorraine Schwartz. It features rose accents and a double diamond encrusted brand. The ring is said to be worth $2 million dollars.
Lively is married to fellow actor Ryan Reynolds. Because the two are intensely private, it is a rare treat to spot Blake's ring. However, it is known for being one of the most beautiful celebrity rings, featuring intricate details that set it over the top.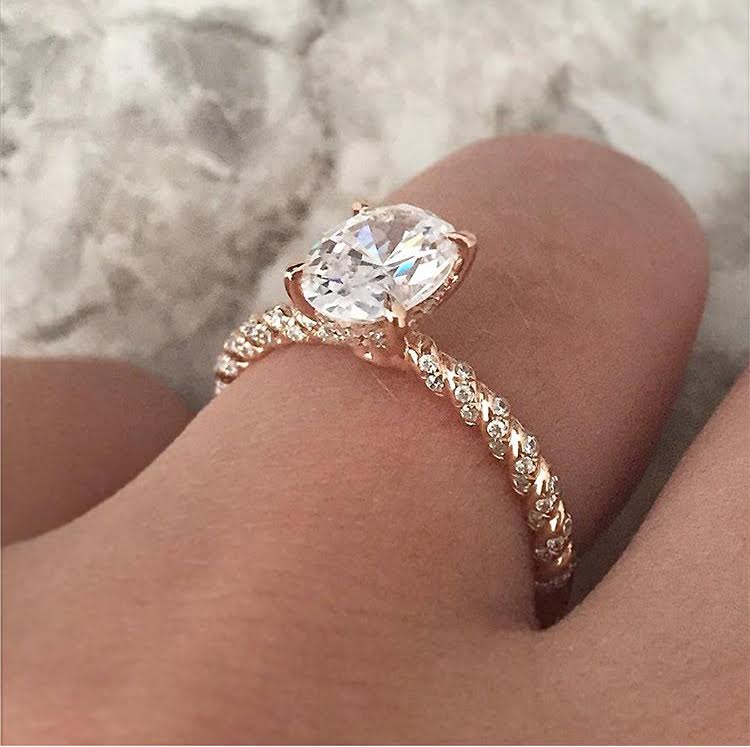 Lisa Vanderpump: She may not be as well known as some of the celebrities on this list, but her ring can certainly compete with the best of them. While all the Housewives of Beverly Hills have rings that stand out, Vanderpump's takes the cake. Hers is an enormous emerald cut diamond in a double halo in a pave setting. It was given to her by husband Kenneth Todd and is said to be worth about $2 million.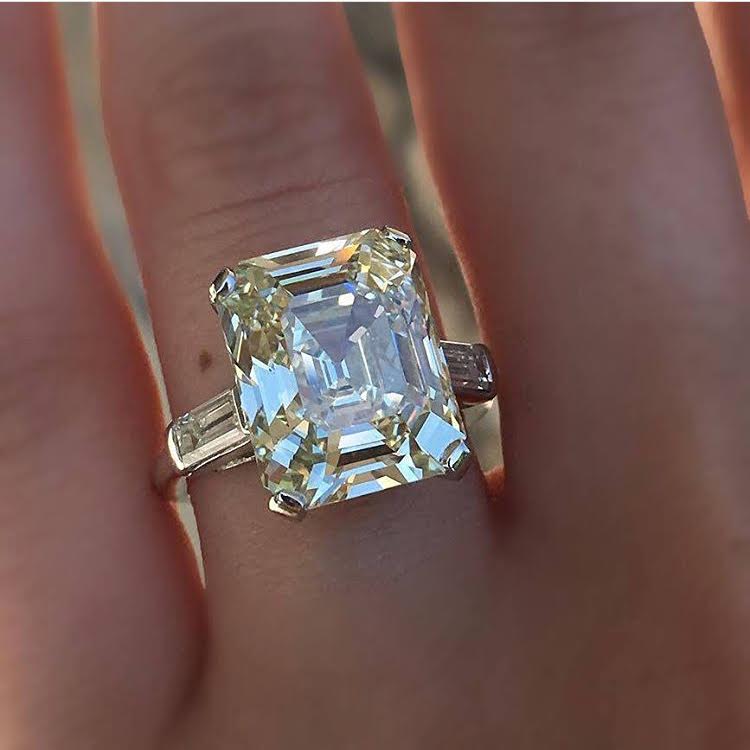 Ciara: Another lucky girl, Ciara's ring is also a real sparkler. Given to her by fiancé, NFL player Russell Wilson, the singer premiered her ring at her performance at the Marquee in Vegas.
Those who caught a glimpse will note that the stone is a round, brilliant cut diamond said to be a flawless 16 carats. The diamond is flanked by four side stones. There are trapezoid shapes diamonds on either side of the stone and pear shaped ones on the outer edges.
Mariah Carey: Another one to make the list of the most expensive celebrity engagement rings is the one given to Mariah Cary by ex, billionaire James Packer. The two had a tumultuous relationship and called it quits in 2017. The singer was reported to still be wearing the ring after the two split; and who could blame her?
The 35 carat diamond engagement ring is reportedly worth $10 million. It is an emerald cut diamond with a platinum band. It was created by New York jewelry designer Wilfredo Rosado. He took a lot of time to make sure his creation was up to Carey's high standards.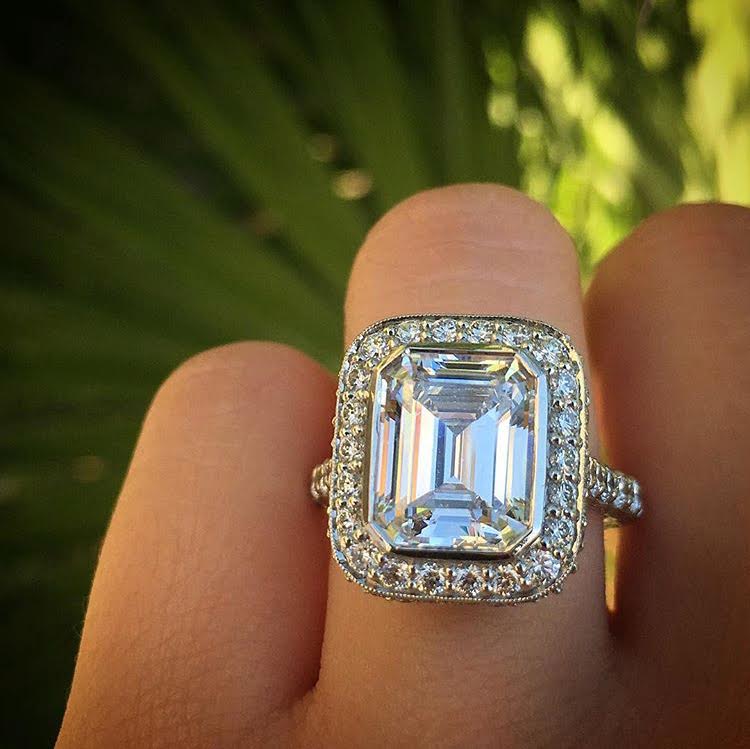 Kate Middleton: With a lot of excitement surrounding the royal family, Kate Middleton's ring is still fresh in our minds. The ring holds a great deal of sentimental value being that it was once owned by Princess Diana. An unusual choice, the main stone is a sapphire.
It consists of a 12 carat oval blue sapphire which is cut into facets and surrounded by fourteen solitaire diamonds. The band is 18K white gold.
When Diana originally chose the ring, she was criticized because the ring was premade and not customized for the princess. Despite criticisms, the ring is now the most coveted sapphire ring and the most sought after engagement ring style.
The ring was originally created by Garrard & Co, the former crown jeweler. The ring was worth 28,000 pounds in 1981, at the time Diana and Charles were engaged. It is now valued at about 300,000 pounds.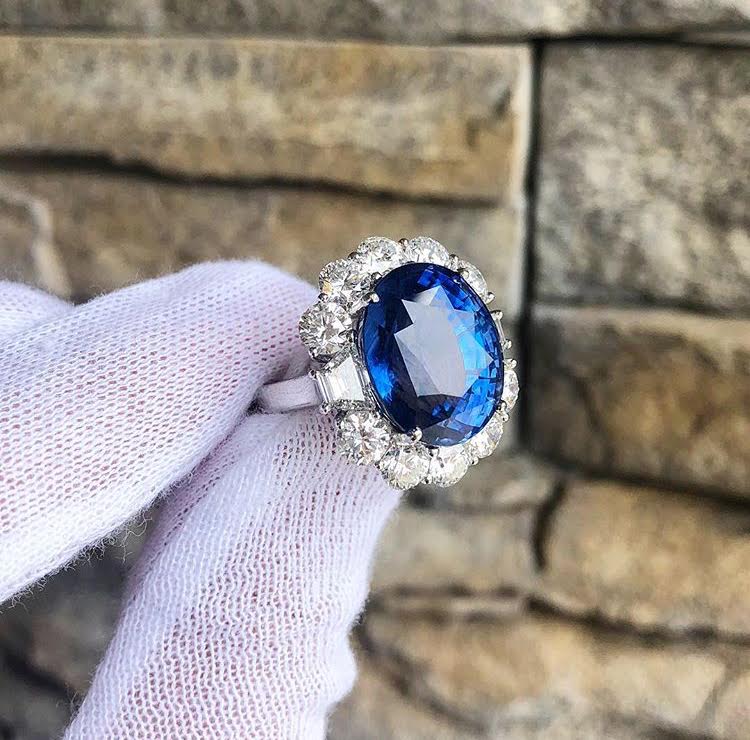 Meghan Markle: Not to be outdone, Meghan Markle also has a stunner of a ring from her husband, Prince Harry. The ring was recently a focal point during the royal wedding which took place this past weekend.
While it was originally assumed that Harry would propose with the Queen Mother's engagement ring or her massive diamond and pearl ring, the prince opted instead for a custom piece. It was designed by Harry and custom made by court jewelers Cleave and Company. One diamond was sourced from Botswana while two smaller stones used were from Princess Diana's collection.
The ring features a 3 carat cushion cut diamond with two side diamonds flanking the center stone which are .5 ct to .75 carats each. These are the diamonds that once belonged to Harry's mother Diana.
Though the retail value puts the ring upwards of $50,000 there is little doubt it could sell for anywhere from $500,000 to $1 million.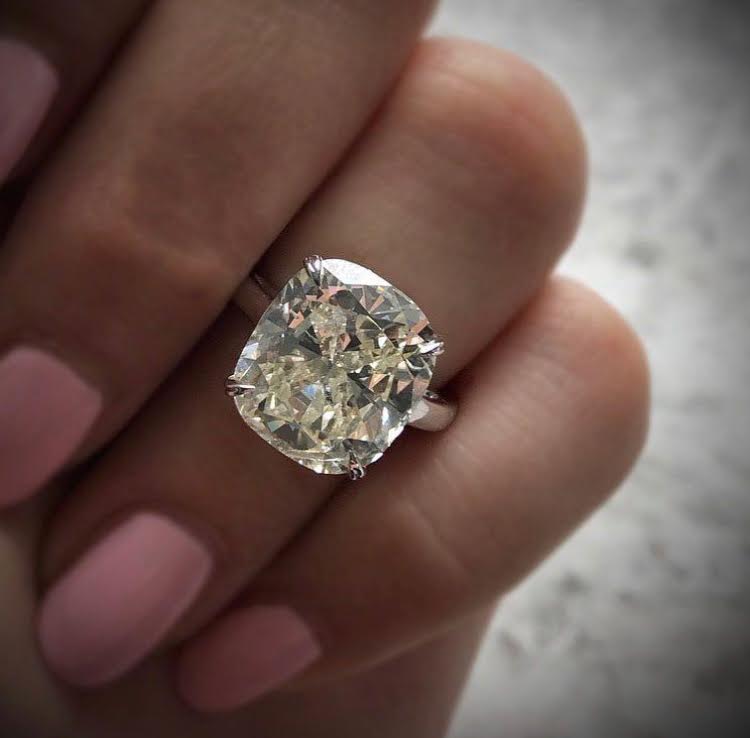 Sofia Vergara: The Modern Family actress is another lucky lady due to her dazzling engagement ring. Given to her by fiancé Joe Manganiello, it features a huge center stone in a halo setting with pave diamonds on the band. It is reported to be 7 carats.
What to Look for When You Are Shopping for an Engagement Ring
These rings might be inspirational for many brides to be who are in the market for their own rings. If you are currently shopping for your engagement ring, here are some things to consider.
Stones: While diamonds are traditionally featured in engagement rings, today, women are making more unusual choices. Gems that can be seen in engagement rings include sapphires, emeralds, rubies, amethysts and more. Colored diamonds are also popular choices.
Because diamonds are a popular choice, if you are in the market for an engagement ring, you should know what to look for. This will include familiarizing yourself with the four C's of diamond buying.
Carat: This is the weight measurement of the diamond. A one carat diamond weighs 200 milligrams. Of course, the bigger the diamond is, the more expensive it will be. However, when picking out a diamond, personal taste should also be taken into consideration.
Color: It is ideal for a diamond to be as colorless as possible. Color is rated by letter with D being the closest to colorless. While E and F are also good ratings, G and H will look just as good to the naked eye.
As you go down the scale, you may detect more of a yellow color in the ring. This can be offset by a gold setting, but will be more noticeable if the setting is white gold or platinum.
Clarity: This is a measure of the diamond's flaws or inclusions. They may appear as tiny spots or cavities. These also have a rating system with SI standing for slightly included. VS is very slightly included. VVS is very, very slightly included. Most diamonds that have these ratings have inclusions which can not be seen by the naked eye.
Cut: This is a measure of the diamond's workmanship but not its inherent qualities. The way a stone is cut can enhance its sparkle while hiding its flaws. The best cut is ideal.
Metal: When looking for a diamond ring, the metal used will also be a consideration. This can be a matter of personal taste and one can also think about which metal looks best with the ring's stone. Choices of metal are typically yellow gold, rose gold, white gold or platinum.
• Platinum: Platinum is white in appearance and the most valuable of the metals.
• White Gold: White gold is also white in color and more expensive than yellow gold due to metals added to give it its white appearance. These added metals may wear off over time and require touch ups.
• Yellow Gold: Yellow gold is traditionally seen in many styles of jewelry. It has a typical gold appearance.
• Rose Gold: A bit more pink in appearance, rose gold is currently trending in luxury jewelry. It can lend a vintage vibe to your pieces.
How to Get the Celebrity Look
If you are looking to get an engagement ring that is similar in style to that of your favorite celebrity, you can make this dream a reality. There are many jewelry designers that create rings that look like popular celebrity pieces. While getting one custom made is an option, buying a pre made ring is a more affordable solution.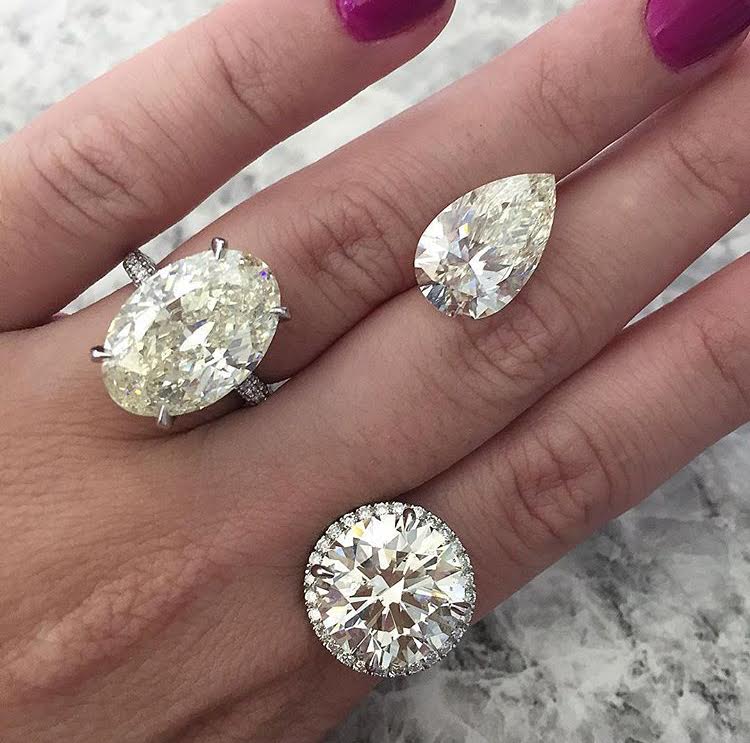 One store that sells engagement rings that feature celebrity styles is Boca Raton jewelers Diamonds By Raymond Lee. If you come into their location, just tell their helpful sales staff that you are looking for a particular style of ring. They will be able to provide you with a terrific selection, assuring you get the ring you are looking for.
Diamonds by Raymond Lee have been doing business in the Boca Raton area for over 30 years. During this time, they have built a great reputation in their community. They are an ideal destination for engagement rings, bracelets, earrings, pins and more.
Though the jewelry store has been around a while, they pride themselves on updating with the latest trends. They feature styles that are both modern and classic.
And if you are not located in the Boca Raton area, you can still get great celebrity looks and more from Diamonds by Raymond Lee. The store has a web site that can provide you with a great e-shopping experience.
We might not all be princesses or famous celebrities, but that doesn't mean we can't shop their fashionable looks. Just tell Diamonds by Raymond Lee's helpful staff what you are looking for and they will do the rest. These Boca Raton jewelers will help you to find the engagement ring of your dreams.