The Right Necklace for your Wedding Dress
The hunt for your beautiful wedding gown is now over. You've found the perfect dress that fits your personal style. Now it is time to find the right necklace to match your stunning wedding dress. Here are a few tips to consider when choosing the right necklace for your wedding dress.
Strapless Dresses:
When wearing a strapless gown, your selection for the perfect necklace is of a wide variety. You can sport a large bib necklace, a simple and elegant necklace or a classy choker. Make sure you pick a necklace that is no longer than 18" so you do not crowd the neckline.
Sweetheart Neckline:
Usually, a wedding dress with a sweetheart neckline is also strapless. Many brides love to draw attention to the beautiful neckline of their dress and pick a simple, short necklace that will compliment their dress rather than over power it. A collar necklace is the perfect option for a sweetheart neckline.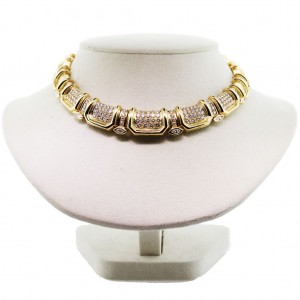 Asymmetric:
Asymmetric dresses are beautiful but my not work well with a necklace. Instead, wear a bold bracelet or dramatic earrings. This is the perfect opportunity to purchase heirloom quality earrings that you'll wear for the rest of your life.
V Neck:
Choose a necklace that imitates the lines of the dress. If it is cut rather high, look for more delicate designs so you don't crowd the neckline. Y drop and pendant necklaces work will with a V neck wedding gown.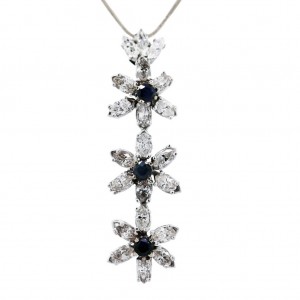 Off the Shoulder
An off the shoulder neckline is the ideal way to show off a beautiful neck and collar bones. Accentuate your features with a classic pearl necklace that perfectly frames your neck, collar bones and face for the classic bridal look.