The Affordable Allure of Princess Engagement Rings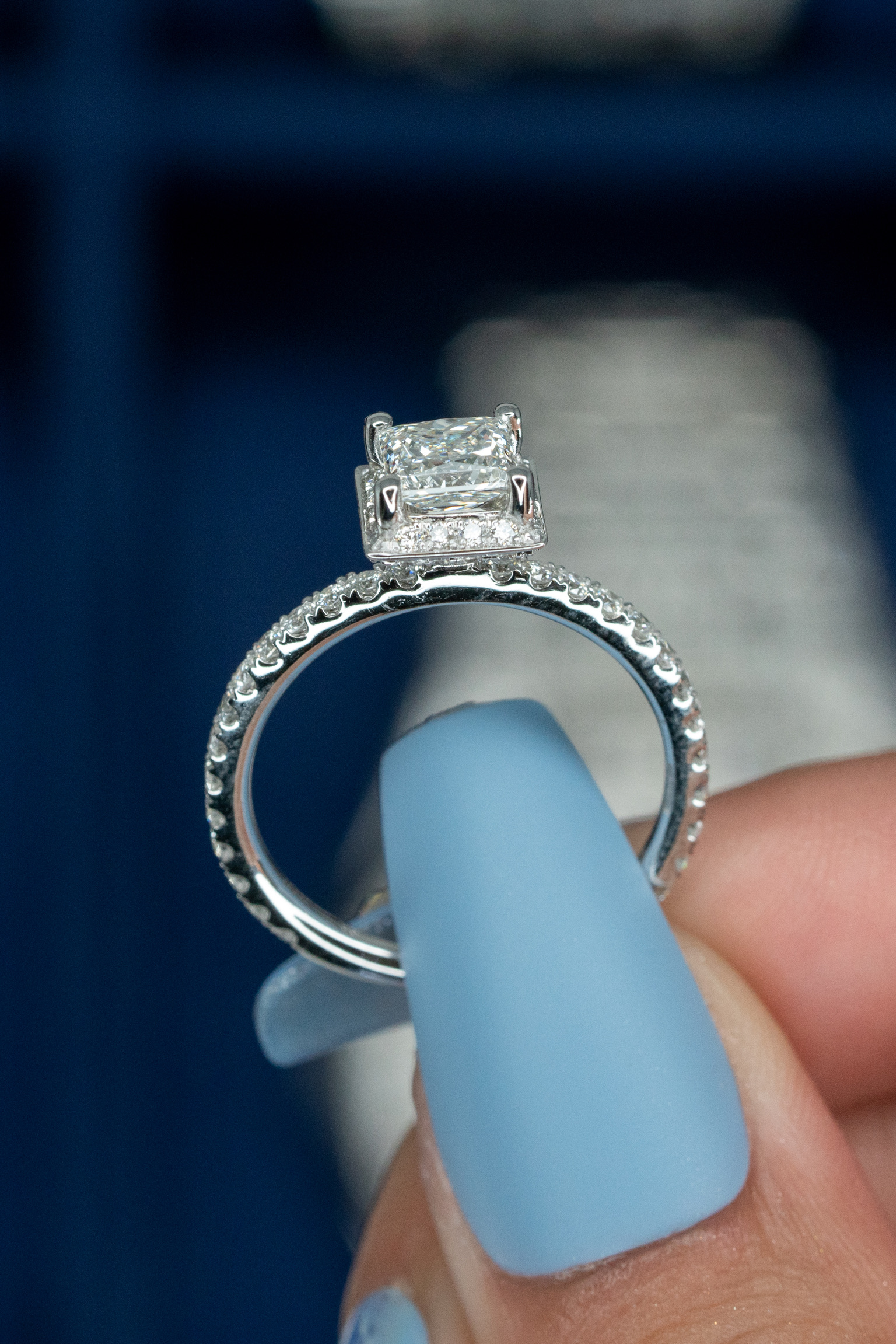 Are you looking for affordable options for your next engagement ring purchase but you don't want to compromise on the allure? Then, what you need is a variety of affordable princess engagement rings. It takes distinct appeal for Emily Ratajkowski and Kate Bosworth to agree that this ring cut type is a true blend of cost-effectiveness and outstanding quality. 
Those two mentioned above are not only famous actresses and fashion favorites. Also, they both own princess engagement rings. For Bosworth, she chose a romantic touch of it with a vintage-inspired setting. While Ratajkowski combined hers with a pear-cut diamond to reveal a rather contemporary appearance.
Depending on your preference, the versatility of this diamond shape is just one of several reasons we love it for our rings.
Expert Views
We consult two different experts' interviews and opinions to shed more light on this cut's intricacies.
First is Lauren Priori, the founder of L. Priori Jewelry. This brand is a by-appointment custom jeweler that operates in Philadelphia. She is a Gemological Institute of America (GIA) trained Graduate Gemologist. Also, she is a graduate of the Wharton School of Business.
Then, we have Rordane Shane, the President, and CEO of Shane Co. Shane Co. is the biggest privately-owned retail jewelry chain in the United States. Rordane Shane is the fourth generation in a family of jewelers that spans several years.
What is the Princess Engagement Ring?
Princess-cut diamonds are square-cut stones with pointy edges and an inverted pyramid footing. According to one of our experts, Lauren Priori of L. Priori Jewelry, "It is either perfectly square or has a 1.05 – 1.10:1 length to width ratio to make the whole stone look larger."
Well, the round brilliant cut may be the most prominent diamond cut of the entire pack. But, the princess cut retains the fire that makes round brilliants attractive. Plus, they parade a timeless and contemporary geometric portrait.
Priori again says, "The top facet on a princess cut diamond is a lot bigger than what you'd see on a round-cut diamond. That makes the stone look brighter and whiter because it lets more light in."
The History of Princess Engagement Rings
Priori confirms that these square diamond rings became a cut option in the 1700s after its release in the 14th century. However, these princess engagement rings, as we know them presently, are one of the recent additions to ring shapes on the market. How did that happen?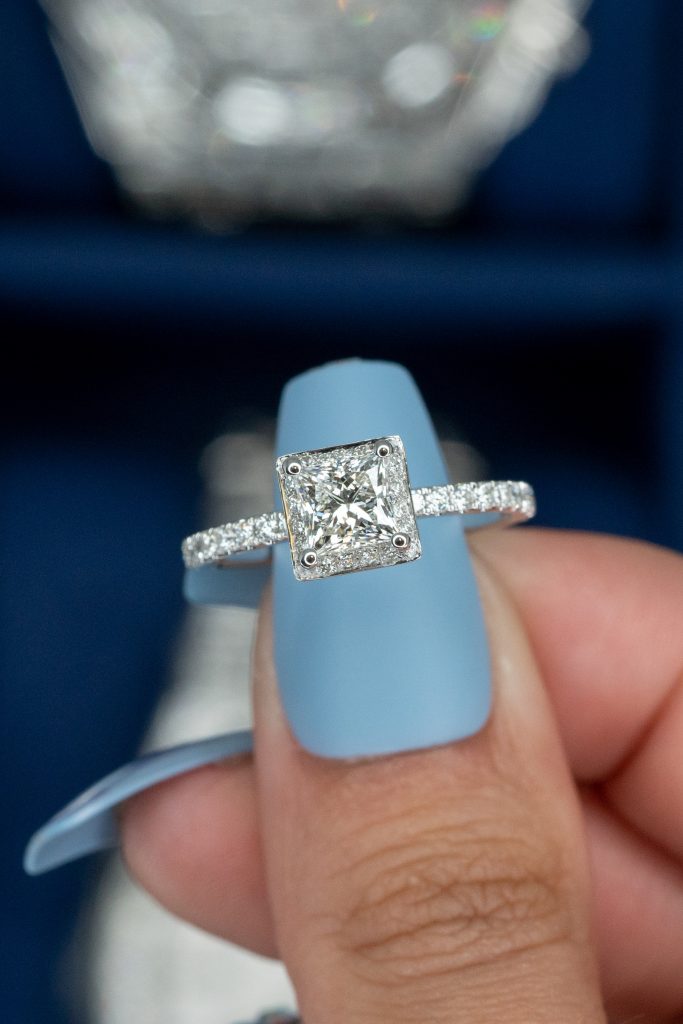 This engagement ring shape went out of vogue and production until it experienced a rebirth in the 1960s. During this period, London jeweler Arpad Nagy began delivering rings with a "profile" cut. This cut made it possible for less of the rough stone to waste in the cutting process.
Aside from that, in the 1970s, South African designer Basil Watermeyer also introduced the lovely but difficult-to-replicate collection of Barion cuts.
Yet, the apex of the popularity of these Princess cut engagement rings came in 1979. In this period, Israeli diamond duo, Betazel Ambar and Israel Itzkowitz bettered the "quadrillion" cut. This cut became a forerunner of the princess cut. It remains the ring shape most similar to the shape we now know it as.
Since we barely have any information in the record as to why "princess" is the name for these rings, we can't explain yet. But, most jewelry lovers believe it's due to the mixture of colorful and radiant sparkle and classic clean lines. These two elements make rings with this cut feel perfect for royalty.
Into the Details of Princess-cut Diamond Rings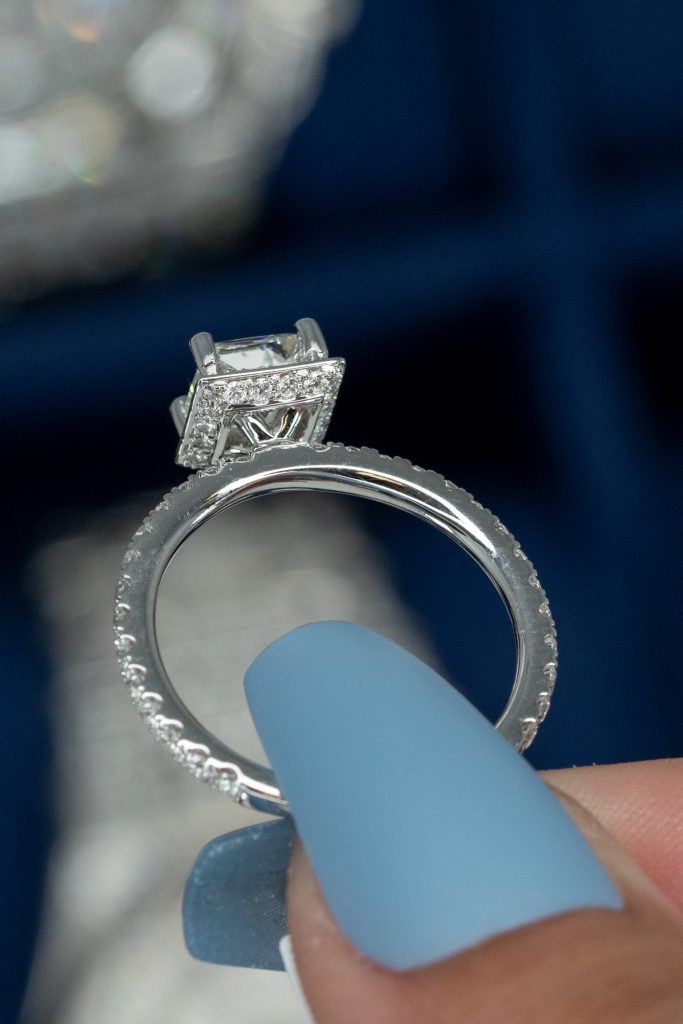 One common feature in every fancy cut diamond is there are too many varieties for standardized cut grades. What makes princess-cut diamonds different from round brilliant is that there's no specific expectation for what they should look like.
Moreover, princess-cut diamond rings can vary by the pattern on the crown. Also, the number of cuts on the pavilion makes another difference. Although neither of these details affects the value or quality, you'll only choose one over the other.
Furthermore, the crown of a princess — the area of the diamond that faces up to you — can come with either bezel corners or French corners.
Note: Princess engagement rings with bezel corners carry diamond-shaped facets. These facets extend from the table corners to the stone corners. As for those with French corners, they come with star facets that point to the stone edges.
However, knowing that bezel corners provide more durability, they remain your best bet. The only reason to choose French corners over them is if you have a strong preference for the design.
Finally, on the pavilion or base of a princess-cut diamond, chevron shapes create the diamond's radiance. These Princess engagement rings can come with two, three, or four chevrons.
Diamonds with two chevrons generate larger, bolder flashes of light and color. As for those with four chevrons, they illuminate more, but with lesser facets. Princess-cut diamonds with three chevrons are the midpoint.
Choosing the Right Engagement Ring
Pros and Cons of Princess-cut Diamond Rings
The appearance of this square shape is unique, contemporary, and classy. Also, this cut is a considerable option for round brilliant diamond rings. 
In addition, Princess-cut diamond rings feature a distinct diamond shape that is a cost-effective choice for engagement rings. Interestingly, the shape of the diamond is amazingly comparable to the shape of the rough diamond it gets cut from. Hence, fewer diamonds get wasted by gem cutters in the process of making this gem of a ring.
Nevertheless, princess engagement rings bear a chance to appear lesser in size than their peers. According to Shane Co. President and CEO, Rordane Shane, "Because princess cuts carry most of their weight in the pavilion (the underside of the diamond), they may appear smaller than another diamond shape with the same carat weight. While one person may say their con is the cut appearing smaller than other shapes, another might find this inconsequential, favoring sparkle more than size."
Considering the Cost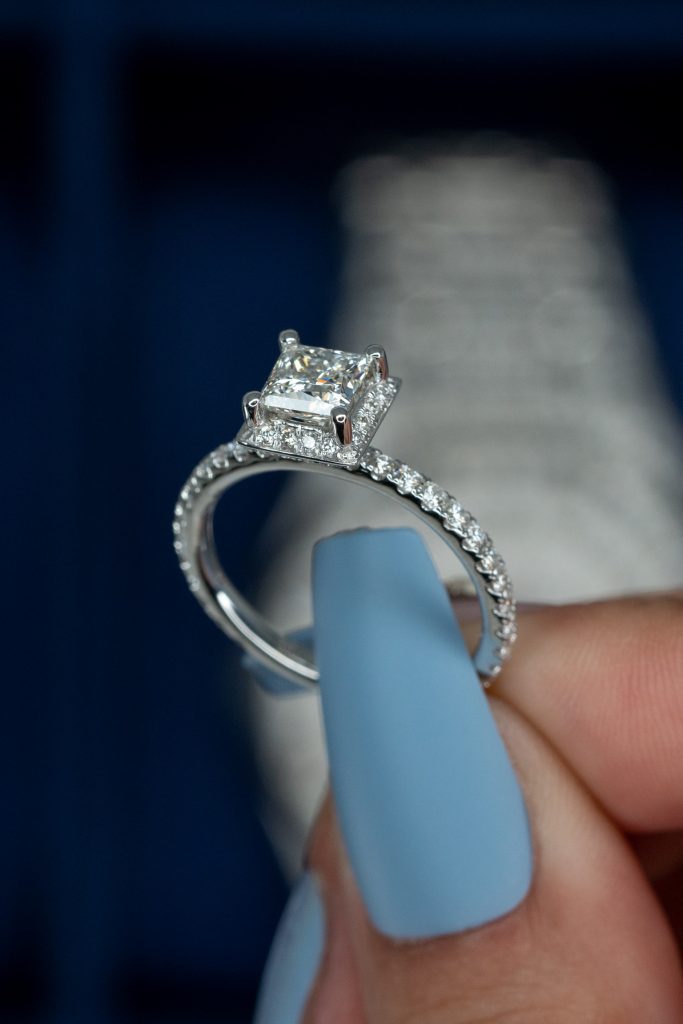 Due to these variations, the best way to determine which diamond ring is best for you is by having an up-close view of it. Eventually, whether you prefer round or princess engagement rings for your special day is a question of your style. Still, you should also consider some practical pros and cons like its cost.
Words on the street and in jewelry stores make it crystal clear that princess-cut diamonds are less costly compared to rounds. The lesser cost is thanks to the octahedral shape of a rough diamond. As gem cutters slash the rough diamonds in half, they can create two princess-cut diamonds with the tiniest waist.
On the flip side, round-cut diamond rings waste more rough. This explains why you pay more for them than with princess cut rings. As a result, 1-ct ideal-cut, G color, VS2 clarity Princess engagement rings will cost 30% less than a round diamond of equal carat weight.
Why are Princess-cut Diamonds Special?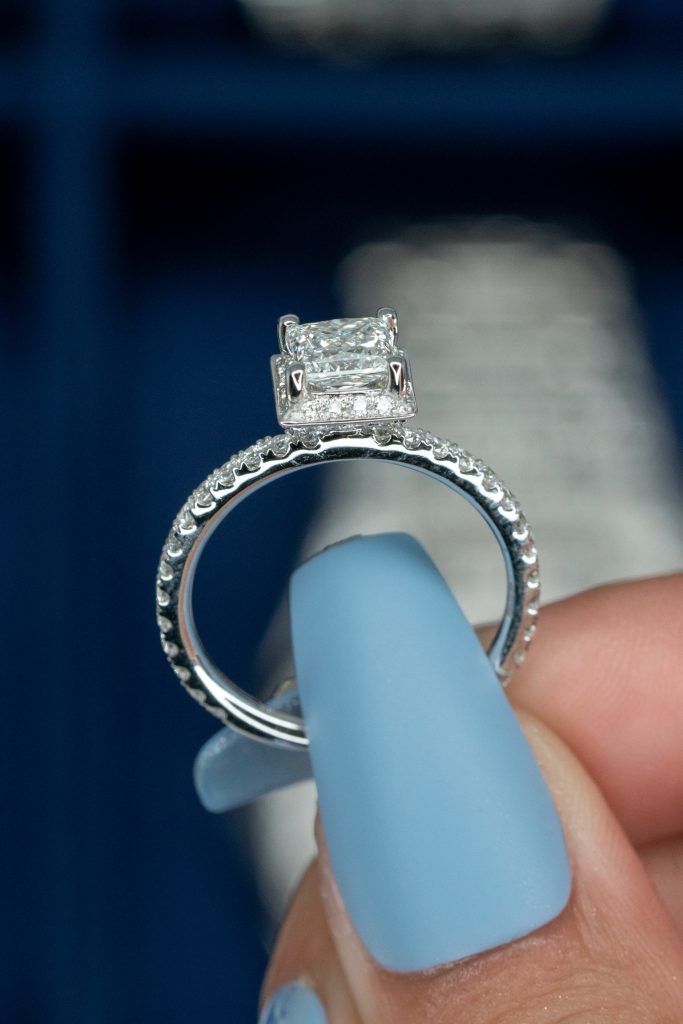 Shining Bright Like a True Diamond
Princess-cut diamonds are probably behind the famous line in Rihanna's hit single, "Diamonds." This diamond cut reflects the most impressive radiance. Nevertheless, they still don't quite match the radiance round diamonds emit.
But, no fancy cut can compare with Princess-cut diamonds' optimal light execution. Therefore, princess engagement rings have tremendous radiance only second to an ideal round diamond.
Brighter Ring, Affordable Budget
When you compare a princess and round diamond of the same carat weight, you'll discover that the round has a narrowly bigger face-up surface area. Yet, princess engagement rings most times appear bigger. This is because they have such huge diagonal dimensions.
Having said this, you'll still be able to enjoy a considerably bigger princess cut diamond compared to a round cut. While at this, you never have to stray off your engagement ring budget.
Created to Last
The only difficulty with Princess-cut diamonds in rings is that their corners may snag. So, they're prone to chip. Therefore, it is advisable to always protect their corners with prongs. That way, you can lessen the chances of damage to the diamond. Princess engagement rings can be your long-term finger buddy with the right protection.
Aspects to Consider Before Buying a Princess Engagement Ring
Buying princess engagement rings is the way to go considering their cost-effectiveness and utmost radiance. These rings can be all you need to make that special day glamorous and memorable. On a lesser budget, you can get a radiant masterpiece that lights up the entire room. However, all you need to do is to consider the following questions and aspects.
What's the Best Setting For Princess-cut Diamonds?
Most ring lovers including you will want to select a prong style that gives additional protection to the corners. As Priori will advise, the best choice for protecting a princess-cut diamond is a V-prong setting. However, if you're not a fan of that style, you still have various alternatives you can try.
The Right Budget for Princess Engagement Rings
Princess engagement rings come typically priced lower per carat compared to other brilliant cuts. This strategy is because the design makes room for more of the rough stone to be saved in the cutting process. Priori also adds that "They also hide inclusions, or natural imperfections, really well, because they're so faceted and deep."
Table and Depth Percentage
Cutting a diamond too shallow or too deep doesn't make the light that enters the stone properly reflect your eye. So, when looking for a Princess-cut diamond for your ring, reduce the depth percentage to 65-75%.
As for the table percentage, it is how large the top facet appears in relation to the width of the diamond. Ensure you keep the table at 75% and below. That way you can find the right Princess-cut diamond for your engagement ring.
What's the Right Length-to-Width Ratio?
When out for a square princess-cut diamond, stick to length-to-width ratios (L/W) of 1.05 or lesser. Going beyond 1.05 makes the diamond seem off-shape. For rectangular Princess-cut diamond rings, ensure they are sufficiently rectangular. That way, they don't completely appear off-shape. With an L/W ratio minimum of 1.2, the diamond will be as rectangular as necessary.
Consider the Girdle Density
Considering the fragile edges, ensure that the girdle is thick enough to assist the prongs. Although most princess girdles will support prongs, "Extremely Thin" girdles open the diamond up to breaking.
What're the Polish and Symmetry Ratings?
Ensure to keep the Polish and Symmetry ratings up to "Good" or better. You will also discover that there is no striking difference between "Good" and "Excellent" in these types.
The Perfect Clarity Grade
In case you missed it, diamonds also have flaws. For the clarity grades, it is simply how obvious these imperfections appear. As for Princess-cut diamonds, an SI1 or VS2 diamond (slightly included or very slightly included) will give you eye-clean clarity. More so, this comes at an incredible price range.
How About the Color Grade?
Princess engagement rings, like other fancy cuts, show color compared to a round diamond. Regardless, there's no reason for you to pay more for the top color grades. It might not be the easiest task because it will take some time and effort. Yet, searching for these diamonds can be worth the discount especially when you are on a tight budget.
Maintaining the Elegance of a Princess-cut Diamond
Shane recommends caring for your diamond by staying away from harsh chemicals in cleaning supplies. Also, he recommends using light dish soap, warm water, and a soft-bristled toothbrush to clean it at home.
In his words, "It's also important to check your princess cut diamond now and then to ensure it hasn't become loose in the setting. The sharper corners of the stone can make it more likely to snag than other shapes."
Conclusion
Princess engagement rings are popular for two main reasons, their radiance, and their cost. These Princess-cut diamonds are only second to the round cut in radiance. Plus, they cost the least among top-rated fancy cuts due to the limited waste that comes with their production.
Ultimately, your need for sparkle, beauty, and exquisite grandness gets solved effortlessly by the Princess-cut diamond. More so, this comes even at a reduced price range.