Simon G. Engagement Rings for Spring
Ah, spring! It's been official – and should remain so until June- but here in gorgeous South Florida, all bets are off by Memorial Day. It's our own personal start of summer (we have different rules down here; it's also ok to wear white year round.) But we're still obsessing over the perfect spring Simon G. engagement rings.
We love all of our premium designer engagement ring designers at Diamonds by Raymond Lee. But when it comes to nature-inspired rings and fine jewelry, Simon G. has the edge. Technically, the only explicitly "nature inspired" collection of Simon G. engagement rings is the Garden Collection :
" Garden engagement rings draw their inspiration from flora and fauna. Delicate vines instead of scrollwork embedded on a ring's profile. A cluster of rose gold petals bursting into bloom on either side of the center stone. Laurel leaves that fan out from the ring's focal point. Elegant butterflies encrusted in diamonds. Each ring is an enchanted garden. Several of these rings feature watermelon tourmaline, reflecting pink, green and white to match the fairy tale palette of rose and white metal."
But! You'll find gorgeous, flora and fauna inspired touches throughout every Simon G. line. The way the designers dream up these rings, it's impossible to divorce them from the raw beauty of their original inspiration: the whimsical world through Simon G.'s eyes! Allow us to show you some of the most fabulous Simon G. engagement rings for spring.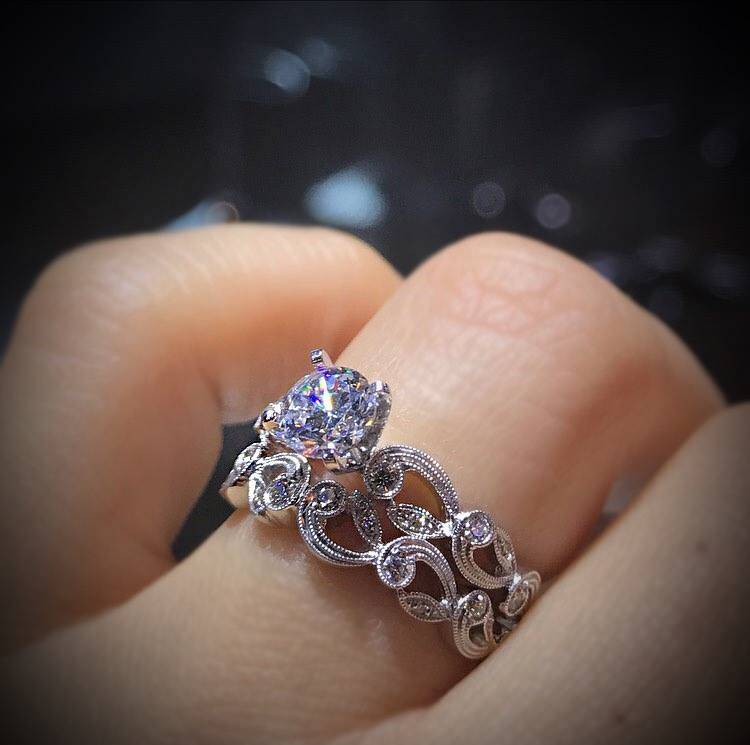 This enchanting woven band of vines and diamonds serves as the perfect backdrop to a brilliant solitaire in whatever shape you choose – though the round looks gorgeous!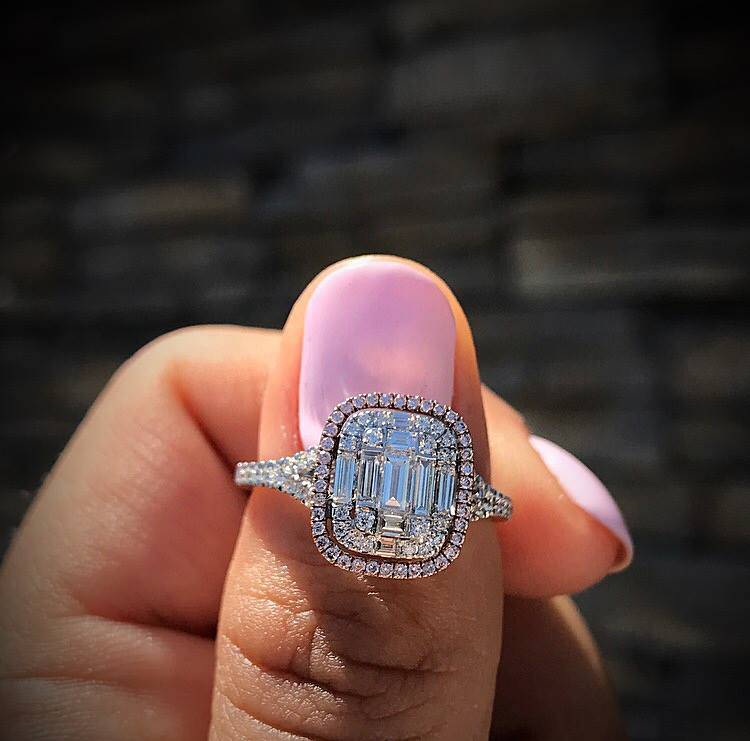 This Simon G. mosaic ring is one of our favorites. We love the delicate halo of pink diamonds that adds contrast to the ring's focal point. It's the only contrast you'll find, because the entire center of the ring is made up of round and baguette cut diamonds laid seamlessly together. The shanks are stacked tight together and split open just at the middle – this gorgeous ring has major impact but thanks to its use of smaller diamonds, it's still under $6,000!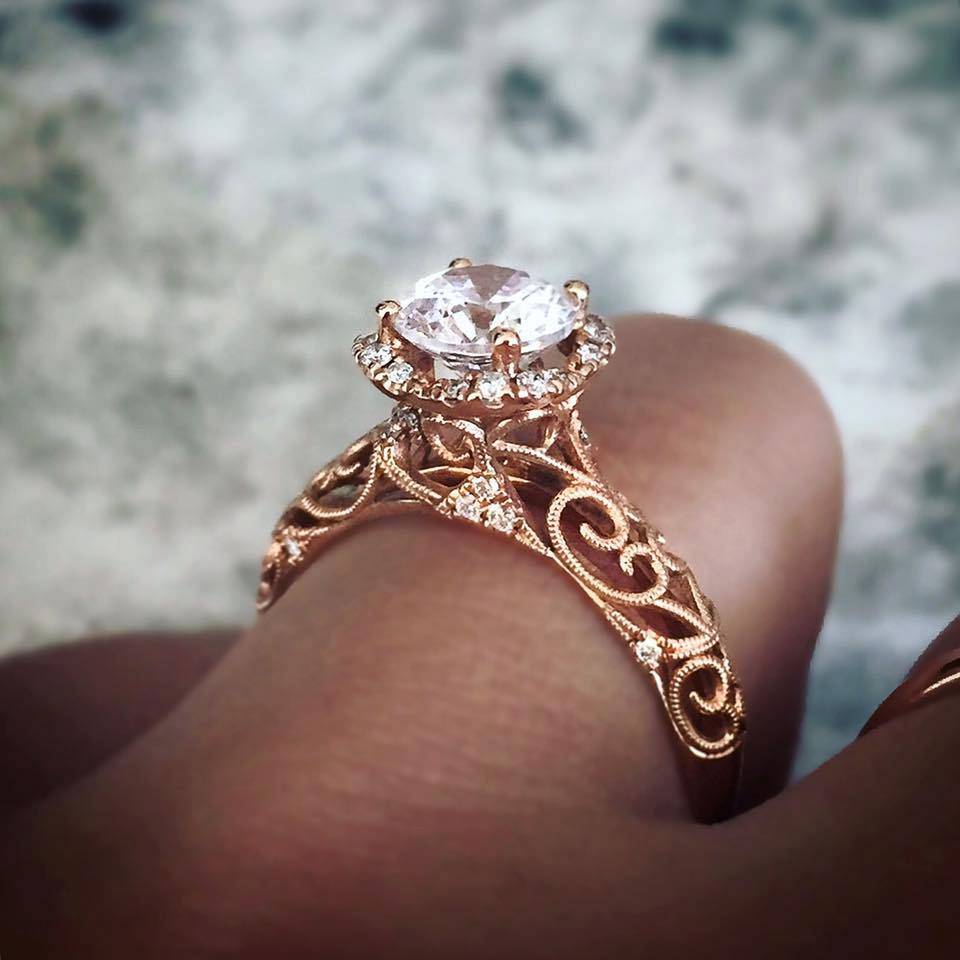 This open, woven and enchanting work of rose gold features a lovely halo and some of Simon G's signature details – check out those tiny accent diamonds.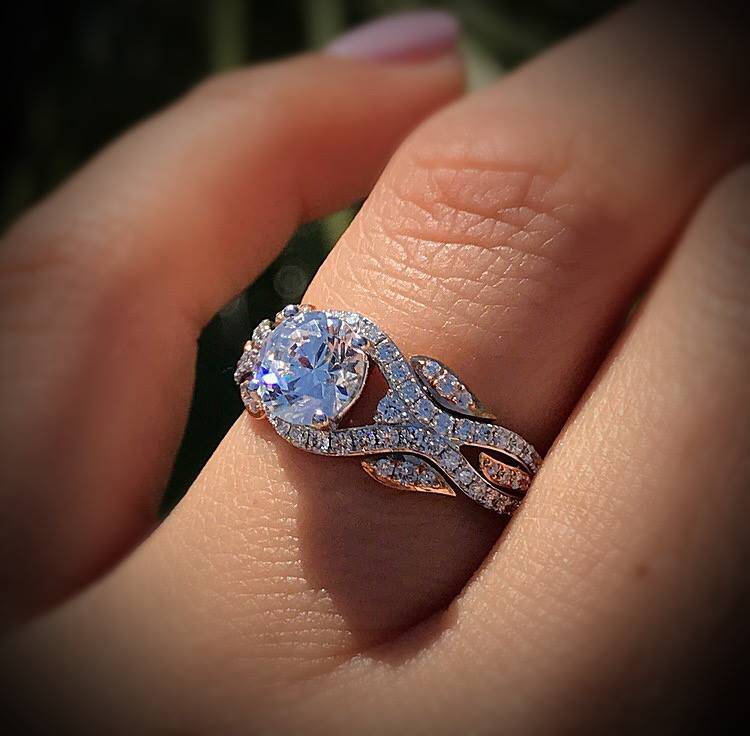 This two-tone beauty is perfect for those who love rose gold, but want just a little less of it. The base is white gold set with .60ctw of round brilliant diamonds woven together with those set in rose gold.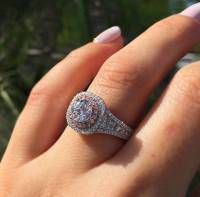 Another two tone option in Spring's best pastel, this beautiful double halo boasts invisibly set princess cuts in the band and a border of round brilliant diamonds that bring the accent diamond total to .98ctw.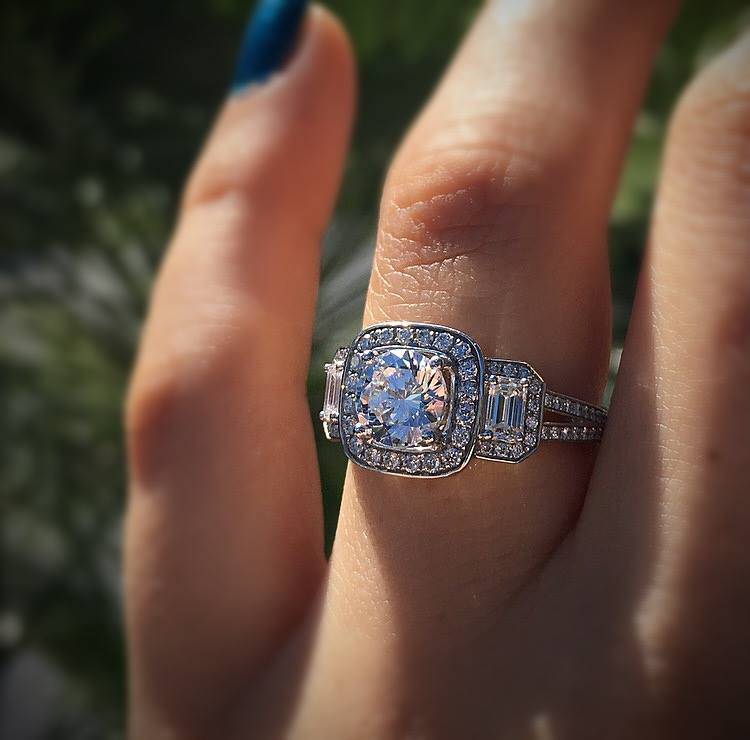 Finally, this bright, classic three stone setting is timeless year-round, but is perfectly fresh for spring. We love the mix of cushion shaped halo, round brilliant center diamond, and emerald cut side stones for a multi-layered, rich look. In platinum, it's perfection!