Should I Buy a Solitaire Engagement Ring?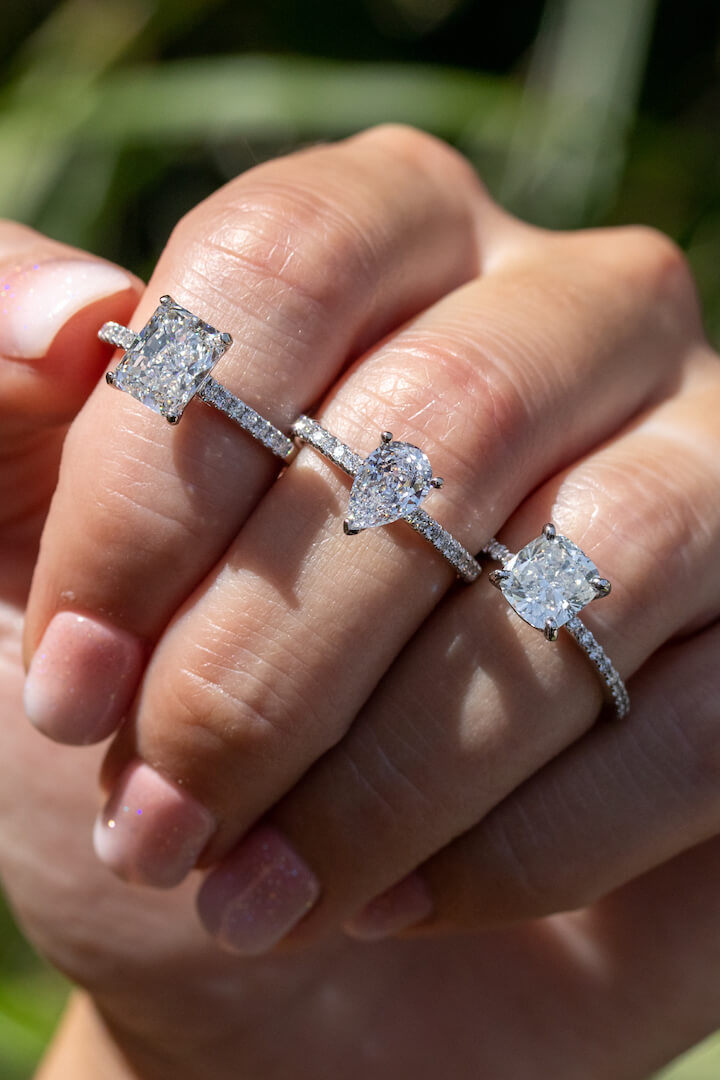 For women who appreciate a classic, timeless look, a solitaire engagement ring is without a doubt one of the best settings to choose. From a stunning round brilliant diamond on a plain yellow gold band to a pear shaped diamond with a platinum baguette diamond band, the options available within the solitaire family are plentiful. 
Our goal with this article is to make sure you are fully informed when shopping for a solitaire engagement ring. You are going to learn everything you need to know about solitaire engagement rings. That way you can decide if a solitaire engagement ring is for you, and if so, how to choose the solitaire engagement ring of your (or her) dream. 
WHAT IS A SOLITAIRE ENGAGEMENT RING?
The "solitaire" in solitaire engagement ring refers to the type of setting. An engagement ring with a solitaire setting will only contain one diamond at the center. The solitaire diamond will be held in place with prongs, which are essentially tiny metal claw grips. 
A solitaire engagement ring is a classic design that has been around for well over a century. Since its creation, it has remained the most popular engagement ring setting. This is because the solitaire setting is clean, simple, and beautiful. You simply can't go wrong with a solitaire setting. It places all the attention on the center stone, allowing maximum light performance.
Most people consider the solitaire setting the purest form of an engagement ring. When you think "engagement ring", the breathtaking solitaire setting is surely what comes to mind first.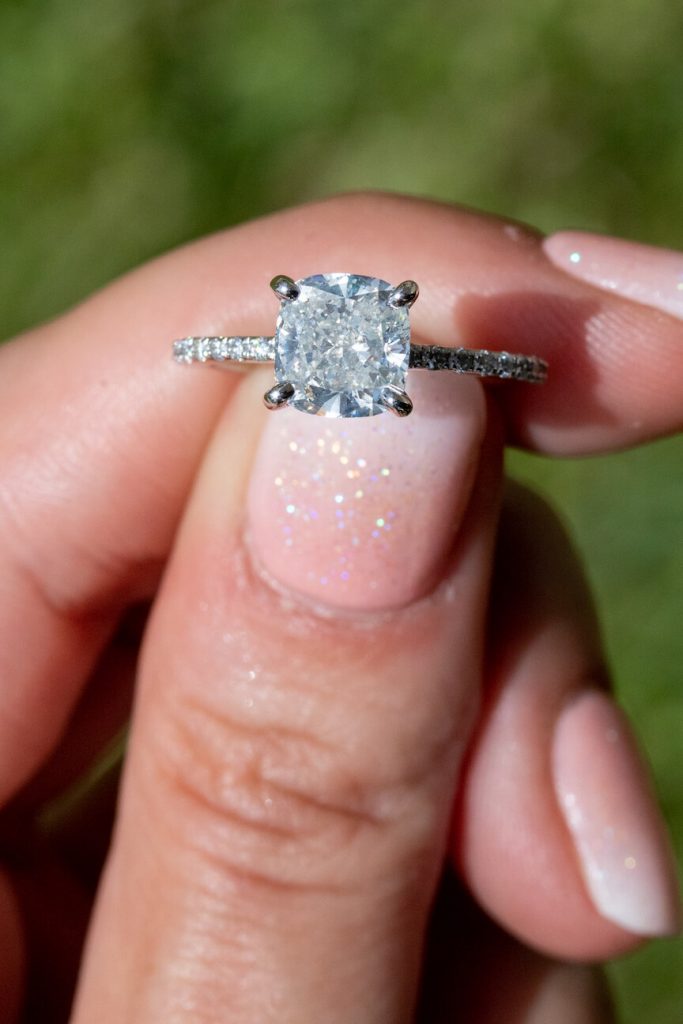 HISTORY OF THE SOLITAIRE ENGAGEMENT RING
The act of offering a woman an engagement ring for marriage has been around since the 2nd century BC. Of course, diamond rings were not a thing at that time, but the gesture was all the same. 
The first diamond engagement ring on record was presented by the archduke of Maximilian of Austria to his soon-to-be wife, Mary Burgundy, in 1477. During this time, diamonds were tremendously rare, thus it was very expensive. A diamond engagement ring was only accessible for the wealthiest of people, which were mainly royalty.
It wasn't until 1866 that diamond engagement rings started to become normalized. This was because of the discovery of diamond mines in South Africa. With the diamond industry booming and the supply increased, diamond engagement rings became more affordable for everyday people. 
In 1886, the solitaire engagement ring was invented. Founder of Tiffany & Co., Charles Lewis Tiffany, created the "Tiffany Setting", which was the solitaire setting that we all know and love today. The meticulous design had a six prong setting that elevated the round diamond above a slender gold band. It instantly became the quintessential engagement ring and to this day this prevails. 
Nowadays, the solitaire setting comes in a variety of styles. You have different diamond shapes, precious metal, prongs, and types of bands. However, what remains true is that there is a single gleaming diamond at the center.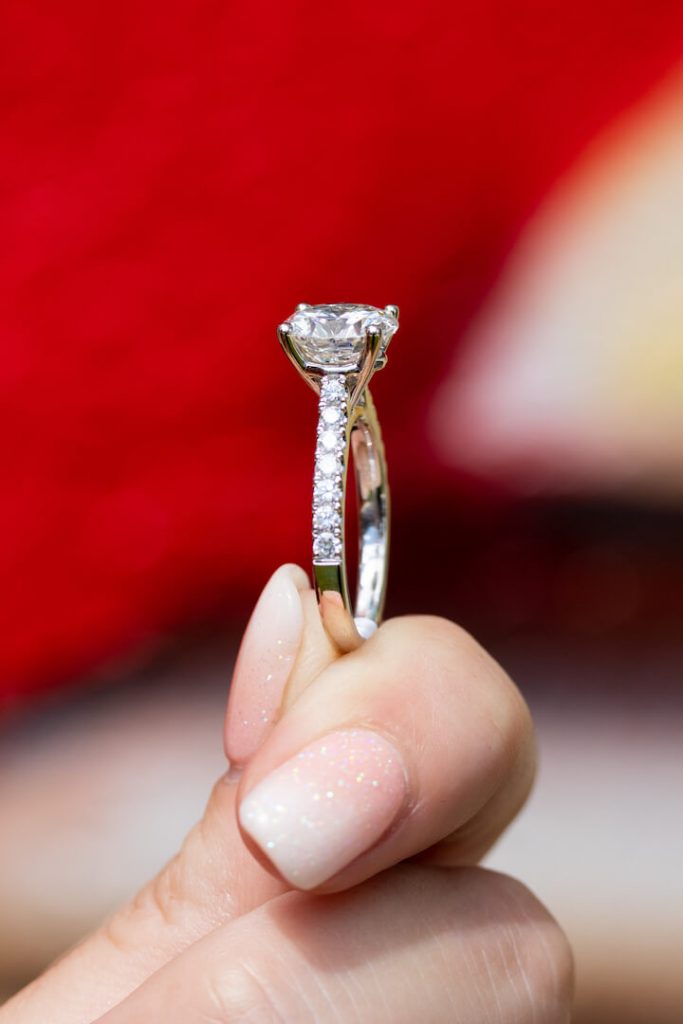 SHOULD I BUY A SOLITAIRE ENGAGEMENT RING?
While a solitaire setting is the most classic option and it can really do no wrong, it may not be the choice for everyone. You will want to ensure that the solitaire setting fits your taste and lifestyle. With that in mind, here are some advantages of going with a solitaire setting for your engagement ring. After reading these points, you can discern if a solitaire engagement ring is right for you.
Timeless in Style: A solitaire setting will forever be fashionable. If you go for a solitaire setting, you can guarantee it will be just as impressive in 50 years as it is now. Time has already proven this to be a fact.
Best Light Performance: Because the solitaire setting elevates the diamond and covers it the least of any setting, your center stone will be more prominent, noticeable and brilliant. A solitaire setting is the best if you want your center stone to sparkle at maximum capacity. 
Compliments All Diamond Shapes: A solitaire setting will work beautifully for any diamond shape. 
Easy To Maintain & Clean: Solitaire engagement rings are easiest to clean and maintain as there is more open space and you only have one aspect of the centerpiece to focus on. If anything happens to the centerpiece, such as a loose prong, you will immediately realize it. What's more, if by chance something was to happen to the security of the setting, it will be the easiest to fix, which also makes it the most cost-effective. 
The only downfall to the solitaire setting is that it can snag on fabrics and the diamond is more susceptible to dings. While diamonds are extremely hard, they are not indestructible.
That said, these concerns really only apply to high-set solitaire engagement rings. A solitaire setting with a lower profile will not get in the way. So, if you have a more active lifestyle, you will want to consider going for a lower-set solitaire engagement ring.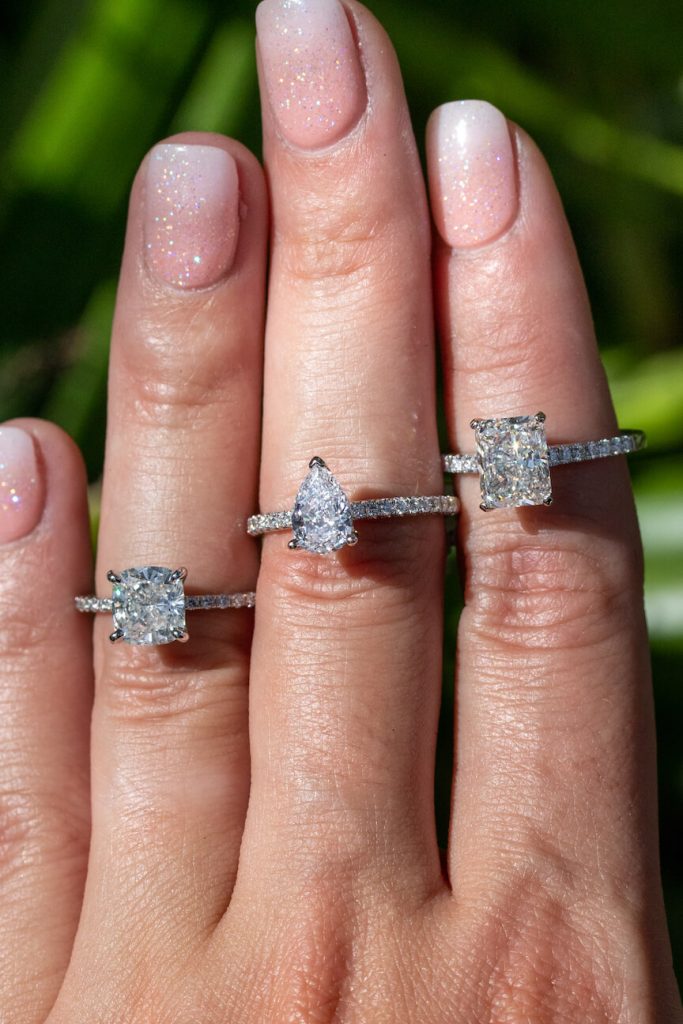 WHAT SHOULD I LOOK FOR WHEN BUYING A DIAMOND SOLITAIRE?
A solitaire engagement ring may seem like a straightforward purchase, but there is actually a lot to consider when shopping for one. You have the precious metal, the diamond quality & shape, the number of prongs, the type of band, and other detailing.
TYPES OF SOLITAIRE ENGAGEMENT RINGS
We will now go through all of the various aspects that make a solitaire engagement unique. With this information, you can take time to consider what you prefer based on both your personal taste and lifestyle.
Precious Metals
You have four main options for the metal that your engagement ring setting will be crafted from. You have yellow gold, white gold, rose gold and platinum.
When deciding on what precious metal you want to use, you need to think about the center stone and what color of metal you like, both for your skin tone and general preference.
When it comes to the center stone, the precious metal can make all the difference. For example, you can get away with a lower color grade if you choose yellow gold as even the most colorless diamonds will show yellow due to the metal. However, if you go for white gold or platinum, you will need to choose a higher color grade if you don't want any yellow hue to show as it will be more obvious with the white metal setting. The point is, you can get the best visual bang for your buck when considering the precious metal for your engagement ring.
Diamond Quality
With any engagement ring, the diamond center stone is arguably the most important aspect of the purchase. It is typically the most expensive component as well. Because of that, you want to make sure you understand the diamond in question. To do that, you need to study up on the 4C's of diamonds (cut, color, clarity, carat weight), as these determine the quality of the diamond and the price.

What are the 4C's of Diamonds
What is the most important of the 4C's
While the 4C's are important for any engagement ring setting, they are particularly important for solitaire settings as with a solitaire setting the center stone is undoubtedly the main attraction.
Note: Make sure the solitaire engagement ring has a certificate from a reputable gemological lab, as it will tell you everything you need to know about the diamond. GIA (Gemological Institute of America) is the best geological institute, and in our opinion, that's the only one you should look for. That said, AGS (American Gem Society) is good too, as are Tiffany's reports if you plan on buying a Tiffany diamond ring.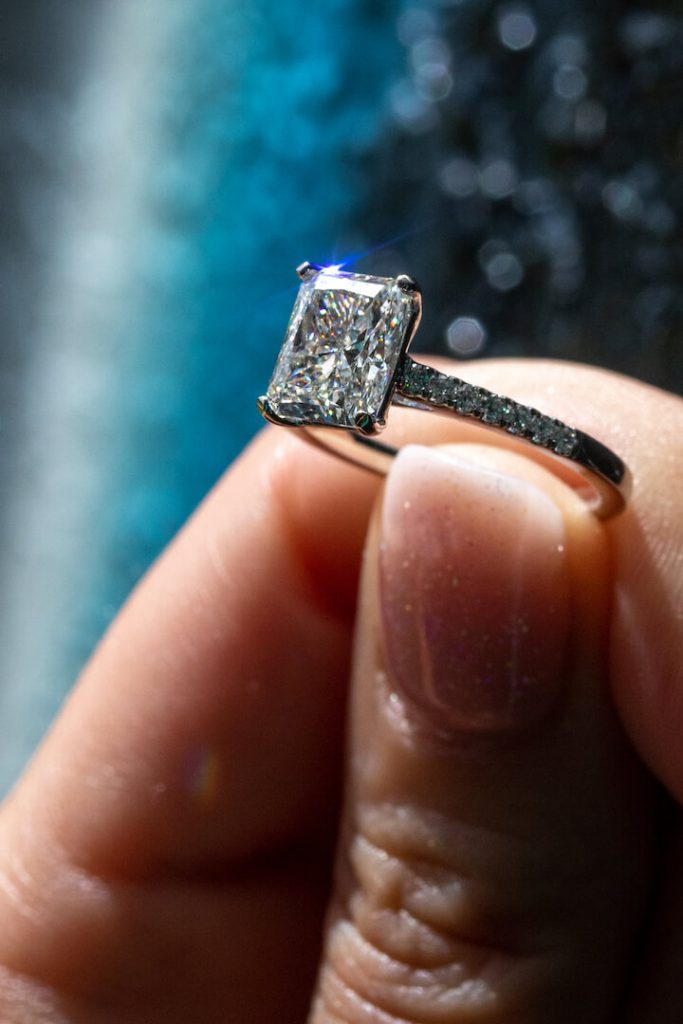 This one comes down to personal preference as a solitaire setting will work for any diamond shape. While round brilliant is the most classic and popular diamond shape, a fancy-shaped diamond will look great as well.
Any non-round diamond is considered a fancy shape diamond.
The most popular fancy shaped diamonds for solitaire engagement rings:
Princess Cut
Cushion Cut
Pear Shaped
Oval Shaped
Other more unique options are marquise, radiant, Asscher, emerald diamonds.
Prongs
The prongs are what hold the center stone in place. They grip the sides of the diamonds like tiny metal claws. Prong settings can include 4, 6 or 8 prongs. Furthermore, the prongs can be pointed, rounded, flat or v-shaped. 
What prongs you choose and how many of them depends on a few factors, which include the diamond size and shape, as well as how much security you want the diamond to have. Another thing to consider is the more prongs there are, the more the diamond is covered. 
For round brilliant diamond solitaire engagement rings, 4 and 6 prongs is normal. 4-prong settings let the diamond shine in all of its glory, while 6-prongs offers more security for your diamond.
As for fancy shape diamonds, there may be an odd number of prongs due to the shape of the diamond, such as the pear shaped diamonds which typically have 5 prongs. 
Band Styles
A solitaire engagement ring can be very minimal or very detailed and ornate. The band can make all the difference. For example, you could have a plain band if you are a minimalist. Conversely, if you want to maximize your shine, you could have a pave diamond band. 
There are plenty of options for bands, such as twisted shank, split shank, channel set bands, and bypass, to name but a few. 
Have a look at our collection of solitaire engagement rings to see the variety of bands we offer.
Detailing
There are also plenty of detailing options for a solitaire engagement ring. The most popular are milgrain, filigree, and scrolls. These can give the ring a lot more personality and even a vintage feel.
High Profile vs Low Profile
One of the most important things to consider is whether you want a high profile setting or a low profile setting. High profile settings will make the center stone sit higher on the ring. This is good for those who want optimal light performance. On the other hand, you could go low profile if you have a more active lifestyle and don't want to worry about your engagement ring getting caught on fabric or banged when using your hands. Both are great options, so it really just comes down to what suits your lifestyle more.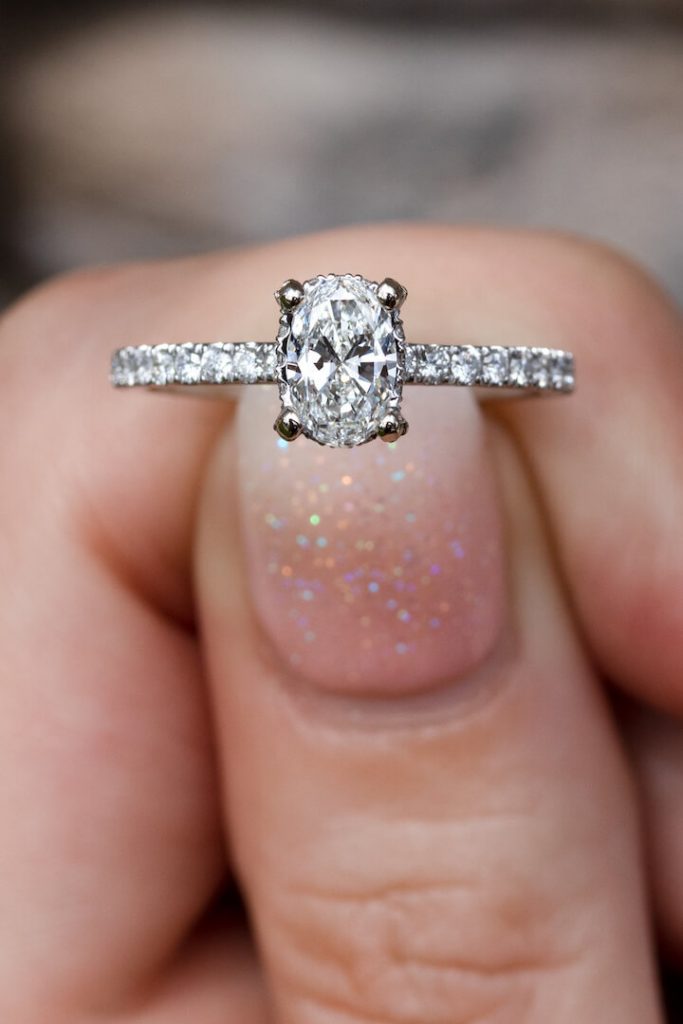 HOW MUCH IS A SOLITAIRE ENGAGEMENT RING?
Solitaire engagement rings have a huge price range. You could get a pre-owned solitaire engagement ring for as little as a couple hundred dollars. On the other end of the spectrum, a solitaire engagement ring could be hundreds of thousands of dollars or more. It really all depends on the brand, the quality of the ring, and the diamond, with the latter typically being the biggest factor of price. 
Generally speaking, a 1-carat solitaire diamond engagement will range from $4,000-$17,000, a 2-carat solitaire diamond engagement from $8,000-$50,000, a 3 carat from $20,000-$100,000, and a 4-carat solitaire diamond engagement from $30,000-$200,000 . These price ranges will all land you a beautiful engagement ring, with the higher end of course having the highest quality diamond.
If you are curious on pricing, check out our collection of solitaire engagement rings. You can sort by lowest price to highest price and highest price to lowest price.
What determines the price of a diamonds
HOW MANY CARATS SHOULD A SOLITAIRE ENGAGEMENT RING BE?
While it really depends on the woman who will be wearing the ring, a 1-carat and up will be very respectable for a solitaire engagement ring. Anything more than 2-carats is considered big.
SOLITAIRE ENGAGMENT RING EXAMPLES
WHERE TO BUY A SOLITAIRE ENGAGEMENT RING IN BOCA RATON OR ONLINE?
If you live in Boca Raton and you are looking for a solitaire engagement ring, Raymond Lee Jewelers and Diamonds By Raymond Lee are the best places to shop. Both of our beautiful showrooms are owned by the Josephson family who have been in the business of diamond engagement rings for nearly four decades. At Raymond Lee Jewelers and Diamonds By Raymond Lee, you will have a wide selection of exquisite engagement rings to choose from and you will receive expert guidance to help you find the right ring. Furthermore, all of our engagement rings come with GIA diamond certificates and our prices are unbeatable. We take great pride in providing excellent customer service and high quality engagement rings at a fantastic price. 
Shop Solitaire Engagement Rings at Raymond Lee Jewelers
Shop Solitaire Engagement Rings at Diamonds By Raymond Lee