Ruby and White Gold Wide Band Ring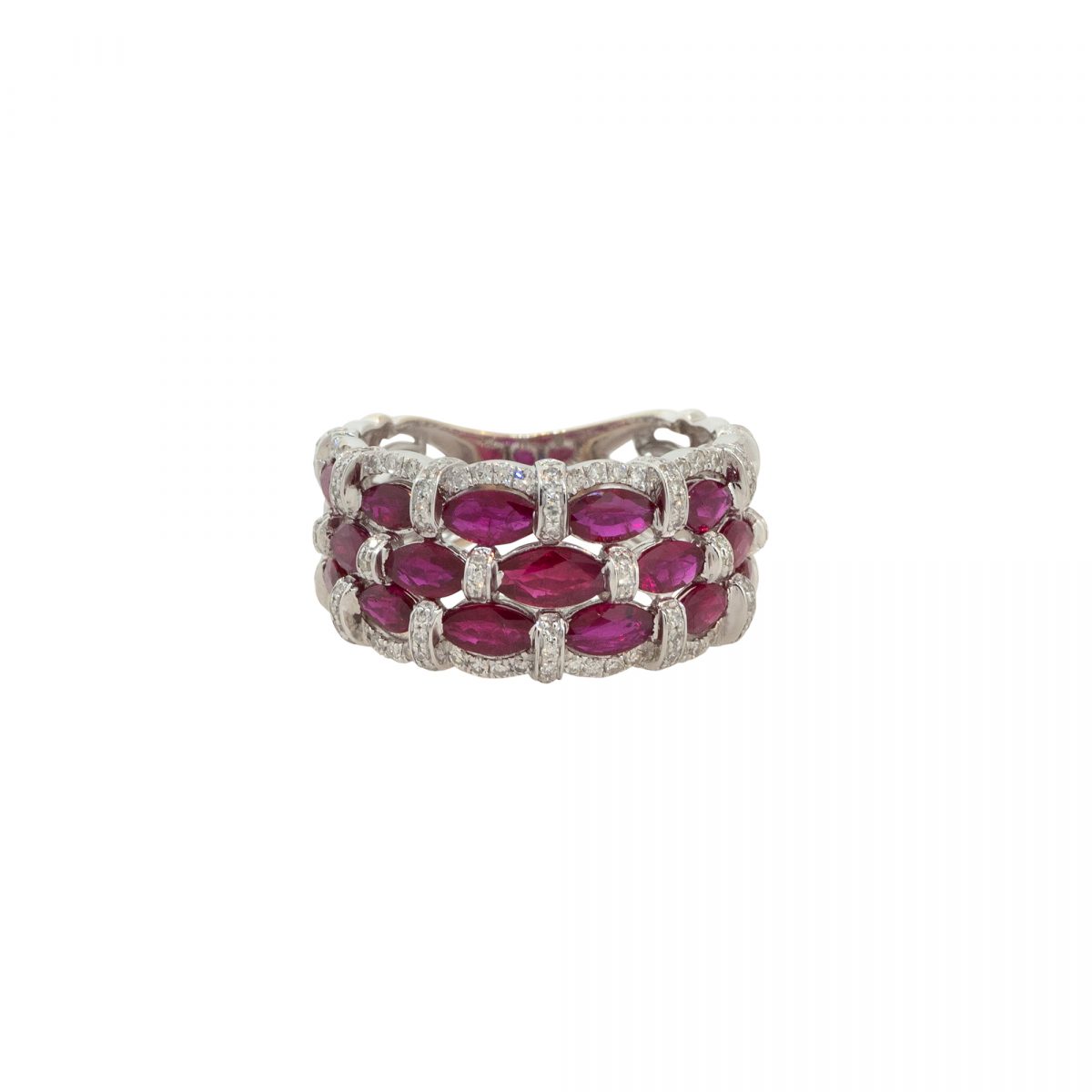 A stunning accessory such as a wide band white gold and ruby ring is a great option for those who want something eye-catching and unique. Rings are a great accessory that we too often overlook. Of course, we think about engagement and wedding rings, but you can wear a ring on any finger for any occasion. This accessory will pair well with a wide range of other accessories and will enhance the look of anything you pair it with. Like all the pieces we sell, this ring is made from the finest materials. It must also meet the highest and most rigorous standards of construction and design.
We want you to look and feel your best. You do this through the clothing you wear and the accessories you pair with said attire. Something that speaks to your personality and shows off your own unique, personal style, is a great accessory to add to any wardrobe. Whether you are looking for a fun statement piece for special occasions, or you are looking for a new piece to add to your signature look, the ring is a great choice.
Show Your Personal Style
We all want to have our own unique personal style. Since we are all individuals with our own personal tastes and style, it makes sense that we want to cultivate this. One of the things we love about the ruby and white gold wide band ring we feature here is that it is one of the few high-end accessories that are highly versatile. Most high-end accessories are meant for a specific purpose or type of event, but some of them can be worn for a variety of different events and occasions. The ring we feature here is one of those accessories.
It has a lovely design, featuring three rows of high-grade rubies. The 14-karat white gold offsets the red rubies beautifully. Red and the silvery white hue of the white gold play off one another to create a really lovely piece of jewelry. And when you pair this with your own unique fashions, you start to develop a look that is all you. You can easily pair this ring with a range of other accessories. In this way, the ring can even become part of your signature look.
First Impressions
Whether we are in the cutthroat world of business or just meeting someone for the first time, we want to make the best possible impression we can. One of the things that we don't often think about is how someone forms their first impression of us. Most often, people get this impression before we ever speak. The clothing we wear, the way we carry ourselves, and the accessories we pair with our attire will go a long way toward making that impression. And the thing about first impressions is that they are hard to overcome. So it makes sense to want to put in some effort to put your best proverbial foot forward. Accessories such as the ruby and white gold wide band ring we feature here are great accessories.
The accessories we choose tell others a lot about us. They can show others that we have an appreciation for the finer things in life. Or, they can tell others a bit about our personality and style. Quality accessories help give us that put-together look that is so desirable. These accessories give us our sense of style and can really enhance the look of anything you pair it with.
Your One-Stop Shop for High-End Jewelry Needs
At Raymond Lee Jewelers, we take quality and style very seriously. We offer a wide range of some of the rarest and most unique accessories available. Since we have begun to cultivate this reputation, we continue to strive to maintain it. That is why we have some of the best buyers in the game. They have a ton of experience as well as connections. This is what allows them to source and seek out the rarest and finest accessories. You have the peace of mind that only the most well-made and high-quality accessories make their way into our display cases. The ruby and white gold wide band ring we feature here is a great example of the quality we are looking for.
We offer more than just a great selection of high-end jewelry. While we do have a great selection, we know that we don't have everything there is to offer. This is why we offer custom jewelry services. Using the latest computer technology and some of the most skilled jewelers, we can turn your dream into a reality. Additionally, we also offer comprehensive jewelry repair services. Whether you need to resize a ring or you have a broken piece of jewelry, we have the skills and ability to do the job.
14-karat White Gold
Gold is one of the most precious materials in the world and has held the fascination of humans from time immemorial. We have been making trinkets from this rare metal for most of human civilization. Some things never change! White gold, however, is a fairly recent development as far as jewelry-making materials go.
Originally, white gold was meant to be a less expensive alternative to platinum. A lot of people like the cool silvery hue that platinum offers, but the price tag is often prohibitive. White gold, like all gold used to make jewelry, is not pure gold. Gold, in its pure form, is far too soft to make jewelry out of. It would quickly lose its shape.
So gold that is meant for jewelry is actually a blending of gold and other metals. White gold is the same except that it contains more of the silvery mixture of metals than yellow gold. Most often, white gold consists of pure gold blended with nickel, palladium, or silver. It will also often have a rhodium coating, which adds additional protection. We should note that, over time, this coating can degrade over time and you may need to have your ring recoated on occasion.
The Stunning Ruby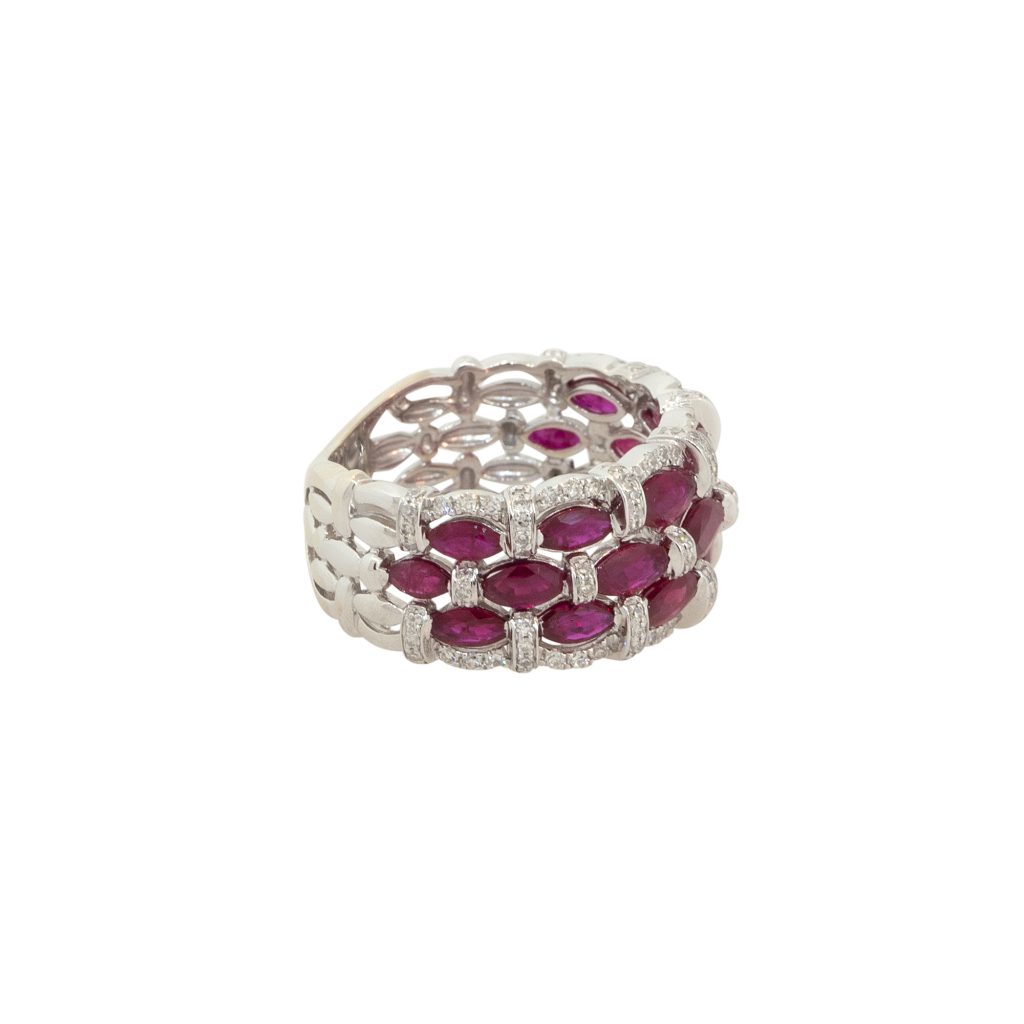 Rubies are a beautiful precious gemstone that has long been prized for their rich color and hardness. You can find rubies in a range of reds. It may be a more pale pinkish color or a deep, rich, highly-saturated red. The main rule of thumb is that the richer and deeper the color, the rarer the stone. That also means that it will come with a higher price tag. The ruby and white gold wide band ring we feature here boasts rare rich, deep red stones.
The gemstone is made from a material called corundum. Interestingly, there are other colors of corundum, which we call sapphires. The color is not the only reason that people love the gemstone we call ruby. It is actually one of the tougher and harder gemstones that feature in jewelry.
Of course, diamonds are the hardest gemstone. They are a 10 on the Mohs hardness scale. Rubies, while not as hard as diamonds, are quite close. They rate a 9 on the Mohs hardness scale. That means they can easily be cut into a wide range of shapes and cuts. Many gemstones are too fragile to take on certain cuts. But the ruby is one of those really hard gemstones that can withstand these cuts. And the hardness of the stone also makes them tougher and more durable than a lot of other gemstones. 
A Versatile Accessory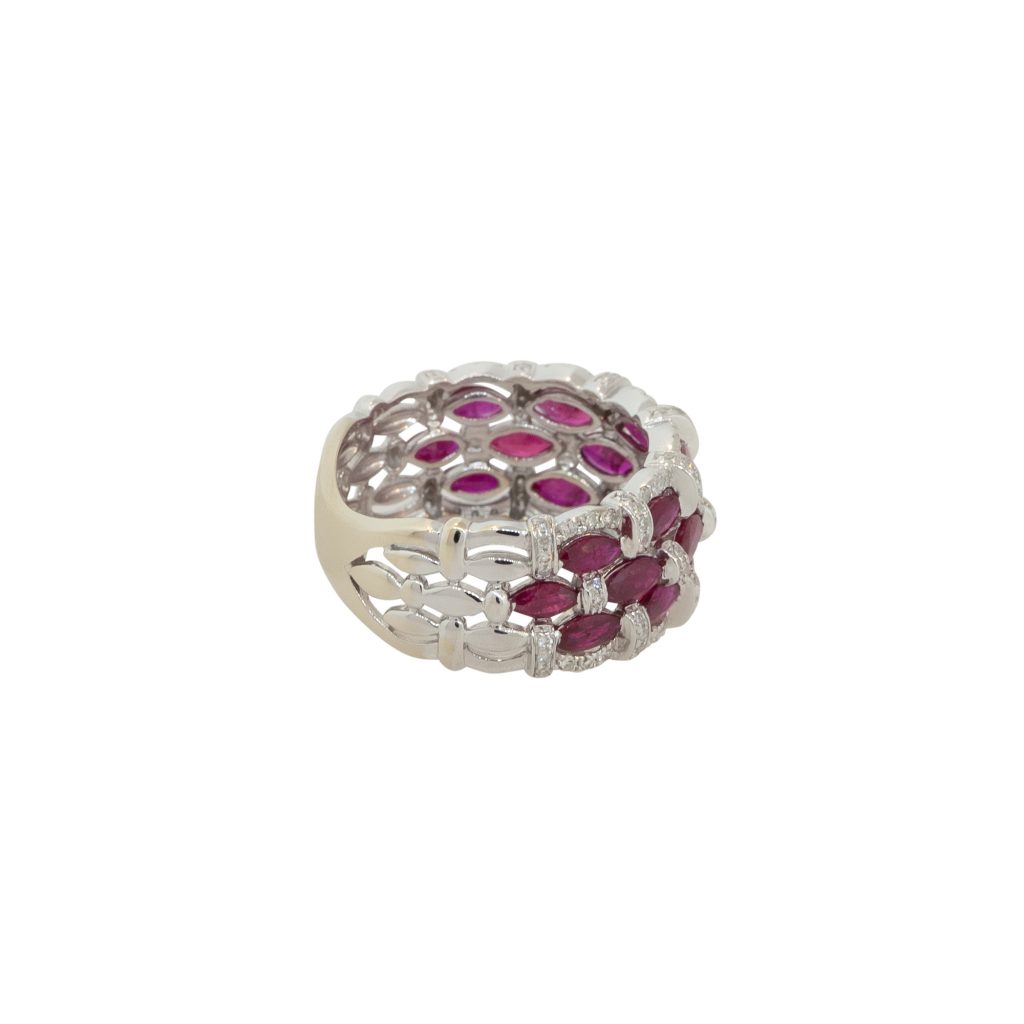 Thinking about high-end jewelry, we probably aren't thinking about something that is particularly versatile. When a lot of us think about high-end jewelry, we think about multi-strand diamond necklaces and other bold, formal pieces. These are, of course, great, but there is also something nice about a high-end accessory that is versatile and can be worn for a variety of occasions. The ruby and white gold wide band ring we feature here is one of these unique accessories. Of course, it is going to look great with formal attire, but it will also look good with casual clothing as well.
We know that you will love the elegance and style of something as simple as a pair of jeans and a t-shirt when you pair it with a ring such as the one we feature here. And, this ring will pair well with other accessories as well. Our biggest piece of advice for pairing different pieces of jewelry is to stick to the same metal. Since this ring features white gold, that means you will want to pair it with other white gold pieces. This will help you avoid clashing. The ring can even pair with accessories that feature other gemstones.
A Perfect Statement Piece
The statement piece is a great and fun accessory. This is a special piece, one that we typically reserved for a special occasion. This might be a certain holiday or type of event, such as a cocktail party. These are events that allow us to really dress up and show off our finest. The ruby and white gold wide band ring we feature here is a great option for those who want a bold and eye-catching accessory for that next cocktail party or formal event. The bold red of the rubies will catch the eye and the cool silvery tone of the white gold offsets the red beautifully. We love the way this ring catches the eye and can also accent an outfit incredibly well.
The great thing about this ruby ring is that it can either be the focal point of your look or it can accent your look. Say you want it to be the focal point. If this is the case, you may choose to pair it with a simple dress. This will allow the attention to stay on the ring. Alternatively, you might choose a dress that accents the ring so that the ring and the outfit enhance each other.
Add to Your Signature Look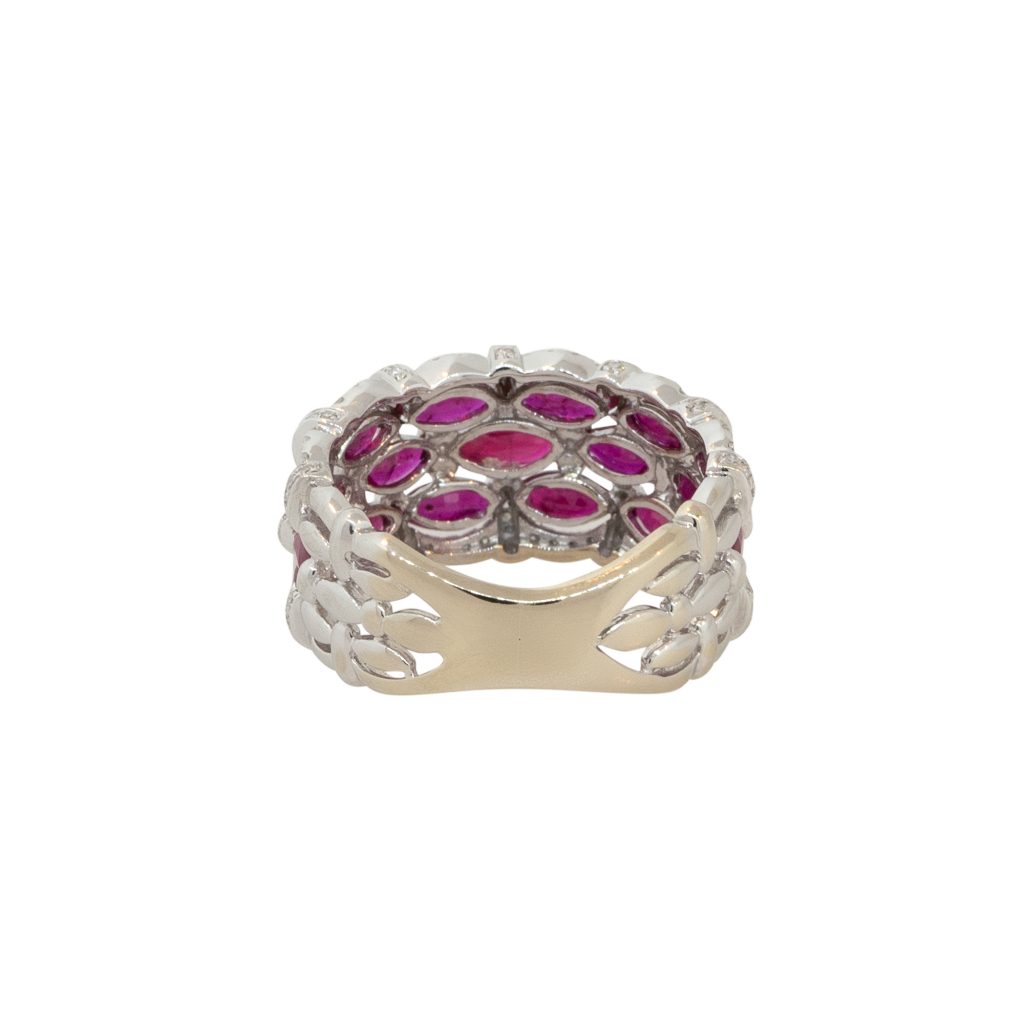 While the ruby and white gold wide band ring we feature here is a high-end and stunning accessory, that doesn't mean it is only suitable for formal occasions. This is one of those rare eye-catching pieces that actually looks great with a wide range of different looks. As we note above, this is a really versatile piece that looks just as great with casual attire as it does with more formal wear. And, it is also one of those accessories that you can easily pair with other accessories as well. Together, these pieces, as well as the way you dress, will help you create your own signature look.
We are all unique and as such, want to be able to show off our unique and personal style. It makes sense that we want to stand out from the proverbial crowd and we can do this through a unique signature style. Pairing a range of fun accessories with a certain type of attire will help you create this look. With a bit of trial and error, you will learn what you like best and will easily be able to develop a one-of-a-kind look.
In Closing
Rings are a great accessory, and not just for an engagement ring or a wedding band. You can wear a ring on any finger for any occasion and we really want to remind people of this. Rings are fun and elegant accessories that come in a huge range of shapes and sizes. There are as many styles as there are people who want to wear them. Here, we feature a ruby and white gold wide band ring. This is an elegant and unique piece that works incredibly well as a statement piece or as part of your signature look. It is an eye-catching piece that features only the finest gemstones and metals.
As a statement piece, this ring can easily be the focal point of your look or accent your outfit. The bold red hue of the rubies paired with the soft and cool white gold create a stunning piece of jewelry. But while it is eye-catching, that doesn't mean it can't be worn with other pieces of jewelry that feature the same metal. And, it can also be worn as part of your signature look, meaning a daily wear piece.