Oval Diamond Engagement Rings and Eternity Rings: Stacks, Tips & FAQ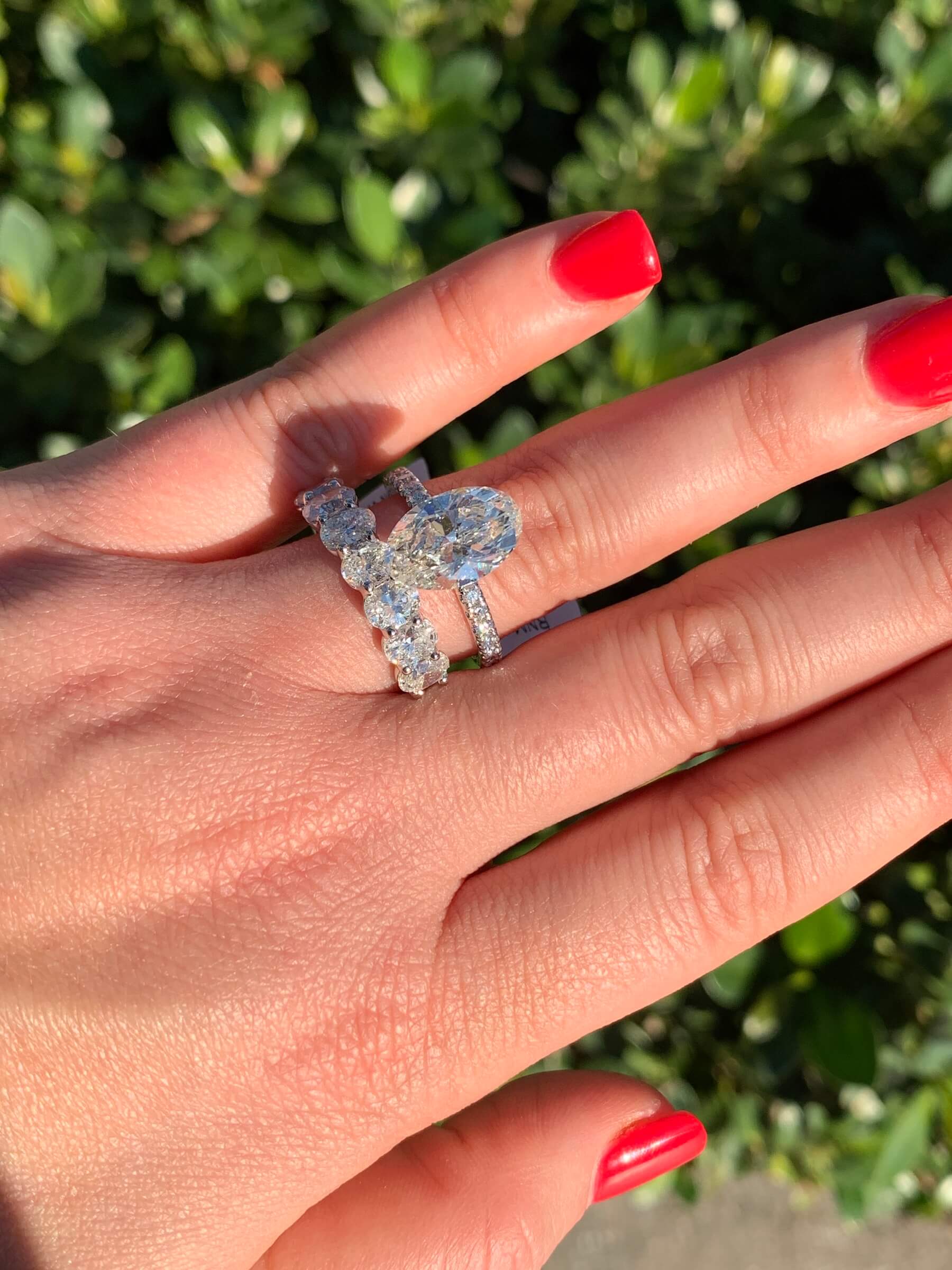 Feminine. Romantic. Unique. All words that perfectly describe an oval cut diamond…These days, the modified brilliant cut oval diamond is one of the most popular diamond shapes for engagement rings. Oval diamonds are starting to make waves in the world of eternity rings too. And for good reason. They provide impressive sparkle, voluptuous curvaceousness, and an overall imposing and distinct appearance. This visceral fancy diamond shape evokes our deepest adoration and desire for diamonds. They look stunning stacked with more oval diamonds, and they also play well with other diamond ring shapes. So, if you love oval diamonds, you are going to appreciate what we have in store for you…
Welcome to the ovate realm of diamonds.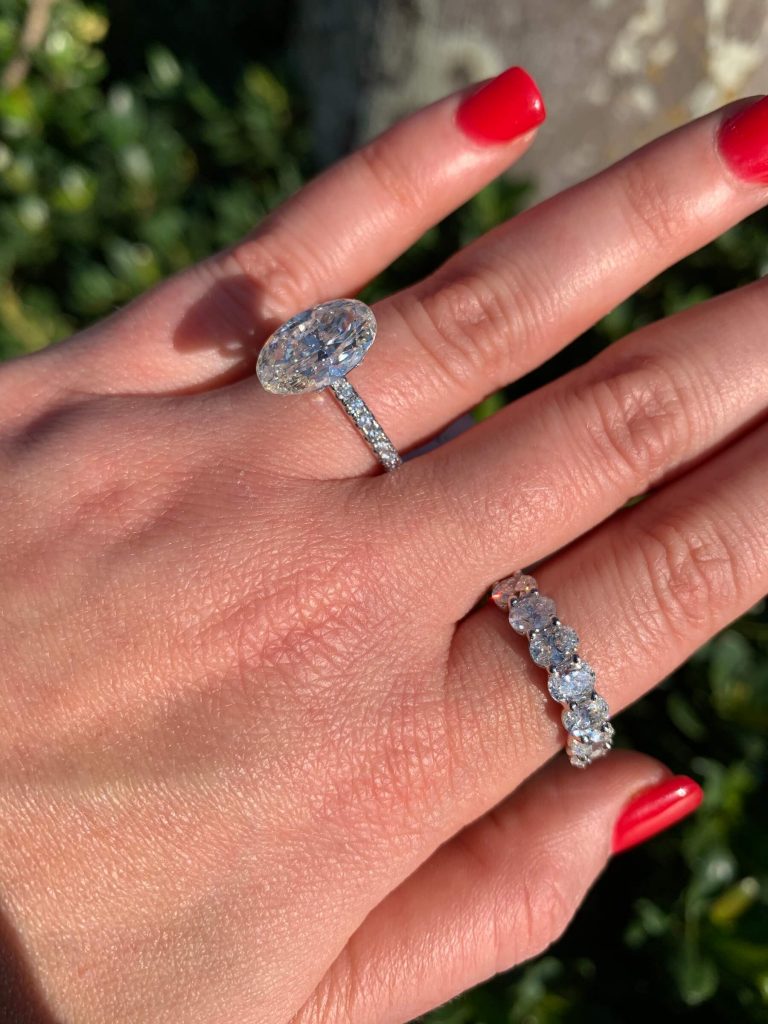 When shopping for an engagement ring, does the oval diamond catch your eye more than the rest? Did you see a celebrity, friend, or stranger with a large oval diamond ring stack that sparked your interest? Understandable. You are far from alone. After all, the modified brilliant oval diamond is one of the most captivating diamond cuts of them all, and it has been for a long time.
What is a 'modified brilliant cut' oval diamond?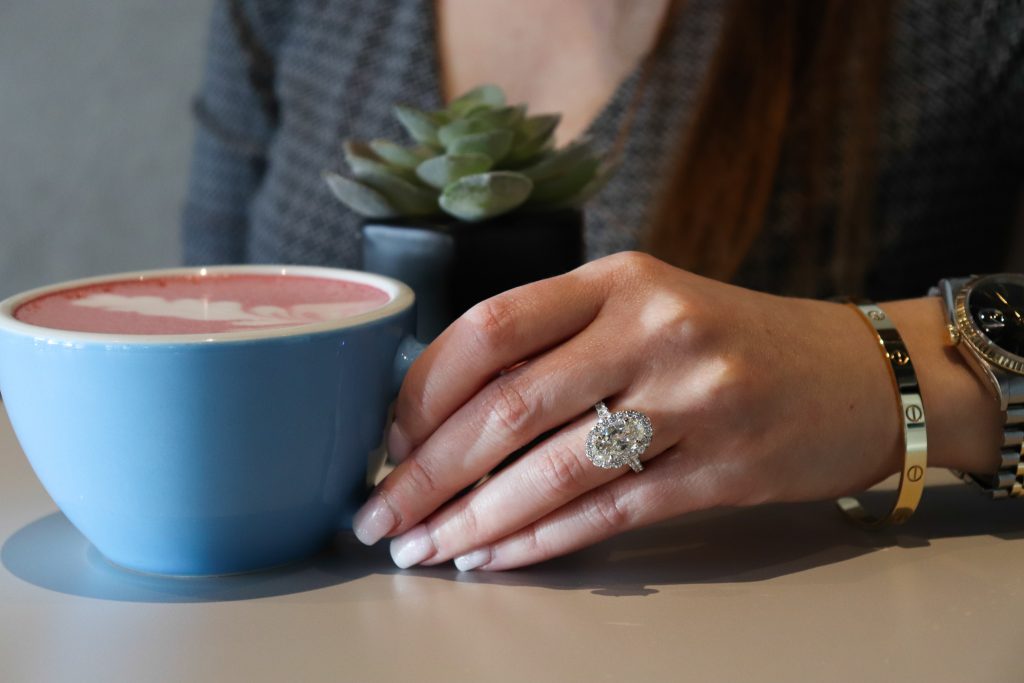 First of all, any diamond that isn't a round brilliant or a single cut diamond is a "fancy" diamond shape. So, princess, cushion, marquise, pear, heart, emerald, radiant, Asscher, and OVAL cut diamonds are all fancy shape diamonds. However, not all fancy shape diamonds are modified brilliant cuts.
Only diamond cuts that have been developed based on the round brilliant cut diamond are 'modified brilliant' cuts. So, emerald, baguette and other step cut diamonds are not modified brilliants.
Modified = modified from the round brilliant diamond's shape.
Brilliant = many facets that give it exceptional brilliance (sparkle, fire, scintillation), just like the round brilliant diamond has.
This means fancy modified brilliant diamonds provide virtually as much sparkle as a round brilliant diamond does.
This includes oval, marquise, pear, heart, and cushion-cut diamonds. These are all modified brilliants, but they are sometimes simply referred to by their shape. Thus, if you hear or read "oval diamond", you know it is a modified brilliant oval cut diamond, and you also know it has incredible sparkle.
That said, the oval diamond was around long before the modified brilliant cut was invented. Moreover, some brilliant cut oval diamonds are of better quality than others.
So, let's first touch on a brief history of the oval diamond. Then we will get into what to look for in a modified brilliant oval diamonds so you can get the best quality for your engagement ring and eternity ring stack.
Brief History of Oval Diamonds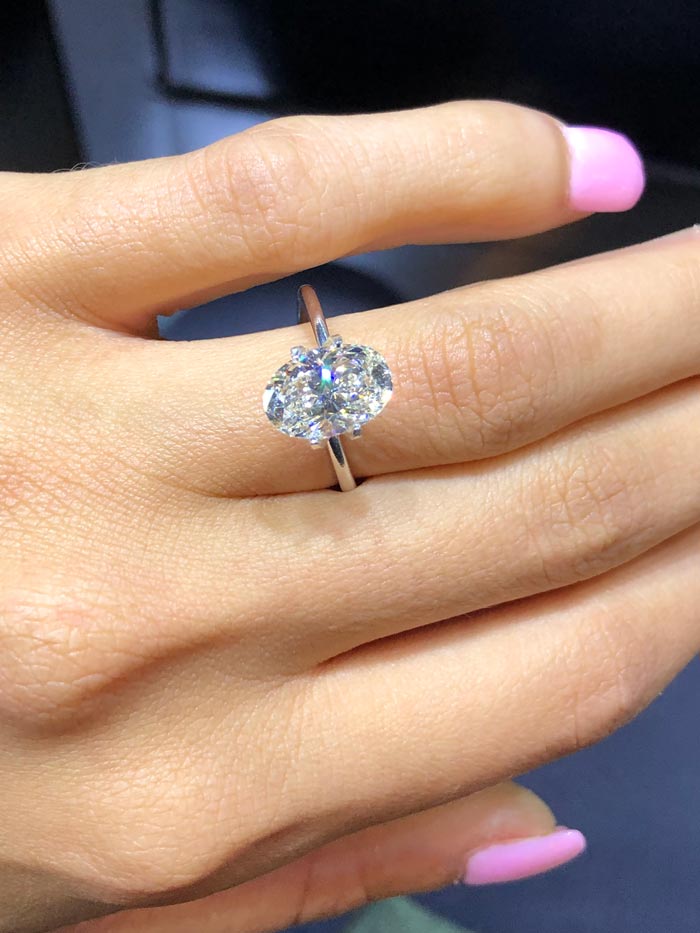 Oval cut diamonds have a very long history, pretty much dating all the way back to when diamonds were first used in jewelry. This is because people have been enhancing rough diamonds since day one, and the oval shape is an obvious choice.
The oldest recorded oval cut diamond is from 1304 – medieval and Renaissance times.
Mountain of Light
One of the most illustrious oval cut diamonds is the Koh-i-Noor, which means "mountain of light" in Persian language. This special 186 carat diamond spent hundreds of years crossing countries and continents, moving from one royal family to the next. Eventually, in 1851, it was put on display in Great Britain, where crowds of hundreds of people would line up just to get a glimpse of the spectacular diamond treasure. The Koh-i-Noor remains a part of the British Crown Jewels, and is currently set into Queen Alexandra's coronation crown.
Birth of the Modern Brilliant Oval Diamond
Oval diamonds have been undergoing alterations to increase their shine and perfect curvature for as long as we know, and then, in the mid-1900s, the oval diamond was essentially perfected…
In the early 1960s, a Russian born man named Lazare Kaplan (diamond cutter and manufacturer) invented the first version of the modified brilliant oval cut diamond that we all know and love today. Kaplan was known for taking "useless" diamonds and making them special with his incredible skill for cutting diamonds. Ultimately, his creation of the oval modified brilliant cut diamond earned him a spot in the Jewelers International's Hall of Fame. And now, oval cut diamonds are considered one of the most brilliant and classy styles for diamond engagement rings.

Here's a gorgeous platinum prong-set 5.26 carat oval diamond eternity ring that would make for the perfect oval engagement ring stack.
Tips & Frequently Asked Questions About Oval Diamond Rings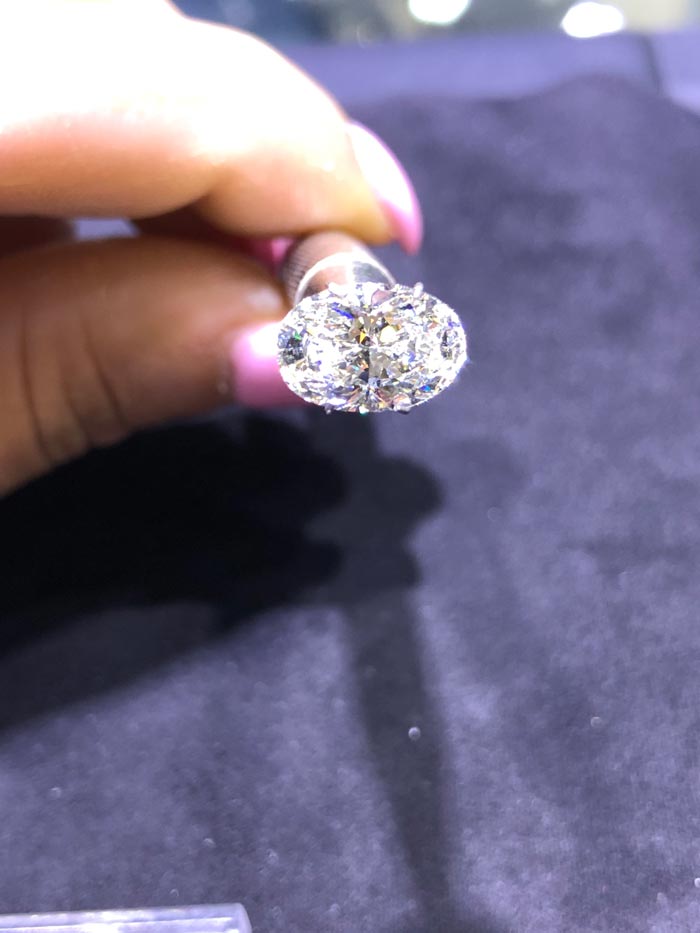 Not all oval cut diamonds are equal. There are a lot of factors to consider when buying an oval engagement ring.
GIA Certified
You will want to make sure the oval diamond in question is GIA certified. Without its certification from a reputable diamond grading lab like GIA, it is impossible to know if the diamond is even real or natural. So, the first step is to verify that it is certified by GIA (or AGS).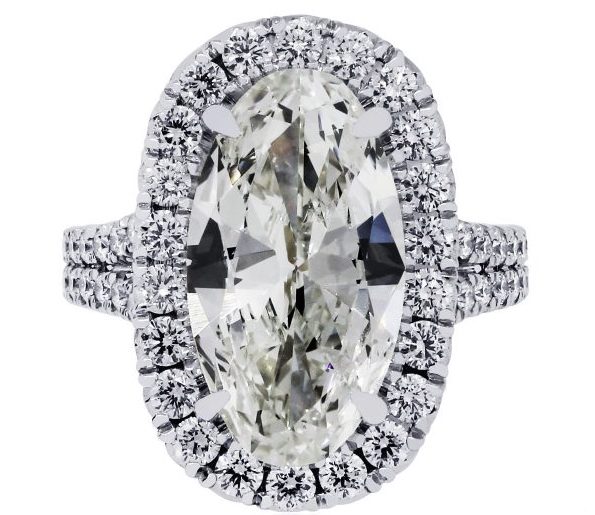 Oval Diamond Cut
Cut is the most crucial element of any diamond. It will determine its beauty, its sparkle, its shimmer. The grading of a diamond's cut can be found on its certification. However, unlike a round brilliant diamond's lab report, an oval diamond won't show the cut grading.
The same goes for pear and marquise diamonds. This is because they are complex and unique structures. So, standard cut criteria can't be achieved.
What this means is you will have to know a bit about what to look for in a good quality oval diamond cut.
There are two things to look for:
Length to Width Ratio
The Infamous Bowtie
What is the best Length to Width Ratio for an Oval Diamond?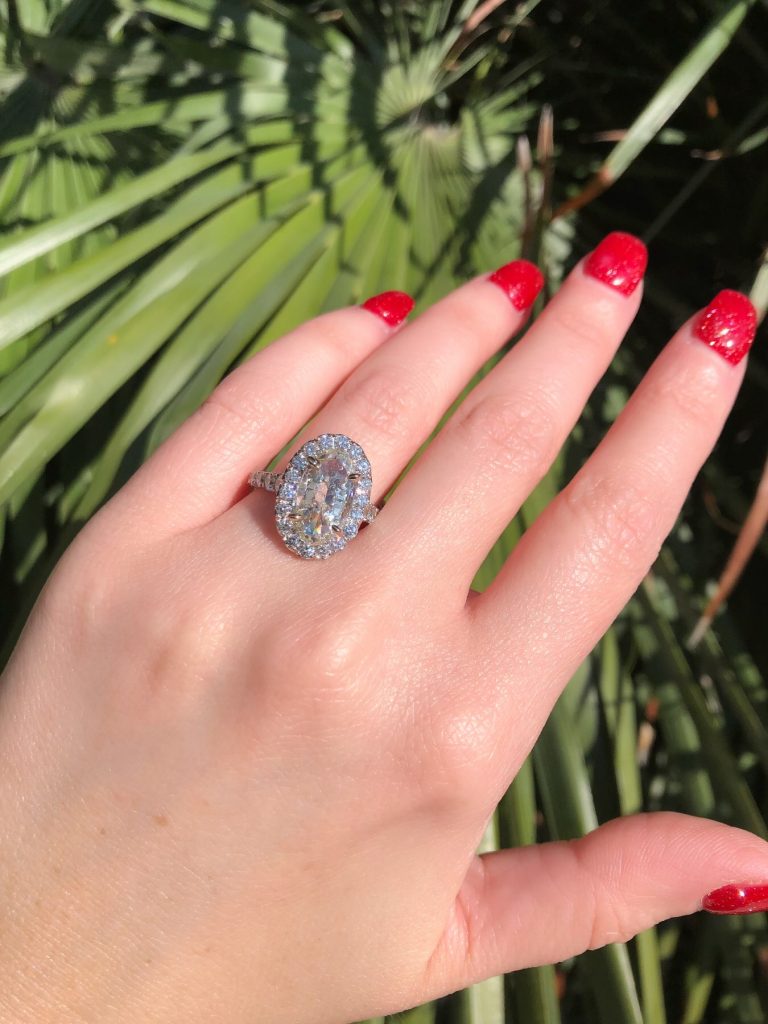 To simplify things, the ideal length-to-width ratio for an oval cut diamond is 1.35 to 1.50. However, it really comes down to preference. Some people prefer longer oval diamonds, while others like wider ovals.
Typically the more elongated the oval diamond is, the more it looks sharp and pronounced. Conversely, wider, squat oval diamonds offer a softer look.
To make things simpler, we usually recommend a wide oval diamond for solitaire settings and a more elongated oval diamond for halo settings.
All in all, the best thing you can do to guarantee a good quality cut is…find a trustworthy jeweler! They will be honest with both the quality and the price. You'll be able to ask questions and work around your budget to get the best oval diamond possible. Of course, for a better cut, you will pay a higher price.
Regardless though, there is one thing you should look for and that's the bowtie effect.
Do oval diamonds have a bowtie effect?
Oval, marquise and pear diamonds all have a bowtie effect to some degree. However, depending on the symmetry of the cut, oval diamonds can have a pronounced bowtie effect or an almost unnoticeable bowtie effect.
A bowtie is a shadow/dark spot that runs horizontally through the top center of the diamond.
Luckily, bowties are pretty easy to spot. All you have to do is make sure you get the diamond in good lighting. Also, take note of the bowtie in the certification (yes, it will be in there), and make sure it matches up to what you are seeing.
Note: Bowties are not all bad. A slight bowtie effect in an oval diamond can actually enhance its beauty. Just avoid a bowtie that is too strong. What's more, for smaller oval diamonds that make up an eternity ring, this is less of a concern. Bowties should be strongly considered for larger oval diamonds that will be a centerpiece of an engagement ring stack.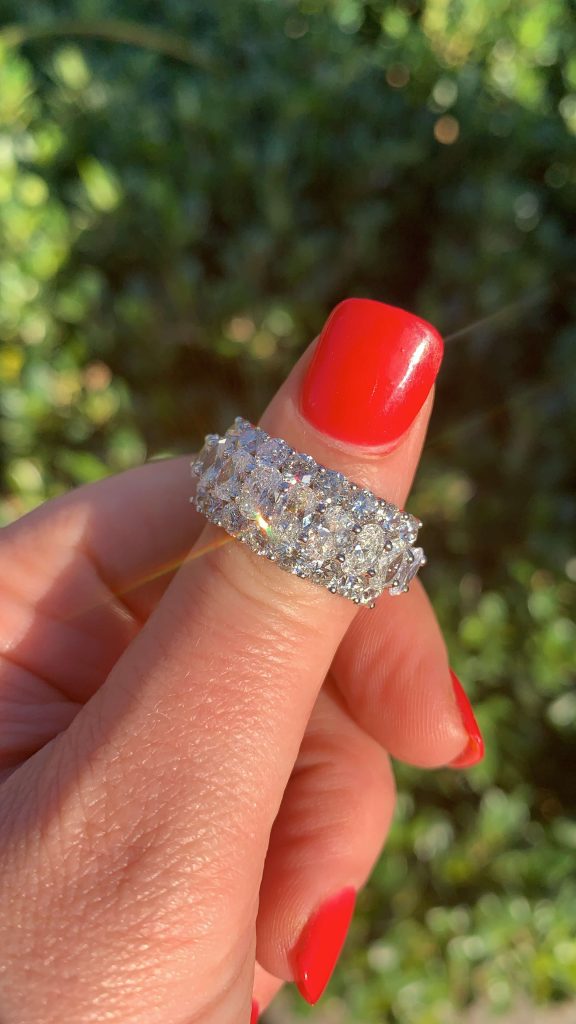 Do oval diamonds look bigger?
On average an oval cut diamond will have a 10% larger surface area than a round brilliant diamond of the same size. So, yes, oval diamonds typically appear larger than round brilliant diamonds, as well as princess cut and cushion cut diamonds (the two other most popular diamond cuts).
What's more, an oval diamond with a tall ratio (more elongated) can do a fantastic job of making a woman's fingers appear more slender and longer. So, if this sounds appealing to you, go for a more elongated oval diamond cut.
Are oval diamonds more affordable?
Although oval diamonds are a "fancy cut diamond", and they are more rare than round and princess cut diamonds, they are not more expensive. So don't let any jeweler tell you otherwise. On average, oval diamonds are considerably more affordable than round brilliant and princess cut diamonds of the same general quality. This is because round brilliant and princess cut diamonds cause more loss of the original rough diamond when cutting them than oval diamonds do. Moreover, oval diamonds are in less demand. Albeit, they are increasing in popularity rapidly, as are oval diamond engagement ring stacks!
Will oval diamonds go out of style?
Absolutely not! Although an oval diamond isn't as popular as a round brilliant diamond, it is still a timeless look. Remember the history of an oval diamond section above. An oval diamond has been around for a long time and it is a shape used by kings and queens. If it's worthy of royalty and cherished throughout centuries, you can be sure the oval diamond will never go out of style. All in all, an oval diamond is a classic shape. It will never appear to be an odd diamond cut. So, you don't have to worry about it going out of style like you would with a heart shaped diamond. An oval diamond can be passed down generation to generation, while remaining just as in vogue and appreciated as it was when brand new.
What is the best setting for an oval diamond?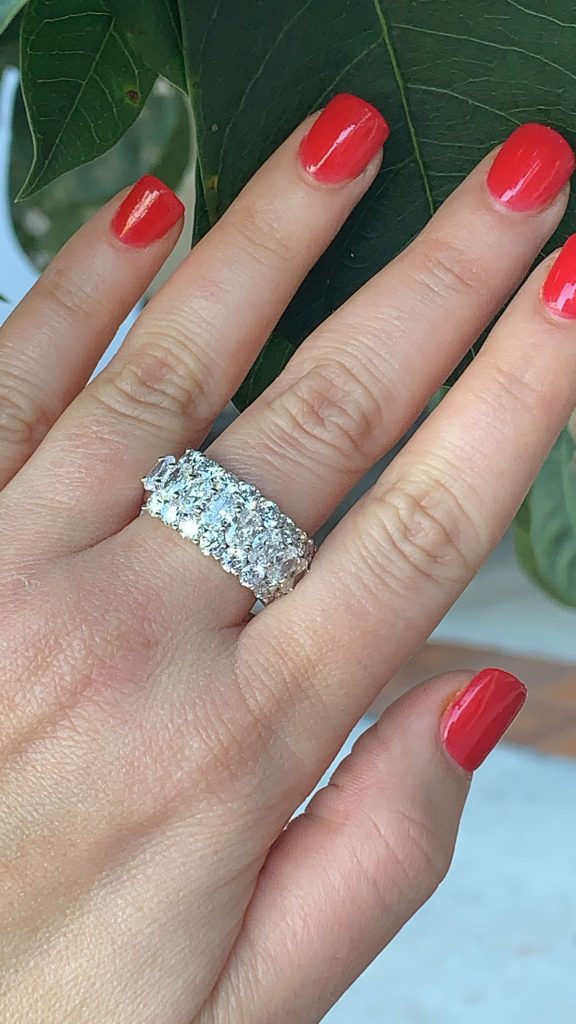 For engagement rings, the two best settings for an oval ring are solitaire and halo settings. The images featured in this post offer examples of both styles.
Solitaire = Prong Setting:
Most classic, traditional setting
Exposes the diamond more, which makes the centerpiece the "center of attention"
Simple yet stunning
Halo = Centerpiece is encircled by small round brilliant diamonds:
Makes the diamond centerpiece appear larger and fuller
Protects and secures the centerpiece diamond more
Also a classic and very popular style.
You really can't go wrong with either choice.
For eternity rings, the best setting you can get is a prong setting (aka claw setting). The eternity rings featured in this post all use a shared prong setting. For oval diamond eternity rings, there really is no contest. A prong setting makes the eternity ring pop like no other, and unlike a wedding band, it is unbelievably brilliant and grandiose.
All of the above suggests one thing to us, oval diamonds are very unique. Unlike round brilliant diamonds, which have a set standard, oval diamonds offer more variances. This means with an oval diamond engagement ring, you will have a very special look. And that is even truer when it comes to oval diamond eternity rings. Then, combine the two together for your wedding ring (in this case, eternity rings) and engagement ring and you are left with a one-of-a-kind stack that you will be hard pressed to find someone else with.
East to West Setting
Another popular setting is the east to west setting. The east to west setting is when an oval diamond is set horizontally long, rather than vertically. This is an unconventional orientation, which gives the ring a unique and modern look. It offers a nice contrast to the typical styles of diamond rings you see day to day.
East to west settings use both: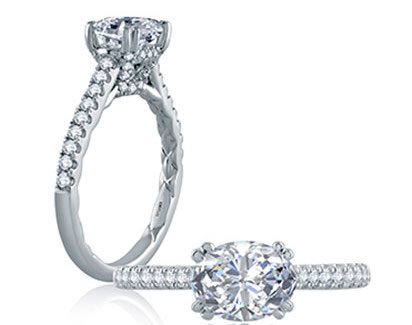 And Halo Settings…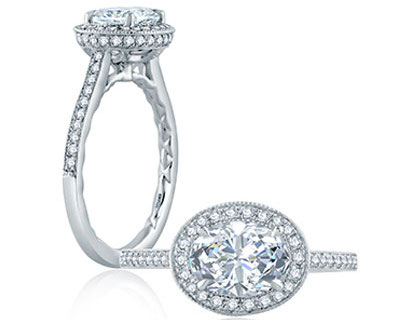 They even have east to west oval diamond eternity rings…

Oval Engagement Ring and Eternity Ring Stack
An oval diamond looks great as a centerpiece for an engagement ring. They look great side by side identical siblings when forming an eternity ring. And, stacked together, an oval eternity ring and engagement ring look incredible. It's a diamond shape that can do no wrong.
Here's a prime example of a breathtaking oval diamond ring stack…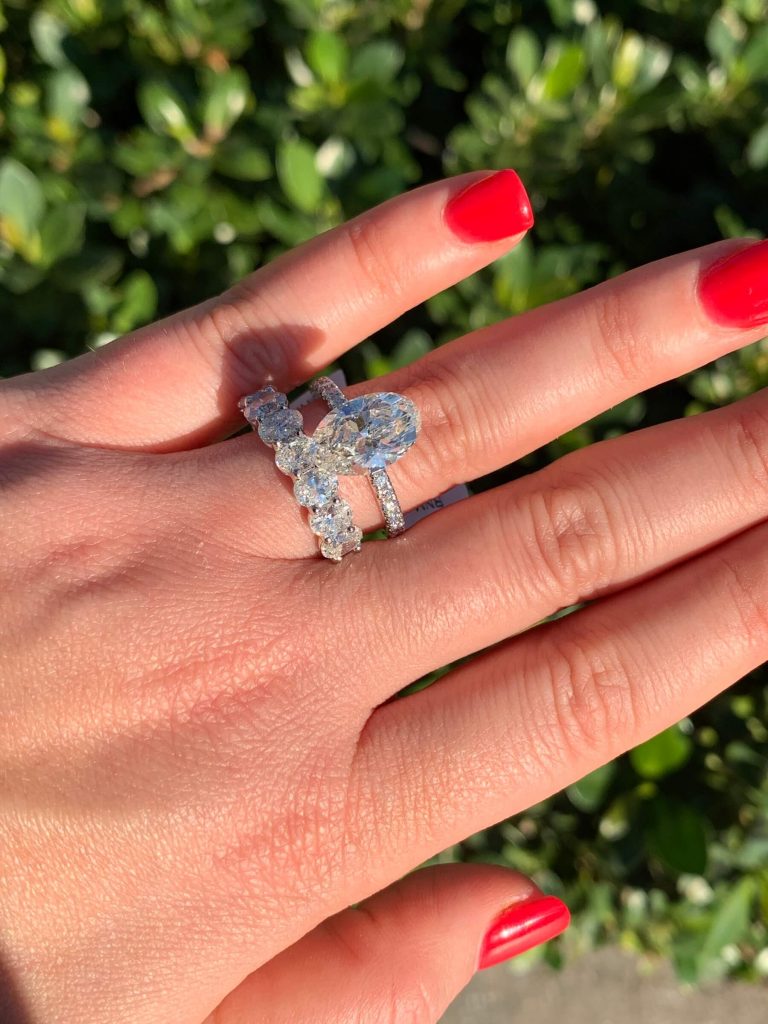 This is a platinum solitaire oval diamond engagement ring with a pave diamond band. It is coupled with a prong-set platinum oval diamond eternity ring. This oval diamond engagement ring stack is utterly stunning. All the oval diamonds are pronounced and able to shine in all of their glory thanks to the use of prong settings. This is the stack that will turn heads. It's unique, yet classy. Breathtaking, yet by no means too extravagant. It's grandiose, yet far from too big. All in all, this is the quintessential oval diamond ring stack for those of us who adore an "elliptic" style.