Met Gala 2018: Celebrity, Jewelry and Fashion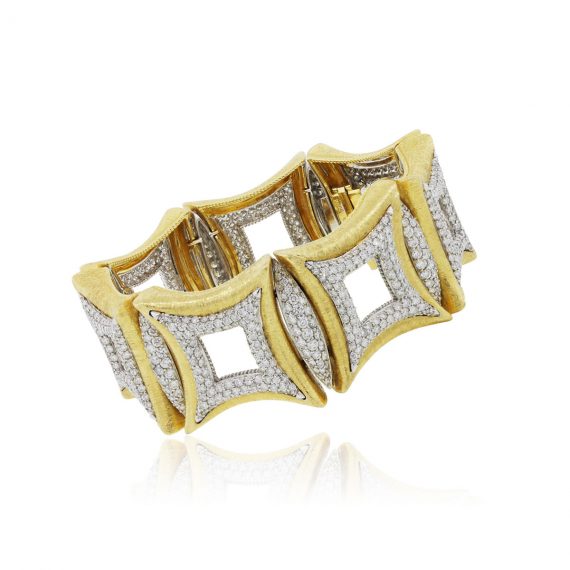 Met Gala 2018: Celebrity, Jewelry and Fashion
Referred to as "the Super Bowl of social fashion events" by former Vogue editor André Leon Talley, the Met Gala is considered New York City's biggest party of the year. Held annually by the Metropolitan Museum to mark the opening of the Costume Institute's fashion exhibit, it is notorious for exclusivity and the star-studded guest list comprising of the biggest names in Hollywood, fashion, music, politics, and business. Here's a recap if the Met Gala 2018.
This year's theme is "Heavenly Bodies: Fashion and the Catholic Imagination." As a result, there was an in an influx of out-of-this-world headpieces, crucifix pendants and painstakingly embellished gowns with elaborate trains. There were a few surprises including a marriage proposal by 2 Chainz to his longtime love Kesha Ward.
The Music
The biggest surprise of the evening was the performance of Like A Prayer by Madonna. In fact, she made quite an entrance in an all-black Jean Paul Gaultier bodysuit with a sheer cross cutout and a voluminous ball gown skirt.
The main spotlight, however, was on her accessories. They featured a gold and diamond crown with various-sized crosses by Indonesian designer Rinaldy Yunardi. They are onyx and diamond earrings by Narcisa Pheres; diamond rosaries (also by Yunardi); and mesh gloves from Jacob & Co.
In addition, another star who took a literal approach to the religious theme was none other than Rihanna. A co-chair of the gala, she made a showstopping arrival on the red carpet in what is being currently dubbed on social media as "the Pope Dress." Designed by John Galliano for Maison Margiela Artisinal, her look had a jacket, an overskirt, and a strapless mini dress. This is all fully embellished with pearls, gemstones, and beads, and was complemented with a papal-inspired headpiece.
The Jewelry Highlight
The highlight of her jewelry included two vintage Cartier Collection pendants worn as a necklace, with one pendant being a crucifix from 1934. It is made of gold, silver, diamonds, sapphires, round faceted rubies, button pearls, opal and round faceted topazes. The 'Dove of the Holy Spirit' pendant c.1949, made of gold, diamonds, a 17.20-carat star sapphire, sapphires, rubies, emerald, pearl, moonstones and opal. She also wore diamond rings by Narcisa Pheres and gold hoop earrings by Konstantino Jewelry.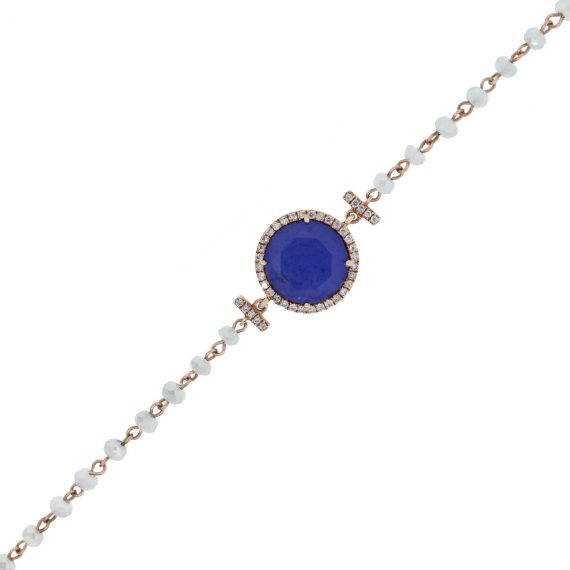 Turning heads in a glossy black sculptural piece from Iris van Herpen's Fall 2012 collection was none other than Solange. She took inspiration from the Black Madonna. She kept her jewelry cool and edgy with hoop earrings and various cuffs and bangles by Ofira Jewelz, and a 25-carat diamond ring by Lorraine Schwartz.
Taking cues from her all-black ensemble was Miley Cyrus, who arrived in a slinky black Stella McCartney gown that dipped low in the front and the back. Her jewelry was by Sydney Evan and featured hoop earrings with a large bezel cross, a Pyramid Spike Cross Charm, small spike studs, and a pavé chain link ring in yellow gold.
A Glamorous Balance
Not to be outshined for the evening's best dressed was Zendaya, a glamorous balance of masculine and feminine in a custom gunmetal-hued armor and chainmail-like creation by Versace. Looking every bit the contemporary version of Joan of Arc, she kept her jewelry minimal and feminine in Tiffany & Co. pieces.
Zendaya wore pieces such as a diamond necklace set in platinum, Tiffany HardWear earrings and rings, as well as pieces from the brand's new Paper Flowers collection.
She wore the Firefly ring with diamond clusters, and the Firefly platinum ring with yellow and white diamonds. Selena Gomez, ethereal and exquisite in a custom tiered gown by Coach, also wore Tiffany & Co. platinum jewelry. This included a Tiffany Victoria mixed cluster drop earrings with diamonds, Tiffany Victoria bracelet with diamonds, and a Tiffany Victoria mixed cluster bracelet with diamonds.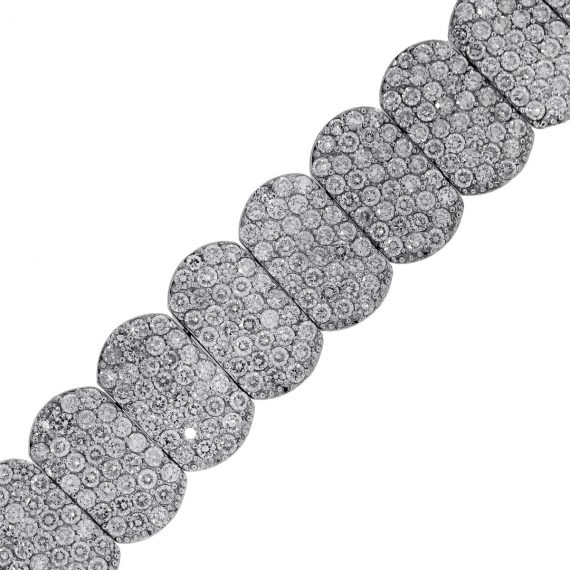 The evening's most sinful look undoubtedly went to Nicki Minaj, who was attired in a red hot Oscar de la Renta gown. When asked on the red carpet about the meaning behind her outfit, she merely stated: "I'm the bad guy and I wanted to make sure the bad guy was here." She enhanced her sultry look with platinum jewelry by Tiffany & Co.
The look included a bracelet with mixed-cut diamonds, a bracelet with emeralds and diamonds and various bracelets with diamonds. She wore three Tiffany Victoria bracelets with diamonds, 3-carat diamond ring with a red spinel, and an 8-carat rubellite ring.
Stacking Bracelets Trend
Stacking bracelets not only gives you some serious arm candy, but it's also a great way to show off your individual style. Whether you prefer mixing vintage with modern styles or prefer minimal and streamlined designs, here are stunning pieces inspired by Minaj's stack from Diamonds by Raymond Lee: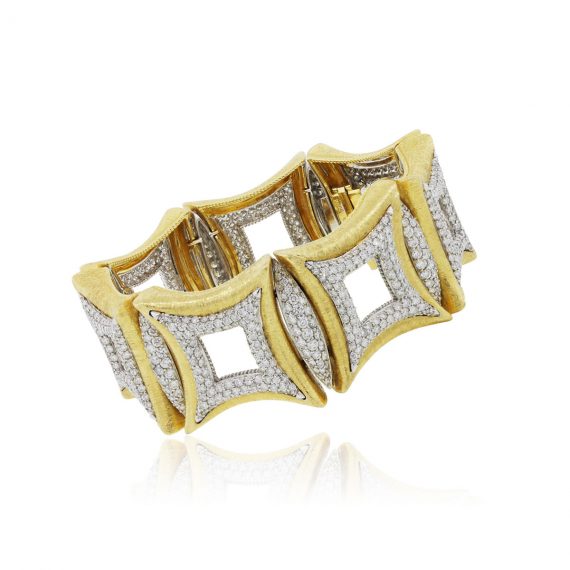 All the Models
If Nicki Miniaj exuded pure wickedness, her antithesis would be Kendall Jenner, who radiated angelic sophistication in her all-white ensemble by Off-White. She kept her accessories to a bare minimum. She opted for platinum pieces by Tiffany & Co.'s Paper Flowers collection, including the open diamond flower ring and diamond earrings.
Equally, glowing with beauty was Hailey Baldwin, who paired her off-the-shoulder chiffon gown by Tommy Hilfiger Atelier with platinum jewelry from Tiffany & Co. They are cluster drop earrings with diamonds, Tiffany Enchant scroll band ring with diamonds, Tiffany Jazz three-row ring with diamonds. Baldwin wore Tiffany Cobblestone band ring with diamonds, and two Tiffany Victoria alternating rings with diamonds.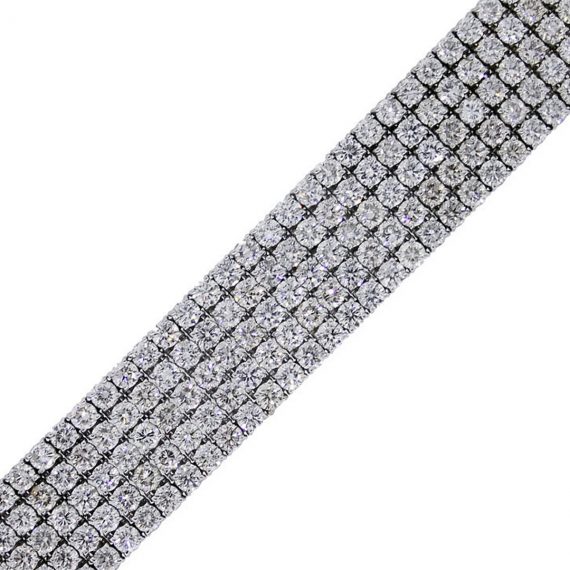 As the brand ambassador for Bulgari, Lily Aldridge paved the way for the several models that wowed in the brand's stunning pieces on the red carpet. Aldridge wore several Bulgari pieces, including a platinum, emerald and diamond High Jewelry necklace; a white gold, emerald and diamond Giardini High Jewelry necklace. Notably, she wore a platinum, emerald, diamond and pearl High Jewelry necklace; an emerald and diamond Heritage ring from 1992; and a white gold and diamond High Jewelry ring.
Following suit were Joan Smalls in a yellow gold necklace and bracelet from Bulgari's Parentesi Heritage collection; and Jourdan Dunn in white gold and diamond earrings and rings from the Serpenti Collection.
Bulgari Jewels
Winnie Harlow, dressed in a white corset silk gown by Tommy Hilfiger Atelier, perfected her look with dazzling Bulgari jewels. These included a High Jewelry white gold and diamond bracelet; a High Jewelry white gold and diamond ring; two platinum and diamond rings. Harlow wore a High Jewelry ring with tanzanite and diamonds; a Diva's Dream bracelet in white gold and diamond; two platinum and diamond Griffe rings; and a High Jewelry diamond necklace in white gold.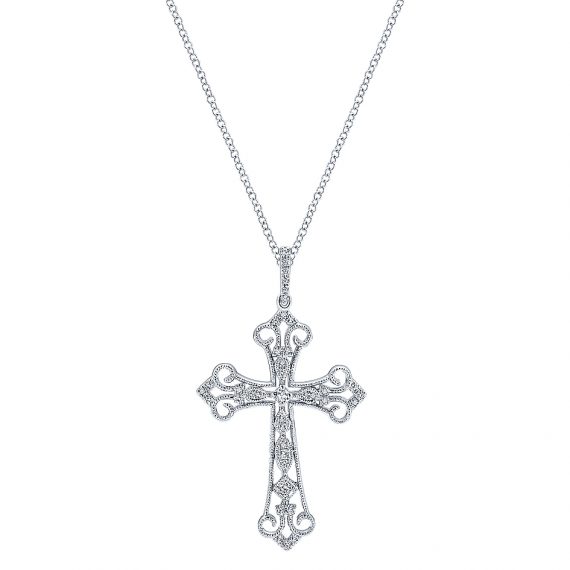 It's impossible to think of supermodels without thinking of the age-defying Cindy Crawford. Futhermore, Crawford looked phenomenal in a shimmering red Versace gown. Other than her Jacob & Co. rubelite 45-carat drop earrings and a an 11-carat ruby and diamond ring with its ruby center and round cut diamonds, she kept her accessories to a minimum.
Following suit was Victoria's Secret Angel Taylor Hill. Hill dressed in Diane Von Furstenberg and decked in Jacob & Co. jewels, which comprised of 15 carats of diamonds set in platinum; a diamond cross with 13 carat diamonds set in white gold; a chain set with 20 carats of round diamonds; and a Dome ring with 15.74 carats of pavé white diamonds.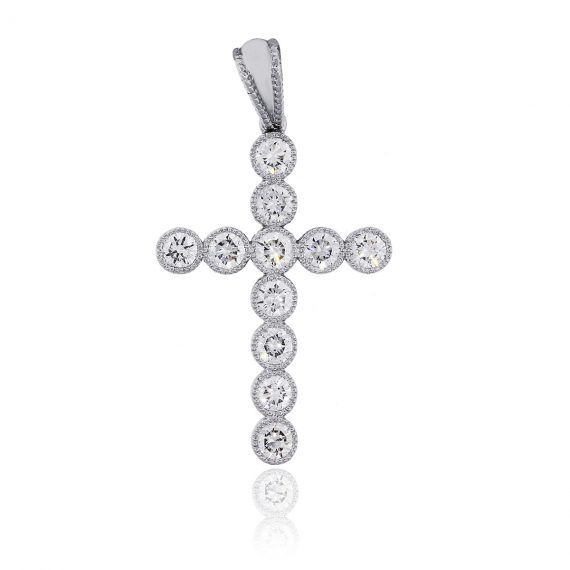 The Hadids Look
Supermodel siblings Gigi and Bella Hadid looked equally striking on the red carpet. Gigi wore a custom Versace gown reminiscent of stained glass art, opted for Lorraine Schwartz's champagne and pink diamond earrings. Bella, known for her edgier style, wore a Gareth Pugh creation of a patent leather bustier with exaggerated shoulders. Gigi sported a gold-edged chiffon veil, and fingerless gloves. Chrome Hearts was her pick for jewelry, which showcased 22-carat gold filigree crosses.
Take notes from the Hadid sisters' flawless styles with this striking piece from Diamonds by Raymond Lee: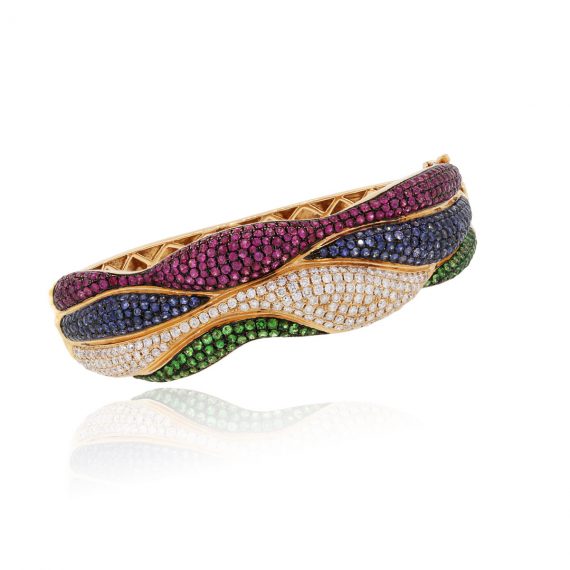 The Big and Small Screen
The Met Gala has been referred to as the East Coast's version of the Oscars, and this year's turnout definitely corroborated that. Stealing the show in custom Versace was Blake Lively, which featured a jeweled corset that took over 600 hours to make. It included a dramatic embroidered train that was so enormous.
She arrived to the event in a party bus. She finished off her look with $2M worth of jewels by Lorraine Schwartz, including three gold bracelets; three diamond and ruby rings; 30-carat Colombian emerald and diamond dagger earrings in 18l gold, her own Lorraine Schwartz engagement ring, and a custom halo featuring 100 carats of champagne diamonds.
Intricate Detail
Other gowns took hours of detailed and intricate embroidery include Uma Thurman's white silk wool gown by Gabriela Hurst, with over 2500 sweet water pearls beaded on its train. In addition, she paired it with earrings and a white gold necklace with various crucifixes made from Colombian emeralds, Ceylon sapphires, diamonds, and pink sapphires from Madagascar.
Another noteworthy dress is by Altuzarra, who designed a gown for Salma Hayek made entirely from sequin paillettes. Glenn Shapiro's Cascade Set complemented her look, which comprised of an earring and bangle set in blue titanium and diamonds. The bangle weighed a total of 66.27 carats.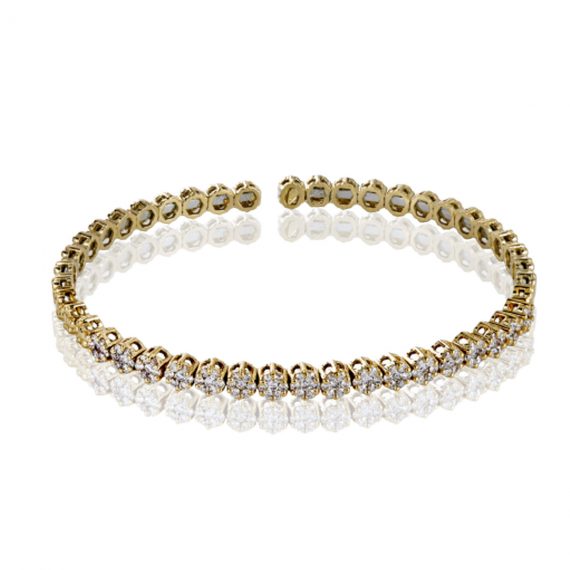 Vintage and contemporary Cartier pieces were seen on most A-list stars. The Cartier pieces including Givenchy-clad Lily Collins, who was exquisite in an 18k white gold and diamond necklace; silver, onyx. Also seen were 18k white gold earrings c.1929; and a Nouvelle Vague ring made of 18k rose gold, black lacquer, diamonds.
Similarly, Priyanka Chopra opted for Cartier jewels to go with her Ralph Lauren velvet gown, which comprised of: a pendant made of 18k yellow gold, rubies, sapphires, emerald. Chopra wore a ring made of 18k yellow gold, rubies, emeralds, sapphires, diamonds.
She wore two rings in 18k yellow gold, rubies; a c.1945 ring in 18k yellow gold, emerald, rubies. Also, Chopra wore an 18k yellow gold ring with black lacquer, citrine, diamonds; an 18k yellow gold ring with black lacquer, peridot, diamonds. Chopra opted for a Juste un Clou 18k rose gold ring with diamonds; and a Amulette de Cartier ring in 18k rose with gold, onyx, diamonds.
Saunt Laurent Chic
Big Littles Lies actress Zoe Kravitz was the epitome of chic in her black lace Saint Laurent mini dress. She paired it with standout pieces from Jacob & Co.: drop earrings featuring 100 carats of pear shaped Morganite. Kravitz wore a 7-carat vivid pink emerald cut diamond ring set with pink and white diamonds.
Newcomer Katherine Langford, from the hit series Thirteen Reasons Why, made her Met Gala debut looking very regal. In addition, she boasted a red silk Prada gown and a cape embroidered with colored crystal motifs. Langford wore an eclectic mix of jewelry was a well-curated selection of antique Etruscan Revival bracelets. She had on a Victorian garnet bracelet, a yellow gold and diamond bombe ring from the '70s, a blue enamel ring and a yellow gold and blue enamel diamond bangle.
Langford may be new to the scene, but she definitely made a fashionable impression during her first Met Gala. Like Minaj, she proved that the bracelet stacking trend is here to stay. Channel your inner Langford with this gorgeous piece from Diamonds by Raymond Lee: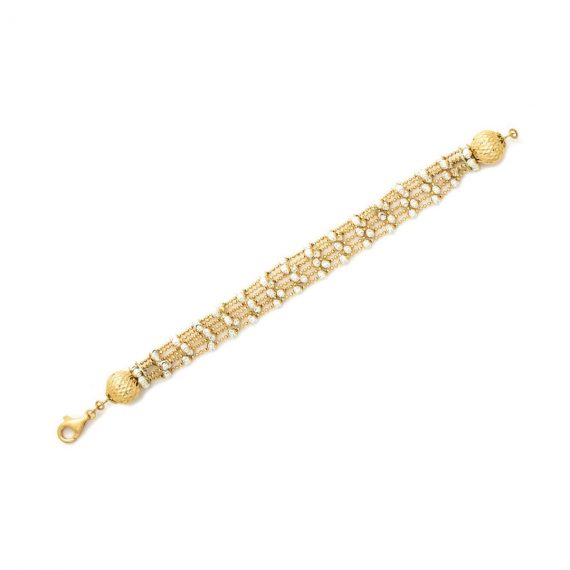 The Gents
While most of the attention centered on the haute couture gowns, the dapper figures seen on the red carpet deserve their own mentions. Big Little Lies actor Alexander Skarsgard looked sharp in a black and white Brioni tux and David Yurman cufflinks. What caught everyone's eye was a green and silver pin designed by Cartier in 1927. The pin is embellished with diamonds, cabochon-cut emeralds, and black onyx.
Black Panther star Chadwick Boseman made his Met Gala debut in a crucifix-adorned cape and suit by Versace. Notably, he paired it with Bulgari B.zero1 yellow gold rings. His fellow co-star Michael B. Jordan wore an Off-White navy pinstripe suit and a David Yurman diamond cross pin.
Musika Frère for Men
No party would be complete without P. Diddy, stylish in an all-white suit by Musika Frère. Most noteworthy is the serious bling from Lorraine Schwartz, especially his diamond cross pendant and necklace. Not to outdo him was his son Christian Combs. Combs wore a Dolce & Gabbana velvet tuxedo with gold metal thread embroidery and crosses with precious stones.
The crucifix necklace is a timeless piece of jewelry that will never go out of style. Check out these impressive designs from Diamonds by Raymond Lee: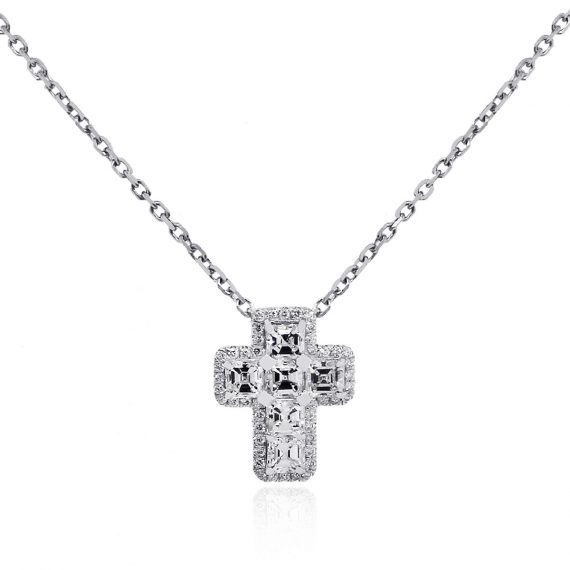 While the Met Gala will always be one of the most exclusive events that most of us likely won't get to experience, owning jewelry as covetable as the one seen on the red carpet, is a good close second. As Rihanne aptly told The New York Times: "When you're going to host the Met, you have to go for the most." After all, don't we all want to host the best versions of our lives?
If you are in the Boca Raton area, check out Diamonds by Raymond Lee for an unparalleled selection of quality jewelry.