How to Wear Accessories with Your Rolex Watch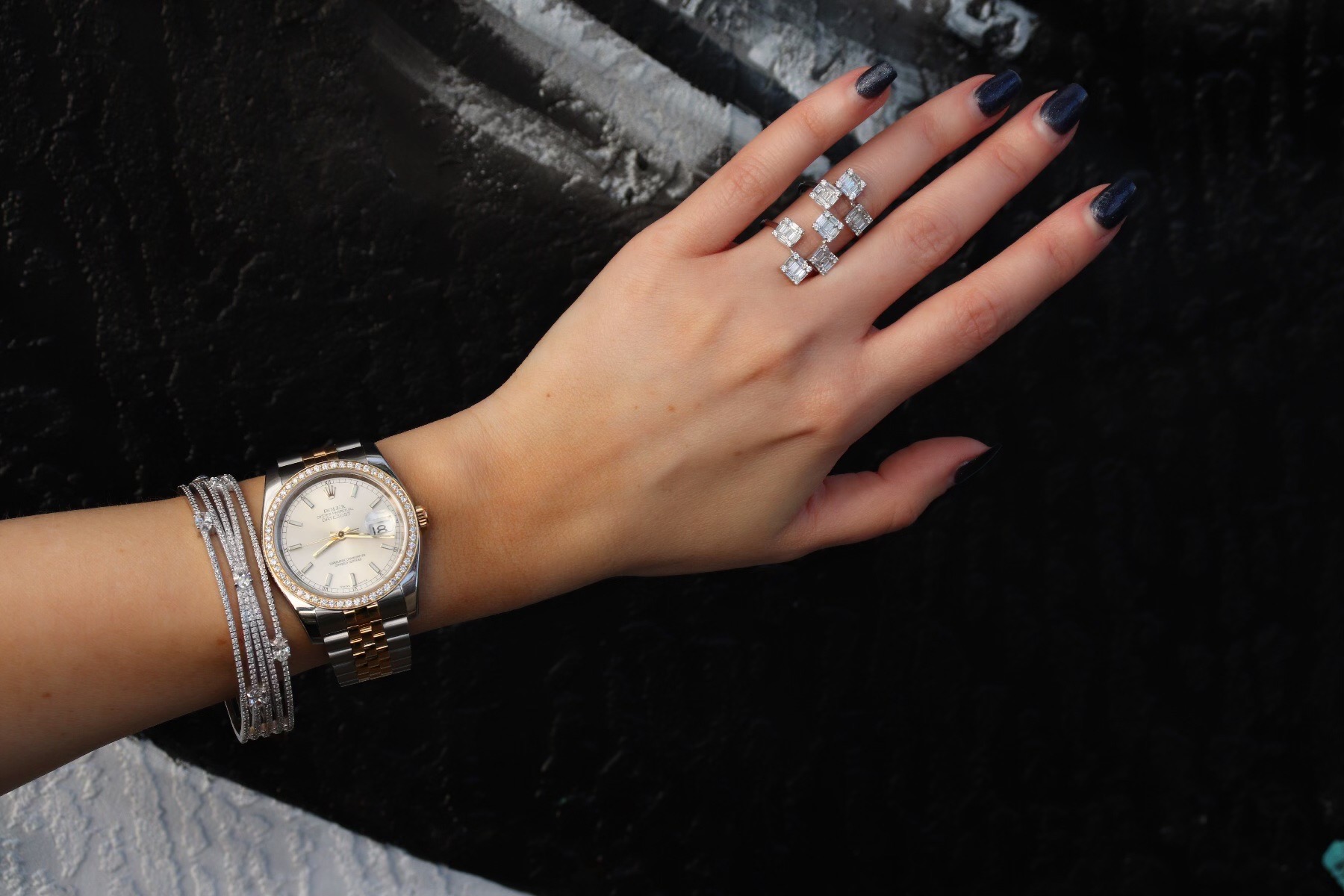 Sometimes a wristwatch just isn't enough, even a Rolex.
A Rolex will always be modish. It's a watch made to own wrist real estate. It doesn't need accessories…HOWEVER, there are a lot of benefits to wearing some accessories like diamond rings and bracelets with your Rolex.
Here's why it's cool for women to wear accessories with a Rolex:
It distinguishes your watch from the rest (especially true for the more popular Rolex models)
It shows personality.
If you are wearing a men's Rolex, accessories will soften up your look and take away some of the masculinity.
It allows you to transform the look of your watch without actually changing your watch.
It's fun!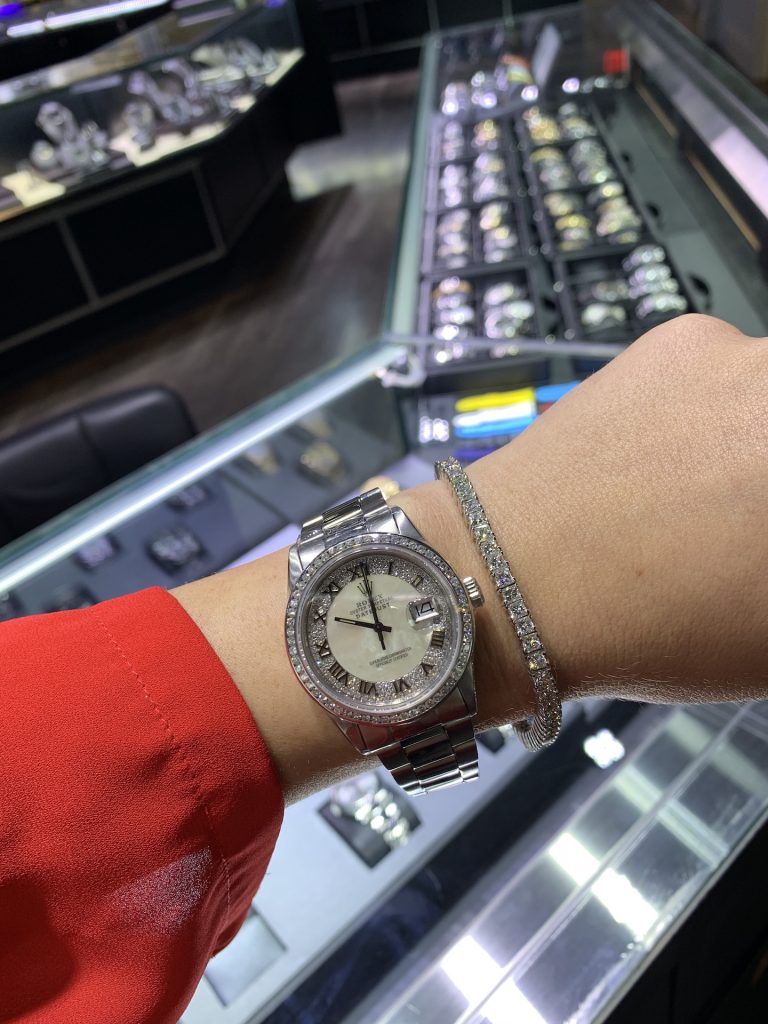 Accenting your watch with diamond and precious metal bangles, bracelets, and rings is the elite way to go about wearing accessories with a Rolex.
It is luxury with luxury. And with that, no one can deny your style's brilliance…even Rolex purists.
So, while Rolex watches are beautiful on their own, you have no reason not to add some accessories. Beautiful pieces stacked next to or near one another is an extremely hot trend, so don't hesitate to get on it!
How to wear accessories with your Rolex?
Let the following Rolex accessories inspire you. These Rolex watches with diamond jewelry accessories have been put together by jewelry and watch styling pros.
Moreover, these aren't just examples to give you an idea, all of the below jewelry and watches are available now at Diamonds By Raymond Lee. So, if you love what you see, you can purchase them from us at our state-of-the-art jewelry showroom or right here online.
Note: Follow the links to see full sales listings for the Rolex and diamond jewelry accessories.
Zebra Rolex Datejust with a Diamond Snake Motif Ring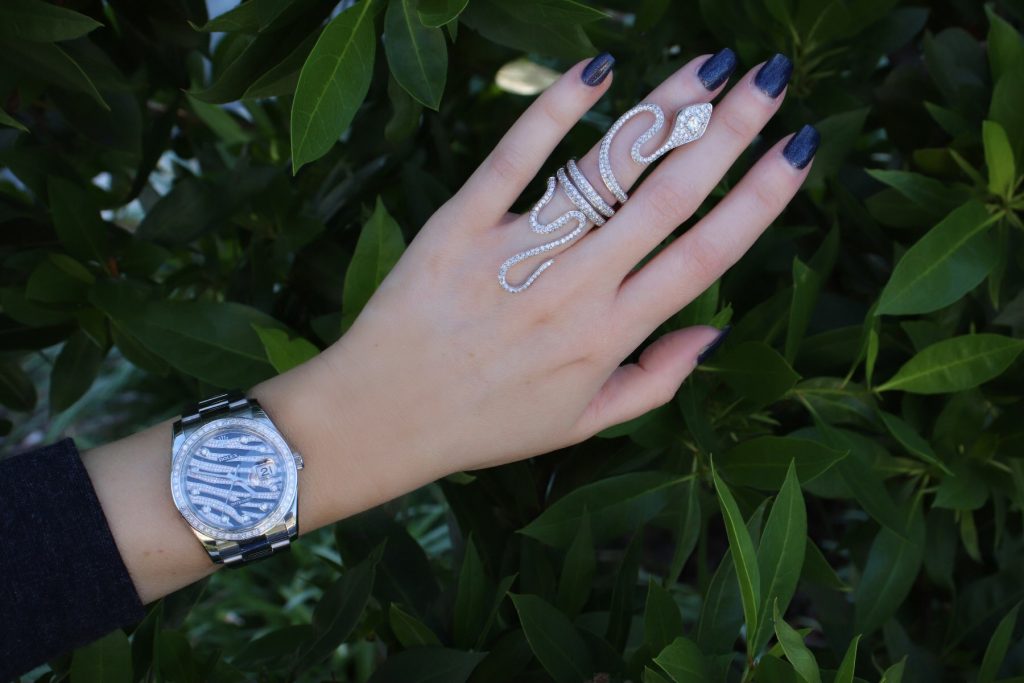 Feeling animalistic?
Here we have a Datejust that was once a plain stainless steel Rolex 116200…but now, it is something completely unique.
Using white gold and a multitude of high-quality diamonds, the dial was crafted into a one-of-a-kind zebra motif. The white gold pave diamond channels sweep along the matte black background, creating the resemblance of zebra stripes.
It also features an aftermarket stainless steel bezel set with stunning round brilliant diamonds – Completely made from scratch.
The watch simply can't be missed. And although it easily attracts attention all on its own, why not spice things up even more?
Exactly. A diamond Rolex looks fantastic with diamond jewelry friends. It helps to create a look people won't forget.
So, we decided to accessorize this unique Rolex with an equally unique diamond ring. And one of zoological nature as well.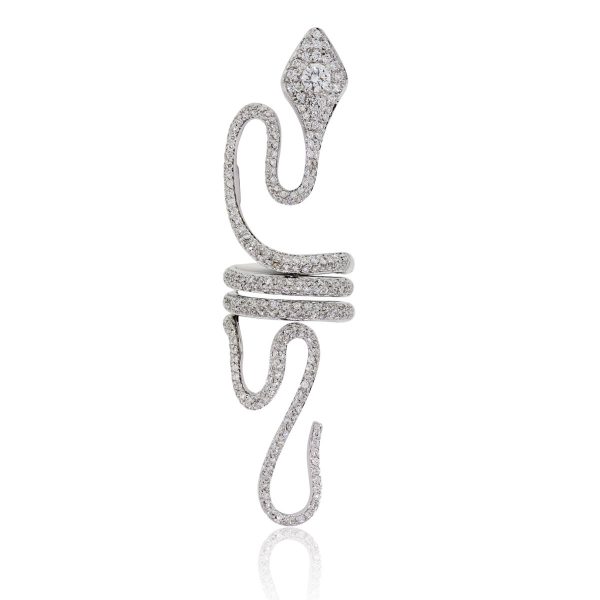 The snake motif diamond ring twists and wraps around the finger, completely cover it from nail to knuckle. The ring itself is made from 18K white gold and the diamonds total a considerable 3.5 carats.
This is a look made for fashion-forward women who love the natural world.
Animal diamond motifs are the perfect way to bring a primitive feel to the modern world of fine jewelry. If you love this look, both the Rolex Zebra Timepiece and the Snake Diamond Ring are available now at Diamonds By Raymond Lee.
Zebra Rolex with a Cartier Love Ring and Round Engagement Ring Stack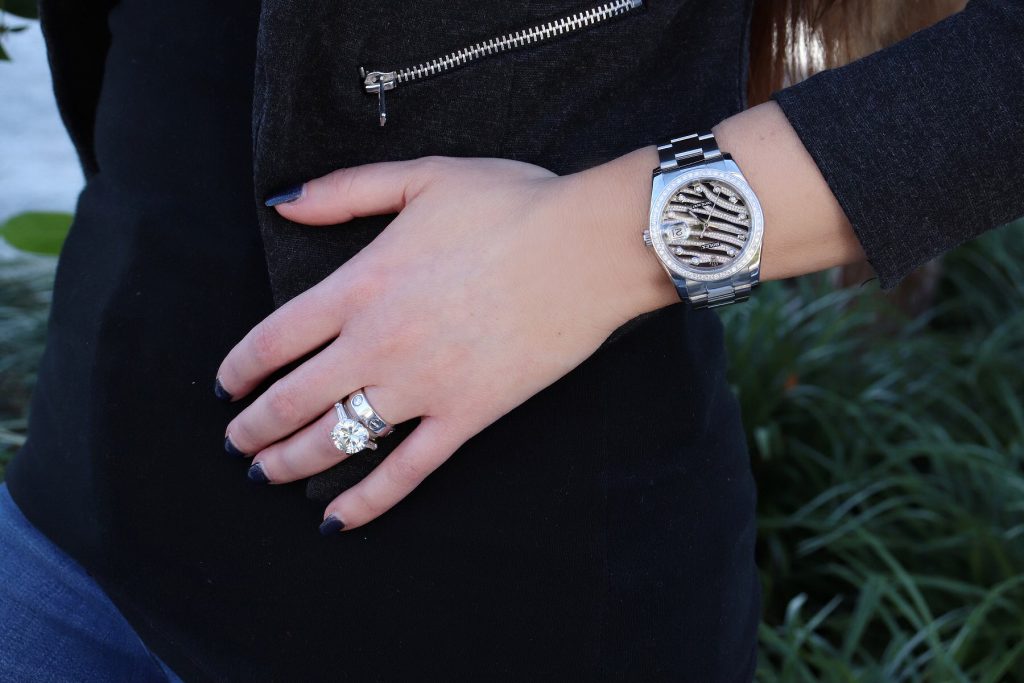 Taking a more understated approach with the Zebra Rolex Datejust, yet by no means less stunning, we have an incredible engagement ring stack.

Although it's hard to notice anything when there is a diamond engagement ring of that size in the picture, we are sure you immediately recognize the band behind it. It is, of course, the classic, timeless, iconic, Cartier Love ring. This Cartier Love Ring is the wider model, and it has diamonds, because you know…diamonds on diamonds on diamonds.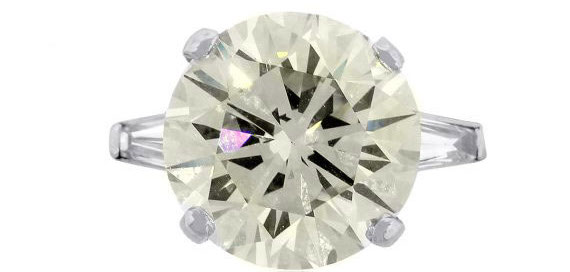 Stacked above the Cartier Love is a ring that garners much attention. It is a platinum three stone large round brilliant diamond engagement ring. The 2 carat centerpiece features two adjacent baguette side stones. It is a gorgeous engagement ring with a downright regal demeanor.
All in all, everything about the 'Rolex x accessory' get-up is flawless. We mixed metals but we kept the same color theme. And even though we love to mix metals at Diamonds By Raymond Lee, this creates an undeniably harmonious look that we simply adore.
What we put together here is more than a "Rolex plus accessories" match up. It is an everyday wear, perfect for a newly engaged Rolex-loving woman who can't wait to stack her engagement ring.
Zebra Rolex with Black Stackable Rings and Keyhole Ring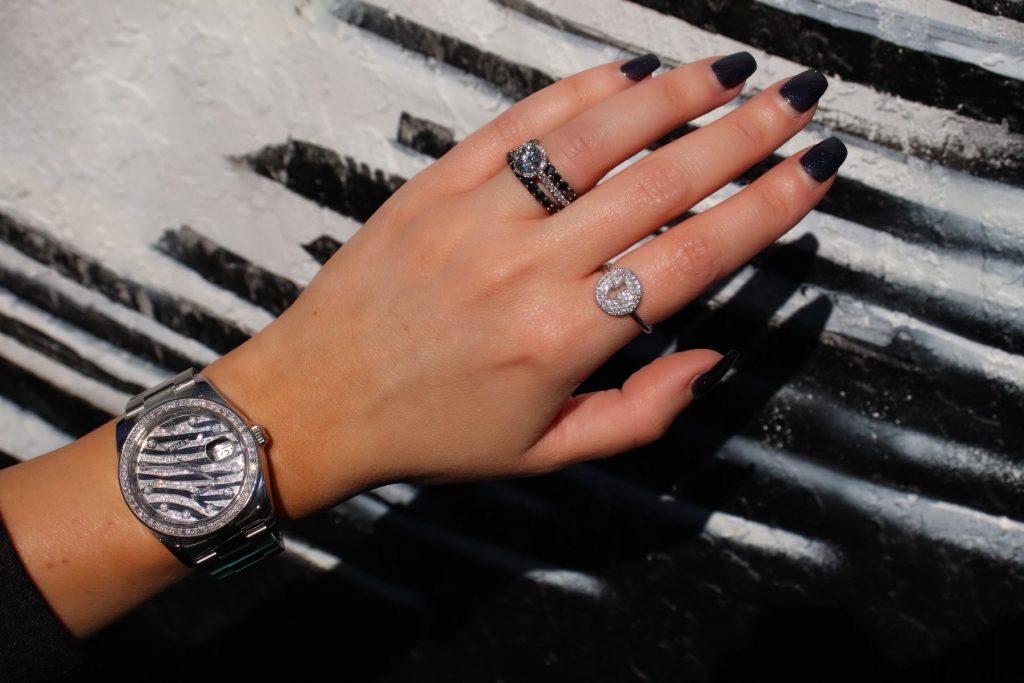 Going with a black and gray theme always makes for a fresh look. You really can't go wrong with these neutral colors. Plus they will match with pretty much any outfit.
As with the other ensembles above, we left the wrist property entirely to the Zebra Rolex Datejust and the accessories to the fingers.
Of course, we went with diamond rings again, for good measure…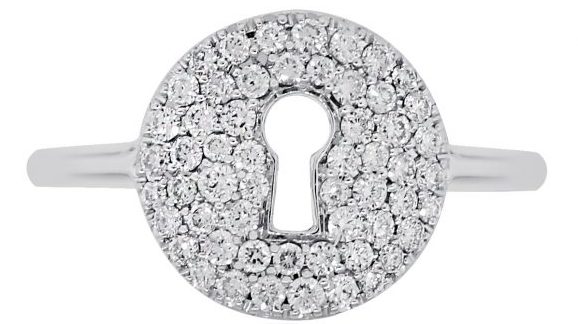 On the pointer finger she's wearing an 18K white gold diamond keyhole ring. The diamond features .54 carats of small round brilliant diamonds. Although that isn't a lot, the volume of the setting makes this ring sparkle in a remarkable manner. It's such a simple ring but it definitely stands out for its brilliance and distinctiveness.

Stacked above and below her engagement ring are two identical stackable black diamond bands. Each band contains 1.25 carats of black diamonds. The two prong set black diamond bands pop magnificently, offering beautiful contrast with the engagement juxtaposed in the middle. Black diamonds are highly sought after these days, so this is definitely a trendy stylish stack made for the modern time.
Note: A fresh set of nails is always a smart accessory for women with men's Rolex watches too. It helps produce a more feminine look. Although with all the diamonds, it already has all the necessary feminal appeal. But who doesn't like to have their nails done?
As you can see with this Zebra Rolex Datejust, swapping jewelry can completely change the look of your timepiece without actually changing it! Moreover, it keeps boredom at arm's length. This is why having an arsenal of accessories for your Rolex is crucial if you want to transform your style day in and day out.
Rolex Datejust Steel MOP with a Classic Tennis Bracelet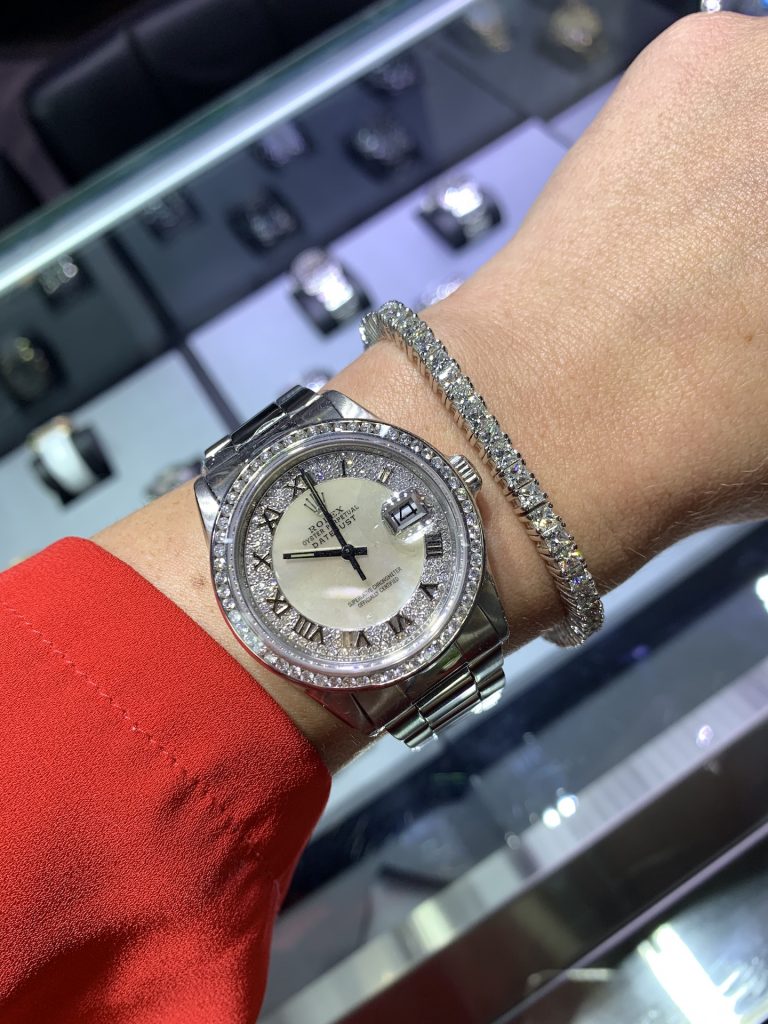 Presenting you with another diamond Rolex Datejust, but this time we took a classic route. Albeit, one of lavish nature.
The Rolex Datejust 16013 is a stainless steel watch. It has an Oysterbracelet that integrates flawlessly with its 36mm case (the perfect case size for a woman who likes a slightly oversized watch). The aftermarket bezel displays a halo of round brilliant diamonds, allowing it to shine and shimmer with every beam of light. Then the stunning diamond Mother of Pearl dial that only amplifies this to the umpteenth degree.
The dial of this watch is surely the main attraction. It gives a vintage, commandment-like flavor with its Roman numeral dial and gorgeous pearl center dial. For those who don't know, Mother of Pearl dials are literally made from a pearl…the outer casing of pearls to be exact.
Around the off-white pearl are three rows of round brilliant diamonds, which give this watch the gleam every girl dreams of.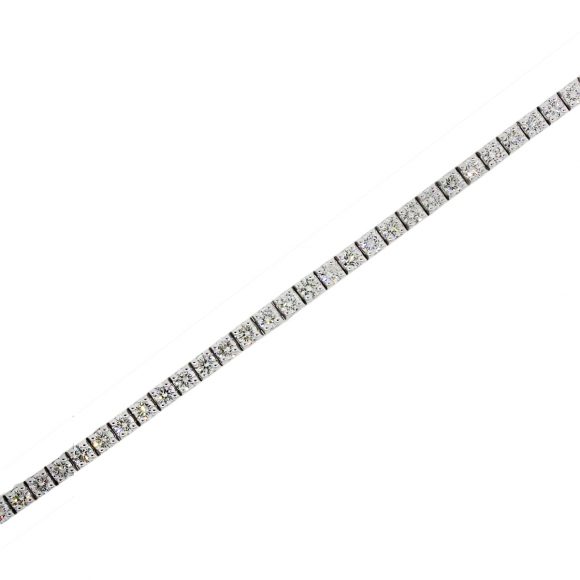 Now, for the first time in this inspirational Rolex accessory post, we threw on a bracelet with our Rolex. But not just any bracelet. This is a diamond tennis bracelet.
A diamond tennis bracelet is probably the most classic Rolex accessory. We have it on the crown-side, which is the traditional way to stack a tennis bracelet with a Rolex…although there is no right or wrong way.
We felt the diamond tennis bracelet was an obvious choice, and we had to use it at least once when putting together some of our favorite ways to accessorize a Rolex for women. It's a style that has existed for a long time, so you really can't go wrong here. It's appropriate for corporate settings, formal events, and casual days out with the girls.
Overall, the diamond tennis bracelet is the quintessential example of a Rolex accessory, especially if you have a Rolex embellished with diamonds. They go together so well you'd think they were sold in pairs.
Two-Tone Datejust with Unique Diamond Jewelry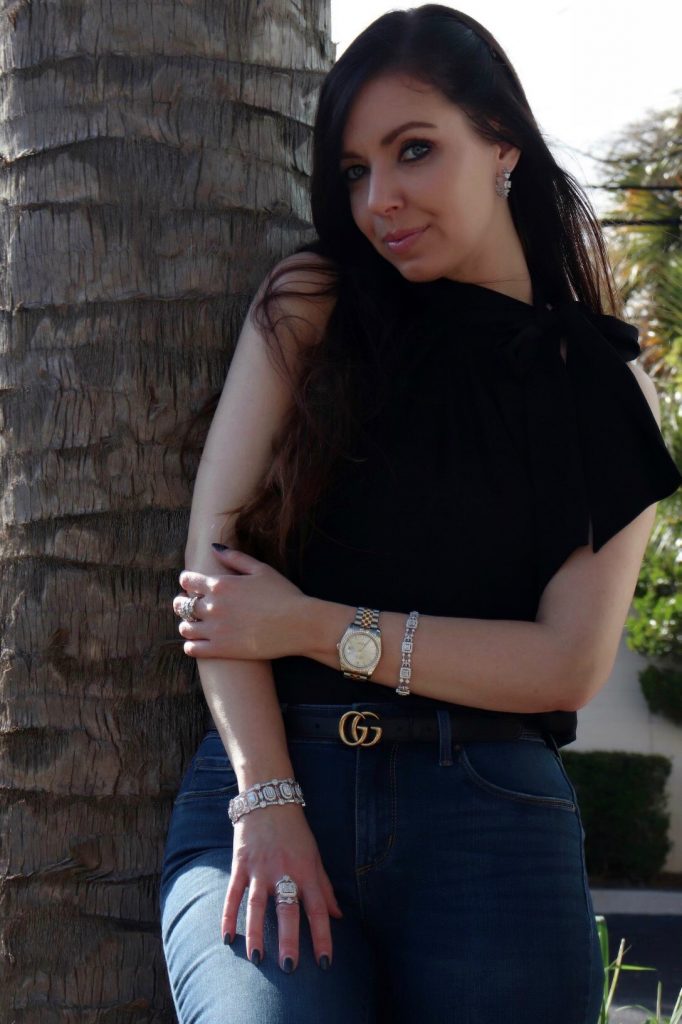 Here we have a more subtle diamond Datejust. This classic two-toned Datejust only features a diamond-set bezel. A look that essentially epitomizes Rolex's most iconic dress watch.
So, for this one, we took our accessories to the next level. This is Rolex accessorizing for the most affluent women who love a flashy yet classy look.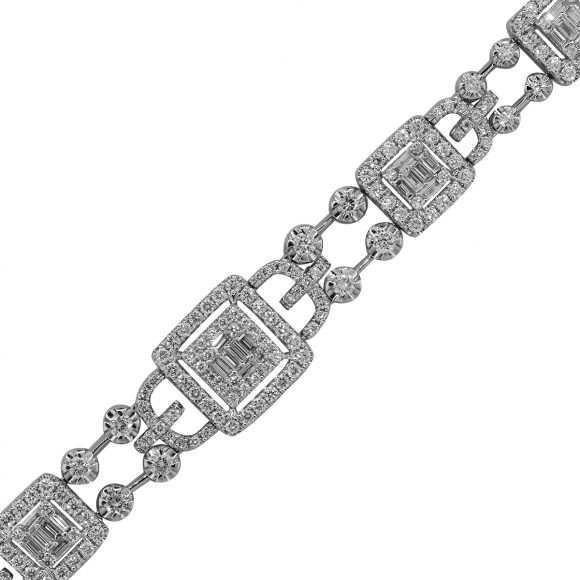 Stacked on the opposite side of the Datejust's crown, we have an 18K White Gold Open Diamond Station Bracelet. It features 3.52 carats of white round brilliant diamonds. This is a breathtaking, delicate bracelet. Its frosty structure is utterly unique, so it's not something you can expect to see on other women. Of course, that's a good thing…The piece is completely private label and one-of-a-kind.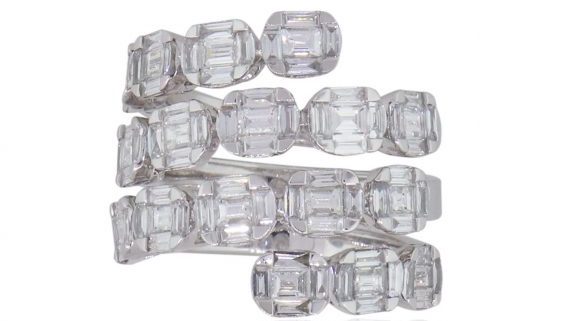 She is also wearing an 18K White Gold 2.60Ctw 4 Row Diamond Wrap Around Ring. It is comprised of emerald cut diamonds, so it offers a nice contrast with the round brilliant diamonds.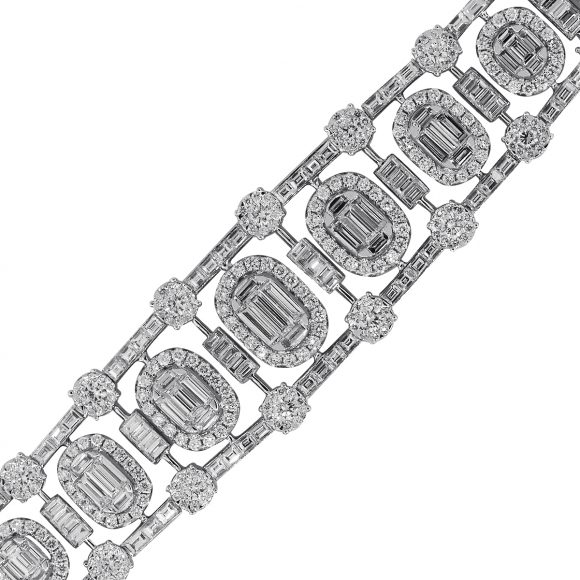 Then, on the opposite arm of her Rolex, we have two accessories of a similar design. On her wrists rests a jaw-dropping 18K White Gold 5.85Ctw Round and 10.63Ctw Baguette Diamond Free Form Bracelet. That's a ton of diamonds for the wrist to carry. Nevertheless, this bracelet is surprisingly comfortable. The heaviest thing about it is its price tag.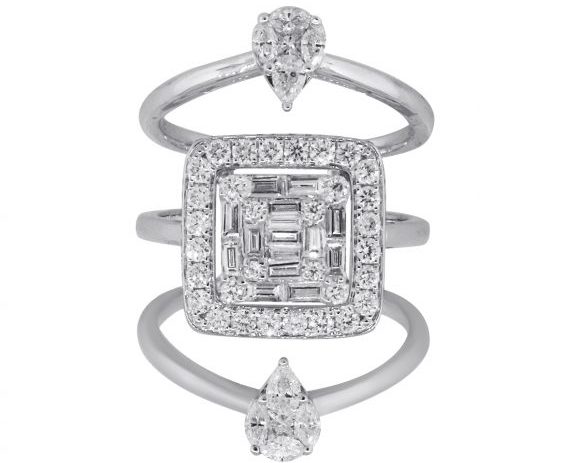 Finally, adding the final flashy and intense touch to this ensemble, we have a diamond ring that we can confidently say you've never seen anything like before. It may appear like multiple rings, but it is actually one ring. This 18K White Gold Three Strand Ring interlocks at the center. Furthermore, it displays 3 different diamonds shapes – round, pear and baguette cut diamonds. If being original is something you desire, this ring, along with the rest of these Rolex accessories, are for you.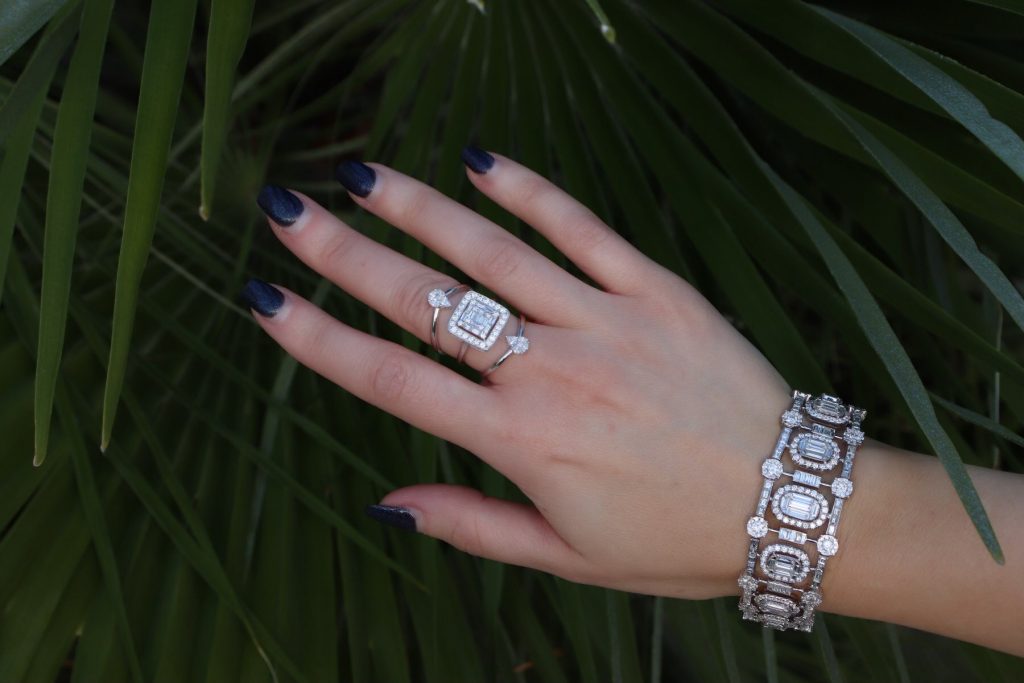 All in all, being that the accessories are large, wearing only one on each hand and wrist provides a clean, smart, uncluttered look. Moreover, it allows each piece to get the attention it deserves.
Two-Tone Datejust with a 5 Strand Diamond Bracelet and a Station Diamond Ring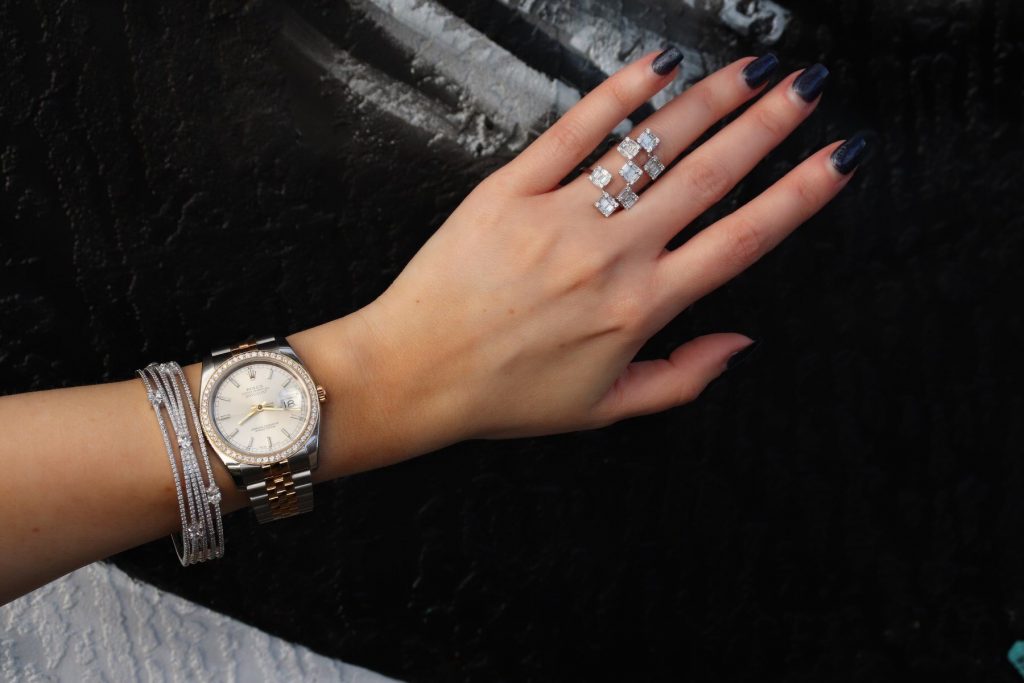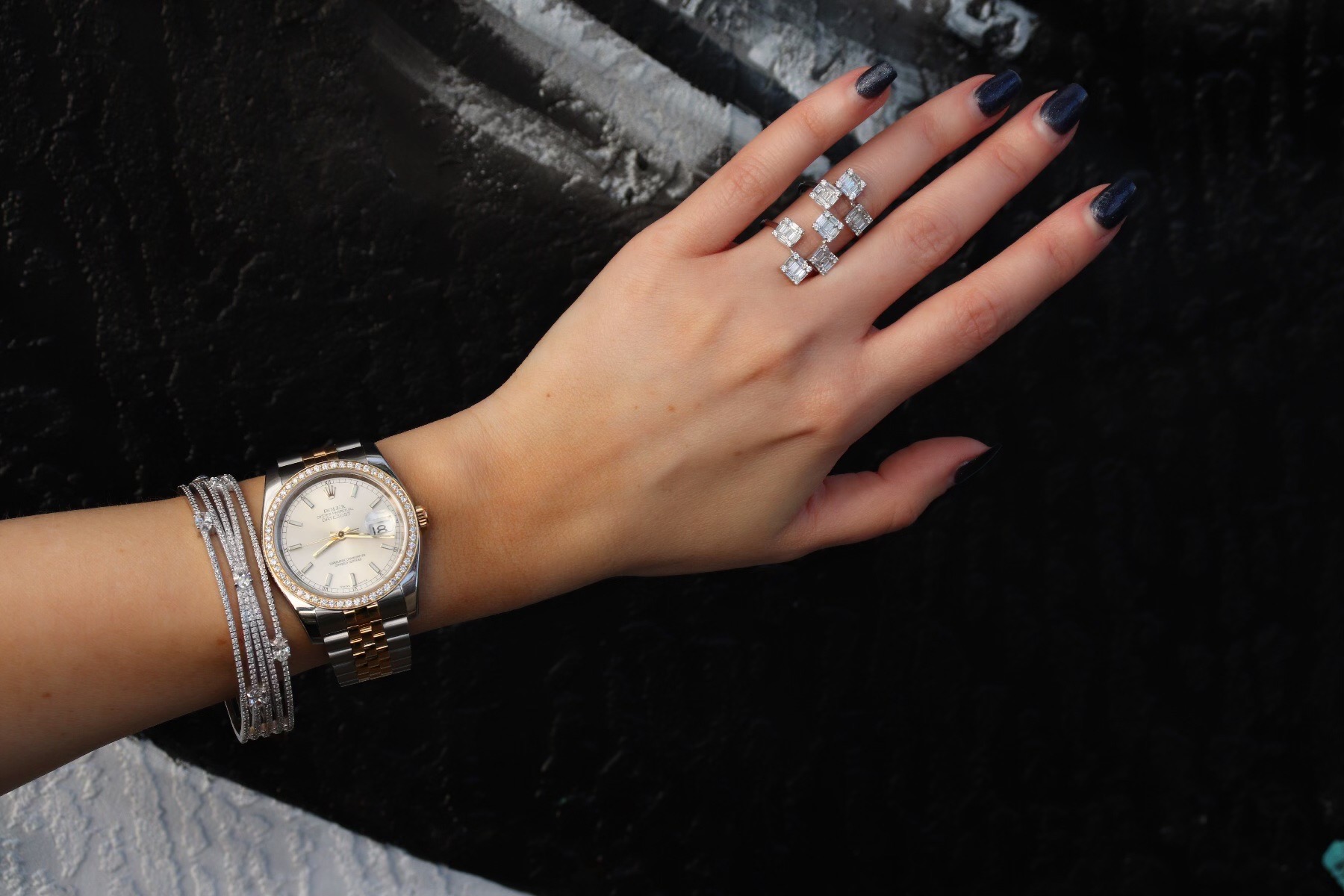 Again, same watch, new look. The diamond bezel Rolex Datejust pairs beautifully with other diamond bracelets and rings too!
Stacked above the Rolex Datejust is a captivating 5 strand diamond bracelet. Each strand exhibits identical, perfectly uniformed prong-set diamonds, but to give this bracelet extra zeal, there are oval diamonds spaced across each strand. And if you are worried about this bracelet stealing some of your Rolex's shine. Don't worry about it, the Rolex is just as powerful with or without it…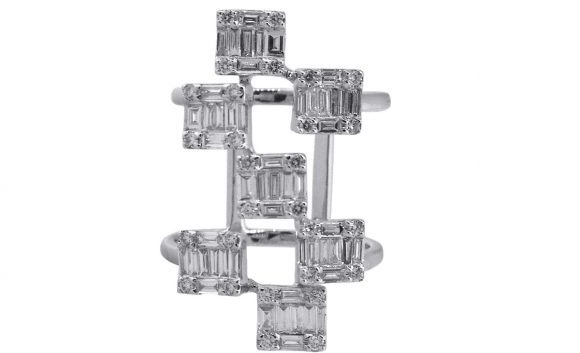 And then, on her finger, we have a 7 station diamond ring made from 18K white gold. As with most of the accessories in this feature, it is of the finest quality and it is supremely unique. It's a ring that stands alone, but can complement the rest.
So, we will end this here. We hope this has given you some inspiration for styling your Rolex with fine diamond accessories.
Whether you choose to accessorize or keep things simple with just the Rolex, your Rolex will not care…What we mean is, do what you love. Do what you think looks good! Personally, we think a Rolex, especially a diamond Rolex, with diamond accessories is a game changer. Once you go accessories, you won't go back. There's a reason it's so popular in fashion magazines these days…it looks spectacularly striking!
Shop Luxury Watches and Fine Diamond Jewelry
If you have any questions about how to wear accessories with your Rolex or you want to know more about a specific piece at Diamonds By Raymond Lee, please feel free to contact us.
Let us know how you accessorize your Rolex in the comments below!