Holman Motorcars Test Drive Event At Diamonds By Raymond Lee
Recap of the Holman Motorcars Test Drive Event At Diamonds By Raymond Lee – March 16th, 2019.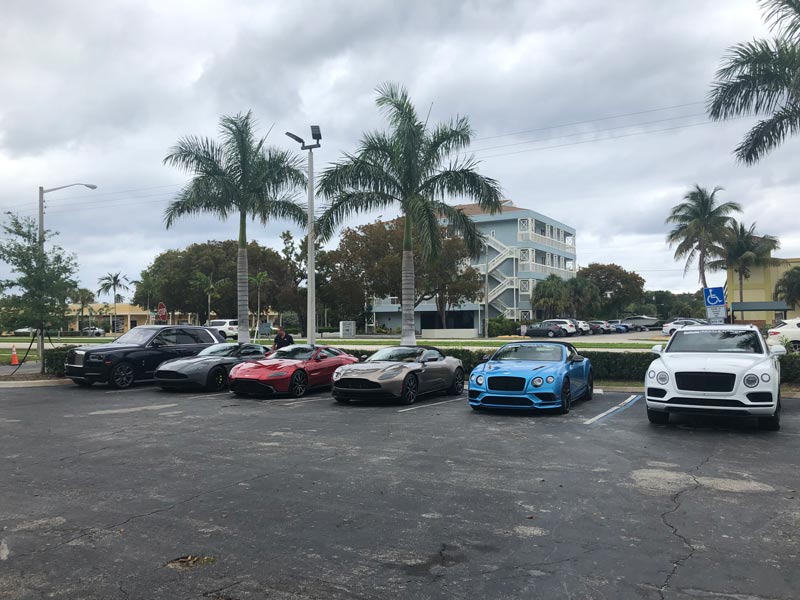 This past Saturday (March 16th, 2019), Holman Motorcars of Fort Lauderdale and Diamonds by Raymond Lee teamed up to host a private test drive event.
We held the test drive event at our retail location, Diamonds by Raymond Lee in Boca Raton, and Holman Motorcars provided the cars. The event ran from 10am to 4pm and our clients were able to test out 6 new vehicles – Aston Martin DB11 Convertible and Hardtop, Aston Martin Vantage, Bentley Supersport, Bentley Bentayga, and Rolls-Royce Cullinan.
Everyone had time to ask their personal sales rep questions, tour the inside and outside of each car (learning every detail and option available), and go for a 20-minute test drive.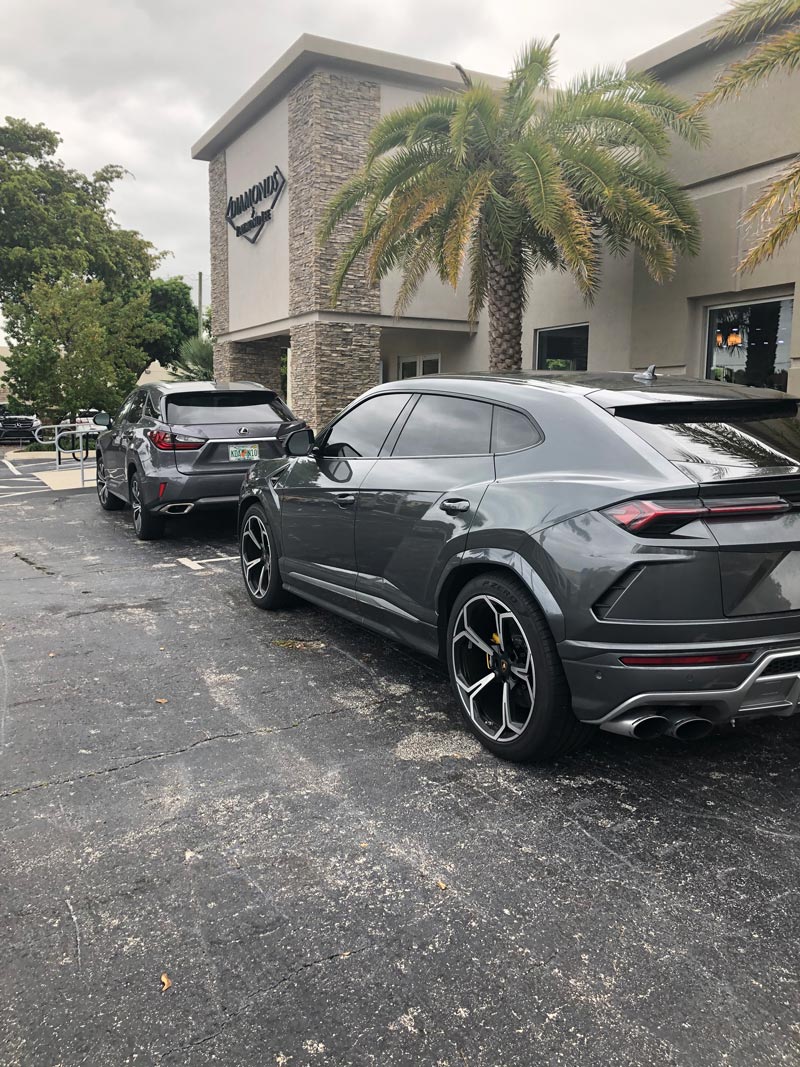 All 5 senses were fully engaged. The 6 cars were going out, hitting the roads, constantly, to be put to the test, for the entire event. So, as you can imagine, the sounds were that of a car nuts dream. Our clients were able to touch the car and feel how it drives, smell the brand new interior, and to satisfy the taste buds, Holman Motorcars brought a delicious breakfast spread from Panera.
On the inside of Diamonds by Raymond Lee, our store kept busy and we did some great sales.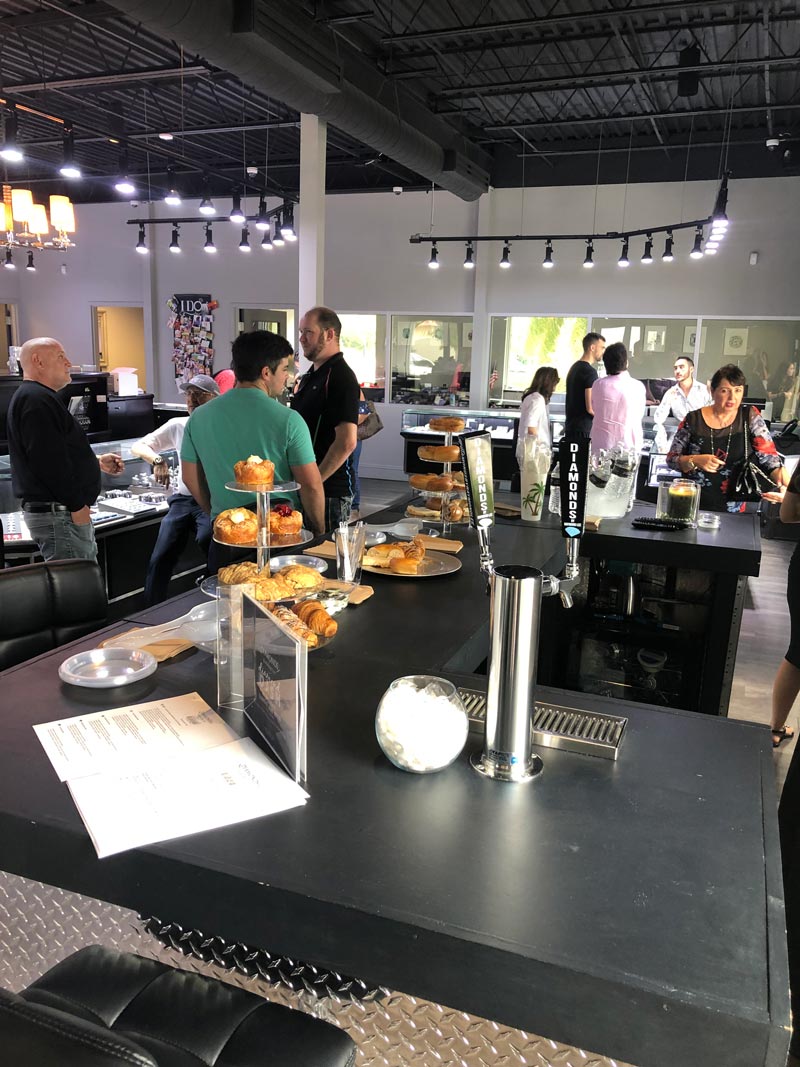 All in all, it was a win-win-win across the board. Our clients were happy, Holman Motorcars was happy, and we were happy. We couldn't have asked for a better test drive event…even the weather held up!
Highlights from

 the Holman Motorcars Test Drive Event At Diamonds By Raymond Lee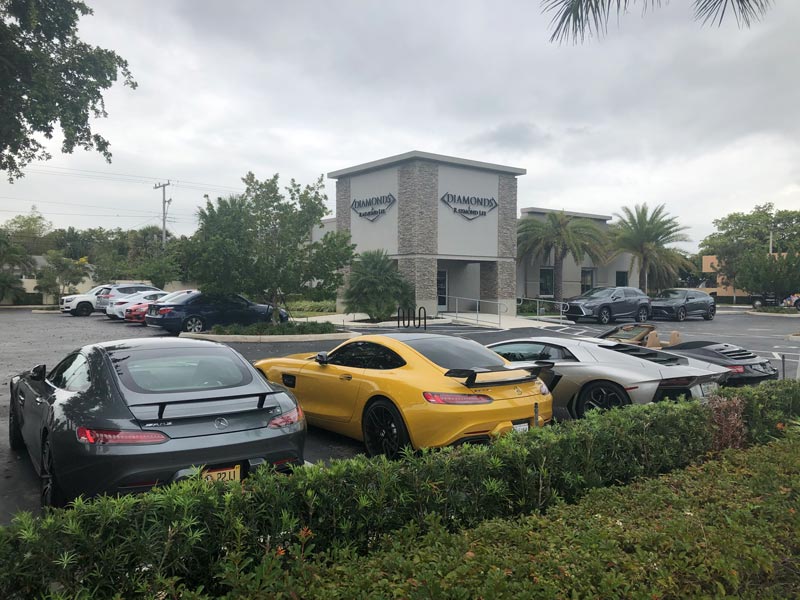 Let's drive through the highlights of the Holman Motorcars test drive event…
Aston Martin DB11 Convertible & Hardtop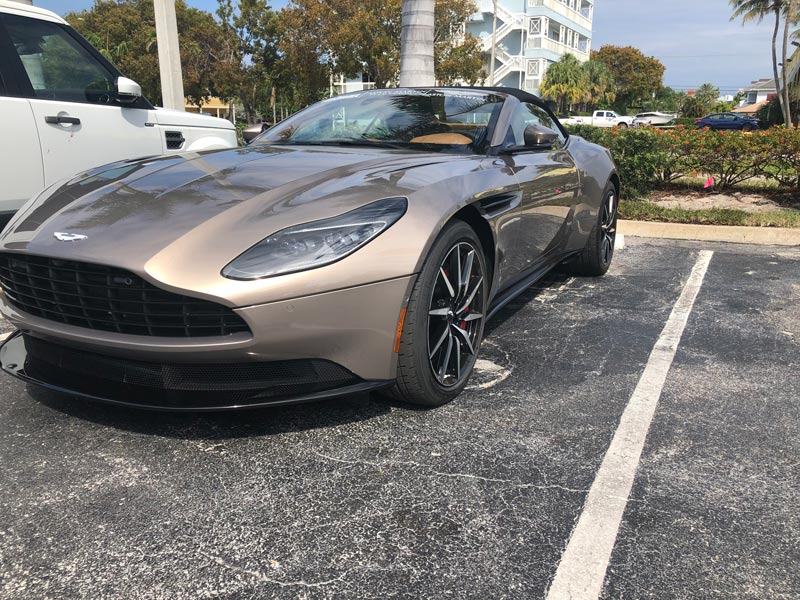 The Aston Martin DB11 is a grand tourer, which means it is a car designed for high speeds and long distance traveling. It combines both luxury and performance attributes with supreme integrity.
The design of the DB11 is distinct and lustful, to say the least. The style is truly incomparable. It has a richly detailed interior and enough tech to keep you busy and satisfied, yet not overwhelmed.
The standard tech includes an 8-inch navigation display, infotainment dial-and-trace controller (taken from Mercedes), and a digital instrument panel.
The seats hold you firmly in place around sharp corners. The comfort the DB11 provides makes it perfect for long-distance touring.
The ventilated seat option is something we loved too, being that we are down here driving through the inexplicable heat of South Florida.
From rich leather upholstery to wood trim, it has an extensive list of options that allow you to tailor the vehicle to your personal inclination.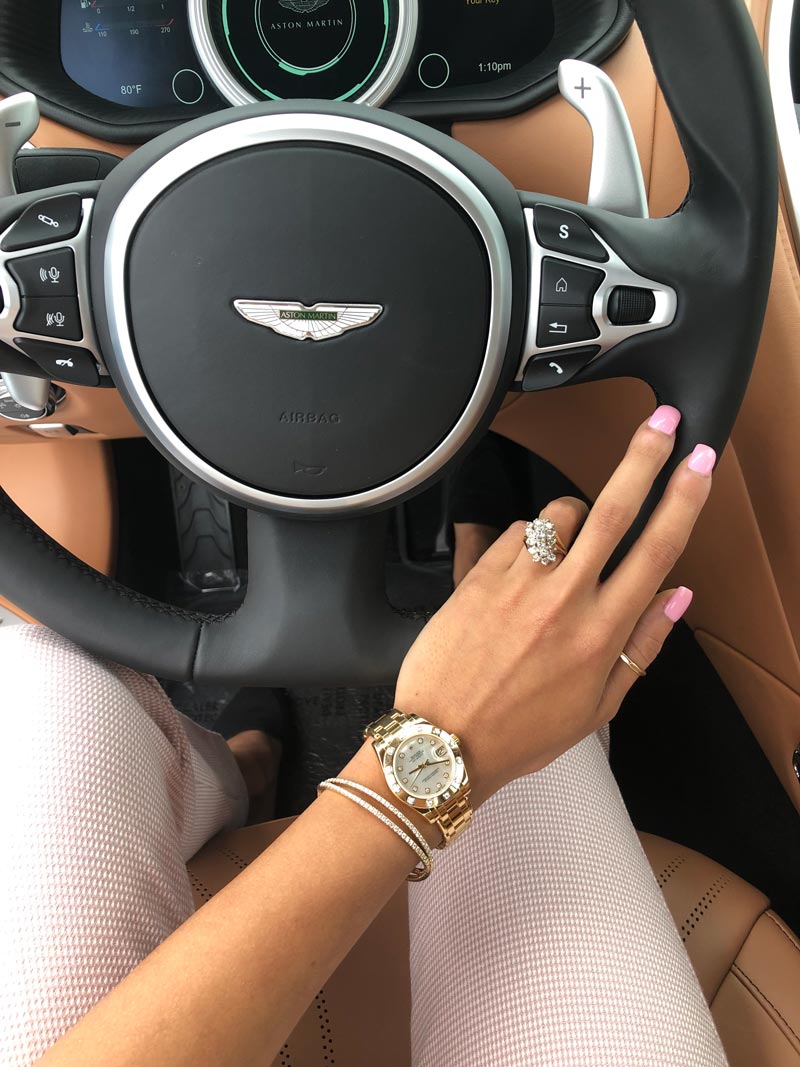 Shop our collection of fine jewelry and watches
Not many brands of cars can do power AND style like Aston Martin, and the DB11 is a prime example of there immense capability to combine both qualities.
Beyond its luxurious look, the performance is extremely noteworthy. It reaches a top speed of 208 mph. The acceleration is graceful when driven rationally, yet the engine noises are consistently satisfying.
Put it in sports mode and you'll surely liven up the driving experience, meeting the needs of any sports car fanatic. Driving down the highway, you'll be sure to hear all the engine and exhaust noise that you could ask for.
The 2019 DB11 has an updated V12 engine that produces an authoritative 630hp. It also has an optional 503hp V8 engine, which offers lighter and sharper performance as it is around 200 pounds lighter than the V12-equipped DB11.
We were able to enjoy both the coupe and the convertible DB11. The convertible version of the DB11 is called the Volante and it comes equipped with the V8 engine.
Aston Martin Vantage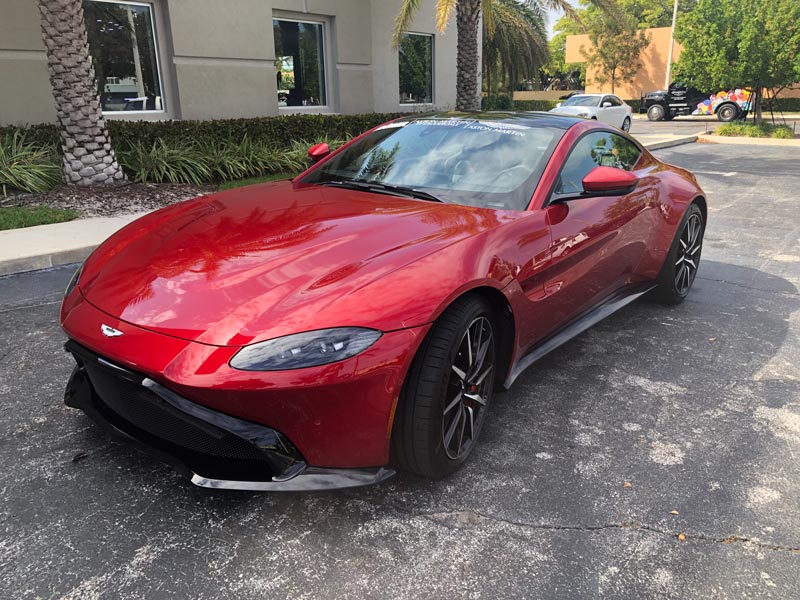 The Vantage is formed from new architecture, which is shared with the DB11. The Vantage, like the DB11, uses the infotainment and powertrain technology from the Mercedes-Benz.
Although it has a German heart, the Vantage is quintessentially British, and one of our favorite vehicles to come out of Britain.
The Vantage engine is supplied by Mercedes-AMG M177, so it has a 4.0 liter twin-turbocharged V8 engine with 503 hp and 505 lb-ft of torque at 2000 rpm.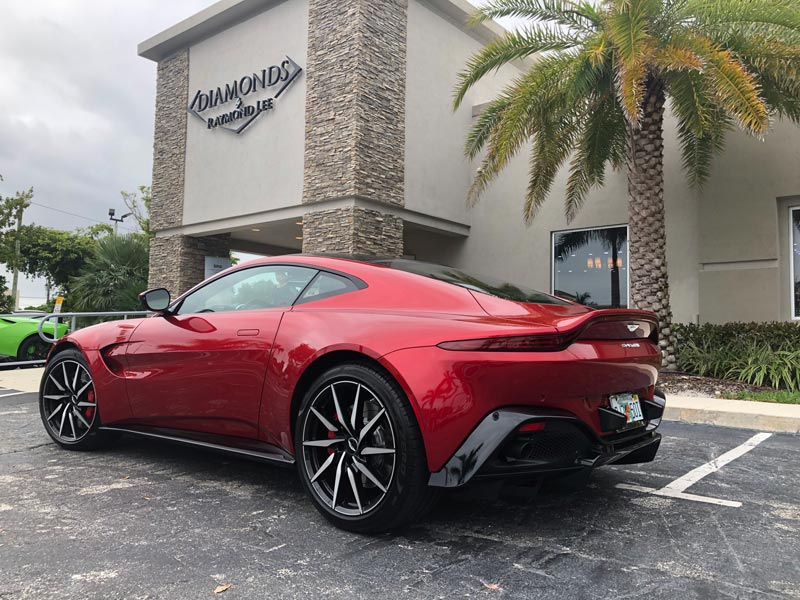 This car is beauty AND the beast, all in one. It's capable of a 0-60mph acceleration in 3.4 seconds. It hits top speeds of 195mph. The exhaust hits a note that's music to a car enthusiasts ear. It's like a swift thunderclap when it bursts through the air.
Justly speaking, the Vantage might be more beauty than beast. From the exterior to the interior, the Vantage pulls out all the theatrics. It takes the word "lavish" to the next level. All the materials, we are talking every single element of this car, are top notch. Moreover, Aston Martin offers myriad custom options.
If you thought the rainbow has all the colors, you should get in touch with the Vantage exterior palette. It has 41 colors. The main interior offers 16, but the sticking has 35 colors and 13 for headliners and carpets. There's even 6 for the seatbelt, and 5 for the door finishing and center console trim.
The car is straight sexy. When it comes to looks, Aston Martin does no wrong. You'll be seeing this one at movie sets. Without. A. Doubt.
Bentley Supersport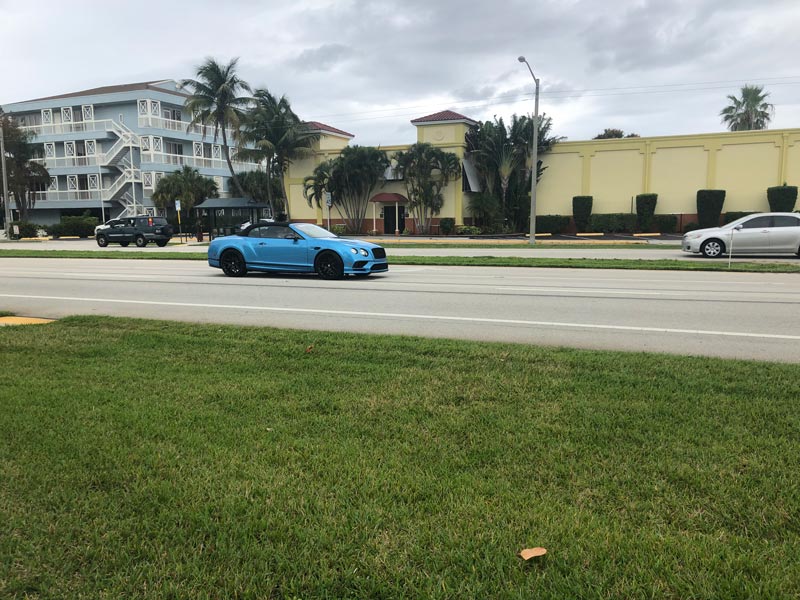 Bentley Continental Supersports is the fastest, most powerful, most agile Bentley EVER.
This Bentley grand tourer has extraordinary power and speed. We are talking 271bhp per ton (totally 700bhp), a 0-100mph in a mere 8.9 seconds, and it hits top speed of 205mph, although some claim 209mph. The funny thing is, this is Bentley's idea of an "economy" car.
If you are looking for a car that rides smoothly and effortlessly across long-distance, cross-continental journeys, you can do no wrong with the Supersports.
It'll cost you, though. The car wears a pretty heavy price tag of $240,000, which is over 50 grand more than the regular Speed. It makes sense, the car is impeccable in both performance and luxury.
The Supersports is far from subtle. The thing is built like a mansion, and it weighs almost about that. It's amazing that the car can be so unequivocally agile and amusing to drive with that kind of stature. If Lebron James was a car, he'd be a Supersports – Big, agile, and incredibly athletic.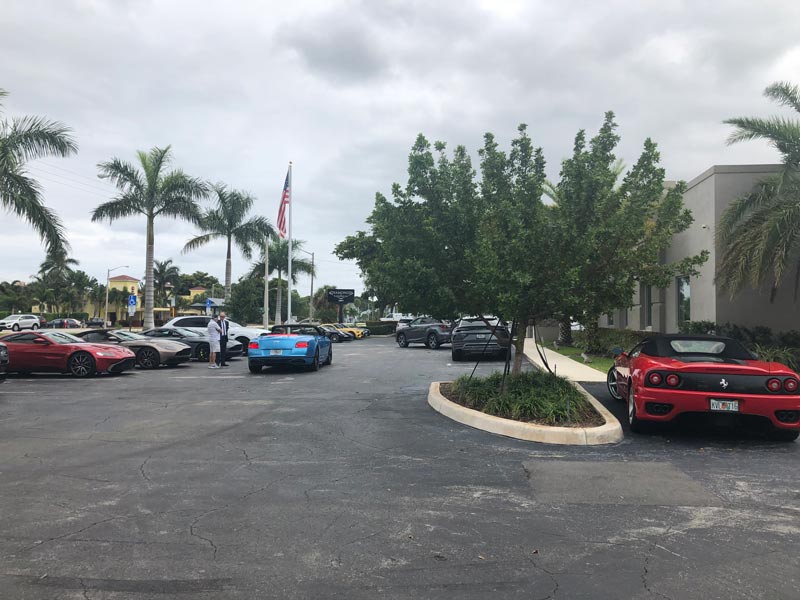 The way the Supersports can keep its mass in check so brilliantly is something that words like "appreciation" can't describe. It can only lead us to ponder just how far we've come in the world of automobiles.
Moreover, reading Bentley's claim makes us wonder how they manage to make the unlikely so real: "cars can be green without being small, slow or boring".
The Supersports comes with many options. In terms of colors, Bentley offers a selection of brazen two-tone color schemes, with numerous triton interior trim choices. It also has an optional rear wing if you want that extra menacing look.
All in all, the Supersports is a tough competitor for the Aston Martin DB11. It does cost a bit more than the DB11, though. "A bit" being around 50k more.
Bentayga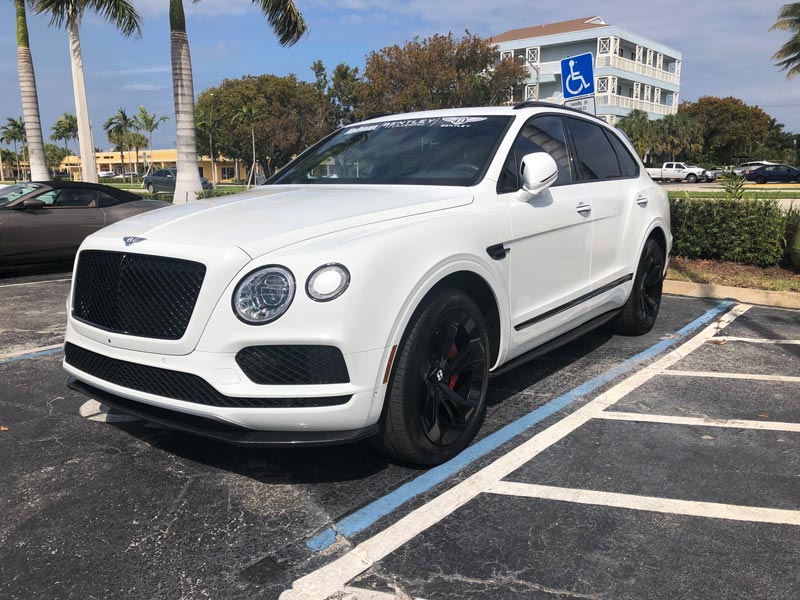 Bentley claims that the Bentayga is the most luxurious, most powerful, and fastest SUV in the world. That's an audacious statement to make, but after seeing the Bentayga in person, it is hard to argue with.
Under the Bentayga's hood rests the new rendition of Bentley's 6.0L W12. It has twin-scroll turbos and high-and-low-pressure direct fuel injection. Even though it has an average economy of 21.6 miles per gallon, that isn't likely to sway any potential Bentaygo owners away. Why? Because a 600bhp and 663lb-ft of torque on a vehicle like this is all the convincing one needs. The power of the 2.4 ton Bentayga is remarkable. It hits a 0-60 in four seconds flat and has a max speed of 187mph.
It has all the speed, control, grip, and rarefaction that someone could ask for from a very expensive SUV. For an SUV, it is overwhelmingly fast.
Moreover, with its high point of view on the road, overtaking vehicles on the roads due to speed and intimidation will be a cinch, pending it's a big enough road. As this thing is like a high-speed tank.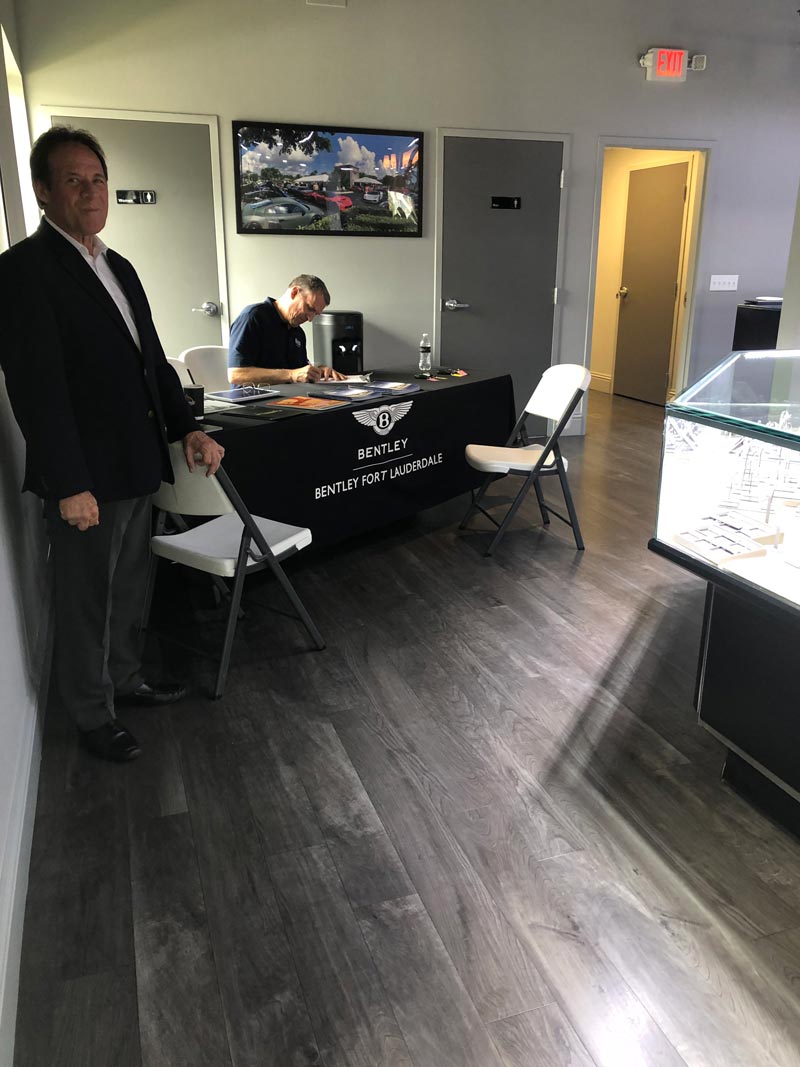 The facts get even more impressive when you consider its equilibrium. You can push the Bentayga hard through quick corners without concern. The air suspension in "Sport" mode does a great job of defying body-roll, keeping flat, and doing a superb impression of a considerably lighter vehicle. This is all due to the new anti-roll system in place.
Each Bentayga sees 130 hours of hand craftsmanship by 53 artisans. The quality of this SUV is unprecedented amongst its kind.
On the inside, the new infotainment system with its eight-inch display screen and 60gb hard drive places Bentley in the technology league of Mercedes and BMW. Moreover, it has smart self-driving tech, adaptive cruise control, and lane assist. Beyond the tech, the Bentayga is ultra comfortable. Drivers can put miles on miles in the bank without an ounce of displeasure.
Lastly, we should note, Bentley provides options to upgrade this monster in fascinating manners.
Rolls Royce Cullinan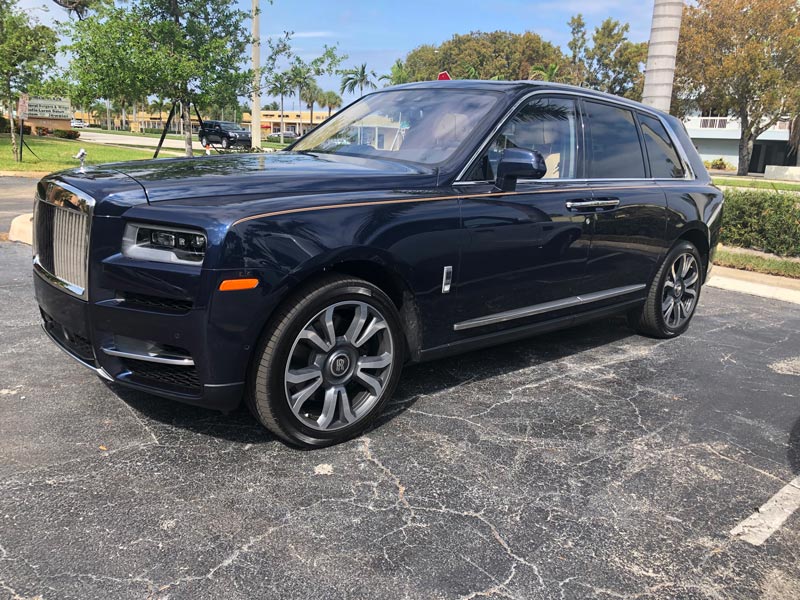 The Bentley Bentayga has some serious competition when it comes to the Rolls Royce Cullinan.
The name Cullinan comes from the largest diamond ever discovered, something you know we appreciate at Diamonds by Raymond Lee.
With its magisterial silhouette, you know the car is catering to someone of note. The Cullinan sits on 22-inch alloy wheels. Comparing to the Bentayga its 200mm longer, and 350mm longer and 90mm taller than the Range Rover.
Under the bonnet sits a 6.75L petrol V12, which is also found in Rolls Royce's Phantom.
In terms of options, there's only one engine available. However, there are tons of colors and upholstery options to decide on when purchasing. Plus, as always with Rolls-Royce, if your pockets are deep enough, they'll work anything that your heart desires into the mix.
Weighing in at over 2.6 tons, the Cullinan is a big-time heavyweight. With that being said, thanks to the powerful V12 engine and slick eight-speed auto gearbox, the acceleration on this monster is as well endowed as the vehicle itself. It hits 0-62mph in 5.2 seconds.
Now, the car doesn't handle with the control of a Bentayga, but that's not what the Cullinan is about. It's about comfort, luxury, and relaxation. So, to drive, the Cullinan is as comfortable as can be, floating over bumps at its top speeds. It's unparalleled in regards to being the most chill vehicle of this prestige.
The interior combines traditional with contemporary beautifully. The driver seat and steering wheel adjust to meet the needs of anyone. So people of all sizes can get there drive on in supreme comfort. Moreover, you'll be riding from a high vantage point, making visibility uber optimal. As for the passengers, there's all the space one could request, plus more.
Moreover, the car is super safe.
This 2019 Rolls-Royce Cullinan will run you around half a million dollars. CHA-CHING.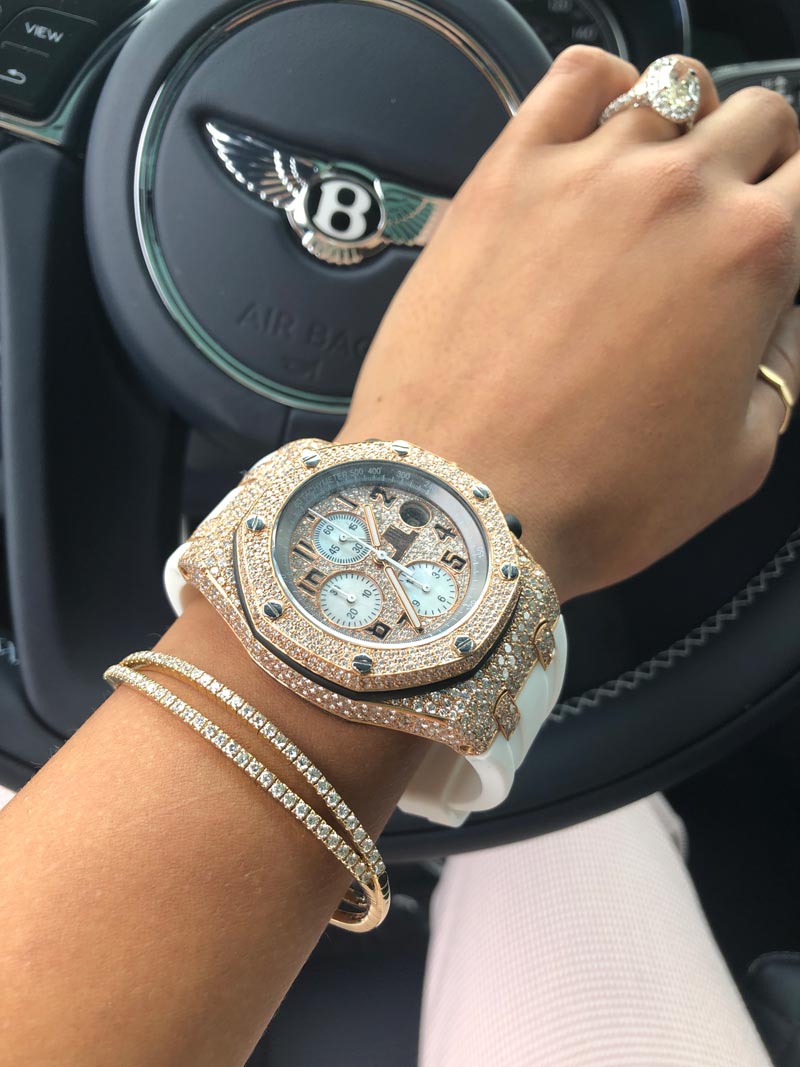 About Holman Motorcars of Fort Lauderdale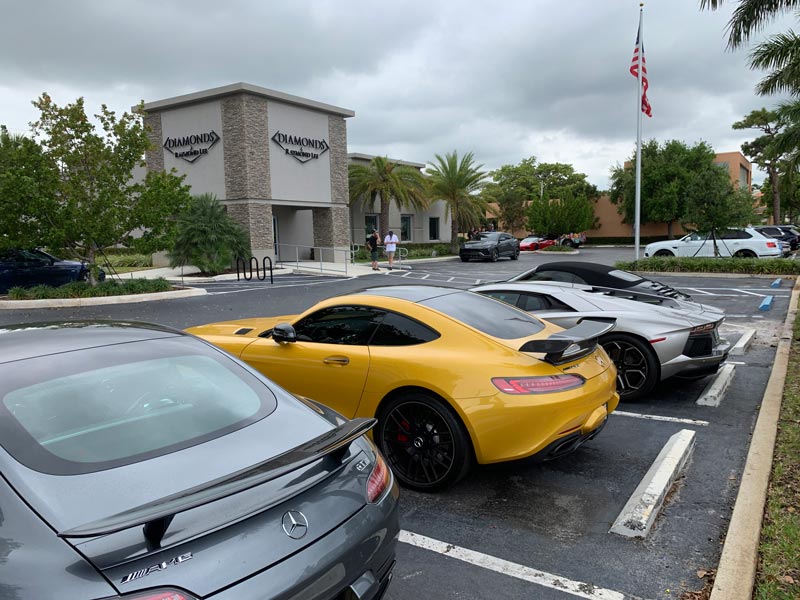 Holman Automotive has 37 dealership franchises across the country, representing 18 different brands of vehicles, making them one of the largest privately owned dealership groups in the USA.
They got their start in 1924 when they opened their first dealership. To this day, Holman Automotive Group has never wavered from a dedication to providing customers with unparalleled services and experiences.
Holman operates a leasing and auto retail finance company, a consumer and commercial insurance agency, an auto parts distributorship, truck uplifting business, AND they are the largest privately-owned fleet leasing and management company in the United States.
Holman Auto of Fort Lauderdale carries the following inventory…
Makes: Aston Martin, Bentley, Rolls Royce, Porsche, Audi, BMW, Cadillac, Chevy, Ford, Honda, INFINITI, Land Rover, Lexus, Lincoln, MINI, Toyota, VW.
If you are looking for a vehicle in South Florida, especially a luxury vehicle, you need to look no further than Holman Automotive.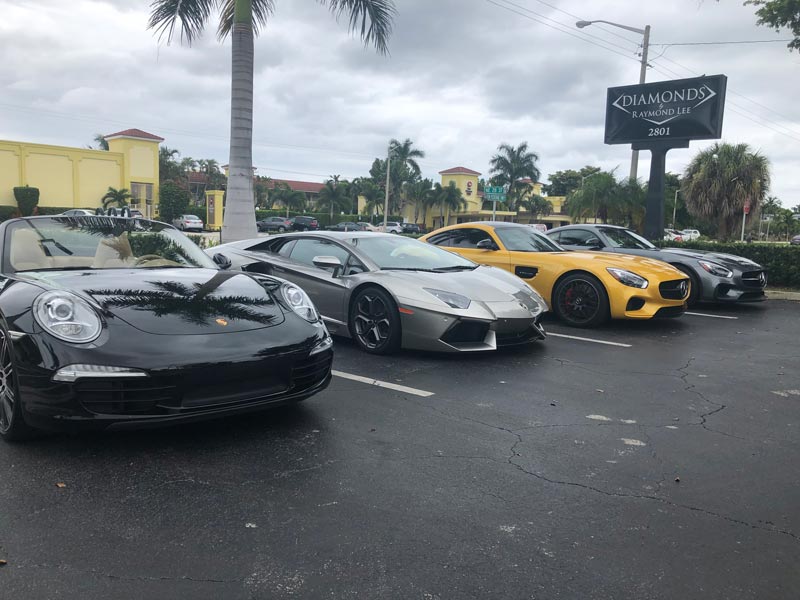 The Diamonds by Raymond Lee team wants to thank the Holman Automotive Group of Fort Lauderdale for helping us put this test drive event together. It was such a fantastic experience and everyone at Holman Auto is extremely professional, knowledgable and passionate.
It was a great day and a one of a kind experience. It's hard to beat new luxury sports cars and diamond jewelry and watches.
About Diamonds by Raymond Lee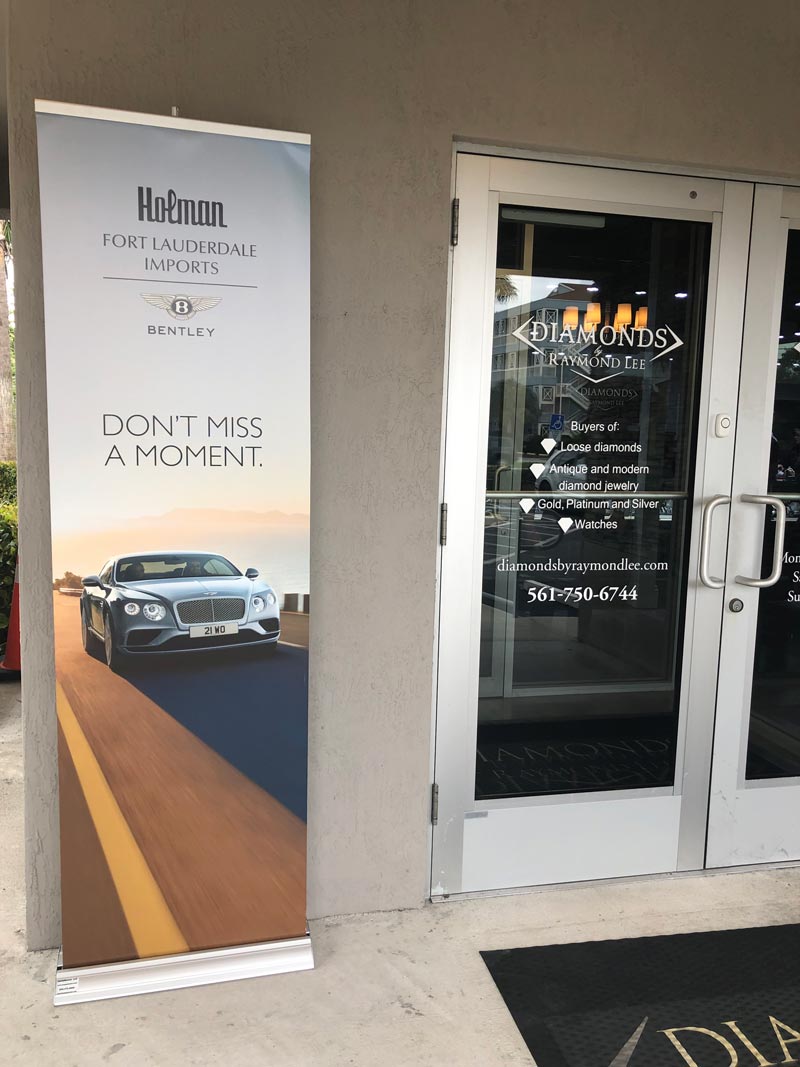 Diamonds by Raymond Lee is South Florida's leading and premier jeweler for everything diamonds.
We've been South Florida's number one retailer for diamond engagement rings since 2016.
Our company is cultivated from strong family principles, unwavering professionalism, and tradition that will never diminish. Even though tradition is strong here at Diamonds by Raymond Lee, our perceptiveness for how the market evolves has allowed us to understand and cater to new generations. We pride ourselves on understanding the wants and needs of all generations, from Baby Boomers to Millennials.  Furthermore, we are committed to providing unparalleled service and authentic, intimate experiences for all of our customers.
At Diamonds by Raymond Lee, we sell and buy fine jewelry, precious metals and gems, diamonds, and luxury watches. We also do verbal and written appraisals, jewelry trades, collateral loans, and custom jewelry. Our well-rounded business model and positive, philanthropic attitude have enabled Diamonds by Raymond Lee to remain fruitful and trustworthy.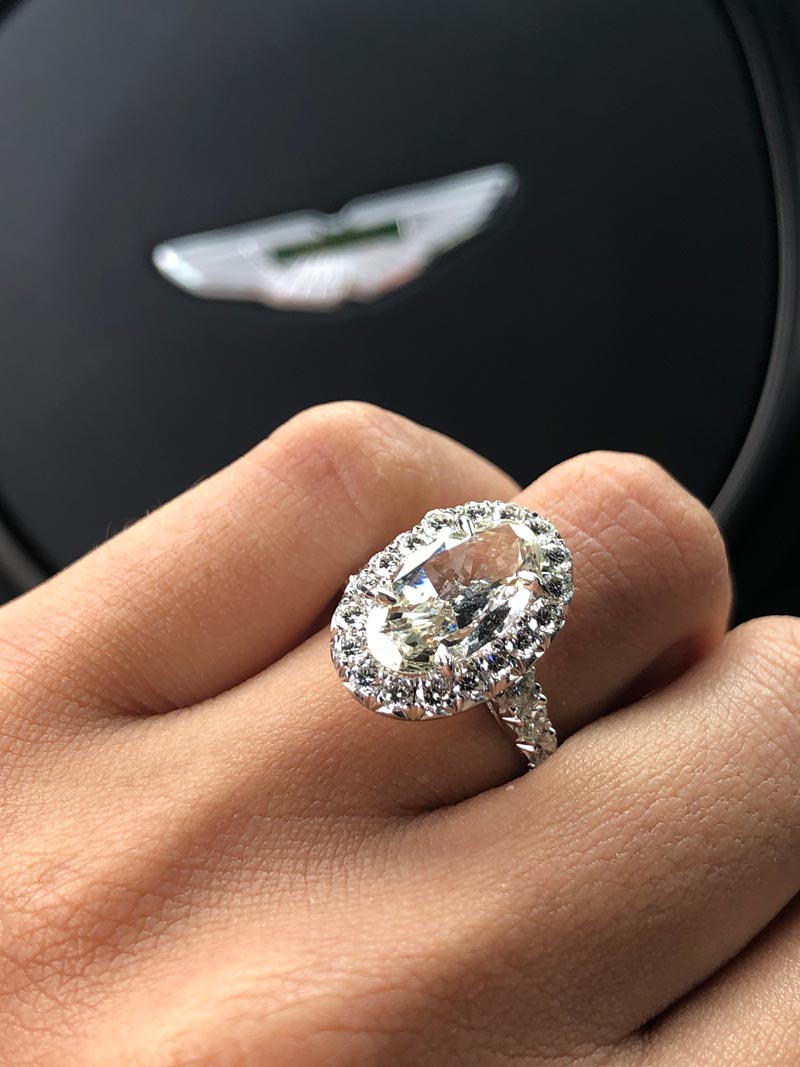 Henri Daussi 0.97ct Oval Diamond Engagement Ring
Moreover, at Diamonds by Raymond Lee, we have a STRONG passion for cars. It's something we love, so as a company, we get involved in the car community here in South Florida. We are sponsors and highly active at the Boca Raton Concours d'Elegance each year, AND we run a monthly car show at our retail location in Boca Raton.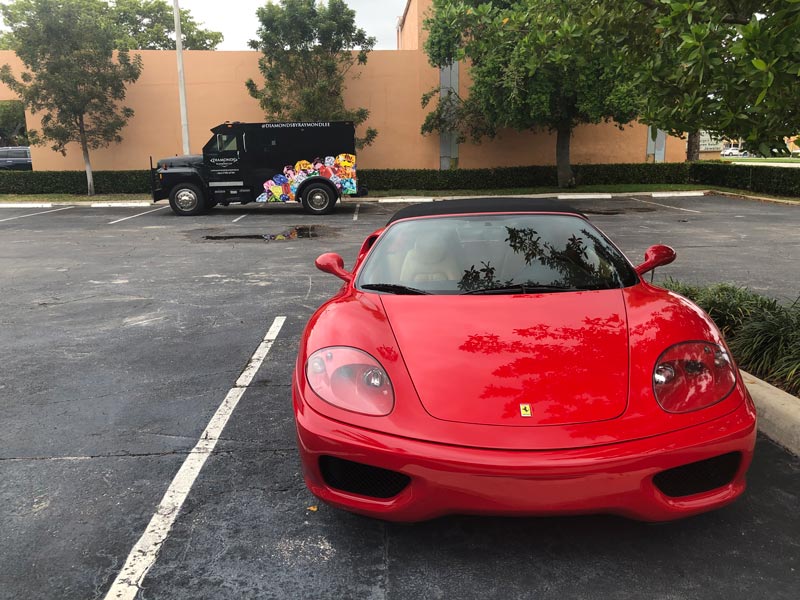 Our monthly car show is called Diamonds and Donuts and it has become a massive hit in South Florida. Our car show sees some of the most incredible cars the world has to offer. From exotics to customs, to classics and luxury vehicles, and everything in-between, Diamonds and Donuts is a must-see for any car enthusiasts. You can check out our latest Diamonds and Donuts recap and sign up for the next car show. The best part is, it's free for everyone.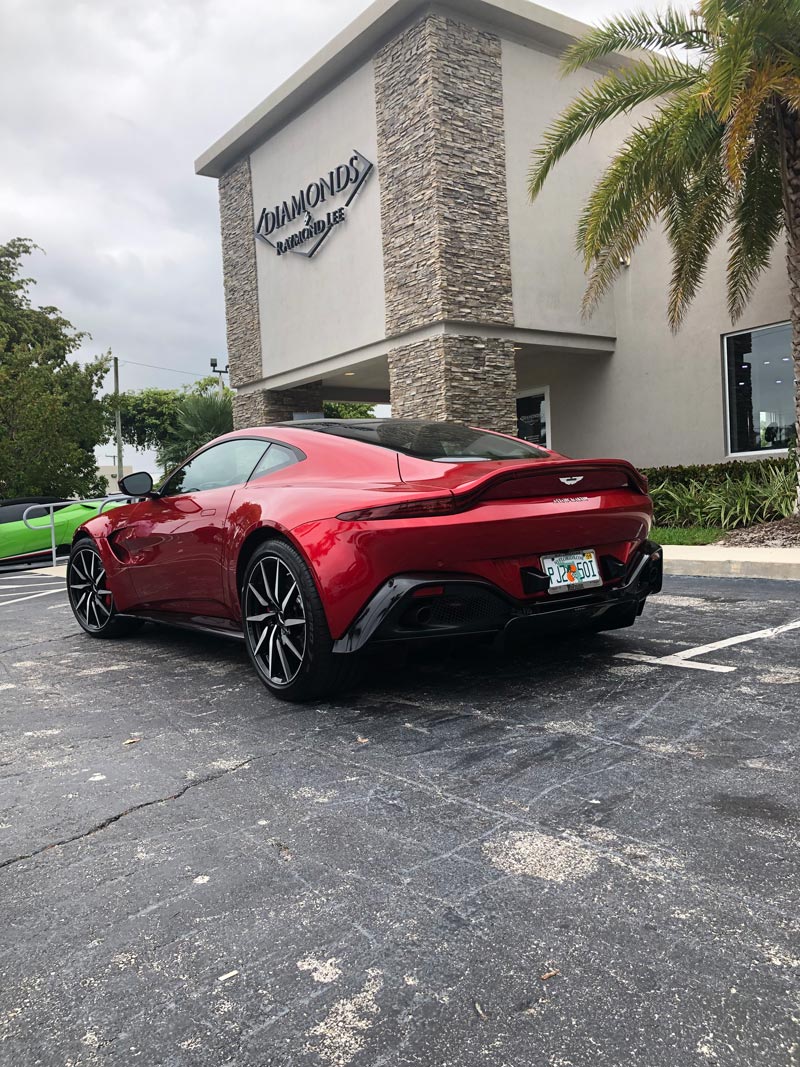 Let us know which car featured in this article, from Holman Motorcars Test Drive Event At Diamonds By Raymond Lee, is your favorite in the comments below.