Great Prices on Rolex Watches: Your Ultimate Buyer's Guide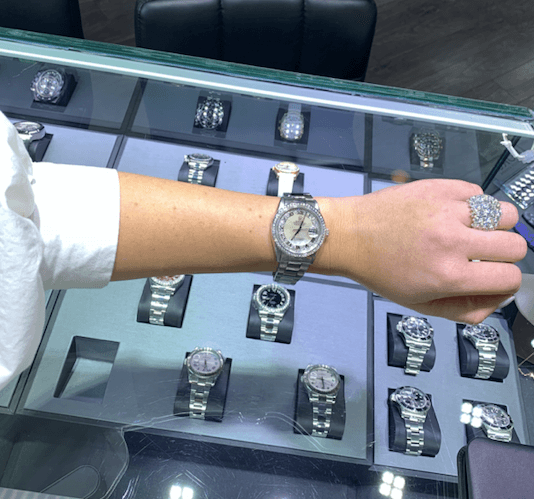 Rolex watches are some of the world's finest timepieces. This is not just because of the company's long history of excellence and quality. It is also because so much of these fine watches is handcrafted. From their iconic collections like the Datejust or upgraded Day Date watches all the way to the Submariner and Cellini there is a unique Rolex watch for everyone, anytime. No matter what your preferred style is or what look you are going for. Whether that is a sportive and athletic look or a more refined classic and timeless style. When it comes to buying your Rolex though there is more to it than just the style. Each collection comes with their own story and generally edition particulars. There is nothing quite like the feeling of reaching for the perfect Rolex watch for the occasion.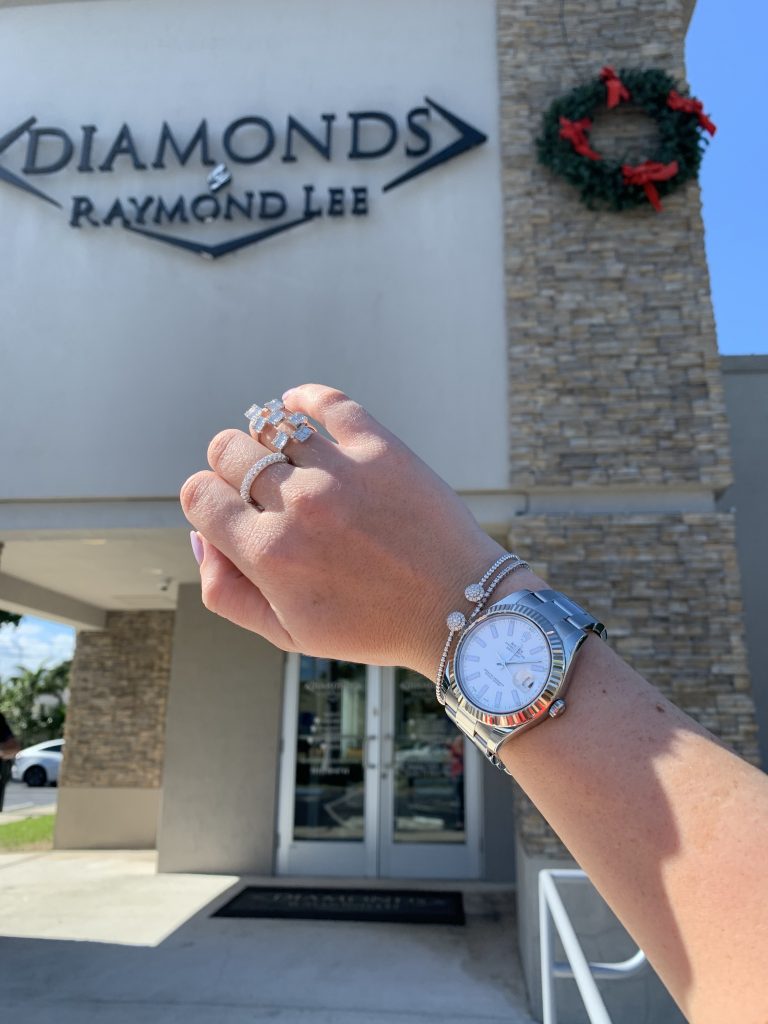 Here is your buying guide on how to get one, with lots of questions asked.
When is the best time to buy a Rolex watch?
Which Rolex to buy?
How much should you pay for a used Rolex?
Unfortunately for all of the above questions there is no straight forward answer. It all depends. It depends deeply on the exact watch that you are looking at. On the provenance of the piece – a jargon word to say where did it come from or who owned it first for a used piece. Then of course what condition is the watch itself in? Wear and tear still take a toll even on the world's strongest and most resistant time pieces. The Rolex Oyster steel is resistant but scratching is still a situation that unfortunately occurs. Then there is the question of inside. How is the watch running and is it up to par with the way that the timepiece was created to run?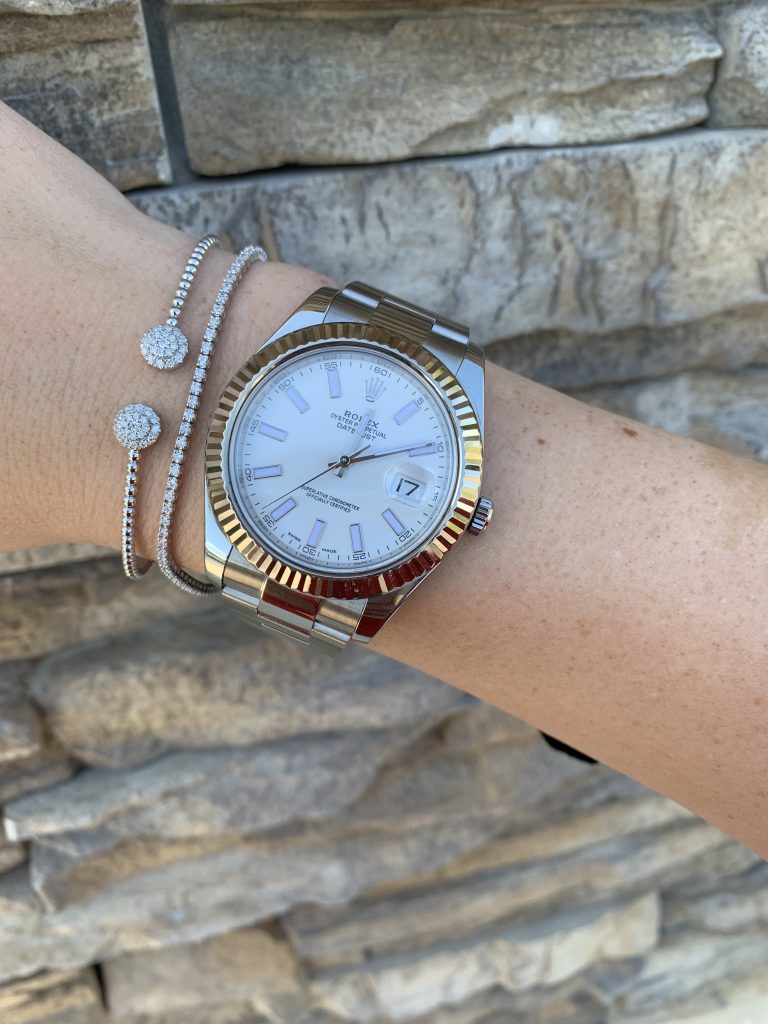 Rolex Tune – Up keeping your Rolex watch in its best shape
Now it might seem that these timeless and classic time pieces can simply be the heirlooms we know they are true to become. However just like a luxury car and almost everything else in life they require some love and care. Even when everything is running well and in shape your fine watches like Rolexes need to be tended to. It is always a good idea to get your watch tuned up. It is a chance to look and test all the parts. To make sure that it is clean and polished and any little blemishes can be buffed out. Having an expert keep an eye on the movements of a watch is important. Especially if you are looking to buy a used watch you want to know that it was maintained well. That an expert took care to check inside and to test its resistance.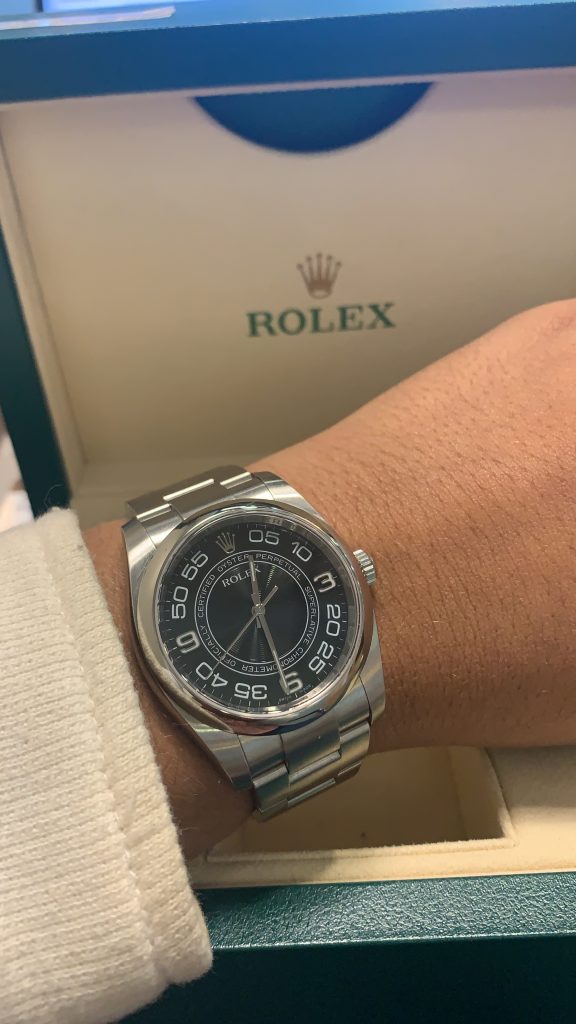 In other words to make sure you can trust that the Rolex you are buying is still the same standard of Rolex coming out of Switzerland. Otherwise what is the point right? You can get a great price on Rolex watches but that are not maintained or tested or even looked at all that carefully and that is truly an issue. After all when you buy a Rolex Submariner watch it goes without saying that you expect more from the piece than the looks. There is the question of depth, resistance and that infallible counting that you in the end count on. That is why at Diamonds by Raymond Lee we take very special care to check each and every one of the watches that come through us. We run a full check confirming that all is as should be at our state of the art in house workshop.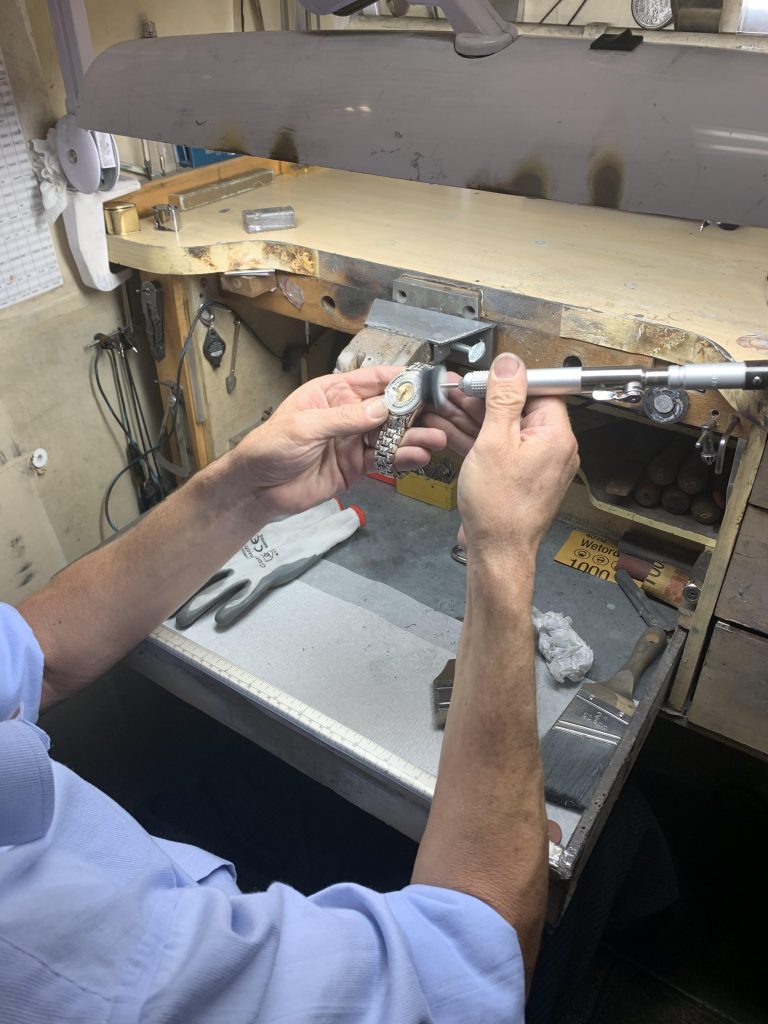 In house workshop and experienced craftsmen
For our experts who have been in and out of fine watches like Rolexes for many decades it is a breeze. However it is one of the many things that they take very seriously with their keen eyes on each and every detail. They use our cutting edge engineering machines and tools like the Witschi Proofmaster M machine for water resistance testing, the Witschi Chronoscope M1 timing machine, the Greiner Vibrograf ACS 900 cleaning machine for cleaning watch movements, and the Bergeon No 6928-vr winding and testing machine. All of these plus their years and years of knowledge mean that any and every watch that comes through our doors gets more than the once over. They are intricately tested and adjusted to make sure that they are ticking just right on time.
Our $159 great price Rolex tune up
In line with our commitment to offering you great service as well as using some of the best machines on the market for our testing we bring you more than great prices on Rolex watches. We are also running our great price Rolex tune up! At only $159 for a total and complete rehaul of your Rolex watch there is no reason not to do it. While you kick back and relax enjoying one of our local craft beers and checking out our latest arrivals our team will be working on your watch. With our in house full service work shop you can just drop by and we will have your Rolex watch good as new in a matter of minutes.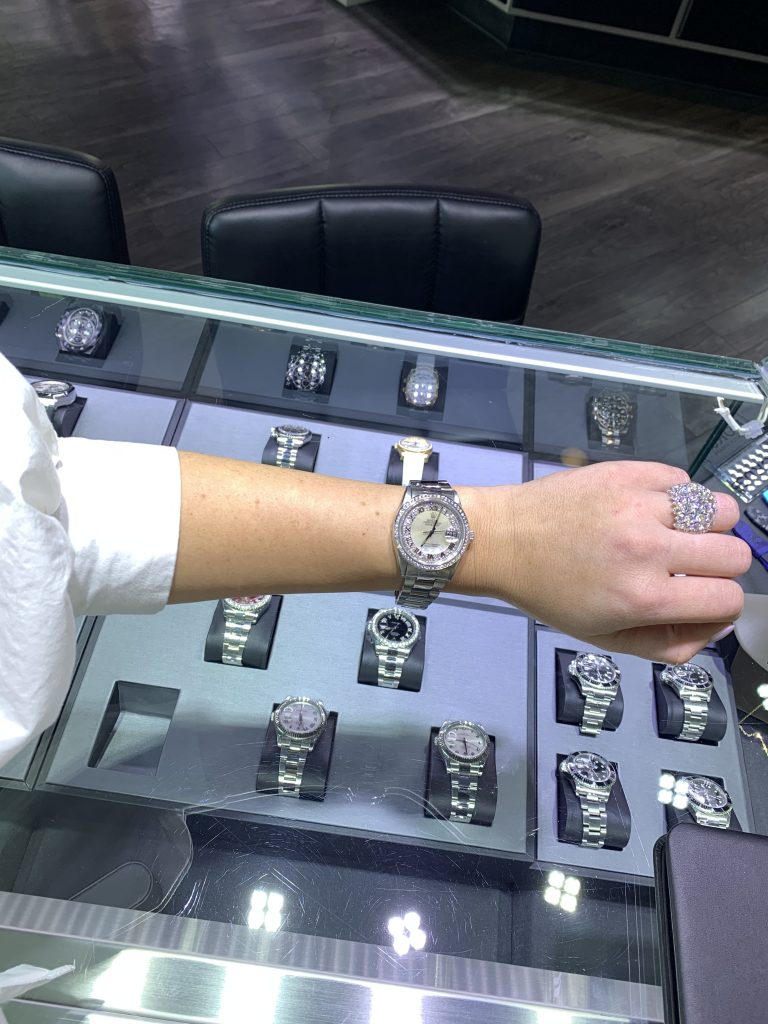 It is all about ensuring that everything is running well. And if it is not we will let you know and get you an estimate on how long a fix would take as well as everything that it would entail. If it requires parts and pieces being changed you can be sure that we are using only original Rolex parts and pieces. Everything in your watch will not only be running as good as new our objective is to make sure it sparkles brand new.
Great price Rolex watches with great quality – tried & tested!
So you know the premiere destination for all of your Rolex needs right? Right here at Diamonds by Raymond Lee we will bring you some of the greatest watches and of course at great prices. A family business running in Boca Raton for the last three decades we are obsessed. Not just with watches, diamonds and everything luxury life style but most of all with our clientele. It is why we are continuously improving our show rooms and bringing bigger and better watches. Our great prices on Rolex watches come with the Diamonds by Raymond Lee guarantee. All of our watches are tested and inspected. They are of the finest quality and you can trust that if it is part of our widely curated collection it is a master piece.
We deal in the finest of the fine time pieces on the market. Rolex watches included. No matter what style you look for whether that is a sportive and athletic look or something more somber and formal like a Cellini. You can find all of these iconic collections and more at our stores!
Great prices on Rolex iconic collections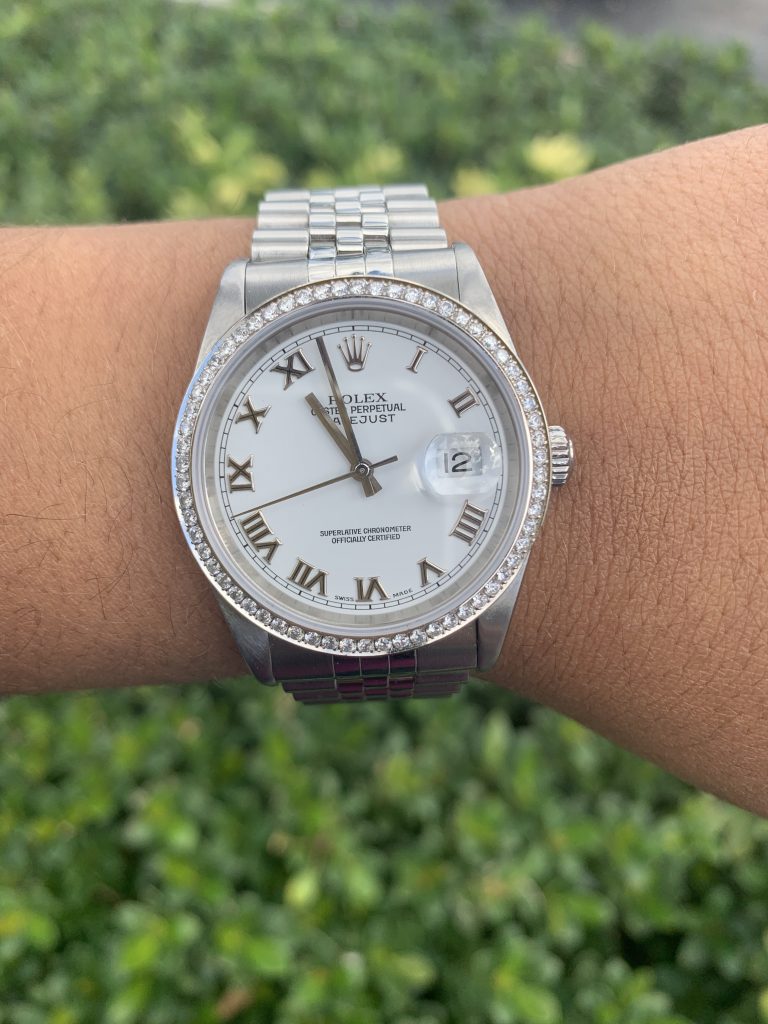 An iconic Rolex watch like the Datejust is a symbol of the watch maker's magnificent prowess. It is one of the earliest examples of their incredible craftsmanship and innovative designs. One of the most instantly recognizable and arguably a staple of any luxury watch collection the Datejust watches we have in stock are wide ranging. From the classics with their smooth or bevelled bezel all the way to modern stunners like this one above featuring diamonds. There is no other way to make an amazing watch even better. Than adding diamonds and other precious stones. It is an incredibly gorgeous Rolex Oyster watch with glittering and diamonds channel set around the white dial. Within? Roman numeral gold hour markers contrast the classic with the modern.
Day Date Rolex watch collection
To go a step beyond the Datejust collection there are also Rolex Day Date watches. These fantastic time pieces combine the standard of the Rolex collection that truly set them apart and brought about the cyclops eye. This added piece of crystal for ease of reading and a touch of uniqueness to the dial is also accompanied by a day window at the 12 o'clock hour mark. Here a window reads out the day of the week. Adding another complication to a stunning watch the Day Date is a classic stunner.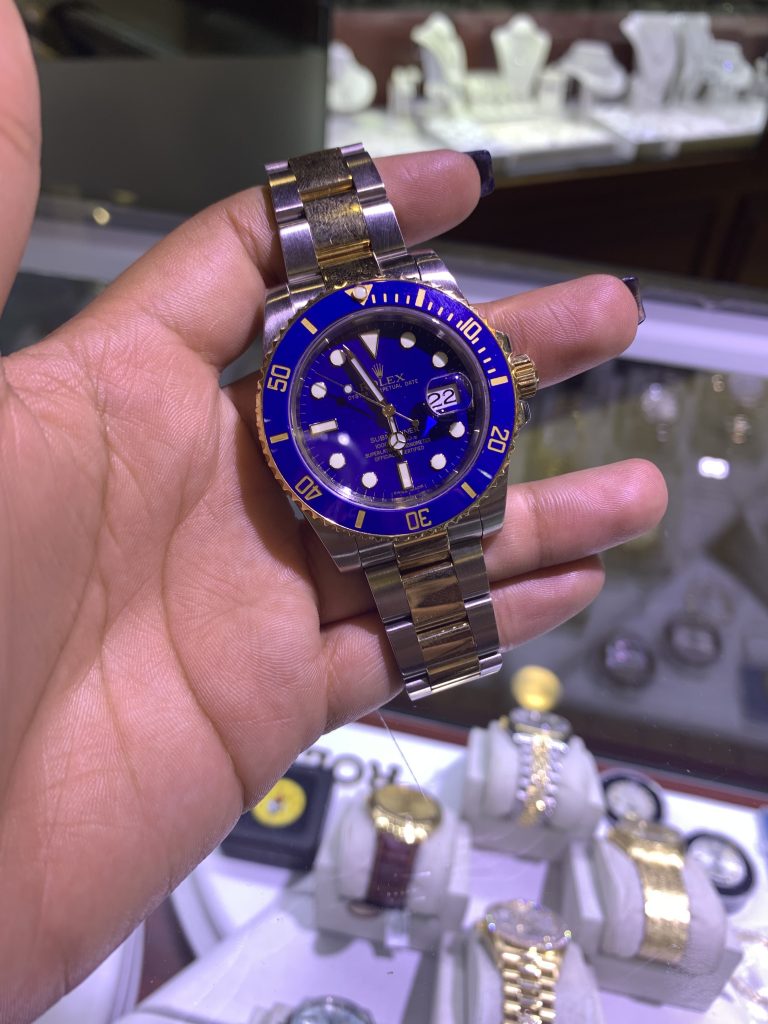 Submariner or Cellini? Sportive versus timeless classic
When it comes to these two watches there is not all that much that is similar. Yes they are both Rolexes and come with that magnificent Oyster steel. However, one is made for the deepest depths. For adventures in some of the toughest environments in the world. Meanwhile the other is a stunning dress watch. A formal wear icon and eternally elegant piece. Celebrating with a contemporary touch it goes the opposite direction of the robust Submariner. The lines and gentle sloping of a Cellini watch have almost nothing to do with the utilitarian bidirectional rotating dial of a Submariner watch. Not to mention the colors and visibility of these watches as well.
While the Submariner is equipped for seeing in the deep they tend to come in dark colors. Whether that be a stunning blue on blue or a black edition. Meanwhile the Cellini tends to be a white or cream color dial. That is because the classic watch is intended to take you for formal wear no matter what the current tide is. It flows gently throughout decades or even more without missing a beat. It is an eternal watch that brings all of the classic smooth curves, gentle slopes and fine lines that you would expect from a classical piece of music.
Where to get the best prices on Rolex watches? Diamonds by Raymond Lee in Boca Raton
Come and check out our widely curated collection of fine watches. It is where you will find great prices on Rolex watches like Cellini, Submariner, Day Date and Datejust watches. Our offerings also include brands like Audemars Piguet as well as Richard Mille and other exquisite watches. There is nothing like shopping with peace of mind. That you know these watches are not only cared for but have also been tested inside and out. Using the latest state of the art technology and techniques the watches featured in our collection are of the utmost quality.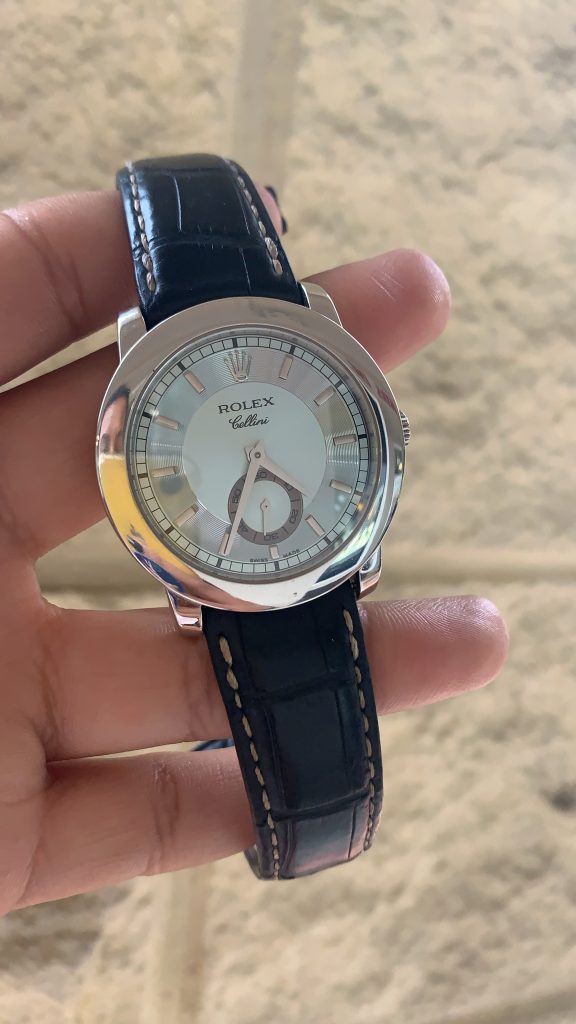 All of them with original parts and ticking to the time have been inspected at our in house workshop. Any questions that you might have or if you want to compare different models one of our experts can help. They will show you the way between the different variations and can explain how those affect the pricing. There is nowhere else though in sunny South Florida that you will find watches quite like these. Top quality, tested and maintained these are great prices on Rolex watches like you will not find anywhere else. They are some of the best and it is a whole wide range of options too.
No matter the occasion and no matter what you need there will always be someone ready to assist at Diamonds by Raymond Lee. Our commitment is to bring you superior service each and every time. Whether you are looking for a timeless classic or a unique limited edition time piece we can help you find it or even create it! With our custom design and watch modification services anything is possible. Whether you want to add diamonds or other precious gems to your existing luxury watch or find a brand new time piece for your collection.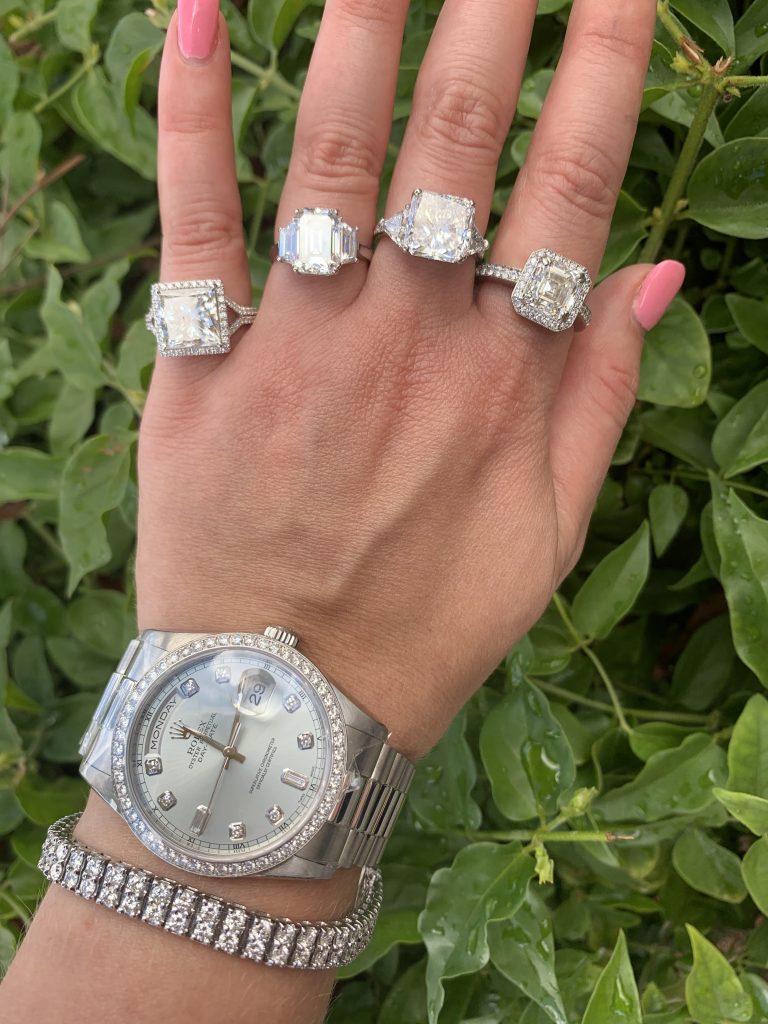 Our locations
Come and check out our full collection of Rolex watches. We guarantee the best prices and quality around. Enjoy an ice cold local craft beer and let us show you all of the options! You can find us at two locations almost every day of the week. In both East and West Boca for convenience and ease when finding your next fantastic time piece.
East Boca Location: 2801 N Federal Hwy, Boca Raton, FL 33431
Hours: Monday-Friday 11am-7pm | Saturday 10am-5pm | Sunday 12pm-5pm
Phone: (561) 623-8205
West Boca Location: 22191 Powerline Road #12b, Boca Raton, FL 33433
Hours: Monday-Friday 10am-6pm | Saturday 10am-5pm | Sunday Closed
Phone: (561) 750-7808
Email: in**@di******************.com