This week we're featuring Gabriel & Co. engagement rings and stackable diamond wedding bands. From diamond halos to layers of bands we cover some of the finest of the Gabriel & Co. collection. Each design is unique. Also, all of the special features you can find in a Gabriel & Co. ring. The engagement rings come in all of the available diamond cuts. From some of the most unique like a marquise cut diamond. To the traditional round cut solitaire engagement ring. Further, the bands on these engagement rings have accent diamonds. These add sparkle and shine. Also, there are rings with halo features. Additionally, the wedding bands are stackable styles. This means whether it is a single wedding band or several they fit just right with your Gabriel & Co. engagement ring. The wedding and anniversary bands have patterns. Further, these textures can be worn mixed and matched. It gives an additional detail.
Whether you have just started looking for an engagement ring. Or you are already well into your wedding planning. Take a look at the absolutely incredible offerings from Gabriel & Co. Their engagement ring styles include everything from the most traditional rings to innovative diamond features. Also, their wedding band collection has a series of different designs. Each one has a special pattern or flare that fits with the romantic and classic look of the brand. Further, the stackable offerings of wedding bands they offer are stunning. Each one fits snugly against the engagement rings no matter the center stone's cut. Also, they can be paired together either as anniversary bands or a whole wedding set. The thought and detail that goes into each one is apparent. For your special day and your happily ever after there is no brand more concerned with the love that goes in to each one.
A rich history at 
Gabriel & Co. the designer wedding jeweler
The Gabriel & Co. brand was founded in 1989 by the Gabriel brothers Jack and Dominick. Their dive into the world of jewelry making was not a randomly selected one. As a family passion their father Elias Gabriel was a master jeweler who taught them the art of the craft. It is a family affair. Where they take love, friendship and the incredible moments that mark our lives to the next level. They took their personal vision of the value, both material but more importantly emotional, that jewelry carries and established their brand. Behind each item there is a story. Also, behind their brand is a unique account as well. According to their official site their story is one of passion, family, service and love. Always in consideration of not just the industry innovations, and superior production methods. However, also the couple, the wearer and the final ring bearer in mind.
They do not leave these things as an after thought but it is rather ingrained into their process. Imbued with inspiration and determined to detail. This ideology is imbued within each and every piece they design. Commitment to showcasing love and passion in every one of their pieces they design. You can see it in their campaigns and their romantic flare. Their deep awareness of the real meaning behind jewelry, a commemoration, whether of love, an occasion or incredible accomplishments, is translated into gorgeous designs. Every detail is thought through. They take into account all of the brightness and glamour. More than a decorative sparkle their designs are crafted with a deep emotional connection to each piece. They speak of the day you are celebrating. The connection and love you share with each other. It is not just the symbol but the embodiment of your special connection made for you.
Gabriel & Co. unique diamond engagement rings
The beginning of the rest of your life starts here, with a stunning engagement ring and a single question. Will you? Gabriel & Co. with their focus on the emotional and spiritual elements embodied in pieces of wedding jewelry are ideal craftsmen for engagement rings. Every item is considered and calculated to be the very best that they can possibly offer you. Each creation is romantic, imbued with the emotion of a person ready to wind their lives with yours. They offer a range of rings from the classical traditional single stone ring to intricate modern rings with in a variety of colors, cuts and arrangements. Particularly modern features like the diamond halo feature.
Here are two of our favorite designs in some differing styles. The top one is a 14 carat white gold ring. Meanwhile the bottom one is the same design in a 14 carat rose gold. Featuring the diamond halo and accent diamonds all along the band itself give an additional glint that most other engagement rings like the solitaire do not have. You can find our full range of Gabriel & Co. offerings as well as other iconic designer wedding jewelers on our site or at one of our convenient locations.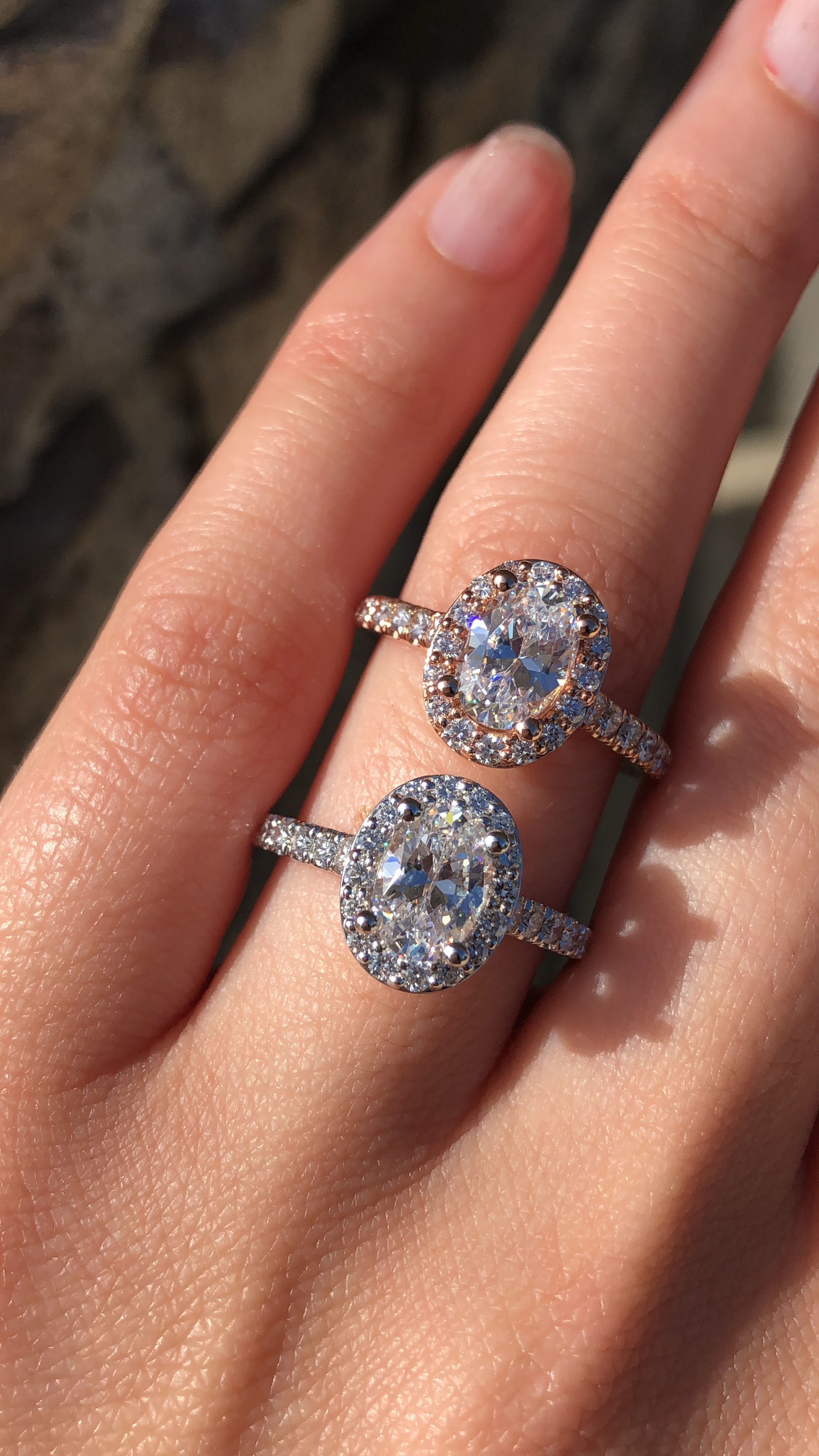 First is the top rose gold engagement ring. It is an absolutely stunning Gabriel & Co. piece with a gorgeous diamond halo feature. It has approximately 0.50 carats of accent diamonds. These are G/H in color and SI in quality. The large center stone is a unique Oval cut cubic zirconia. The ring setting itself can actually accommodate a 1.86 carat stone. If you would like to swap out the cubic zirconia for another type of stone you can up to the 1.86 carat size! This lovely ring also has accent diamonds all along the band. These add sparkle to the rings central stone and halo feature. As they wrap around your finger giving the central stone continuity they shine in every direction. As you will see below this stunning ring is also available in different metals including yellow gold, rose gold and even the strongest platinum.  
Second is the bottom white gold engagement ring.This one is the same design as the ring above with approximately 0.50 carats of accent diamonds. These are G/H in color and SI in quality. It also has a large center stone. It is a unique Oval cut cubic zirconia. The ring setting itself is the same as the one above. It can actually accommodate a 1.86 carat stone. If you would like to swap out the cubic zirconia for another type of stone you can up to the 1.86 carat size! The other options for this ring are yellow gold, white gold, or even platinum. It is a beautiful ring that really can be optimized and altered to your preferences. It has the more traditional modern design. 
Another incredible piece is this marquise cut engagement ring.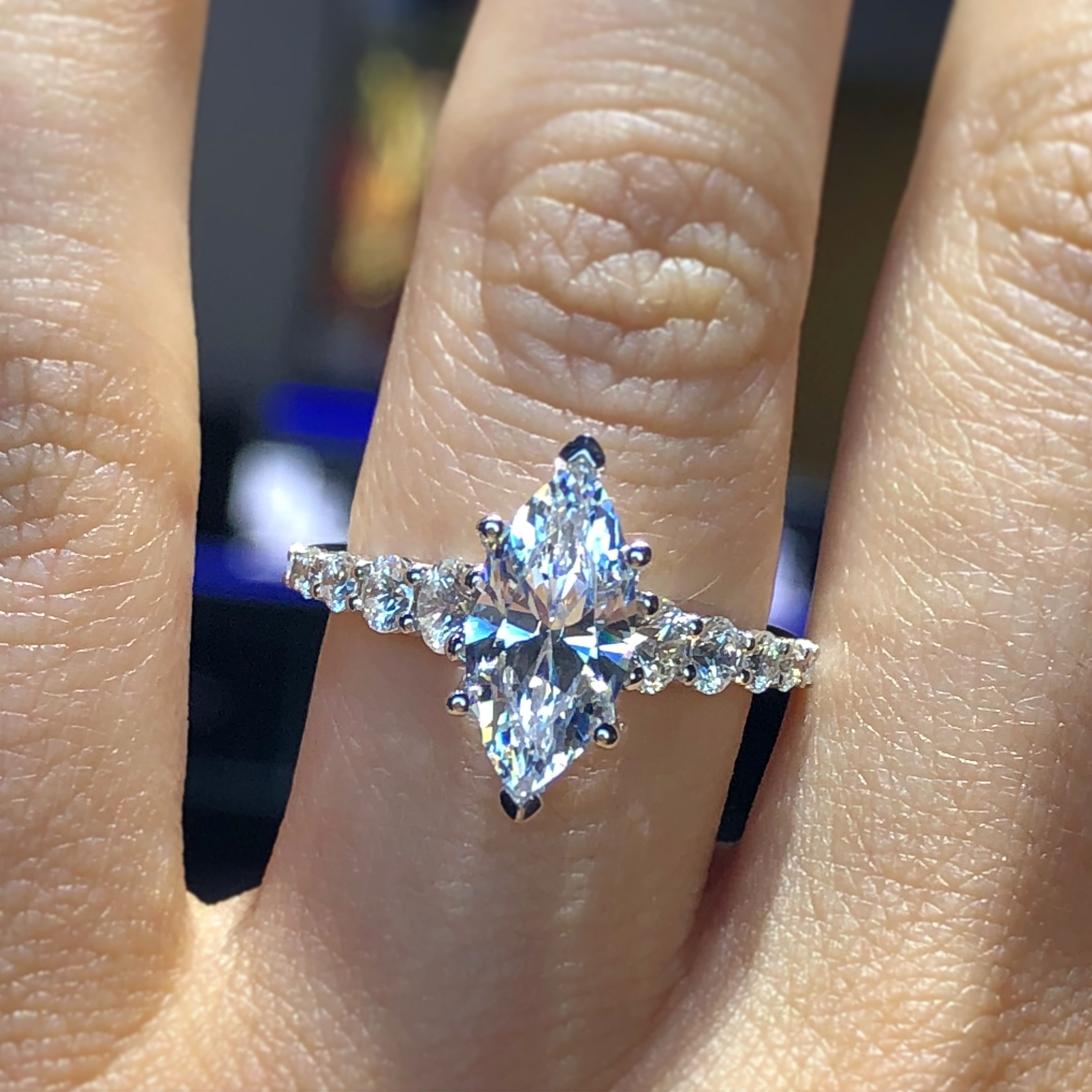 Here it is, this incredible 14 carat white gold diamond engagement ring. This one features a stunning 0.72 carat of round brilliant white accent diamonds and a central marquise cut cubic zirconia. The setting can accommodate up to a 1.50 carat stone. This unique cut and shape with the scaling accent diamonds give such a unique touch to this singular piece. It sits tall along your finger and catches light in a stunningly singular way. Unlike the traditional round cut or cushion cut stones this one sparkles its very own way striking light up and down along the length of the stone.
Diamond Gabriel & Co. wedding and anniversary bands
Finally, the wedding and anniversary bands. It is the big day and the absolute moment of commemoration of your commitment to one another. For this unique milestone in your lives as they come together Gabriel & Co. has throughout the years designed and crafted some of the most delicate, modern and gorgeous wedding bands available. From simple classic diamond looks to more modern stackable designs. They go ahead and take advantage of every possible available material. Creating some of the most unique wedding bands out there, Gabriel & Co. has made some of our very favorite bands for that special day. They are romantic and have that special flare that comes from a touch of jewelry masterfulness. Their sizing is ideal for the Gabriel & Co. engagement rings. They fit snugly against one another and comfortably along your finger even with several rings stacked together. Here are a few of our favorite bands.
Stackable designed diamond bands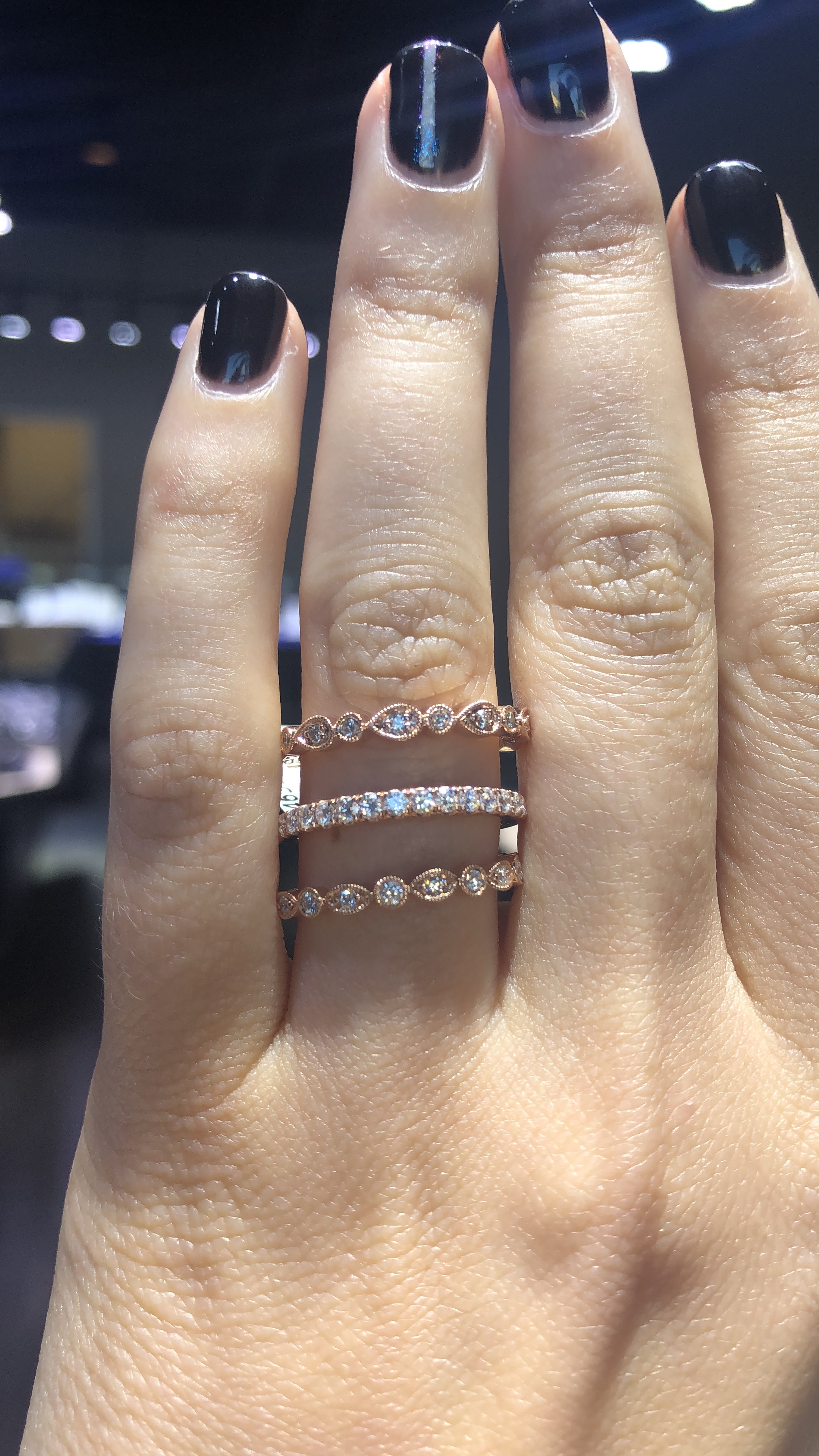 Gabriel & Co. has created some absolutely beautiful stackable diamond bands. Some are highly detailed with French beading and alternating settings. Others are the more classic and traditional look. These feature a single row of round brilliant white diamonds in a single row along the band. We are featuring a few here paired with the stunning halo diamond feature engagement rings we showcased above. However, there are many many more unique styles of stackable wedding and anniversary bands. Check out all of the Gabriel & Co. stackable wedding and anniversary bands available at our stores and online.
Below are the two featured diamond halo engagement rings in 14 carat white and rose gold. These are paired with a stackable diamond wedding band. As you can see they fit snugly and perfectly with each of the engagement rings. The height on the engagement rings themselves allows the wedding band to slip beneath the central stone for a perfect fit. Further down you can see a whole set of stackable wedding and anniversary bands paired with the rose gold diamond halo engagment ring.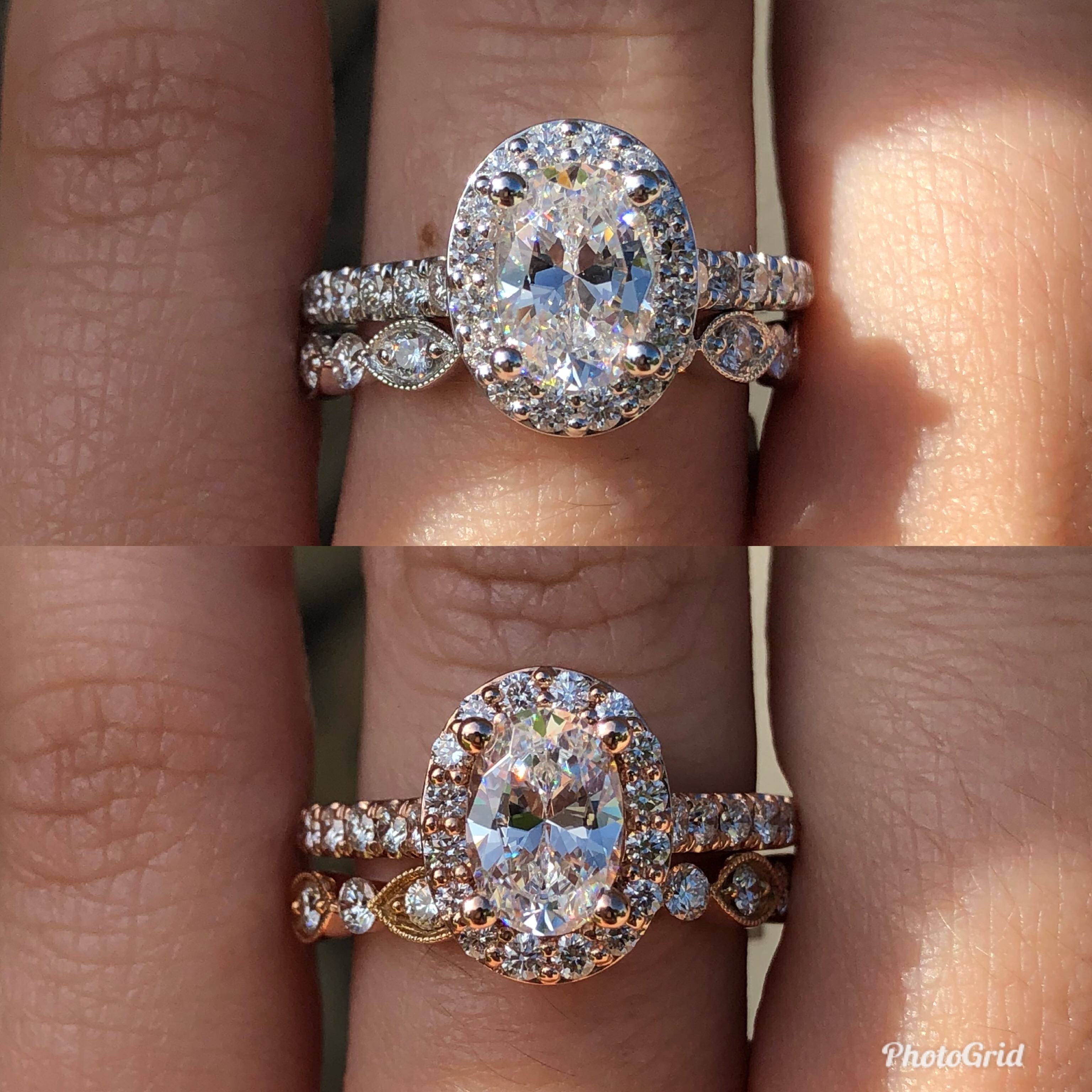 Diamond halo engagement ring and stackable wedding and anniversary band set
Here is one of the most stunning pairings of all. You can see the 14 carat diamond halo engagement ring is paired with a similar design rose gold diamond wedding band as the one above however this one has a slightly different setting. It sits snugly beneath the engagement ring's center stone. Also, the large central stone covers the next stackable diamond rose gold band. A classic and traditional style of anniversary band. This one is a single row of round brilliant white diamonds similar to the engagement ring's band. Finally, there is another stylized pattern rose gold diamond band to finish the set. Their delicate and fine design along with masterful craftsmanship mean they all sit comfortably along your finger paired together. You could even add one or even two more stackable bands to this set depending on personal preference.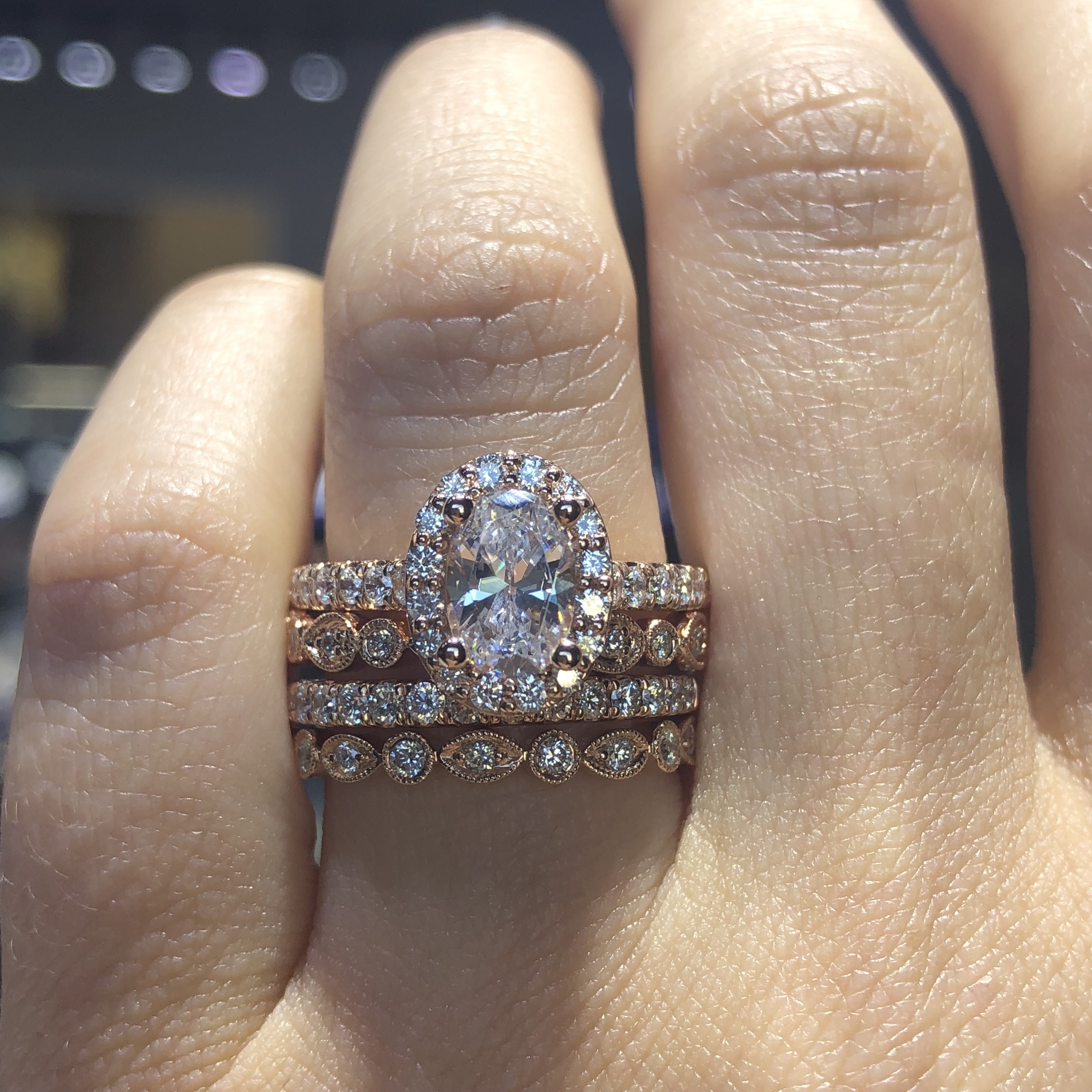 Diamonds by Raymond Lee your South Florida engagement and wedding ring destination
When you think of a special occasion there are a million little things that made that day happen. The things that made in incredible. There are also of course the one or two things that remind you of that day forever more to come. Particularly with a milestone like your engagement or wedding that piece is one you treasure forever more. Further, some families even carry those symbols on. Passing down from one generation to the next the token of their love. We at Diamonds by Raymond Lee know this. And this is why we know how important it is to be able to choose your precious engagement rings and wedding bands. It is why we offer such a wide ranging collection of fine rings from the very best brands. Our collection features all styles and designs of rings. To make it easy for you to find the perfect ring.
All in one place you and your significant other can peruse a ton of styles. Go through all of the very best brands. And finally find your forever truly. Gabriel & Co. is one of the few brands we choose to include in our collection. This is because of their commitment to quality and continuous creation of beautiful designs. A Gabriel & Co ring is one that you can be certain will stay with you throughout the years. You can see the full range of Gabriel & Co. engagement rings and wedding bands on our site. Otherwise we would love to welcome you to one of our stores. Our conveniently located and expertly designed stores are here for you any time. There our jewelry masters and diamond experts can walk you through each piece. Helping you find that ring that speaks to you is our joy and we cannot wait to see you.