7 Engagement Ring Graphics That Will Make Your Life Easier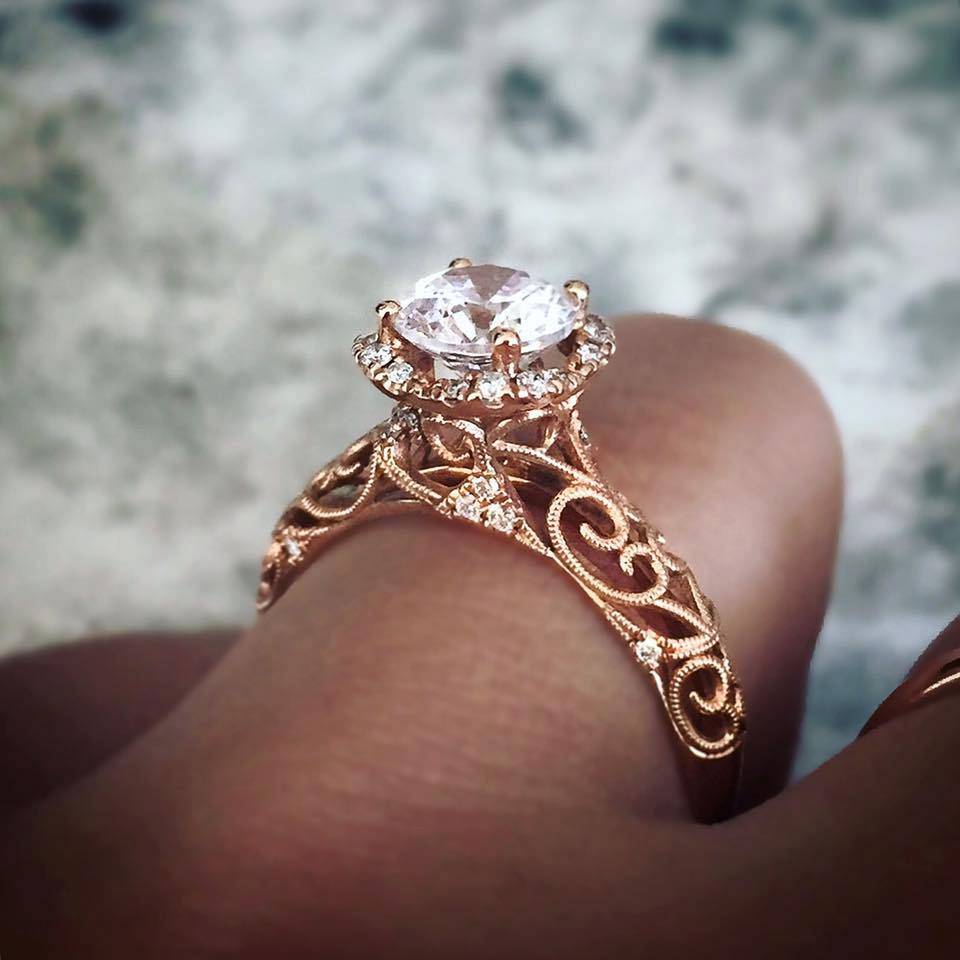 If you're shopping for engagement rings Boca Raton will salivate over (and really, you only need one) you've likely started doing your research. It's never a bad idea to reacquaint yourself with our guide to the 4 c's of diamond buying, though be careful not to inundate yourself. We want to avoid engagement ring information overload. Once you've got the basics down though, and you still want to keep digging for more resources, we won't hold that against you. If you find yourself tempted to make flash cards though, we have to draw the line. Instead, check out these helpful engagement ring tips and graphics that will make your life that much easier. We've linked to the graphics, and at the bottom of the post, you can see our whole Pinterest board full of helpful engagement ring graphics!
First things first, figure out what shape of diamond you think she'll like. Hopefully, she's mentioned this specifically to you. If not, check out her Pinterest for clues – trust us, they're there. Each shape has pros and cons – you can read more about the diamond shapes here.
We love this simple chart because it includes the 4 C's from the most reputable source. We discuss the 4 C's as a rule, but the fifth one – certificate – can have a huge impact on the price of a diamond too.
Do you know her ring size? This chart can help if you have a ring she wears, and this one will help if you are trying to figure out your own size. It's no big deal if you can't find out – we offer one complimentary ring re-sizing with purchase. But if you can figure it out, even better. Every woman wants to put on that ring as soon as she's shouted YES!
This graphic is an overall skimming of several engagement ring factoids. While shopping online is a great way to get an engagement ring, be wary of the online ONLY retailer. They often don't own any of their inventory, so they're still including a finder's fee for their diamond dealer in your bottom line. You're just not getting an expert opinion from someone who's ever actually laid eyes on the diamond you'd like to buy. If you do want to shop online, make sure you check out our post Myths Online Jewelers Will Tell You, and make sure they have an air-tight return policy. You should have at least 30 days of money-back guarantee with no questions asked.
A few ways to get a great deal on a diamond. Again, be wary of what an online-only jeweler is trying to sell you (you'll note that the biggest proponents of online-only jewelry stores are…online-only jewelry stores.) A jeweler with both online and in-store shopping options has likely been in business longer, has a sense of permanence (they won't just close up shop suddenly and disappear) and a reputation to uphold. That being said, you can and should use the 4 c's to get a great deal on a diamond.
We love this guide to diamond sizes – especially the section on spread! It's a great visual representation of that magic "surface area" trick we always mention.
Do you already know what kind of ring you want and how to get a great deal on it? Perfect! The only thing left to do is plan the ultimate Instagram announcement – and you know we've got you covered there too!