Breitling for Bentley – A Pairing Like No Other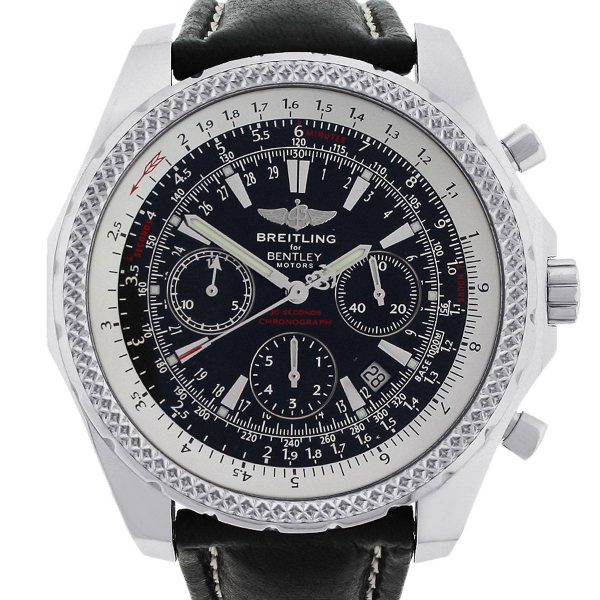 Incredible pairs have existed in real life and fiction within every industry, sport and on man's greatest expedition; Jack Nicklaus and Arnold Palmer, Buzz Aldrin and Neil Armstrong. Michael Jordan and Scottie Pippen, Babe Ruth and Lou Gehrig, Barrichello and Schumacher. These pairs set records and changed the world as we know it, like Breitling and Bentley. 
These iconic pairings happen when two of the very best at what they do join together to create extraordinary results. An iconic pair like these embodies 'beauty in motion' and are pristine examples of handmade luxury. It is Breitling Watches and Bentley Motors. The two brands are futuristic visionaries keeping stride in the balance of tension between outstanding performance and unparalleled luxury. With rich histories in product development and superior performance Breitling Watches and Bentley Motors is a pairing you can expect to see well into future decades. Going hand in hand, their complementary handcrafted luxury items are unique in the world. Each in their own industry with their expertise and dedication to innovation. Breitling and Bentley have achieved what few other brands have.
The Brands
Taking the luxury performance automobile industry by storm since the inception of vehicles, Bentley Motors began manufacturing iconic handcrafted machines with a unique design that can be seen to this day. The Bentley Motors bloodline has seen innovation and changes without ever losing their essence of heritage. British handmade Bentley luxury motor vehicles still feature artisan finishing in leather, metal, and wood.
Bentley
Bentley continues to build powerful machines breaking records and creating experiences like no other. Their latest project takes a page from Breitling's book and emulates fighter pilots and aviation style. This project intends to take Bentley to flight, all while keeping four wheels on the ground. The seven special edition vehicles Bentley Motors will create are inspired by Breitling's Jet Team (for more see below) comprised of seven fighter jet planes. The Bentley cars will be individually numbered versions of the Continental GT Speed. They will mimic the Breitling world famous Jet Team and feature a V12 engine capable of 626 horsepower, yellow interior stitching detailing to match the cockpit of Bretiling's jets and finally a corresponding number to one of the jets in the headrests.
Meanwhile, in mainland Europe, another brand was handcrafting singular luxury items, Breitling. Created for pilots the Breitling machines have and continue to feature the latest technology for flight calculations and navigation. Their commitment to performance and design means each timepiece is water-resistant, equipped with glare proof sapphire crystals, and subject to stringent, comprehensive testing and quality control measures. Intended not only to assist pilots but in cases save their lives these watches are more than a fashion statement they are a tool of the trade.
Breitling
Breitling has been crafting unique, luxury watches for the past 134 years building on their tradition of quality and innovative technology. Using the latest cutting-edge technical instruments paired with their impeccable tradition of building timepieces that excel in aesthetics, function, and performance, the Swiss handmade watch brand is the only one to have ever created an instrument for Bentley Motors dashboards. They have their very own mechanical movement that is developed in-house and manage to maintain a perfect balance between innovation and tradition.
The two brands, Bentley Motors and Breitling Watches, could not be a finer pair. Both embodying power, accuracy, luxury and fine examples of 'beauty in movement'. The British and Swiss companies not only complement one another but create a dialogue between what is worn and what is driven with the Breitling for Bentley range.
Breitling for Bentley
Incorporating the essence of both iconic brands this range of wrist watches is the ultimate luxury timepiece. A symbiosis of elegance and functionality the two brands craft pieces from sporty to elegant all while maintaining elaborate luxury. The face of Breitling for Bentley? A British icon worthy of the pairing, David Beckham. A sophisticated man known for his powerful movement Beckham embodies the brands' pairing and the British sophistication of style. He knows what suits him and what brands represent to the world who he is. Impeccably dressed David Beckham has that effortlessly masculine style achieved by those certain of who they are and what they want.
Minimal accessorizing made possible by iconic pieces in classic or exciting colors fashion statements do come in one piece. The robust watches produced in the Breitling for Bentley Motors series, for example, are sported by determined men with high standards, and refined style. Versatile and classic they are the choice for those balancing the tension between powerful strength and effortless aesthetics. Universally stylish, owning a piece of history emblazoning two of the world's most iconic luxury brands, Breitling Watches and Bentley Motors, is the way to go for men's refined fashion. From building their style to maintaining an impeccable lifestyle Breitling for Bentley luxury timepieces are the coveted item. Passed on between generations and emblazoning tradition these watches are not your average Breitling (if an average Breitling is even possible).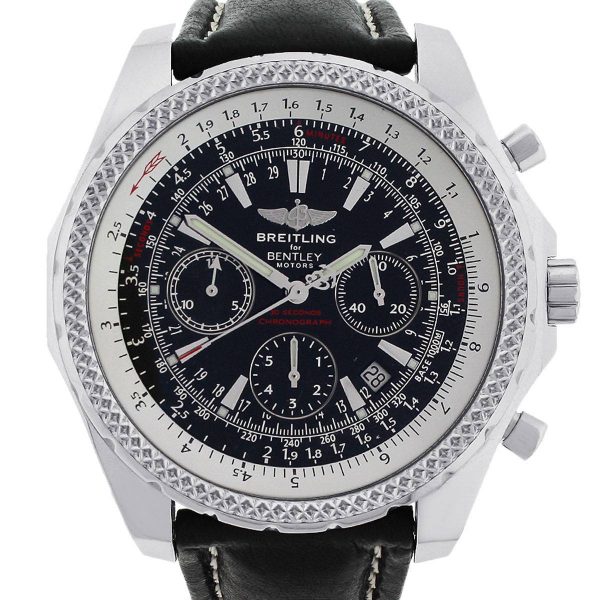 This black genuine Italian leather Breitling bracelet with stainless steel casing Breitling for Bentley watch has a black face and the classic Breitling sapphire glare-proof crystal. A knurled bezel inspired by the Bentley control buttons and the honeycomb radiator grille makes this case stand out. The black chronograph dial with a silver stick also has a date window displayed between 4 o'clock and 5 o'clock. Finishing touches on this luxury piece are a stainless steel buckle and automatic chronometer. Today this distinguished Breitling for Bentley Motors can only be purchased previously enjoyed. We present this A25362 in the true Breitling for Bentley way, with the original Breitling box and official papers. This iconic classic is also currently marked down and available on a pay over time deal.
In creating timepieces like this one Breitling draws inspiration from the most striking Bentley Motors vintage cars. From the handcrafted bodywork of the motor vehicles to the most powerful engines Breitling embraced the quintessentially British nature of Bentley Motors.
Even the logos of Breitling Watches and Bentley Motors are complementary. The B-initial flanked by wings is apparent in both Breitling and Bentley logos emphasizing once more this unique combination of the brands.
Throughout the years Breitling has also produced iconic timepieces encompassing all that is the pilot lifestyle. Embedding the latest technology, Breitling crafted watches that acted as miniature computers on pilots' wrists aiding them in complex calculations for flight. As a calculation tool and a menswear accent piece, Breitling's Navitimer watches exceed expectations and set standards. Launched in 1952, the legendary Navitimer chronograph is an improvement on the Breitling Chronomat and to this day is used by pilots and men for its slide rule bezel and timeless design. The vintage offering we have of this range is one of the pioneering pieces from the Navitimer 1 series.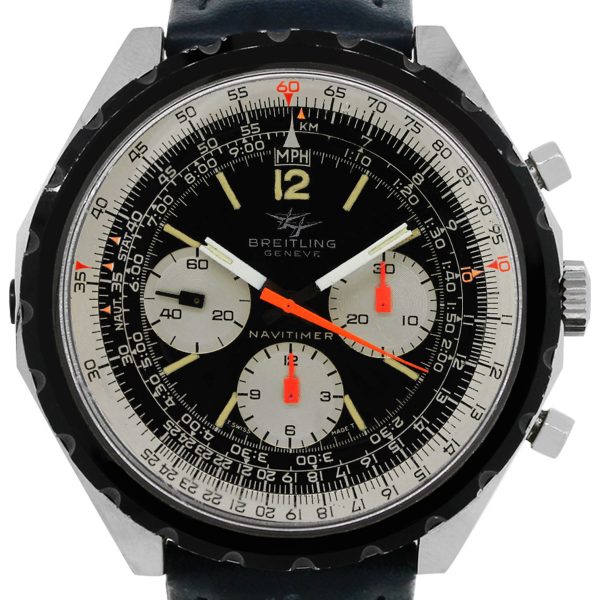 Made with a stainless steel 49mm casing and blue genuine Italian leather strap this acrylic crystal piece has a unidirectional rotating bezel with an internal rotating dial and a black chronograph dial along with 3 silver subdials.
The Breitling Navitimer
The Breitling Navitimer is a classic like no other, with roots in chronographs, the wristwatch maintained the chronograph functionality while adding several high-end calculation tools. In Bern, Switzerland, Leon Breitling, son of the founder, saw the need for pocket watches to transform into wristwatches during the War and established the ambition for Breitling to play a pivotal role in aviation equipment. This ambition was only fulfilled generations later with his grandson Willy. He was the first to introduce onboard Breitling chronographs. From here Breitlings began to be standard in several armed forces including the Royal Air Force. In the 1940's is when the Navitimer really took on the aviation world featuring a rotatable circular slide rule on its bezel. This allowed pilots to conduct their crucial calculations literally on the fly. It was not only Breitling's concern in addressing pilots' calculation needs but also their consistent production of traditionally fashionable time products.
The Navitimer's history in aviation reached a peak during the space race. These iconic instruments for aviation calculations actually orbited the Earth serving in space. The "Cosmonaute" Navitimer was the first Swiss wristwatch in space, worn by NASA astronaut Scott Carpenter. Specially designed for him, this Breitling Navitimer featured a 24-hour dial to assist the astronaut in gauging whether it was night or day while out in space. As part of the first American manned spaceship flight program, Scott Carpenter took the Cosmonaute Navitimer on his Aurora 7 flight in 1962. At this point in time, Breitling had already established itself as the appointed watchmaker for world aviation even supplied the U.S. Airforce with timepieces.
Sponsored Teams
Breitling now also sponsors the largest team of civilian aerobatics pilots in the world, the Breitling Jet Team. The 7 man team performs perfectly coordinated aerial choreographies flying up to 10 feet from one another. Their mastery of flight in some of the finest aircrafts available dazzles thousands of people with their performances. Around the world, the Breitling Jet Team operates cutting-edge military training jets and uses the finest Breitling timepieces.
As they extend this sponsoring campaign they have added three new squads to the Breitling brand, the Explorers Squad, the Cinema Squad and the Water squad. Each of these newly sponsored squads is to embody the missions each wristwatch series was crafted for. While the adventures and spectacular feats they are to perform are not yet available they are to be launched along with the 2019 BaselWorld announcement. Breitling has already confirmed that it will be exhibiting at BaselWorld 2019. The expectations of this year's BaselWorld were exceeded so overwhelmingly that Breitling has already announced their participation in the exhibition in 2019. Some of the announced sponsored squad members are iconic in their own right and are spreading the Breitling lifestyle as brand ambassadors. These sponsored ambassadors include Kelly Slater, Daniel Wu, Brad Pitt, Charlize Theron, and Bertrand Piccard.
Fashion
Beyond its incredible functionality and accuracy, Breitling's Navitimers are also prime examples of men's fashion permanents. While the fashion world shifts and remains consistently transient a Breitling watch surpasses any trend. Charlie Casely-Hayford, the younger half of the fashion team comprised of himself and his father Joe Casely-Hayford working out of their East London atelier, swears by Breitling and commented: "I really love the Breitling design from a functional point of view." While Joe, who has consistently sported Breitling watches said, "I've always thought a good watch is the key to a man's wardrobe."
Whether it is the classic Navitimer pilot's watch or singular pairing of Breitling for Bentley products. These two timepieces are a statement of man's power and control. Accuracy and strength blend together in timeless design embodying the modern man's lifestyle with classic design. Raymond Lee Jewelers has these two iconic watches available but not for long. Our customers search for those unique items that establish to the world what they are about each time they don a piece of iconic history. Our team procures more unique luxury watch and jewelry pieces.
Raymond Lee Jewelers
We are a family business based on tradition and curation of exclusive fine jewelry and watches. We pride ourselves in offering Breitling and Breitling for Bentley watches. All of our product offerings are rigorously provenanced and tested for quality assurance. For the past 30 years we have been the premier diamond, watch and jewelry destination for South Florida. We look forward to providing the same caliber of excellence for the next three decades to come.