Diamonds come in many different colors: grey, pink, yellow, etc. The blue diamond, however, is especially versatile and engaging. Blue diamonds can add drama, a subtle accent, or extreme value to the jewelry you are sporting. Whether you are looking for your "something blue" or just want to show off your favorite color, blue diamonds will always add extra elegance to the ring on your finger. The rings below are sure to sparkle and grab everyone's attention for any outing or occasion. Warning: the following images may cause an uncontrollable urge to shop!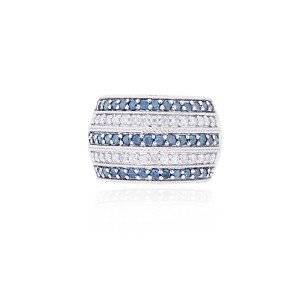 Wear your heart on your finger with this beautiful layered blue and white diamond ring. This ring is perfect as an accent piece or a standalone ring. It's also versatile in that it can be worn for a night or, or a casual day date. Five layers of diamonds make it a statement piece if there ever were one.
A unique spin on different ring styles with this multi-stone cluster halo engagement ring, for the bride who dares to go against the grain. This beautiful blue diamond is surrounded by white diamonds both on the halo and the band.  A truly unique engagement ring for those who want to stand out.
Something borrowed, something…blue! Rock blue, white and yellow diamonds with this one of a kid multi diamond ring. Perfect for a night out, and to keep forever as a family heirloom. This ring is more than just a piece of jewelry – it's a conversation starter.
This ring is a perfect balance of white and blue diamonds. The off centered stacking makes it the ideal ring to accompany artistic jewelry pieces. Wear it to dinner, or to a formal event. This ring is sure to turn heads.
Why stop at one diamond? This blue diamond ring is pristine and feature three rows of beautiful diamonds. The intense blue looks great with lighter toned colors. Another piece that will stand the test of time, this is a unique ring that won't go unnoticed.
engagement rings in Boca Raton
. If you have any questions or comments, please feel free to reach out to us at anytime.